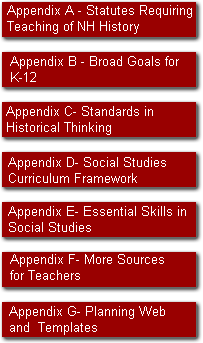 APPENDIX F: MORE SOURCES FOR TEACHERS & STUDENTS, K-6
S = for classroom/students
* = available at the Museum of New Hampshire History Store, Concord, NH
N = available at the Tuck Library at the New Hampshire Historical Society in Concord, NH


church records
court records
family records
government records
historical maps
letters, diaries, wills, and keepsakes
local town and city histories
local historical museums and collections
local and state newspapers
municipal master plans
paintings
NH State transportation, tourist and historical
materials
probate records
sculpture and monuments
tourist guides and maps
U.S. Census records
broadsides and posters
cemeteries
deeds and other land records
genealogical records
historical buildings and places
interviews with elders
Hterature
local oral histories and memoirs
local photographs
military records
music
reports: town, city, school, institution, club,
business
petitions
tax records
town clerk's records
videos, films, and home movies
Also, United States history textbooks will help you review the larger themes that were the background for New Hampshire events. For example, see by New Hampshire author:

Kellogg. William 0. American History the Easy Way. 2nd ed. Hauppage, NY: Barren's Educational Series. 1995.