Canidae - coyotes, dogs, foxes, wolves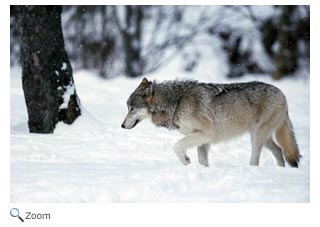 There are 36 species in this family, and they are found in all areas of the world, except for Antarctica. Species in this family have long, pointed snouts; long legs; and padded feet with non-retractable claws. They have five toes on their front feet and four toes on their hind feet, and they walk on their toes! Most species are omnivorous, but meat is an important part of their diet.
Canidae are built for endurance, not speed. They can run after prey and keep up a steady trot over long distances. They have four canine teeth at the front of their mouth that they use to hold prey and tear into meat. Many species in this family live and hunt in packs. The species in this family usually kill their prey by grabbing it by the neck and shaking it until its neck is broken. Species in this family have keen hearing and eyesight and communicate with howls, yelps, growls, and barks.

World Status Key


Least Concern

Near Threatened

Vulnerable

Endangered

Critically Endangered

Extinct in the Wild

Extinct
Status and range is taken from ICUN Redlist. If no status is listed, there is not enough data to establish status.
US Status Key


Threatened in US

Threatened in NH

Endangered in US

Endangered in NH


Breeds in NH

Introduced
Status taken from US Fish and Wildlife and NH Fish and Game
New Hampshire Species

North/Central American Species

Coyote - Canis latrans
Gray Fox - Urocyon cinereoargenteus
Red Fox - Vulpes vulpes

Arctic Fox - Vulpes lagopus
Red Wolf - Canis rufus
Bush Dog - Speothos venaticus
Gray Fox - Urocyon cinereoargenteus
Channel Island Fox - Urocyon littoralis
Kit Fox - Vulpes macrotis
Swift Fox - Vulpes velox

Subspecies
Northern Swift Fox - Vulpes velox hebes
San Joaquin Kit Fox - Vulpes macrotis mutica
San Miguel Island Fox - Urocyon littoralis littoralis
Santa Catalina Island Fox - Urocyon littoralis catalinae
Santa Cruz Island Fox - Urocyon littoralis santacruzae
Santa Rosa Island Fox - Urocyon littoralis santarosae
Species Around the World

Africa Asia Australia/Oceania Europe North/Central America South America NH Species

Arctic Fox - Vulpes lagopus
Short-eared Dog - Atelocynus microtis
Side-striped Jackal - Canis adustus
Golden Jackal - Canis aureus
Coyote - Canis latrans
Gray Wolf - Canis lupus
Black-backed Jackal - Canis mesomelas
Red Wolf - Canis rufus
Ethiopian Wolf - Canis simensis
Crab-eating Fox - Cerdocyon thous
Maned Wolf - Chrysocyon brachyurus
Dhole - Cuon alpinus
Falkland Island Wolf - Dusicyon australis
African Wild Dog - Lycaon pictus
Racoon Dog - Nyctereutes procyonoides
Bat-eared Fox - Otocyon megalotis
Culpeo - Pseudalopex culpaeus
Darwin's Fox - Pseudalopex fulvipes
South American Gray Fox - Pseudalopex griseus
Pampas Fox - Pseudalopex gymnocercus
Sechura Fox - Pseudalopex sechurae
Hoary Fox - Pseudalopex vetulus
Bush Dog - Speothos venaticus
Gray Fox - Urocyon cinereoargenteus
Channel Island Fox - Urocyon littoralis
Bengal Fox - Vulpes bengalensis
Blanford's Fox - Vulpes cana
Cape Fox - Vulpes chama
Corsac Fox - Vulpes corsac
Tibetan Fox - Vulpes ferrilata
Kit Fox - Vulpes macrotis
Pale Fox - Vulpes pallida
Rüppel's Fox - Vulpes rueppellii
Swift Fox - Vulpes velox
Red Fox - Vulpes vulpes
Fennec Fox - Vulpes zerda
Additional Information
Key:

Profile

Photos

Video

Audio
African Wild Dog - Lycaon pictus






The African wild dog has a coat with blotches of yellow, gray, black and white.
Source: Arkive Intended Audience: General Reading Level: Middle School
African Wild Dog - Lycaon pictus







The African wild dog has only four toes per foot, unlike other dogs, which have five toes on their forefeet.
Source: National Geographic Intended Audience: General Reading Level: Middle School
African Wild Dog - Lycaon pictus





African wild dogs hunt twice a day, usually at dawn and dusk.
Source: San Diego Zoo Intended Audience: General Reading Level: Elementary/Middle School
African Wild Dog - Lycaon pictus






The African wild dog has very large, rounded ears.
Source: Honolulu Zoo Intended Audience: General Reading Level: Middle School
African Wild Dog - Lycaon pictus





The African wild dog is also known as the Cape hunting dog. is the only truly social cat species.
Source: Phoenix Zoo Intended Audience: Students Reading Level: Elementary/Middle School
African Wild Dog - Lycaon pictus





The African wild dog hunts antelopes and small mammals.
Source: The Living Desert Intended Audience: Students Reading Level: Elementary/Middle School
African Wild Dog - Lycaon pictus





African wild dog packs can consume an entire carcass in as little as 15 minutes
Source: Los Angeles Zoo Intended Audience: General Reading Level: Elementary/Middle School
African Wild Dog - Lycaon pictus





African wild dogs are found in Namibia, Botswana, Mozambique, parts of Zimbabwe, Swaziland, and the Transvaal.
Source: Animal Diversity Web Intended Audience: General Reading Level: Middle /High School
Arctic Fox - Vulpes lagopus







The arctic fox is dark gray to bluish-brown in the summer. In the winter, its fur is white or creamy white.
Source: NHPTV Wildlife Journal Junior Intended Audience: Students Reading Level: Elementary/Middle School
Arctic Fox - Vulpes lagopus







The Arctic fox has a dense, multi-layered coat that keeps it warm in the winter.
Source: Smithsonian National Museum of Natural History Intended Audience: Students Reading Level: Elementary/Middle School
Arctic Fox - Vulpes lagopus








The arctic fox can survive frigid Arctic temperatures as low as –58°F. Brrr!
Source: National Geographic Intended Audience: General Reading Level: Middle School
Arctic Fox - Vulpes lagopus







Arctic foxes are found in the treeless tundra extending through the arctic regions of Eurasia, North America, Greenland, and Iceland.
Source: Animal Diversity Web Intended Audience: General Reading Level: Middle /High School
Arctic Fox - Vulpes lagopus







The arctic fox eats lemmings, voles, squirrels, birds and their eggs; and fish. They also eat berries in season, and scavenge on carrion
Source: Detroit Zoo Intended Audience: General Reading Level: Middle School
Arctic Fox - Vulpes lagopus






A male fox is called a reynard, the female is called a vixen, and the baby is called a kit. A group of foxes is called a skulk or a leash.
Source: Enchanted Learning Intended Audience: Students Reading Level: Elementary School
Bat-eared Fox - Otocyon megalotis





Bat-eared foxes have three upper and four lower molars. Other members of the dog family have two upper and three lower molars on each side of the mouth.
Source: San Diego Zoo Intended Audience: General Reading Level: Elementary/Middle School

Bat-eared Fox - Otocyon megalotis





The bat-eared fox is ashy gray in color with black limbs and tail.
Source: PBS Nature Intended Audience: General Reading Level: Elementary/Middle School
Bat-eared Fox - Otocyon megalotis





There are two bat-eared fox populations in Africa, one from Ethiopia and southern Sudan to Tanzania; the other from southern Angola and Rhodesia to South Africa.
Source: Animal Diversity Web Intended Audience: General Reading Level: Middle /High School
Bat-eared Fox - Otocyon megalotis





80% of the bat-eared fox's diet is made up of insects. It also eats fruit, small mammals, scorpions, and small birds.
Source: The Living Desert Intended Audience: Students Reading Level: Elementary/Middle School
Bat-eared Fox - Otocyon megalotis





Bat-eared foxes move around termite colonies and lap up termites by the hundreds! Yum!
Source: Chicago Zoological Society Intended Audience: Students Reading Level: Elementary/Middle School
Bat-eared Fox - Otocyon megalotis





The bat-eared fox escapes enemies by outrunning and out-dodging them.
Source: Los Angeles Zoo Intended Audience: General Reading Level: Middle School
Bat-eared Fox - Otocyon megalotis





The bat-eared fox gets its name from its very large pointed ears. It uses its ears to locate termites and other insects.
Source: BBC Intended Audience: General Reading Level: Middle School
Bat-eared Fox - Otocyon megalotis





Bat-eared foxes live in groups of mating pairs and their young.
Source: African Wildlife Foundation Intended Audience: General Reading Level: Middle School
Bengal Fox - Vulpes bengalensis




The Bengal fox is found in India, Nepal and Pakistan.
Source: Animal Diversity Web Intended Audience: General Reading Level: Middle /High School
Bengal Fox - Vulpes bengalensis





The Bengal fox is also known as the Indian fox. It prefers semi-arid, flat to undulating terrain, scrub and grassland habitats.
Source: IUCN/SSC Canid Specialist Group Intended Audience: General Reading Level: Middle /High School
Black-backed Jackal - Canis mesomelas





The black-backed jackal is found in Africa in two population groups, one in east Africa and one in southern Africa.
Source: Animal Diversity Web Intended Audience: General Reading Level: Middle /High School
Black-backed Jackal - Canis mesomelas




The black-backed jackal gets its name from the black stripe of fur that runs down its back.
Source: Arkive Intended Audience: General Reading Level: Middle School
Black-backed Jackal - Canis mesomelas






The black-backed jackal usually spends the day in the brush and comes out at dusk to hunt.
Source: BBC Intended Audience: General Reading Level: Middle School
Black-backed Jackal - Canis mesomelas





The black-backed jackal has a broad black stripe on its back.
Source: IUCN/SSC Canid Specialist Group Intended Audience: General Reading Level: Middle /High School
Blandford's Fox - Vulpes cana







Blandford's fox has reddish brown fur; a short, slender snout; very large ears; and a long, bushy tail tipped in white or black,
Source: Arkive Intended Audience: General Reading Level: Middle School
Blandford's Fox - Vulpes cana






Blandford's fox is found from Israel throughout the mountainous regions of the middle east to Afghanistan.
Source: Animal Diversity Web Intended Audience: General Reading Level: Middle /High School
Bush Dog - Speothos venaticus







The bush dog looks more like a badger than a dog.
Source: Arkive Intended Audience: General Reading Level: Middle School
Bush Dog - Speothos venaticus






The bush dog feeds mainly on rodents.
Source: World Association of Zoos and Aquariums Intended Audience: General Reading Level: Middle School
Bush Dog - Speothos venaticus






The bush-dog has a long, squat body; a round head with a short muzzle; rounded ears; and reddish brown fur.
Source: IUCN/SSC Canid Specialist Group Intended Audience: General Reading Level: Middle /High School

Bush Dog - Speothos venaticus





The bush-dog is found in forests and wet savannas from Panama to the northern limits of Argentina.
Source: Animal Diversity Web Intended Audience: General Reading Level: Middle /High School
Bush Dog - Speothos venaticus






Bush dogs live in packs of up to 10 animals.
Source: St. Louis Zoo Intended Audience: General Reading Level: Middle School
Cape Fox - Vulpes chama




The Cape fox is a small fox with gray-silver fur, a reddish head and forelimbs, and a bushy tail.
Source: Animal Diversity Web Intended Audience: General Reading Level: Middle /High School
Cape Fox - Vulpes chama




The Cape fox is nocturnal.
Source: Arkive Intended Audience: General Reading Level: Middle School
Cape Fox - Vulpes chama





The Cape fox is found in central and western regions of southern Africa.
Source: IUCN/SSC Canid Specialist Group Intended Audience: General Reading Level: Middle /High School
Channel Island Fox - Urocyon littoralis







The Channel Island fox is the smallest canid in North America.
Source: Arkive Intended Audience: General Reading Level: Middle School
Channel Island Fox - Urocyon littoralis






The Channel Island fox is also known as the island fox or the island gray fox.
Source: Smithsonian National Museum of Natural History Intended Audience: Students Reading Level: Elementary/Middle School
Channel Island Fox - Urocyon littoralis






There are six subspecies of the island fox. One for each of the islands the fox is found on: San Miguel, Santa Rosa, Santa Cruz , San Nicolas, Santa Catalina, and San Clemente.
Source: Channel Island National Park Intended Audience: General Reading Level: Elementary/Middle School
Channel Island Fox - Urocyon littoralis






The Channel Island fox has two layers of fur: a softer coat of underfur, and a longer coat of "guard" hairs.
Source: Los Angeles Zoo Intended Audience: General Reading Level: Elementary/Middle School
Channel Island Fox - Urocyon littoralis





The Channel Island fox is found only on the six largest Channel Islands off of the southern California coast.
Source: Animal Diversity Web Intended Audience: General Reading Level: Middle /High School
Corsac Fox - Vulpes corsac




The Corsac fox has soft gray or reddish gray fur on its upper parts and white to cream on fur its underparts. It has a white chin, a bushy tail, and large pointed ears.
Source: Animal Diversity Web Intended Audience: General Reading Level: Middle /High School
Corsac Fox - Vulpes corsac





The Corsac is found in central Asia, ranging into Mongolia and northeastern China.
Source: IUCN/SSC Canid Specialist Group Intended Audience: General Reading Level: Middle /High School
Coyote - Canis latrans








Coyotes once only lived in the prairies and deserts of the western US and Mexico.
Source: National Geographic Kids Intended Audience: Students Reading Level: Elementary/Middle School
Coyote - Canis latrans







Coyotes are very adaptable and can thrive in a wide variety of habitats including suburbs, towns, and cities.
Source: Smithsonian National Museum of Natural History Intended Audience: Students Reading Level: Elementary/Middle School
Coyote - Canis latrans






The coyote is solitary, but may hunt in breeding pairs.
Source: Phoenix Zoo Intended Audience: Students Reading Level: Elementary/Middle School
Coyote - Canis latrans






The coyote is an opportunistic omnivore! It will eat just about anything, but it prefers small rodents
Source: The Living Desert Intended Audience: Students Reading Level: Elementary/Middle School
Coyote - Canis latrans






The common name, coyote, comes from the word used by Mexico's Nahuati Indians, coyoti.
Source: Aquarium of the Pacific Intended Audience: Students Reading Level: Elementary/Middle School
Coyote - Canis latrans







Coyotes are found throughout North and Central America.
Source: Animal Diversity Web Intended Audience: General Reading Level: Middle /High School
Coyote - Canis latrans





Coyotes guard their home territory fiercely.
Source: Enchanted Learning Intended Audience: Students Reading Level: Elementary School
Crab-eating Fox - Cerdocyon thous





The crab-eating fox eats small mammals, birds, amphibians, fish, insects, and yes, crabs!
Source: Animal Diversity Web Intended Audience: General Reading Level: Middle /High School
Crab-eating Fox - Cerdocyon thous





The crab-eating fox is found from Colombia and Venezuela south to Paraguay, Uruguay and Northern Argentina.
Source: IUCN/SSC Canid Specialist Group Intended Audience: General Reading Level: Middle /High School
Culpeo - Pseudalopex culpaeus





The culpeo has reddish-brown, brown, or brownish-gray fur; a white spot under its chin; and a bushy tail.
Source: IUCN/SSC Canid Specialist Group Intended Audience: General Reading Level: Middle /High School
Culpeo - Pseudalopex culpaeus




Culpeos, or colored foxes, are found throughout most of the western half of South America.
Source: Animal Diversity Web Intended Audience: General Reading Level: Middle /High School
Darwin's Fox - Pseudalopex fulvipes





Darwin's fox is a small, grizzled grayish-brown fox with short legs and a long body.
Source: Arkive Intended Audience: General Reading Level: Middle School
Darwin's Fox - Pseudalopex fulvipes





Darwin's fox is found in forests.
Source: IUCN/SSC Canid Specialist Group Intended Audience: General Reading Level: Middle /High School
Darwin's Fox - Pseudalopex fulvipes




Darwin's foxes are found in Chile.
Source: Animal Diversity Web Intended Audience: General Reading Level: Middle /High School
Dhole - Cuon alpinus






The dhole has a rusty-red coat with white on its belly, chest and paws.
Source: Arkive Intended Audience: General Reading Level: Middle School
Dhole - Cuon alpinus






The dhole is also known as the Asiatic wild dog, or red dog.
Source: San Diego Zoo Intended Audience: General Reading Level: Elementary/Middle School
Dhole - Cuon alpinus






Dholes howl rather than bark, and have distinct mating and hunting calls.
Source: Toronto Zoo Intended Audience: General Reading Level: Middle School
Dhole - Cuon alpinus





The dhole is found from the Altai Mountains in Manchuria in Central and Eastern Asia through India, Myanmar, and the Malayan Archipelago.
Source: Animal Diversity Web Intended Audience: General Reading Level: Middle /High School
Dhole - Cuon alpinus




Dholes hunt in small packs of five to twelve adults.
Source: Enchanted Learning Intended Audience: Students Reading Level: Elementary School
Ethiopian Wolf - Canis simensis






See what's being done to save the Ethiopian wolf.
Source: Ethiopian Wolf Conservation Programme Intended Audience: General Reading Level: Middle School

Ethiopian Wolf - Canis simensis






The Ethiopian wolf is the only wolf found in Africa.
Source: Arkive Intended Audience: General Reading Level: Middle School
Ethiopian Wolf - Canis simensis





The Ethiopian wolf is also called the Simien fox or the Simien jackal.
Source: IUCN/SSC Canid Specialist Group Intended Audience: General Reading Level: Middle /High School
Ethiopian Wolf - Canis simensis





Learn what's being done to get rabies vaccinations to the Ethiopian wolf.
Source: USA Today Intended Audience: General Reading Level: Middle School
Ethiopian Wolf - Canis simensis





The Ethiopian wolf is found only in six or seven mountain ranges of Ethiopia.
Source: Animal Diversity Web Intended Audience: General Reading Level: Middle /High School
Falkland Island Wolf - Dusicyon australis





The Falkland Island wolf was found on the East and West Falkland Islands, off the coast of Argentina. The last individual is believed to have been killed in 1876.
Source: Arkive Intended Audience: General Reading Level: Middle School
Fennec Fox - Vulpes zerda






The fennec fox has really, really, really big ears. Really!
Source: Arkive Intended Audience: General Reading Level: Middle School
Fennec Fox - Vulpes zerda





The fennec fox is the smallest of all the world's foxes.
Source: National Geographic Intended Audience: General Reading Level: Middle School
Fennec Fox - Vulpes zerda





The fennec fox is found in central Sahara, the through the mountainous and desert regions from northern Morocco, east along the northern tip of the Red Sea to Kuwait, and south into northern Nigeria and Chad.
Source: Animal Diversity Web Intended Audience: General Reading Level: Middle /High School
Fennec Fox - Vulpes zerda





The fennec fox is a social animal and may share a burrow systems with up to 12 individuals.
Source: Phoenix Zoo Intended Audience: Students Reading Level: Elementary/Middle School
Golden Jackal - Canis aureus







The golden jackal is found in North and East Africa, Southeastern Europe and South Asia to Myanmar.
Source: Animal Diversity Web Intended Audience: General Reading Level: Middle /High School
Golden Jackal - Canis aureus







The golden jackal has long legs; a long, pointed muzzle; and a short, bushy tail.
Source: Arkive Intended Audience: General Reading Level: Middle School
Golden Jackal - Canis aureus







The golden jackal is an omnivore and is found in a wide variety of habitats.
Source: IUCN/SSC Canid Specialist Group Intended Audience: General Reading Level: Middle /High School
Gray Fox - Urocyon cinereoargenteus






The gray fox is a solitary hunter and eats a wide variety of foods. A large part of its diet is made up of small mammals like mice, voles and eastern cottontail rabbits.
Source: NHPTV Wildlife Journal Junior Intended Audience: Students Reading Level: Elementary/Middle School
Gray Fox - Urocyon cinereoargenteus






The gray fox is active at night and during twilight. It sleeps during the day in dense vegetation or secluded rocky places.
Source: Smithsonian National Museum of Natural History Intended Audience: Students Reading Level: Elementary/Middle School
Gray Fox - Urocyon cinereoargenteus






Gray foxes occur throughout most of the southern half of North America from southern Canada to northern Venezuela and Colombia.
Source: Animal Diversity Web Intended Audience: General Reading Level: Middle /High School
Gray Fox - Urocyon cinereoargenteus





The gray fox lives in a wide variety of habitats but prefers areas with lots of brush or woods.
Source: Arkive Intended Audience: General Reading Level: Middle School
Gray Fox - Urocyon cinereoargenteus






The gray fox can climb trees!
Source: Arizona-Sonora Desert Museum Intended Audience: Students Reading Level: Elementary/Middle School
Gray Wolf - Canis lupus










The gray wolf is the largest of the canid species.
Source: Animal Diversity Web Intended Audience: General Reading Level: Middle /High School
Gray Wolf - Canis lupus












Domestic dogs are descended from the gray wolf.
Source: Defenders of Wildlife Intended Audience: General Reading Level: Middle School
Gray Wolf - Canis lupus











Gray wolves usually live in packs, led by an "alpha pair."
Source: Smithsonian National Museum of Natural History Intended Audience: Students Reading Level: Elementary/Middle School
Gray Wolf - Canis lupus










Gray wolves are carnivores, often preying on animals larger than they are, including elk, caribou, and deer, as well as beavers, hares, and other small animals.
Source: National Zoo Intended Audience: General Reading Level: Middle School
Gray Wolf - Canis lupus










Gray wolves live 6-8 years in the wild.
Source: Oregon Zoo Intended Audience: General Reading Level: Middle School
Gray Wolf - Canis lupus









In the U.S., gray wolves are found in Alaska, Minnesota, Michigan, and Wisconsin.
Source: Enchanted Learning Intended Audience: Students Reading Level: Elementary School
Hoary Fox - Pseudalopex vetulus





The hoary fox is a small fox with grizzled grayish-brown fur, a bushy tail, and a short muzzle.
Source: IUCN/SSC Canid Specialist Group Intended Audience: General Reading Level: Middle /High School
Hoary Fox - Pseudalopex vetulus




The hoary fox is southwestern Brazil.
Source: Animal Diversity Web Intended Audience: General Reading Level: Middle /High School
Jackal




Jackals live alone or in pairs.
Source: African Wildlife Foundation Intended Audience: General Reading Level: Middle School
Kit Fox - Vulpes macrotis






The kits fox is a small fox with large ears and a long tail.
Source: Arkive Intended Audience: General Reading Level: Middle School
Kit Fox - Vulpes macrotis





The kit fox is found in the southwestern part of the United States and northern and central Mexico.
Source: Animal Diversity Web Intended Audience: General Reading Level: Middle /High School
Kit Fox - Vulpes macrotis






The kit fox is found in desert and semi-arid regions between the Sierra Nevada Mountains and the Rocky Mountains and on down into Baja California and the North Central states of Mexico; it is also found in the San Joaquin Valley of California.
Source: Smithsonian National Museum of Natural History Intended Audience: Students Reading Level: Elementary/Middle School
Maned Wolf - Chrysocyon brachyurus






The maned wolf has a red coat, long legs and a mane-like strip of black fur that runs form the back of its head to its shoulders.
Source: Arkive Intended Audience: General Reading Level: Middle School
Maned Wolf - Chrysocyon brachyurus





The maned wolf eats small mammals, insects, reptiles, birds, bird eggs, fruits, and vegetation.
Source: National Zoo Intended Audience: General Reading Level: Middle School
Maned Wolf - Chrysocyon brachyurus





The maned wolf is the largest South American canid.
Source: Animal Diversity Web Intended Audience: General Reading Level: Middle /High School
Maned Wolf - Chrysocyon brachyurus





The maned wolf is a solitary creature, except during mating season.
Source: Beardsley Zoo Intended Audience: Students Reading Level: Middle School
Maned Wolf - Chrysocyon brachyurus





The maned wolf is found in the grasslands and scrub forest of central South America.
Source: IUCN/SSC Canid Specialist Group Intended Audience: General Reading Level: Middle /High School
Mexican Gray Wolf - Canis lupus baileyi




The Mexican wolf is a subspecies of the gray wolf. Mexican gray wolves live in packs of 3-8 ruled by an alpha male and female.
Source: Phoenix Zoo Intended Audience: Students Reading Level: Elementary/Middle School
Mexican Gray Wolf - Canis lupus baileyi




Wolf pups are born blind and deaf.
Source: Chicago Zoological Society Intended Audience: Students Reading Level: Elementary/Middle School
Mexican Wolf - Canis lupus baileyi




Mexican wolves hunt large hoofed mammals, like deer and elk.
Source: The Living Desert Intended Audience: Students Reading Level: Elementary/Middle School
Pale Fox - Vulpes pallida





The pale fox has sand colored fur that help it blend in with its desert environment.
Source: Arkive Intended Audience: General Reading Level: Middle School
Pale Fox - Vulpes pallida



The pale fox is found from Senegal to Northern Sudan and Somalia.
Source: Animal Diversity Web Intended Audience: General Reading Level: Middle /High School
Pampas Fox - Pseudalopex gymnocercus





The pampas fox is medium-sized and has a grizzled brindled gray coat with paler gray underparts. It has a black muzzle and a thick, bushy tail.
Source: IUCN/SSC Canid Specialist Group Intended Audience: General Reading Level: Middle /High School
Pampas Fox - Pseudalopex gymnocercus




Pampas foxes are found in Paraguay, Uruguay, southern Brazil, eastern Bolivia and north of Rio Negro in Argentina.
Source: Animal Diversity Web Intended Audience: General Reading Level: Middle /High School
Raccoon Dog - Nyctereutes procyonoides





The raccoon dog is native to eastern Siberia, northern China, North Vietnam, Korea, and Japan. It was introduced to western Russia and is now widespread in northern and eastern Europe.
Source: Animal Diversity Web Intended Audience: General Reading Level: Middle /High School
Raccoon Dog - Nyctereutes procyonoides





Raccoon dogs live and hunt in pairs or small family groups.
Source: Arkive Intended Audience: General Reading Level: Middle School
Raccoon Dog - Nyctereutes procyonoides





The raccoon dog really does look like a raccoon! It has a black mark, gray fur, short legs, and short, rounded ears.
Source: IUCN/SSC Canid Specialist Group Intended Audience: General Reading Level: Middle /High School
Raccoon Dog - Nyctereutes procyonoides





The raccoon dog has curved claws and can climb trees!
Source: World Association of Zoos and Aquariums Intended Audience: General Reading Level: Middle School
Red Fox - Vulpes vulpes










The red fox has orangish-red fur on its back, sides and head. It has white fur under its neck and on its chest.
Source: NHPTV Wildlife Journal Junior Intended Audience: Students Reading Level: Elementary/Middle School
Red Fox - Vulpes vulpes











The red fox has a long bushy tail tipped in white, pointed black ears and black legs and feet.
Source: Arkive Intended Audience: General Reading Level: Middle School
Red Fox - Vulpes vulpes










The red fox is a solitary animal except during mating season and when raising young.
Source: Animal Diversity Web Intended Audience: General Reading Level: Middle /High School
Red Fox - Vulpes vulpes










The red fox is found in North America, Asia, Europe, and North Africa.
Source: Smithsonian National Museum of Natural History Intended Audience: Students Reading Level: Elementary/Middle School
Red Wolf - Canis rufus






The red wolf once roamed over much of the southeastern United States, but by the early 1900s it had disappeared from all states except Texas and Louisiana.
Source: NHPTV Wildlife Journal Junior Intended Audience: Students Reading Level: Elementary/Middle School
Red Wolf - Canis rufus






The red wolf has been reintroduced to the Alligator River in North Carolina, and the Great Smoky Mountains of Tennessee and North Carolina.
Source: Animal Diversity Web Intended Audience: General Reading Level: Middle /High School
Red Wolf - Canis rufus






Red wolves were almost driven almost to extinction, coyotes moved into their former range, and sometimes the two species interbred.
Source: Smithsonian National Museum of Natural History Intended Audience: Students Reading Level: Elementary/Middle School
Red Wolf - Canis rufus







The male red wolf is larger than the female.
Source: Arkive Intended Audience: General Reading Level: Middle School
Red Wolf - Canis rufus







The red wolf is a smaller and a more slender cousin of the gray wolf. It s coat is gray-black, with a reddish cast.
Source: Defenders of Wildlife Intended Audience: General Reading Level: Middle School
Red Wolf - Canis rufus







The red wolf is one of the world's most endangered wild canids.
Source: US Red Wolf Recovery Project Intended Audience: General Reading Level: Middle School
Red Wolf - Canis rufus





The red wolf has long legs, long ears, a narrow head, and strong jaws with sharp teeth.
Source: Enchanted Learning Intended Audience: Students Reading Level: Elementary School
Rüeppell's Fox - Vulpes rueppellii





Rüeppell's fox is found in desert regions of North Africa and the Arabian peninsula, from as far east as Pakistan, to as far northwest as Israel and Jordan.
Source: Animal Diversity Web Intended Audience: General Reading Level: Middle /High School
Rüeppell's Fox - Vulpes rueppellii







Rüeppell's fox has brownish-red fur, a white-tipped tail, and big ears.
Source: Arkive Intended Audience: General Reading Level: Middle School
Short-eared Dog - Atelocynus microtis





The short-eared dog is native to the northern part of South America and is found in the Amazon basin regions of Brazil, Peru, Ecuador and Colombia.
Source: Animal Diversity Web Intended Audience: General Reading Level: Middle /High School
Short-eared Dog - Atelocynus microtis





The short-eared dog has a large head; short, rounded ears, and a long, bushy tail.
Source: Arkive Intended Audience: General Reading Level: Middle School
Side-striped Jackal - Canis adustus





Side-striped jackals are found in moist wooded areas in east, west, and central Africa.
Source: IUCN/SSC Canid Specialist Group Intended Audience: General Reading Level: Middle /High School
Side-striped Jackal - Canis adustus





Side-striped jackals mate for life.
Source: Arkive Intended Audience: General Reading Level: Middle
Side-striped Jackal - Canis adustus




The side-striped jackal is light gray to tan and has a white tip on its tail. It has a white stripe from elbow to hip and black stripes on its side.
Source: Animal Diversity Web Intended Audience: General Reading Level: Middle /High School
South American Gray Fox - Pseudalopex griseus




The South American gray fox is also known as the Argentine gray fox. It is wide spread throughout Patagonia and western Argentina.
Source: Animal Diversity Web Intended Audience: General Reading Level: Middle /High School
South American Gray Fox - Pseudalopex griseus





The South American gray fox is omnivorous.
Source: Arkive Intended Audience: General Reading Level: Middle
Swift Fox - Vulpes velox






The swift fox is found on prairie grasslands just east of the Rocky Mountains.
Source: Smithsonian National Museum of Natural History Intended Audience: Students Reading Level: Elementary/Middle School
Swift Fox - Vulpes velox





The swift fox spends more time underground in its burrow than any other canid.
Source: Defenders of Wildlife Intended Audience: General Reading Level: Middle School
Tibetan Fox - Vulpes ferrilata




The Tibetan fox is found in the Tibetan plateau of India, China, India, and Nepal.
Source: Animal Diversity Web Intended Audience: General Reading Level: Middle /High School
Tibetan Fox - Vulpes ferrilata





The pika is a favorite food of the Tibetan fox.
Source: Arkive Intended Audience: General Reading Level: Middle
Tibetan Fox - Vulpes ferrilata





The Tibetan foxes can range in color from black to brown and rusty-colored. It has thick fur and short, pointed ears.
Source: IUCN/SSC Canid Specialist Group Intended Audience: General Reading Level: Middle /High School