Melanocharitidae - Berrypeckers, Longbills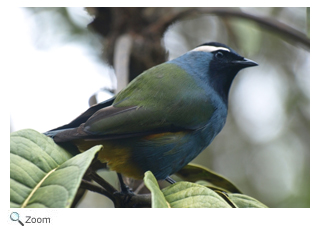 There are 12 species of birds in this family. They are found in the forests of Indonesia and Papua New Guinea
They are small birds and come in a variety of colors and patterns. Males are brightly colored and females are duller. They have small bills and long tails and eat fruits and insects.
Berrypickers are small birds and are brightly colored in blues, greens, and yellows. They forage in pairs or in small groups in trees for fruit and berries.
The tit berrypecker and the crested berrypecker are sometimes placed in the Melanocharitidae family.
World Status Key


Least Concern

Near Threatened

Vulnerable

Endangered

Critically Endangered

Extinct in Wild

Extinct
Status and range is taken from ICUN Redlist. If no status is listed, there is not enough data to establish status.
US Status Key


Threatened in US

Threatened in NH

Endangered in US

Endangered in NH

Introduced
Status taken from US Fish and Wildlife and NH Fish and Game
| | | |
| --- | --- | --- |
| New Hampshire Species | | North/Central American Species |
| None | | None |
Other Species Around the World

Africa Asia Australia/Oceania Europe North/Central America South America NH Species

Obscure Berrypecker - Melanocharis arfakiana
Spotted Berrypecker - Melanocharis crassirostris
Lemon-breasted Berrypecker-Melanocharis longicauda
Black Berrypecker - Melanocharis nigra
Streaked Berrypecker - Melanocharis striativentris
Fan-tailed Berrypecker - Melanocharis versteri
Pygmy Longbill - Oedistoma pygmaeum
Tit Berrypecker - Oreocharis arfaki
Crested Berrypecker - Paramythia montium
Plumed Longbill - Toxorhamphus iliolophus
Green-crowned Longbill - Toxorhamphus novaeguineae
Gray-winged Longbill - Toxorhamphus poliopterus

Additional Information

Key: Profile Photos Video Audio

Black Berrypecker - Melanocharis nigra
The black berrypecker is found in Indonesia and Papua New Guinea.
Source: Internet Bird Collection Intended Audience: General Reading Level: Middle School

Crested Berrypecker - Paramythia montium
The crested berrypecker is found in Indonesia and Papua New Guinea.
Source: Internet Bird Collection Intended Audience: General Reading Level: Middle School

Fan-tailed Berrypecker - Melanocharis versteri
The fan-tailed berrypecker is found in Indonesia and Papua New Guinea.
Source: Internet Bird Collection Intended Audience: General Reading Level: Middle School

Green-crowned Longbill - Toxorhamphus novaeguineae
The green-crowned longbill is found in Indonesia and Papua New Guinea.
Source: Internet Bird Collection Intended Audience: General Reading Level: Middle School

Gray-winged Longbill - Toxorhamphus poliopterus
The gray-winged longbill is found in Indonesia and Papua New Guinea.
Source: Internet Bird Collection Intended Audience: General Reading Level: Middle School

Lemon-breasted Berrypecker - Melanocharis longicauda
The lemon-breasted berrypecker is found in Indonesia and Papua New Guinea.
Source: Internet Bird Collection Intended Audience: General Reading Level: Middle School

Obscure Berrypecker - Melanocharis arfakiana
The obscure berrypecker is found in Indonesia and Papua New Guinea.
Source: Internet Bird Collection Intended Audience: General Reading Level: Middle School

Pygmy Longbill - Oedistoma pygmaeum
The pygmy longbill is found in Indonesia and Papua New Guinea.
Source: Internet Bird Collection Intended Audience: General Reading Level: Middle School