Leporidae - rabbits, hares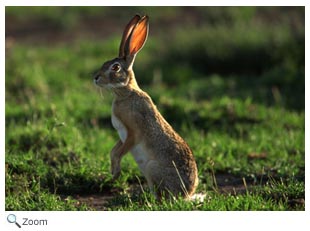 There are about 62 species in this family. They are native species in all parts of the world, except for Australia and Antarctica. While there are no native species in Australia, some species have been introduced. Rabbits and hares are found in a variety of habitats including deserts, forests, the tundra, swamps, and grasslands.
Rabbits and hares have soft fur, long ears, short tails, and powerful rear legs that they use to hop and jump. Hares are usually larger than rabbits. They have longer ears that are black-tipped ears and are born with fur and with their eyes open. Rabbits are born blind and hairless! Females in this order are larger than males. Rabbits and hares are herbivores.
World Status Key


Least Concern

Near Threatened

Vulnerable

Endangered

Critically Endangered

Extinct in Wild

Extinct
Status and range is taken from ICUN Redlist. If no status is listed, there is not enough data to establish status.
US Status Key


Threatened in US

Threatened in NH

Endangered in US

Endangered in NH

Introduced
Status taken from US Fish and Wildlife and NH Fish and Game
New Hampshire Species

North/Central American Species

Eastern Cottontail - Sylvilagus floridanus
New England Cottontail - Sylvilagus transitionalis
Snowshoe Hare - Lepus americanus
Swamp Rabbit - Sylvilagus aquaticus
Desert Cottontail - Sylvilagus audubonii
Brush Rabbit - Sylvilagus bachmani
Tapeti - Sylvilagus brasiliensis
Manzano Mountain Cottontail - Sylvilagus cognatus
Mexican Cottontail - Sylvilagus cunicularius
Dice's Cottontail - Sylvilagus dicei
Tres Marias Cottontail - Sylvilagus graysoni
Omilteme Cottontail - Sylvilagus insonus
San Jose Brush Rabbit - Sylvilagus mansuetus
Mountain Cottontail - Sylvilagus nuttallii
Appalachian Cottontail - Sylvilagus obscurus
Marsh Rabbit - Sylvilagus palustris
Robust Cottontail - Sylvilagus robustus

North/Central American Species

Pygmy Rabbit - Brachylagus idahoensis
Antelope Jackrabbit - Lepus alleni
Arctic Hare - Lepus arcticus
Black-tailed Jackrabbit - Lepus californicus
White-sided Jackrabbit - Lepus callotis
tehuantepec Jackrabbit - Lepus flavigularis
Black Jackrabbit - Lepus insularis
Alaskan Hare - Lepus othus
White-tailed Jackrabbit - Lepus townsendii
Volcano Rabbit - Romerolagus diazi
Other Species Around the World

Africa Asia Australia/Oceania Europe North/Central America South America NH Species

Pygmy Rabbit - Brachylagus idahoensis
Riverine Rabbit - Bunolagus monticularis
Hispid Hare - Caprolagus hispidus
Antelope Jackrabbit - Lepus alleni
Snowshoe Hare - Lepus americanus
Arctic Hare - Lepus arcticus
Japanese Hare - Lepus brachyurus
Black-tailed Jackrabbit - Lepus californicus
White-sided Jackrabbit - Lepus callotis
Cape Hare - Lepus capensis
Broom Hare - Lepus castroviejoi
Yunnan Hare - Lepus comus
Korean Hare - Lepus coreanus
Corsican Hare - Lepus corsicanus
European Hare - Lepus europaeus
Ethiopian Hare - Lepus fagani
tehuantepec Jackrabbit - Lepus flavigularis
Granada Hare - Lepus granatensis
Abyssinian Hare - Lepus habessinicus
Hainan Hare - Lepus hainanus
Black Jackrabbit - Lepus insularis
Manchurian Hare - Lepus mandshuricus
African Savanna Hare - Lepus microtis
Indian Hare - Lepus nigricollis
Woolly Hare - Lepus oiostolus
Alaskan Hare - Lepus othus
Burmese Hare - Lepus peguensis
Scrub Hare - Lepus saxatilis
Chinese Hare - Lepus sinensis
Ethiopian Highland Hare - Lepus starcki
Desert Hare - Lepus tibetanus


Mountain Hare - Lepus timidus
Tolai Hare - Lepus tolai
White-tailed Jackrabbit - Lepus townsendii
Yarkand Hare - Lepus yarkandensis
Sumatran Striped Rabbit - Nesolagus netscheri
Annamite Striped Rabbit - Nesolagus timminsi
European Rabbit - Oryctolagus cuniculus
Amami Rabbit - Pentalagus furnessi
Bunyoro Rabbit - Poelagus marjorita
Natal Red Rock Hare - Pronolagus crassicaudatus
Jameson's Red Rock Hare - Pronolagus randensis
Smith's Red Rock Hare - Pronolagus rupestris
Hewitt's Red Rock Hare - Pronolagus saundersiae
Volcano Rabbit - Romerolagus diazi
Swamp Rabbit - Sylvilagus aquaticus
Desert Cottontail - Sylvilagus audubonii
Brush Rabbit - Sylvilagus bachmani
Tapeti - Sylvilagus brasiliensis
Manzano Mountain Cottontail - Sylvilagus cognatus
Mexican Cottontail - Sylvilagus cunicularius
Dice's Cottontail - Sylvilagus dicei
Eastern Cottontail - Sylvilagus floridanus
Tres Marias Cottontail - Sylvilagus graysoni
Omilteme Cottontail - Sylvilagus insonus
San Jose Brush Rabbit - Sylvilagus mansuetus
Mountain Cottontail - Sylvilagus nuttallii
Appalachian Cottontail - Sylvilagus obscurus
Marsh Rabbit - Sylvilagus palustris
Robust Cottontail - Sylvilagus robustus
New England Cottontail - Sylvilagus transitionalis
Venezuelan Lowland Rabbit - Sylvilagus varynaensis
Additional Information
Key:

Profile

Photos

Video

Audio
Alaskan Hare - Lepus othus




Alaskan hares are the largest hare species in North America.
Source: Animal Diversity Web Intended Audience: General Reading Level: Middle School
Amami Rabbit - Pentalagus furnessi





The Amami rabbit is found only on the Japanese islands of Amami-Oshima and Tokuno-Shima. they have small ears, a very small tail, and very long claws.
Source: Arkive Intended Audience: General Reading Level: Middle School
Amami Rabbit - Pentalagus furnessi




The Amami rabbit is found in dense old-growth forests.
Source: Animal Diversity Web Intended Audience: General Reading Level: Middle School
Annamite Striped Rabbit - Nesolagus timminsi



The Annamite striped rabbit is found in Laos and Vietnam.
Source: Animal Diversity Web Intended Audience: General Reading Level: Middle School
Antelope Jackrabbit - Lepus alleni




The antelope jackrabbit, is along the western coast of Mexico and in southern Arizona.
Source: Animal Diversity Web Intended Audience: General Reading Level: Middle School
Appalachian Cottontail - Sylvilagus obscurus




Appalachian cottontails are found in forests and brushy areas at high elevations of the Appalachian Mountains, from the Hudson River in New York to northern Alabama.
Source: Animal Diversity Web Intended Audience: General Reading Level: Middle School
Arctic Hare - Lepus arcticus






The Arctic hare is found in Canada and Greenland.
Source: Arkive Intended Audience: General Reading Level: Middle School
Arctic Hare - Lepus arcticus






The Arctic hare has large, heavily padded feet.
Source: Animal Diversity Web Intended Audience: General Reading Level: Middle School
Black Jackrabbit - Lepus insularis




The blank jackrabbit is found on Espiritu Santo Island in the Gulf of California, Mexico.
Source: Animal Diversity Web Intended Audience: General Reading Level: Middle School
Black-tailed Jackrabbit - Lepus californicus



The black-tailed jackrabbit is found is found throughout the southwestern United States into Mexico, as far east as Missouri, north into Washington, Idaho, Colorado and Nebraska, and west to California and Baja California.
Source: Animal Diversity Web Intended Audience: General Reading Level: Middle School
Broom Hare - Lepus castroviejoi




The broom hare is found in northern Spain in the Cantabrian Mountains.
Source: Arkive Intended Audience: General Reading Level: Middle School
Broom Hare - Lepus castroviejoi




The broom hare is active at night and is rarely seen during the day.
Source: Animal Diversity Web Intended Audience: General Reading Level: Middle School
Brush Rabbit - Sylvilagus bachmani




The brush rabbit is found from Oregon south to Baja, California in Mexico .
Source: Animal Diversity Web Intended Audience: General Reading Level: Middle School
Bunyoro Rabbit - Poelagus marjorita




The Bunyoro rabbit is found in Congo, Sudan, and Uganda.
Source: Animal Diversity Web Intended Audience: General Reading Level: Middle School
Cape Hare - Lepus capensis








The Cape hare is found in Algeria, Bahrain, Botswana, Burkina Faso, Chad, Cyprus, Egypt, Eritrea, Ethiopia, India, Iran, Iraq, Israel, Italy, Jordan, Kenya, Kuwait, Lebanon, Lesotho, Libya, Mali, Mauritania, Morocco, Mozambique, Namibia, Niger, Oman, Pakistan, Palestinian Territory, Qatar, Saudi Arabia, Senegal, South Africa, Sudan, Swaziland, Syria, Tanzania, Tunisia, Uganda, United Arab Emirates, Western Sahara, Yemen, and Zimbabwe.
Source: Arkive Intended Audience: General Reading Level: Middle School
Cape Hare - Lepus capensis






The Cape hare is found in non-forested areas.
Source: Animal Diversity Web Intended Audience: General Reading Level: Middle School
Desert Cottontail - Sylvilagus audubonii





The desert cottontail is found throughout much of southwestern North America, from northern Montana down to central Mexico, and as far west as the Pacific coast.
Source: Arkive Intended Audience: General Reading Level: Middle School
Eastern Cottontail - Sylvilagus floridanus







The eastern cottontail has a large range that stretches from southern Manitoba and Quebec to Central and northwestern South America.
Source: Animal Diversity Web Intended Audience: General Reading Level: Middle School
European Hare - Lepus europaeus







The European hare is found across Europe and the Middle East and has been introduced to North America, South America, and Australia.
Source: Arkive Intended Audience: General Reading Level: Middle School
European Hare - Lepus europaeus






The European hare is found in open fields and pastures.
Source: Animal Diversity Web Intended Audience: General Reading Level: Middle School
European Rabbit - Oryctolagus cuniculus







The European rabbit is found in western Europe and northern Africa, and it has been introduced to Australia and South America.
Source: Arkive Intended Audience: General Reading Level: Middle School
European Rabbit - Oryctolagus cuniculus






The European rabbit prefers habitats in dry areas near sea level with soft, sandy soil that is easy to burrow into.
Source: Animal Diversity Web Intended Audience: General Reading Level: Middle School
Hispid Hare - Caprolagus hispidus




The Hispid hare is found in Bangladesh, India, and Nepal.
Source: Arkive Intended Audience: General Reading Level: Middle School
Hispid Hare - Caprolagus hispidus




The Hispid hare has two layers of fur: a coarse, bristly, outer layer, and an under layer which is shorter and finer.
Source: Animal Diversity Web Intended Audience: General Reading Level: Middle School
Indian Hare - Lepus nigricollis




The Indian hare is found in Bangladesh, India, Indonesia, Nepal, Pakistan, and Sri Lanka.
Source: Arkive Intended Audience: General Reading Level: Middle School
Indian Hare - Lepus nigricollis





The Indian hare has a patch of black fur that runs along the nape of its neck
Source: Animal Diversity Web Intended Audience: General Reading Level: Middle School
Marsh Rabbit - Sylvilagus palustris





The marsh rabbit is found in the southeastern United States.
Source: Animal Diversity Web Intended Audience: General Reading Level: Middle School
Mountain Cottontail - Sylvilagus nuttallii





The mountain cottontail is found in the western part of the United States.
Source: Animal Diversity Web Intended Audience: General Reading Level: Middle School
Mountain Hare - Lepus timidus







The mountain hare is found in Austria, Belarus, China, Estonia, Finland, France, Germany, Ireland, Italy, Japan, Kazakhstan, Latvia, Liechtenstein, Lithuania, Mongolia, Norway, Poland, Russian Federation, Slovenia, Sweden, Switzerland, Ukraine, and the United Kingdom.
Source: Arkive Intended Audience: General Reading Level: Middle School
Mountain Hare - Lepus timidus






Mountain hares are nocturnal.
Source: Animal Diversity Web Intended Audience: General Reading Level: Middle School
New England Cottontail - Sylvilagus transitionalis





The New England cottontail is found in Connecticut, Maine, Massachusetts, New Hampshire, New York, Rhode Island, and Vermont.
Source: Arkive Intended Audience: General Reading Level: Middle School
Pygmy Rabbit - Brachylagus idahoensis




Pygmy rabbits are found in California, Idaho, Montana, Nevada, Oregon, Utah, Washington, and Wyoming.
Source: Animal Diversity Web Intended Audience: General Reading Level: Middle School
Riverine Rabbit - Bunolagus monticularis





The riverine rabbit is found in South Africa.
Source: Arkive Intended Audience: General Reading Level: Middle School
Riverine Rabbit - Bunolagus monticularis




The riverine rabbit has black stripe running from the corner of its mouth over its cheek, a brown woolly tail, and cream-colored fur on its belly and throat.
Source: Animal Diversity Web Intended Audience: General Reading Level: Middle School
Scrub Hare - Lepus saxatilis



The scrub hare is found in the savanna woodland and scrub areas of Africa.
Source: Animal Diversity Web Intended Audience: General Reading Level: Middle School
Smith's Red Rock Hare - Pronolagus rupestris




The red rock hare is found in the eastern Rift Valley in Kenya, Zambia, eastern Rhodesia, South Africa and South-west Africa in rocky habitats.
Source: Animal Diversity Web Intended Audience: General Reading Level: Middle School
Snowshoe Hare - Lepus americanus






The snowshoe hare is found across Canada and in Alaska, California, Colorado, Connecticut, Idaho, Maine, Massachusetts, Michigan, Minnesota, Montana, Nevada, New Hampshire, New Mexico, New York, North Carolina, North Dakota, Oregon, Pennsylvania, Rhode Island, South Dakota, Tennessee, Utah, Vermont, Virginia, Washington, West Virginia, Wisconsin, and Wyoming.
Source: Arkive Intended Audience: General Reading Level: Middle School
Snowshoe Hare - Lepus americanus






During the winter, the snowshoe hare is almost entirely white, except for black eyelids and blackened tips on its ears.
Source: Animal Diversity Web Intended Audience: General Reading Level: Middle School
Sumatran Striped Rabbit - Nesolagus netscheri





The Sumatran striped rabbit is found in Indonesia on the island of Sumatra.
Source: Arkive Intended Audience: General Reading Level: Middle School
Sumatran Striped Rabbit - Nesolagus netscheri




The Sumatran striped rabbit lives in forests.
Source: Animal Diversity Web Intended Audience: General Reading Level: Middle School
Swamp Rabbit - Sylvilagus aquaticus




The swamp rabbit is found in most of the south-central United States and the Gulf coast.
Source: Animal Diversity Web Intended Audience: General Reading Level: Middle School
Tapeti - Sylvilagus brasiliensis





The tapeti is found from southern Mexico to northern Argentina.
Source: Animal Diversity Web Intended Audience: General Reading Level: Middle School
tehuantepec Jackrabbit - Lepus flavigularis





The tehuantepec jackrabbit is found in Mexico.
Source: Arkive Intended Audience: General Reading Level: Middle School
Tres Marias Cottontail - Sylvilagus graysoni




The Tres Marias cottontail is only found on the Tres Marias Islands off of the coast of Mexico.
Source: Animal Diversity Web Intended Audience: General Reading Level: Middle School
Volcano Rabbit - Romerolagus diazi






The volcano rabbit is found in Mexico.
Source: Arkive Intended Audience: General Reading Level: Middle School
Volcano Rabbit - Romerolagus diazi





The volcano rabbit is the only member of Leporidae family that is known to vocalize.
Source: Animal Diversity Web Intended Audience: General Reading Level: Middle School
White-sided Jackrabbit - Lepus callotis





The white-sided jackrabbit is found in Arizona and Mexico.
Source: Arkive Intended Audience: General Reading Level: Middle School
White-sided Jackrabbit - Lepus callotis




The white-sided jackrabbit is most active at night or at dusk.
Source: Animal Diversity Web Intended Audience: General Reading Level: Middle School
White-tailed Jackrabbit - Lepus townsendii




The white-tailed jackrabbit is found in California, Colorado, Idaho, Illinois, Iowa, Kansas, Minnesota, Missouri, Montana, Nebraska, Nevada, New Mexico, North Dakota, Oregon, South Dakota, Utah, Washington, Wisconsin, and Canada.
Source: Arkive Intended Audience: General Reading Level: Middle School
White-tailed Jackrabbit - Lepus townsendii




White-tailed jackrabbits prefer open grasslands.
Source: Animal Diversity Web Intended Audience: General Reading Level: Middle School
Woolly Hare - Lepus oiostolus [in[




The woolly hare is found at high altitudes in the Tibetan plateau in western/southwestern China, India, and northern Nepal.
Source: Animal Diversity Web Intended Audience: General Reading Level: Middle School