Dendrobatidae - Poison Frogs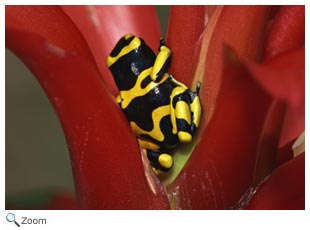 The species in this family are found in Central and South America. Poison frogs are also known as poison-arrow frogs because the poison they secrete on their skin was rubbed on the tips of blowguns by some native tribes in Colombia . In some species, the poison is strong enough to kill a human.

Many of the frogs in this family are brightly colored. Their bright coloring is a type of coloration called a badge that warns predators away.
The species in this family are 1-1.5 inches in length and live in trees or on the ground. They eat ants, beetles, and mites. Scientists think that they get their poison from the organisms they eat.

Tadpoles in this family are carried on the backs of the adults to a body of water. The body of water can be water that has gathered in a crevice or a flower! In some species the male carries the tadpoles, and in other species the female carries them. There are around 157 species in this family.

Dendrobatidae Photo Gallery

World Status Key


Least Concern

Near Threatened

Vulnerable

Endangered

Critically Endangered

Extinct in the Wild

Extinct
Status and range is taken from ICUN Redlist. If no status is listed, there is not enough data to establish status.
US Status Key


Threatened in US

Threatened in NH

Endangered in US

Endangered in NH

Introduced
Status taken from US Fish and Wildlife and NH Fish and Game
Location


Africa

Asia

Australia/Oceania

Europe

North America

South America

NH

Click for More Info

Click for Image
New Hampshire Species

North/Central American Species

None
Granular Poison Frog - Oophaga granulifera
La Brea Poison Frog - Oophaga occultator
Strawberry Poison Frog - Oophaga pumilio
Vicente's Poison Frog - Oophaga vicentei
Lovely Poison Frog - Phyllobates lugubris
Golfodulcean Poison Frog - Phyllobates vittatus
Andinobates claudiae
Yellow-bellied Poison Frog - Andinobates fulguritus
Silverstoneia flotator

North/Central American Species

Confusing Poison Frog - Ameerega maculata
Colostethus latinasus
Colostethus panamansis
Colostethus pratti
Green And Black Poison Frog - Dendrobates auratus
Hyloxalus chocoensis
Polkadot Poison Frog - Oophaga arborea
Species Around the World

Location Key
Africa Asia Australia/Oceania Europe North America South America NH Click for More Info
Brazil-nut Poison Frog - Adelphobates castaneoticus
Adelphobates galactonotus
Adelphobates quinquevittatus
La Planada Poison Frog - Ameerega andina
Pleasing Poison Frog - Ameerega bassleri
Ecuador Poison Frog - Ameerega bilinguis
Ameerega boliviana
Ameerega braccata
Cainarachi Poison Frog - Ameerega cainarachi
Palenque Poison Frog - Ameerega erythromos
Lutz's Poison Frog - Ameerega flavopicta
Ameerega hahneli
Ameerega ingeri
Rana Venenosa - Ameerega labialis
Manu Poison Frog - Ameerega macero
Rana Venenosa - Ameerega parvula
Peru Poison Frog - Ameerega petersi
Spot-legged Poison Frog - Ameerega picta
Oxapampa Poison Frog - Ameerega planipaleae
Ameerega pongoensis
Ameerega pulchripecta
Rana Venenosa - Ameerega rubriventris
Silverstone's Poison Frog - Ameerega silverstonei
Rana Venenosa - Ameerega simulans
Emerald Poison Frog - Ameerega smaragdina
Sapito Dardo Trilistado - Ameerega trivittata
Ameerega yungicola
Colostethus agilis
Colostethus alacris
Colostethus brachistriatus
Colostethus dysprosium
Colostethus fraterdanieli
Colostethus fugax
Colostethus furviventris
Colostethus imbricolus
Colostethus inguinalis
Quito Rocket Frog - Colostethus jacobuspetersi
Colostethus lynchi
Colostethus mertensi
Colostethus poecilonotus
Colostethus ramirezi
Santa Marta Poison Arrow Frog - Colostethus ruthveni
Colostethus thorntoni
Colostethus ucumari
Colostethus yaguara
Yellow-headed Poison Frog - Dendrobates leucomelas
Dendrobates nubeculosus
Dyeing Poison Frog - Dendrobates tinctorius
Yellow-striped Poison Frog - Dendrobates truncatus
Rana Tricolor Ecuatoriana - Epipedobates anthonyi
Marbled Poison Frog - Epipedobates boulengeri
Epipedobates espinosai
Rana Nodriza De Machalilla - Epipedobates machalilla
Phantasmal Poison Frog - Epipedobates tricolor
Rio Santiago Poison Frog - Excidobates captivus
Marañón Poison Frog - Excidobates mysteriosus
Hyloxalus abditaurantius
South American Rocket Frog - Hyloxalus anthracinus
Hyloxalus argyrogaster
Hyloxalus awa
Sky-blue Poison Frog - Hyloxalus azureiventris
Hyloxalus betancuri
Hyloxalus bocagei
Hyloxalus borjai
Hyloxalus breviquartus
Hyloxalus cevallosi
Hyloxalus chlorocraspedus
Hyloxalus delatorreae
Hyloxalus edwardsi
Loja Rocket Frog - Hyloxalus elachyhistus

Hyloxalus exasperatus
Hyloxalus excisus
Hyloxalus faciopunctulatus
Hyloxalus fallax
Hyloxalus fascianigrus
Hyloxalus infraguttatus
Hyloxalus lehmanni
Ranita Silbadora - Hyloxalus littoralis
Hyloxalus maculosus
Hyloxalus maquipucuna
Hyloxalus marmoreoventris
Hyloxalus mittermeieri
Hyloxalus mystax
Hyloxalus nexipus
Hyloxalus parcus
Hyloxalus patitae
Hyloxalus peculiaris
Hyloxalus peruvianus
Hyloxalus pinguis
Hyloxalus pulchellus
Hyloxalus pumilus
Hyloxalus ramosi
Hyloxalus ruizi
Hyloxalus saltuarius
Hyloxalus sauli
Hyloxalus shuar
Cream-backed Poison Frog - Hyloxalus subpunctatus
Hyloxalus sylvaticus
Hyloxalus toachi
Hyloxalus utcubambensis
Hellmich's Rocket Frog - Colostethus vergeli
Boulenger's Rocket Frog - Hyloxalus vertebralis
Hyloxalus whymperi
Collared Poison Frog- Mannophryne collaris
Demonic Poison Frog- Minyobates steyermarki
Harlequin Poison Frog - Oophaga histrionica
Lehmann's Poison Frog - Oophaga lehmanni
Splendid Poison Frog - Oophaga speciosa
Pichincha Poison Frog -Oophaga sylvatica
Kokoe Poison Frog - Phyllobates aurotaenia
Black-legged Poison Frog - Phyllobates bicolor
Golden Poison Frog - Phyllobates terribilis
Collins's Poison Frog - Ranitomeya abdita
Andinobates altobueyensis
Ranitomeya amazonica
Blessed Poison Frog - Ranitomeya benedicta
Rana Venenosa - Ranitomeya biolat
Cauca Poison Frog - Andinobates bombetes
Andinobates daleswansoni
Andinobates dorisswansonae
Rana Venenosa De Jatunsacha - Dendrobates duellmani
Red-headed Poison Frog - Ranitomeya fantastica
Ranitomeya flavovittata
Ranitomeya ignea
Mimic Poison Frog - Ranitomeya imitator
Ranitomeya intermedia
Pasco Poison Frog - Ranitomeya lamasi
Blue-bellied Poison Frog - Andinobates minutus
Andean Poison Frog - Andinobates opisthomelas
Ranitomeya reticulata
Ranitomeya rubrocephala
Ranitomeya sirensis
Summers' Poison Frog - Ranitomeya summersi
Andinobates tolimensis
Ranitomeya uakarii
Spotted Poison Frog - Ranitomeya vanzolinii
Ranitomeya variabilis
Dendrobate À Ventre Tacheté - Ranitomeya ventrimaculata
Green Poison Frog - Andinobates viridis
Andinobates virolinensis
Silverstoneia erasmios
Boquete Rocket Frog - Silverstoneia nubicola

Additional Information

Key: Profile Photos Video Audio

Adelphobates quinquevittatus
Adelphobates quinquevittatus is found in Brazil and Peru.
Source: Arkive Intended Audience: General Reading Level: Middle School Teacher Section: Yes

Adelphobates galactonotus
Adelphobates galactonotus is found in Brazil.
Source: Arkive Intended Audience: General Reading Level: Middle School Teacher Section: Yes

Ameerega boliviana
Ameerega boliviana is found in Bolivia.
Source: Arkive Intended Audience: General Reading Level: Middle School Teacher Section: Yes

Ameerega hahneli
Ameerega hahneli is found in Bolivia, Brazil, Colombia, Ecuador, French Guiana, Guyana, Peru, and Suriname.
Source: Arkive Intended Audience: General Reading Level: Middle School Teacher Section: Yes

Ameerega pongoensis
Ameerega pongoensis is found in Peru.
Source: Arkive Intended Audience: General Reading Level: Middle School Teacher Section: Yes

Andean Poison Frog - Andinobates opisthomelas
The Andean poison frog is found in Colombia.
Source: Arkive Intended Audience: General Reading Level: Middle School Teacher Section: Yes

Andean Poison Frog - Andinobates opisthomelas
The Andean poison frog is threatened by habitat loss and pollution.
Source: AmphibiaWeb Intended Audience: General Reading Level: High School Teacher Section: No

Black-legged Poison Frog - Phyllobates bicolor
The black-legged poison frog is found in Colombia .
Source: Arkive Intended Audience: General Reading Level: Middle School Teacher Section: Yes

Black-legged Poison Frog - Phyllobates bicolor
The black-legged poison frog captures its prey using its long, sticky tongue.
Source: Animal Diversity Web Intended Audience: General Reading Level: Middle School Teacher Section: Yes

Black-legged Poison Frog - Phyllobates bicolor
The black-legged poison frog is threatened by deforestation, pollution, and non-native predatory fish.
Source: Amphibia Web Intended Audience: General Reading Level: Middle School Teacher Section: No

Blessed Poison Frog  - Ranitomeya benedicta
The blessed poison frog is found in Colombia .
Source: Arkive Intended Audience: General Reading Level: Middle School Teacher Section: Yes

Blessed Poison Frog  - Ranitomeya benedicta
The blessed poison frog has a red head and a blue and black body.
Source: Dendrobates.org Intended Audience: General Reading Level: Middle School Teacher Section: No

Boquete Rocket Frog - Silverstoneia nubicola
The Boquete rocket frog is found in Colombia, Costa Rica, and Panama.
Source: Arkive Intended Audience: General Reading Level: Middle School Teacher Section: Yes

Boulenger's Rocket Frog - Hyloxalus vertebralis
The Boulenger's rocket frog is found in Ecuador.
Source: Arkive Intended Audience: General Reading Level: Middle School Teacher Section: Yes

Brazil-nut Poison Frog - Adelphobates castaneoticus
The Brazil-nut poison frog is found in Brazil.
Source: Arkive Intended Audience: General Reading Level: Middle School Teacher Section: Yes

Cainarachi Poison Frog - Ameerega cainarachi
The Cainarachi poison frog is found in Peru.
Source: Arkive Intended Audience: General Reading Level: Middle School Teacher Section: Yes

Cainarachi Poison Frog - Ameerega cainarachi
The Cainarachi poison frog is orange with blue and bright green stripes.
Source: Dendrobates.org Intended Audience: General Reading Level: Middle School Teacher Section: No

Cauca Poison Frog - Andinobates bombetes
The Cauca poison frog is found in Colombia.
Source: Arkive Intended Audience: General Reading Level: Middle School Teacher Section: Yes

Cauca Poison Frog - Andinobates bombetes
The Cauca poison frog is found in leaf litter and in bromeliads (rain forest plants that collect water in their centers.)
Source: AmphibiaWeb Intended Audience: General Reading Level: High School Teacher Section: No

Andinobates claudiae
Andinobates claudiae is found in Panama.
Source: AmphibiaWeb Intended Audience: General Reading Level: High School Teacher Section: No

Yellow-bellied Poison Frog - Andinobates fulguritus
The yellow-bellied poison frog is found in humid tropical forests in Colombia and Panama.
Source: AmphibiaWeb Intended Audience: General Reading Level: High School Teacher Section: No

Blue-bellied Poison Frog - Andinobates minutus
The blue-bellied poison frog is found in Colombia and Panama.
Source: AmphibiaWeb Intended Audience: General Reading Level: High School Teacher Section: No

Collared Poison Frog - Mannophryne collaris
The collared poison frog is found in Venezuela.
Source: Arkive Intended Audience: General Reading Level: Middle School Teacher Section: Yes

Collins's Poison Frog - Ranitomeya abdita
The Collins's poison frog is found in Ecuador.
Source: Arkive Intended Audience: General Reading Level: Middle School Teacher Section: Yes

Colostethus agilis
Colostethus agilis is found in Colombia.
Source: AmphibiaWeb Intended Audience: General Reading Level: Middle School Teacher Section: Yes

Demonic Poison Frog - Minyobates steyermarki
The demonic poison frog is found in Venezuela.
Source: Arkive Intended Audience: General Reading Level: Middle School Teacher Section: Yes

Demonic Poison Frog - Minyobates steyermarki
The demonic poison frog lives in bromeliads (plants that collect water in their centers.)
Source: EDGE Intended Audience: General Reading Level: Middle School Teacher Section: No

Dendrobate À Ventre Tacheté - Ranitomeya ventrimaculata
Dendrobate À Ventre Tacheté is found in Brazil, Colombia, Ecuador, French Guiana, and Peru.
Source: Dendrobates.org Intended Audience: General Reading Level: Middle School Teacher Section: No

Dyeing Poison Frog - Dendrobates tinctorius
The Dyeing poison frog is found in Brazil, French Guiana, Guyana, Suriname.
Source: Arkive Intended Audience: General Reading Level: Middle School Teacher Section: Yes

Dyeing Poison Frog - Dendrobates tinctorius
The Dyeing poison frog is large for a poison frog It is usually 1.5-2 inches in length.
Source: Animal Diversity Web Intended Audience: General Reading Level: Middle School Teacher Section: Yes

Dyeing Poison Frog - Dendrobates tinctorius
The Dyeing poison frog eats ants, spiders, termites, and other small insects.
Source: AmphibiaWeb Intended Audience: General Reading Level: High School Teacher Section: No

Emerald Poison Frog - Ameerega smaragdina
The emerald poison frog is found in Peru.
Source: Arkive Intended Audience: General Reading Level: Middle School Teacher Section: Yes

Emerald Poison Frog - Ameerega smaragdina
The emerald poison frog is is most active at dusk.
Source: Dendrobates.org Intended Audience: General Reading Level: Middle School Teacher Section: No


Rana Tricolor Ecuatoriana - Epipedobates anthonyi
Rana Tricolor Ecuatoriana is found in Ecuador and Peru.
Source: Arkive Intended Audience: General Reading Level: Middle School Teacher Section: Yes

Rana Tricolor Ecuatoriana - Epipedobates anthonyi
Rana Tricolor Ecuatoriana is also known as Anthony's poison arrow frog.
Source: Arkive Intended Audience: General Reading Level: Middle School Teacher Section: Yes

Rana Nodriza De Machalilla - Epipedobates machalilla
Rana Nodriza De Machalilla is found in Ecuador.
Source: Arkive Intended Audience: General Reading Level: Middle School Teacher Section: Yes

Golden Poison Frog - Phyllobates terribilis
The golden poison frog is found in Colombia.
Source: Arkive Intended Audience: General Reading Level: Middle School Teacher Section: Yes

Golden Poison Frog - Phyllobates terribilis
The golden poison frog is found in lowland Amazonian rainforests.
Source: Animal Diversity Web Intended Audience: General Reading Level: Middle School Teacher Section: Yes

Golden Poison Frog - Phyllobates terribilis
The Golden poison frog is one of the most toxic of all the poison frogs.
Source: AmphibiaWeb Intended Audience: General Reading Level: High School Teacher Section: No

Golfodulcean Poison Frog - Phyllobates vittatus
The Golfodulcean poison frog is found in Costa Rica.
Source: Arkive Intended Audience: General Reading Level: Middle School Teacher Section: Yes

Golfodulcean Poison Frog - Phyllobates vittatus
The Golfodulcean poison frog is threatened by forest fragmentation and water contamination from mining.
Source:AmphibiaWeb Intended Audience: General Reading Level: Middle School Teacher Section: No

Granular Poison Frog - Oophaga granulifera
The granular poison frog is found in Costa Rica and Panama.
Source: Arkive Intended Audience: General Reading Level: Middle School Teacher Section: Yes

Granular Poison Frog - Oophaga granulifera
The granular poison frog has bumpy skin and an orange back and a bluish-green legs, lower arms, and belly.
Source:AmphibiaWeb Intended Audience: General Reading Level: Middle School Teacher Section: No

Green and Black Poison Frog - Dendrobates auratus
The green and black poison frog is found in Colombia, Costa Rica, Nicaragua, and Panama.
Source: Arkive Intended Audience: General Reading Level: Middle School Teacher Section: Yes

Green and Black Poison Frog - Dendrobates auratus
The green and black poison frog has been introduced to the island of O'ahu in Hawaii.
Source: Animal Diversity Web Intended Audience: General Reading Level: Middle School Teacher Section: Yes

Green and Black Poison Frog - Dendrobates auratus
The green and black poison frog is mostly terrestrial.
Source: Dendrobates.org Intended Audience: General Reading Level: Middle School Teacher Section: No

Harlequin Poison Frog - Oophaga histrionica
The harlequin poison frog is found in Colombia .
Source: Animal Diversity Web Intended Audience: General Reading Level: Middle School Teacher Section: Yes

Harlequin Poison Frog - Oophaga histrionica
The harlequin poison frog has a variety of color patterns. Most are dark brown or black with yellow, red, or orange patches.
Source: AmphibiaWeb Intended Audience: General Reading Level: High School Teacher Section: No

Hellmich's Rocket Frog - Colostethus vergeli
Hellmich's rocket frog is found in Colombia .
Source: Arkive Intended Audience: General Reading Level: Middle School Teacher Section: Yes

Hyloxalus awa
Hyloxalus awa is found in Ecuador.
Source: Arkive Intended Audience: General Reading Level: Middle School Teacher Section: Yes

Hyloxalus awa
Hyloxalus awa lays its eggs on the ground and then the adults carry the eggs on their backs to a nearby stream.
Source: AmphibiaWeb Intended Audience: General Reading Level: High School Teacher Section: No

Hyloxalus cevallosi
Hyloxalus cevallosi is found in Ecuador.
Source: Arkive Intended Audience: General Reading Level: Middle School Teacher Section: Yes

Hyloxalus delatorreae
Hyloxalus delatorreae is found in Ecuador.
Source: Arkive Intended Audience: General Reading Level: Middle School Teacher Section: Yes

Hyloxalus edwardsi
Hyloxalus edwardsi is found in Colombia .
Source: Arkive Intended Audience: General Reading Level: Middle School Teacher Section: Yes

Hyloxalus pulchellus
Hyloxalus pulchellus is found in Colombia and Ecuador.
Source: Arkive Intended Audience: General Reading Level: Middle School Teacher Section: Yes

Hyloxalus toachi
Hyloxalus toachi is found in Ecuador.
Source: Arkive Intended Audience: General Reading Level: Middle School Teacher Section: Yes

Kokoe Poison Frog - Phyllobates aurotaenia
The Kokoe poison frog is found in Colombia .
Source: AmphibiaWeb Intended Audience: General Reading Level: High School Teacher Section: No

Lehmann's Poison Frog - Oophaga lehmanni
Lehmann's poison frog is found in Colombia.
Source: Arkive Intended Audience: General Reading Level: Middle School Teacher Section: Yes

Lehmann's Poison Frog - Oophaga lehmanni
Lehmann's poison frog is usually found on the ground.
Source: Animal Diversity Web Intended Audience: General Reading Level: Middle School Teacher Section: Yes

Lehmann's Poison Frog - Oophaga lehmanni
Lehmann's poison frog is also known as the red-banded frog.
Source: AmphibiaWeb Intended Audience: General Reading Level: High School Teacher Section: No

Loja Rocket Frog - Hyloxalus elachyhistus
The Loja rocket frog is found in Ecuador and Peru.
Source: Arkive Intended Audience: General Reading Level: Middle School Teacher Section: Yes

Loja Rocket Frog - Hyloxalus elachyhistus
The Loja rocket frog is brown with a tan to yellow stripe on its sides.
Source: AmphibiaWeb Intended Audience: General Reading Level: High School Teacher Section: No

Lovely Poison Frog - Phyllobates lugubris
The lovely poison frog is found in Costa Rica, Nicaragua, and Panama.
Source: AmphibiaWeb Intended Audience: General Reading Level: High School Teacher Section: No

Marañón Poison Frog - Excidobates mysteriosus
The Marañón poison frog is found in Peru.
Source: Arkive Intended Audience: General Reading Level: Middle School Teacher Section: Yes

Marañón Poison Frog - Excidobates mysteriosus
The Marañón poison frog is brown with large white spots.
Source: Dentobates.org Intended Audience: General Reading Level: Middle School Teacher Section: No

Mimic Poison Frog - Ranitomeya imitator
The mimic poison frog is found in Peru.
Source: Dentobates.org Intended Audience: General Reading Level: Middle School Teacher Section: No

Oxapampa Poison Frog - Ameerega planipaleae
The Oxapampa poison frog is found in Peru.
Source: Arkive Intended Audience: General Reading Level: Middle School Teacher Section: Yes

Oxapampa Poison Frog - Ameerega planipaleae
The Oxapampa poison frog is threatened by habitat fragmentation, water contamination, and the introduction of exotic prey to its habitat.
Source: Dentobates.org Intended Audience: General Reading Level: Middle School Teacher Section:No

Pasco Poison Frog - Ranitomeya lamasi
The Pasco poison frog is found in Peru.
Source: Dentobates.org Intended Audience: General Reading Level: Middle School Teacher Section:No

Phantasmal Poison Frog - Epipedobates tricolor
The Phantasmal poison frog is found in Ecuador.
Source: Arkive Intended Audience: General Reading Level: Middle School Teacher Section: Yes

Pichincha Poison Frog - Oophaga sylvatica
The Pichincha poison frog is found in Colombia and Ecuador.
Source: Arkive Intended Audience: General Reading Level: Middle School Teacher Section: Yes

Pleasing Poison Frog - Ameerega bassleri
The Pleasing poison frog is found in Peru.
Source: Arkive Intended Audience: General Reading Level: Middle School Teacher Section: Yes

Pleasing Poison Frog - Ameerega bassleri
The Pleasing poison frog is found along small streams and creeks.
Source: Dendrobates.org Intended Audience: General Reading Level: Middle School Teacher Section: No

Polkadot Poison Frog - Oophaga arborea
The Polkadot poison frog is found in Panama.
Source: Arkive Intended Audience: General Reading Level: Middle School Teacher Section: Yes

Polkadot Poison Frog - Oophaga arborea
The Polkadot poison frog is light brown with white spots.
Source: AmphibiaWeb Intended Audience: General Reading Level: Middle School Teacher Section: No

Quito Rocket Frog - Colostethus jacobuspetersi
The Quito rocket frog is found in Ecuador.
Source: Arkive Intended Audience: General Reading Level: Middle School Teacher Section: Yes

Rana Venenosa - Ameerega rubriventris
The rana venenosa is found in Peru.
Source: Arkive Intended Audience: General Reading Level: Middle School Teacher Section: Yes

Rana Venenosa - Ameerega rubriventris
The rana venenosa has bright orange spots on its belly.
Source: Dendrobates.org Intended Audience: General Reading Level: Middle School Teacher Section: No

Ranitomeya amazonica
Ranitomeya amazonica is found in Peru.
Source: Dendrobates.org Intended Audience: General Reading Level: Middle School Teacher Section: No

Andinobates dorisswansonae
Andinobates dorisswansonae is found in Colombia.
Source: Arkive Intended Audience: General Reading Level: Middle School Teacher Section: Yes

Andinobates dorisswansonae
Andinobates dorisswansonae is dark brown to black with bright orange spots.
Source: AmphibiaWeb Intended Audience: General Reading Level: High School Teacher Section: No

Ranitomeya flavovittata
Ranitomeya flavovittata is found in Peru.
Source: Arkive Intended Audience: General Reading Level: Middle School Teacher Section: Yes

Ranitomeya flavovittata
Ranitomeya flavovittata is black with yellow stripes and spots.
Source: Dendrobates.org Intended Audience: General Reading Level: Middle School Teacher Section: No

Ranitomeya reticulata
Ranitomeya reticulata is found in Ecuador and Peru.
Source: Dendrobates.org Intended Audience: General Reading Level: Middle School Teacher Section: No

Ranitomeya sirensis
Ranitomeya sirensis is found in Peru.
Source: Arkive Intended Audience: General Reading Level: Middle School Teacher Section: Yes

Ranitomeya sirensis
Ranitomeya sirensis has an orange back and a green belly and legs.
Source: Dendrobates.org Intended Audience: General Reading Level: Middle School Teacher Section: No

Andinobates tolimensis
Andinobates tolimensis is found in Colombia .
Source: Arkive Intended Audience: General Reading Level: Middle School Teacher Section: Yes

Andinobates tolimensis
Andinobates tolimensis is found in the cloud forest.
Source: AmphibiaWeb Intended Audience: General Reading Level: High School Teacher Section: No

Andinobates virolinensis
Andinobates virolinensis is found in Colombia.
Source: AmphibiaWeb Intended Audience: General Reading Level: High School Teacher Section: No

Santa Marta Poison Arrow Frog - Colostethus ruthveni
The Santa Marta poison arrow frog is found in Colombia .
Source: Arkive Intended Audience: General Reading Level: Middle School Teacher Section: Yes

Sapito Dardo Trilistado - Ameerega trivittata
The Sapito Dardo Trilistado is found in Bolivia, Brazil, Colombia, Guyana, Peru, Suriname, and Venezuela..
Source: Arkive Intended Audience: General Reading Level: Middle School Teacher Section: Yes

Sapito Dardo Trilistado - Ameerega trivittata
The Sapito Dardo Trilistado is found in is bright green and black.
Source: Dendrobates.org Intended Audience: General Reading Level: Middle School Teacher Section: No

Silverstone's Poison Frog - Ameerega silverstonei
The Silverstone's poison frog is found in Peru.
Source: Arkive Intended Audience: General Reading Level: Middle School Teacher Section: Yes

Silverstone's Poison Frog - Ameerega silverstonei
The Silverstone's poison frog is a bright orange-red with black rear legs and black flame-like markings on its lower back.
Source: Dendrobates.org Intended Audience: General Reading Level: Middle School Teacher Section:No

Sky-blue Poison Frog - Hyloxalus azureiventris
The sky-blue poison frog is found in Peru.
Source: Arkive Intended Audience: General Reading Level: Middle School Teacher Section: Yes

Sky-blue Poison Frog - Hyloxalus azureiventris
The sky-blue poison frog is usually found in rock piles or leaf litter.
Source: Dendrobates.org Intended Audience: General Reading Level: Middle School Teacher Section: No

Sky-blue Poison Frog - Hyloxalus azureiventris
The sky-blue poison frog is threatened by habitat loss.
Source: AmphibiaWeb Intended Audience: General Reading Level: Middle School Teacher Section: No

South American Rocket Frog - Hyloxalus anthracinus
The South American rocket frog is found in Ecuador.
Source: Arkive Intended Audience: General Reading Level: Middle School Teacher Section: Yes

Splendid Poison Frog - Oophaga speciosa
The splendid poison frog is found in Panama.
Source: Arkive Intended Audience: General Reading Level: Middle School Teacher Section: Yes

Splendid Poison Frog - Oophaga speciosa
The splendid poison frog is reddish-orange.
Source: AmphibiaWeb Intended Audience: General Reading Level: High School Teacher Section: No

Spotted Poison Frog - Ranitomeya vanzolinii
The spotted poison frog is found in Brazil and Peru.
Source: Dendrobates.org Intended Audience: General Reading Level: Middle School Teacher Section: No

Spotted Poison Frog - Ranitomeya vanzolinii
The spotted poison frog is found in the lowland Amazonian rainforest.
Source: AmphibiaWeb Intended Audience: General Reading Level: Middle School Teacher Section: No

Strawberry Poison Frog - Oophaga pumilio
The strawberry poison frog is found in Costa Rica, Nicaragua, and Panama.
Source: Arkive Intended Audience: General Reading Level: Middle School Teacher Section: Yes

Strawberry Poison Frog - Oophaga pumilio
The strawberry poison frog is found in rainforests on the Caribbean coast.
Source: AmphibiaWeb Intended Audience: General Reading Level: Middle School Teacher Section: No

Summers' Poison Frog - Ranitomeya summersi
Summers' poison frog is found in Peru.
Source: Arkive Intended Audience: General Reading Level: Middle School Teacher Section: Yes

Summers' Poison Frog - Ranitomeya summersi
Summers' poison frog is a terrestrial  frog.
Source: Dendrobates.org Intended Audience: General Reading Level: Middle School Teacher Section: No

Summers' Poison Frog - Ranitomeya summersi
Summers' poison frog is black with yellow-orange stripes.
Source: AmphibiaWeb Intended Audience: General Reading Level: Middle School Teacher Section: No

Red-headed Poison Frog - Ranitomeya fantastica
Red-headed poison frog is found in Peru.
Source: AmphibiaWeb Intended Audience: General Reading Level: Middle School Teacher Section: No

Red-headed Poison Frog - Ranitomeya fantastica
Red-headed poison frog is threatened by havesting for the pet trade and by habitat loss.
Source: Dendrobates.org Intended Audience: General Reading Level: Middle School Teacher Section: No


Yellow-striped poison frog  - Dendrobates truncatus
The yellow-striped poison frog is found in Colombia .
Source: Arkive Intended Audience: General Reading Level: Middle School Teacher Section: Yes