CUBAN FALCONIFORMES - Falcons, Hawks, Eagles, Ospreys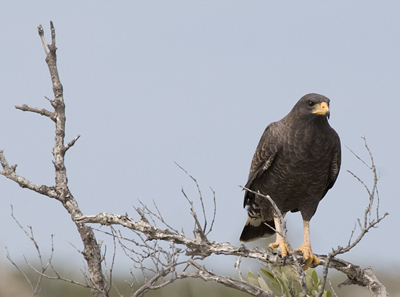 The birds in this order are the birds of prey. They are medium to large-sized and have strong talons; strong, curved beaks; and excellent eyesight.
They are very good flyers and often glide overhead riding on warm air or thermals. Most species make their nests in trees and mate with the same partner year-after-year. They usually live in male/female pairs.
They are found in all parts of the world except Antarctica, and live in all habitat types including the desert, tundra, taiga,wetlands, and rainforests.
There are 11 species in this order found in Cuba. Species include the crested caracara, the broad-winged hawk, the snail kite, and the osprey. Three species, the Cuban kite, the Cuban black hawk, and Gundlach's hawk are endemic to Cuba.



Birds of Cuba >>

Birds of Cuba Photo Gallery >>
CUBAN FALCONIFORMES - Falcons, Hawks, Eagles, Ospreys

World Status Key

Least Concern

Near Threatened

Vulnerable

Endangered

Critically Endangered

Extinct in the Wild

Extinct
Status and range is taken from ICUN Redlist. If no status is listed, there is not enough data to establish status.
US Status Key


Threatened in US

Threatened in NH

Endangered in US

Endangered in NH

Introduced

Breeds in NH (Birds)
Status taken from US Fish and Wildlife and NH Fish and Game
Location


Africa

Asia

Australia/Oceania

Europe

North America

South America

NH

Click for More Info

Click for Image
| | | |
| --- | --- | --- |
| Species | Sounds | Occurrence |
| Snail Kite - Rostrhamus sociabilis | | Year-round |
| | Audio Credit: xeno-canto.org Roger Ahlman | |
| Northern Harrier - Circus cyaneus | | Non-breeding |
| | Audio Credit: xeno-canto.org Marco Dragonetti | |
| Sharp-shinned Hawk - Accipiter striatus | | Year-round |
| | Audio Credit: xeno-canto.org Paul Driver | |
| Gundlach's Hawk - Accipiter gundlachi | | Endemic |
| | Audio Credit: xeno-canto.org Tim Burr | |
| Cuban Black Hawk - Buteogallus gundlachii | | Endemic |
| | Audio Credit: xeno-canto.org Laura Gooch | |
| Broad-winged Hawk - Buteo platypterus | | Year-round |
| | Audio Credit: xeno-canto.org Allen Creek | |
| Red-tailed Hawk -Buteo jamaicensis | | Year-round |
| | Audio Credit: xeno-canto.org Andrew Spencer | |
| Osprey - Pandion haliaetus | | Year-round |
| | Audio Credit: xeno-canto.org Don Jones | |
| Crested Caracara - Caracara cheriway | | Year-round |
| | Audio Credit: xeno-canto.org Andrew Spencer | |
| American Kestrel - Falco sparverius | | Year-round |
| | Audio Credit: xeno-canto.org Israel Aragon | |
| Merlin - Falco columbarius | | Non-breeding |
| | Audio Credit: xeno-canto.org Stein Ø. Nilsen | |
| Peregrine Falcon-Falco peregrinus | | Non-breeding |
| | Audio Credit: xeno-canto.org Lars Lachmann | |
| Cuban Kite - Chondrohierax wilsonii | No Audio Available | Endemic |
Additional Information
Key:

Profile

Photos

Video

Audio
Snail Kite - Rostrhamus sociabilis







The snail kite is found in Florida, the Caribbean, Central America, and South America.
Source: Cornell Lab of Ornithology Intended Audience: General Reading Level: Middle School
Northern Harrier - Circus cyaneus













The northern harrier is found throughout the Canada and the U.S. south into Mexico, the Caribbean, Central America and northern South America.
Source: Cornell Lab of Ornithology Intended Audience: General Reading Level: Middle School
Northern Harrier - Circus cyaneus













The northern harrier nests on the ground.
Source: Arkive Intended Audience: General Reading Level: Middle School
Sharp-shinned Hawk - Accipiter striatus









The female sharp-shinned hawk is twice as large as the male.
Source: Cornell Lab of Ornithology Intended Audience: General Reading Level: Middle School
Sharp-shinned Hawk - Accipiter striatus







At 9.5-12 inches in length, the sharp-shinned hawk is the smallest hawk found in the U.S. and Canada.
Source: Arkive Intended Audience: General Reading Level: Middle School

Gundlach's Hawk - Accipiter gundlachi





Gundlach's hawk was once found across much of Cuba. It is now found in five isolated locations scattered across the island.
Source:BirdLife International Intended Audience: General Reading Level: Middle School
Cuban Black Hawk - Buteogallus gundlachii




The Cuban black hawk is found in coastal areas of Cuba.
Source: Arkive Intended Audience: General Reading Level: Middle School
Cuban Black Hawk - Buteogallus gundlachii





The Cuban black hawk is found in mangrove swamps and on the banks of large rivers.
Source:BirdLife International Intended Audience: General Reading Level: Middle School
Broad-winged Hawk - Buteo platypterus









The broad-winged hawk migrates in flocks that can number in the thousands.
Source: Cornell Lab of Ornithology Intended Audience: General Reading Level: Middle School
Red-tailed Hawk - Buteo jamaicensis








The red-tailed hawk is found throughout North America, the Caribbean, and Central America.
Source: San Diego Zoo Intended Audience: Students Reading Level: Elementary/Middle School
Red-tailed Hawk - Buteo jamaicensis









The red-tailed hawk can spot a mouse from 100 feet up in the air.
Source: National Geographic Creature Feature Intended Audience: Students Reading Level: Elementary School
Red-tailed Hawk - Buteo jamaicensis









The red-tailed hawk is one of the most common hawks in North America.
Source: Cornell Lab of Ornithology Intended Audience: General Reading Level: Middle School
Red-tailed Hawk - Buteo jamaicensis








During breeding season, red-tailed hawks are very territorial and aggressive.
Source: Arkive Intended Audience: General Reading Level: Middle School
Osprey - Pandion haliaetus













The osprey is also known as the fish hawk.
Source: Arkive Intended Audience: General Reading Level: Middle School
Osprey - Pandion haliaetus













The osprey is found on all continents except Antarctica.
Source: Cornell Lab of Ornithology Intended Audience: General Reading Level: Middle School
American Kestrel - Falco sparverius









The American kestrel is the smallest North American falcon.
Source: Cornell Lab of Ornithology Intended Audience: General Reading Level: Middle School
American Kestrel - Falco sparverius









The American kestrel breeds throughout North and South America from near the tree line in Alaska and Canada south to Tierra del Fuego, Argentina.
Source: National Geographic Intended Audience: General Reading Level: Middle School
Merlin - Falco columbarius












The merlin is found from Canada south to Argentina. It is also found in Europe, Asia, and northern Africa.
Source: Cornell Lab of Ornithology Intended Audience: General Reading Level: Middle School
Merlin - Falco columbarius











Merlins prefer open country like grasslands, dunes, sea shores, and deserts.
Source: Animal Diversity Web Intended Audience: General Reading Level: Middle School
Merlin - Falco columbarius












Female merlins are larger than males.
Source: Arkive Intended Audience: General Reading Level: Middle School
Peregrine Falcon-Falco peregrinus














Peregrine falcons are found in most regions of the world, except Antarctica. In North America, the peregrine falcon breeds from Alaska and the Canadian arctic south though the western United State into Mexico and from New England to Virginia on the East Coast. It winters along the Atlantic, Pacific, and Gulf Coasts.
Source: Cornell Lab of Ornithology Intended Audience: General Reading Level: Middle School
Peregrine Falcon-Falco peregrinus













The peregrine falcon is found in habitats with open areas and cliffs for nesting. It is frequently found on mountains, coasts, and rivers with cliffs.
Source: Animal Diversity Web Intended Audience: General Reading Level: Middle School
Peregrine Falcon-Falco peregrinus














The peregrine falcon hunts in the air or from a perch. It hunts for birds and either dives on its prey from above or chases it from behind.
Source: Arkive Intended Audience: General Reading Level: Middle School
Cuban Kite - Chondrohierax wilsonii





The Cuban kite is only found in Cuba.
Source:BirdLife International Intended Audience: General Reading Level: Middle School