Cotingidae - Cotingas, Bellbirds, Becards, Cock-of-the-rocks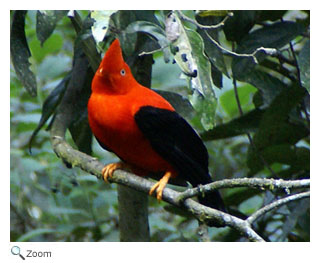 There are around 96 species of birds in this family. They are found in tropical and subtropical forests or forest edges in Central and South America.
Some species, like the Andean cock-of-the rock, are brightly colored and have crests. Other species, like the long-wattled umbrella bird, have wattles on their chests. The male long-wattled umbrella bird's wattle extends past his feet!

The birds in this family range in size from the 3 inch Kinglet Calyptura to the 20 inch Amazonian umbrella bird. They eat fruits, berries, and insects.



Cotingidae Photo Gallery
World Status Key


Least Concern

Near Threatened

Vulnerable

Endangered

Critically Endangered

Extinct in the Wild

Extinct
Status and range is taken from ICUN Redlist. If no status is listed, there is not enough data to establish status.
US Status Key


Threatened in US

Threatened in NH

Endangered in US

Endangered in NH

Breeds in NH

Introduced
Status taken from US Fish and Wildlife and NH Fish and Game
New Hampshire Species

North/Central American Species

None



Cinnamon Becard - Pachyramphus cinnamomeus
One-colored Becard - Pachyramphus homochrous
Grey-collared Becard - Pachyramphus major
Jamaican Becard - Pachyramphus niger
White-winged Becard - Pachyramphus polychopterus
Cinereous Becard - Pachyramphus rufus
Barred Becard - Pachyramphus versicolor
White Bellbird - Procnias albus
Bearded Bellbird - Procnias averano
Three-wattled Bellbird - Procnias tricarunculatus
Purple-throated Fruitcrow - Querula purpurata
Thrush-like Schiffornis - Schiffornis turdina
Black-tailed Tityra - Tityra cayana
Black-crowned Tityra - Tityra inquisitor
Masked Tityra - Tityra semifasciata

North/Central American Species

Yellow-billed Cotinga - Carpodectes antoniae
Black-tipped Cotinga - Carpodectes hopkei
Snowy Cotinga - Carpodectes nitidus
Bare-necked Umbrellabird - Cephalopterus glabricollis
Lovely Cotinga - Cotinga amabilis
Blue Cotinga - Cotinga nattererii
Turquoise Cotinga - Cotinga ridgwayi
Speckled Mourner - Laniocera rufescens
Rufous Piha - Lipaugus unirufus
Sharpbill - Oxyruncus cristatus
Rose-throated Becard - Pachyramphus aglaiae
Black-and-white Becard - Pachyramphus albogriseus
Other Species Around the World

Africa Asia Australia/Oceania Europe North/Central America South America NH Species

Scaled Fruiteater - Ampelioides tschudii
Red-crested Cotinga - Ampelion rubrocristatus
Chestnut-crested Cotinga - Ampelion rufaxilla
Kinglet Calyptura - Calyptura cristata
Yellow-billed Cotinga - Carpodectes antoniae
Black-tipped Cotinga - Carpodectes hopkei
Snowy Cotinga - Carpodectes nitidus
Hooded Berryeater - Carpornis cucullata
Black-headed Berryeater - Carpornis melanocephala
Bare-necked Umbrellabird - Cephalopterus glabricollis
Amazonian Umbrellabird - Cephalopterus ornatus
Long-wattled Umbrellabird - Cephalopterus penduliger
Black-faced Cotinga - Conioptilon mcilhennyi
Lovely Cotinga - Cotinga amabilis
Spangled Cotinga - Cotinga cayana
Purple-breasted Cotinga - Cotinga cotinga
Banded Cotinga - Cotinga maculata
Plum-throated Cotinga - Cotinga maynana
Blue Cotinga - Cotinga nattererii
Turquoise Cotinga - Cotinga ridgwayi
Chestnut-bellied Cotinga - Doliornis remseni
Bay-vented Cotinga - Doliornis sclateri
Bare-necked Fruitcrow - Gymnoderus foetidus
Crimson Fruitcrow - Haematoderus militaris
Dusky Purpletuft - Iodopleura fusca
White-browed Purpletuft - Iodopleura isabellae
Buff-throated Purpletuft - Iodopleura pipra
Shrike-like Cotinga - Laniisoma elegans
Cinereous Mourner - Laniocera hypopyrra
Speckled Mourner - Laniocera rufescens
Dusky Piha - Lipaugus fuscocinereus
Cinnamon-vented Piha - Lipaugus lanioides
Rose-collared Piha - Lipaugus streptophorus
Rufous Piha - Lipaugus unirufus
Scimitar-winged Piha - Lipaugus uropygialis
Screaming Piha - Lipaugus vociferans
Chestnut-capped Piha - Lipaugus weberi
Sharpbill - Oxyruncus cristatus
Rose-throated Becard - Pachyramphus aglaiae
Black-and-white Becard - Pachyramphus albogriseus
Chestnut-crowned Becard - Pachyramphus castaneus
Cinnamon Becard - Pachyramphus cinnamomeus
One-colored Becard - Pachyramphus homochrous
Grey-collared Becard - Pachyramphus major
Black-capped Becard - Pachyramphus marginatus
Pink-throated Becard - Pachyramphus minor
Jamaican Becard - Pachyramphus niger
White-winged Becard - Pachyramphus polychopterus


Cinereous Becard - Pachyramphus rufus
Slaty Becard - Pachyramphus spodiurus
Glossy-backed Becard - Pachyramphus surinamus
Crested Becard - Pachyramphus validus
Barred Becard - Pachyramphus versicolor
Green-backed Becard - Pachyramphus viridis
Capuchinbird - Perissocephalus tricolor
Swallow-tailed Cotinga - Phibalura flavirostris
Guianan Red-cotinga - Phoenicircus carnifex
Black-necked Red-cotinga - Phoenicircus nigricollis
Peruvian Plantcutter - Phytotoma raimondii
Rufous-tailed Plantcutter - Phytotoma rara
White-tipped Plantcutter - Phytotoma rutila
Barred Fruiteater - Pipreola arcuata
Golden-breasted Fruiteater - Pipreola aureopectus
Fiery-throated Fruiteater - Pipreola chlorolepidota
Handsome Fruiteater - Pipreola formosa
Scarlet-breasted Fruiteater - Pipreola frontalis
Band-tailed Fruiteater - Pipreola intermedia
Orange-breasted Fruiteater - Pipreola jucunda
Black-chested Fruiteater - Pipreola lubomirskii
Masked Fruiteater - Pipreola pulchra
Green-and-black Fruiteater - Pipreola riefferii
Red-banded Fruiteater - Pipreola whitelyi
Purple-throated Cotinga - Porphyrolaema porphyrolaema
White Bellbird - Procnias albus
Bearded Bellbird - Procnias averano
Bare-throated Bellbird - Procnias nudicollis
Three-wattled Bellbird - Procnias tricarunculatus
Red-ruffed Fruitcrow - Pyroderus scutatus
Purple-throated Fruitcrow - Querula purpurata
Andean Cock-of-the-rock - Rupicola peruvianus
Guianan Cock-of-the-rock - Rupicola rupicola
Greater Schiffornis - Schiffornis major
Thrush-like Schiffornis - Schiffornis turdina
Greenish Schiffornis - Schiffornis virescens
Olivaceous Piha - Snowornis cryptolophus
Gray-tailed Piha - Snowornis subalaris
Black-and-gold Cotinga - Tijuca atra
Gray-winged Cotinga - Tijuca condita
Black-tailed Tityra - Tityra cayana
Black-crowned Tityra - Tityra inquisitor
Masked Tityra - Tityra semifasciata
White-naped Xenopsaris - Xenopsaris albinucha
White-winged Cotinga - Xipholena atropurpurea
White-tailed Cotinga - Xipholena lamellipennis
Pompadour Cotinga - Xipholena punicea
White-cheeked Cotinga - Zaratornis stresemanni