Hypocoliidae - Hypocolius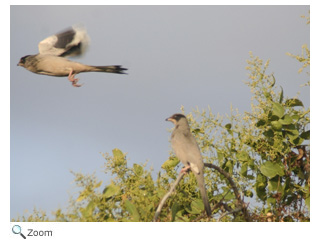 There is only one bird species in this family. The gray hypocolius is found in the Middle East. It breeds in Iraq, Iran, and Pakistan and it winters around the Red Sea, the Persian Gulf, and the coasts of Saudi Arabia. It lives in brush and scrub areas.
The gray hypocolius is about the size of a cardinal. It has a long tail and a small bill. Females are all gray. Males are gray with a black mask around their eyes, black edges to their wings, and a black tipped tail. The gray hypocolius eats berries and insects. It is often placed in the Bombycillidae family.
World Status Key


Least Concern

Near Threatened

Vulnerable

Endangered

Critically Endangered

Extinct in the Wild

Extinct
Status and range is taken from ICUN Redlist. If no status is listed, there is not enough data to establish status.
US Status Key


Threatened in US

Threatened in NH

Endangered in US

Endangered in NH

Breeds in NH

Introduced
Status taken from US Fish and Wildlife and NH Fish and Game
| | | |
| --- | --- | --- |
| New Hampshire Species | | North/Central American Species |
| None | | None |
Other Species Around the World

Africa Asia Australia/Oceania Europe North/Central America South America NH Species

Gray Hypocolius - Hypocolius ampelinus
Additional Information
Key:

Profile

Photos

Video

Audio
Gray Hypocolius - Hypocolius ampelinus




The gray hypocolius breeds in Iraq, Iran, Afghanistan, Pakistan, and Turkmenistan.
Source: Arkive Intended Audience: General Reading Level: Middle School
Gray Hypocolius - Hypocolius ampelinus




In the winter the gray hypocolius can be found ear Red Sea and Persian Gulf coasts of Arabia. It also winters in western India.
Source: Bird Guide Intended Audience: General Reading Level: Middle School