Bombycillidae - Waxwings, Silky-flycatchers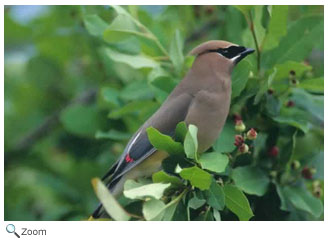 There are eight species of birds in this family. There are three species of waxwings. Waxwings have crests on their heads, black face masks, and soft brownish-gray feathers. Two of the species, the Cedar waxwing (Bombycilla cedrorum) and the Bohemian waxwing (Bombycilla garrulus), have a unique red waxy tip on the end of their wings and a yellow waxy tip on their tails.
The Japanese waxwing (Bombycilla japonica) has the same red waxy substance on the tips of its wing feathers and a waxy tip on its tail feathers. Waxwings are found in forests and eat insects and berries. They often move in large flocks from berry source to berry source, where they strip a bush or tree clean of berries before moving on! Two species are found in North America, the bohemian waxwing is found in Canada and in Alaska, Washington, Idaho and Montana. The cedar waxwing is found in North America from Canada south to Panama.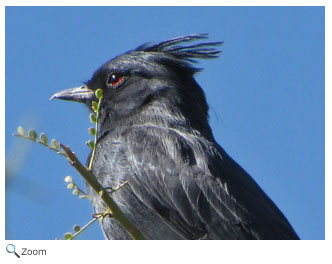 There are four species of silky-flycatchers. They are found from the woodlands of the Southwestern United States south to Panama. They have crests on their heads and range in color from black to gray to yellow. They eat insects and berries.
The phainopepla (Phainopepla nitens) is a silky-flycatcher found in the scrublands of the western United States from central California south to Mexico and east to Texas. Like the waxwings, it has a crest on its head. Males are black and females are gray. It has a long tail and white wing patches. It eats mistletoe berries, but it will eat juniper berries, elderberries, and insects, if it can't find mistletoe.
The gray hypocolius is sometimes placed in its own family, Hypocoliidae. It is found in the Middle East. It breeds in Iraq, Iran, and Pakistan and it winters around the Red Sea, the Persian Gulf, and the coasts of Saudi Arabia. It lives in brush and scrub areas. The gray hypocolius is about the size of a cardinal. It has a long tail and a small bill. Females are all gray. Males are gray with a black mask around their eyes, black edges to their wings, and a black tipped tail. The hypocolius eats berries and insects.

Bombycillidae Photo Gallery
World Status Key


Least Concern

Near Threatened

Vulnerable

Endangered

Critically Endangered

Extinct in the Wild

Extinct
Status and range is taken from ICUN Redlist. If no status is listed, there is not enough data to establish status.
US Status Key


Threatened in US

Threatened in NH

Endangered in US

Endangered in NH

Breeds in NH

Introduced
Status taken from US Fish and Wildlife and NH Fish and Game
New Hampshire Species

North/Central American Species

Bohemian Waxwing - Bombycilla garrulus
Cedar Waxwing - Bombycilla cedrorum


Black-and-yellow Silky-flycatcher - Phainoptila melanoxantha
Gray Silky-flycatcher - Ptilogonys cinereus
Long-tailed Silky-flycatcher - Ptilogonys caudatus
Phainopepla - Phainopepla nitens
Other Species Around the World

Africa Asia Australia/Oceania Europe North/Central America South America NH Species

Black-and-yellow Silky-flycatcher-Phainoptila melanoxantha
Bohemian Waxwing - Bombycilla garrulus
Cedar Waxwing - Bombycilla cedrorum
Gray Hypocolius - Hypocolius ampelinus
Gray Silky-flycatcher - Ptilogonys cinereus
Japanese Waxwing - Bombycilla japonica
Long-tailed Silky-flycatcher - Ptilogonys caudatus
Phainopepla - Phainopepla nitens
Additional Information
Key:

Profile

Photos

Video

Audio
Black-and-yellow Silky-flycatcher - Phainoptila melanoxantha





The black-and-yellow silky flycatcher is found in Costa Rica and Panama.
Source: Internet Bird Collection Intended Audience: General Reading Level: Middle School
Bohemian Waxwing - Bombycilla garrulus








The bohemian waxwing lives a nomadic lifestyle; it moves from place to place in search of berries.
Source: Cornell Lab of Ornithology Intended Audience: General Reading Level: Middle School
Bohemian Waxwing - Bombycilla garrulus







Bohemian waxwings rarely walk on the ground.
Source: Animal Diversity Web Intended Audience: General Reading Level: Middle School
Bohemian Waxwing - Bombycilla garrulus








The bohemian waxwing breeds in open coniferous or mixed forests.
Source: Internet Bird Collection Intended Audience: General Reading Level: Middle School
Bohemian Waxwing - Bombycilla garrulus








The bohemian waxwing has red, waxy deposits at the tips of their secondary feathers.
Source: Seattle Audubon Intended Audience: General Reading Level: Middle School
Cedar Waxwing - Bombycilla cedrorum








The cedar waxwing's face has a narrow black mask outlined in white.
Source: Cornell Lab of Ornithology Intended Audience: General Reading Level: Middle School
Cedar Waxwing - Bombycilla cedrorum








The cedar waxwing is only found in North America.
Source: Animal Diversity Web Intended Audience: General Reading Level: Middle School
Cedar Waxwing - Bombycilla cedrorum








Cedar Waxwings eat some insects, but are primarily fruit-eaters.
Source: Seattle Audubon Intended Audience: General Reading Level: Middle School
Gray Hypocolius - Hypocolius ampelinus




The gray hypocolius breeds in Iraq, Iran, Afghanistan, Pakistan, and Turkmenistan.
Source: Arkive Intended Audience: General Reading Level: Middle School
Gray Hypocolius - Hypocolius ampelinus




In the winter the gray hypocolius can be found ear Red Sea and Persian Gulf coasts of Arabia. It also winters in western India.
Source: Bird Guide Intended Audience: General Reading Level: Middle School
Japanese Waxwing - Bombycilla japonica





The Japanese waxwing is found in north-east Asia.
Source: Internet Bird Collection Intended Audience: General Reading Level: Middle School
Long-tailed Silky-flycatcher - Ptilogonys caudatus





The long-tailed silky-flycatcher is a passerine bird found in the mountains of Costa Rica and Panama.
Source: Internet Bird Collection Intended Audience: General Reading Level: Middle School
Phainopepla - Phainopepla nitens






The male phainopepla is black and the female is gray. They both have red eyes and crest on their heads.
Source: Internet Bird Collection Intended Audience: General Reading Level: Middle School
Phainopepla - Phainopepla nitens






The phainopepla's main food source is mistletoe berries.
Source: Animal Diversity Web Intended Audience: General Reading Level: Middle School
Phainopepla - Phainopepla nitens






The phainopepla is found in the deserts and arid woodlands of the southwestern United States and Mexico.
Source: Cornell Lab of Ornithology Intended Audience: General Reading Level: Middle School