Haematopodidae - oystercatchers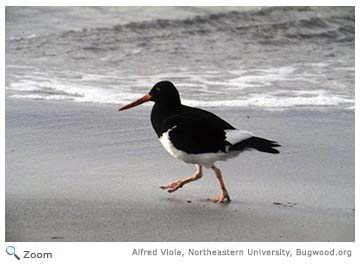 Oystercatchers are shorebirds with long, strong, pointed orange or red bills that they use to open oysters and other bivalves. They also eat fish and crabs. Most species are black or dark brown with white undersides. Males and females look alike. Oystercatchers live on coasts in all areas of the world, except for the Arctic and Antarctic regions.
Oystercatchers nest in a scrape on the ground. The female lays 1-3 eggs. Both the female and the male incubate the eggs. During the breeding season, oystercatchers are very territorial.
There species in this family include the black oystercatcher, the South Island oystercatcher, the sooty oystercatcher, the pied oystercatcher, the African oystercatcher, the Eurasian oystercatcher, and the American oystercatcher. One species, the Canarian black oystercatcher, is extinct.
World Status Key


Least Concern

Near Threatened

Vulnerable

Endangered

Critically Endangered

Extinct in Wild

Extinct
Status taken from ICUN Redlist. If no status is listed, there is not enough data to establish status, or there is no status data for the species.
US Status Key


Threatened in US

Threatened in NH

Endangered in US

Endangered in NH

Introduced
Status taken from US Fish and Wildlife and NH Fish and Game
Species Around the World

Location Key
Africa Asia Australia/Oceania Europe North/Central America South America NH Species


Blackish Oystercatcher - Haematopus ater
Black Oystercatcher - Haematopus bachmani
Chatham Oystercatcher - Haematopus chathamensis
Sooty Oystercatcher - Haematopus fuliginosus
Magellanic Oystercatcher - Haematopus leucopodus



Pied Oystercatcher - Haematopus longirostris
Canary Islands Oystercatcher - Haematopus meadewaldoi
African Oystercatcher - Haematopus moquini
Eurasian Oystercatcher - Haematopus ostralegus
American Oystercatcher - Haematopus palliatus
Variable Oystercatcher - Haematopus unicolor

Additional Information

Resource Key
Profile Photos Video Audio

African Oystercatcher - Haematopus moquini
The African oystercatcher is found in Namibia and South Africa.
Source: Arkive Intended Audience: General Reading Level: Middle School

American Oystercatcher - Haematopus palliatus
The American oystercatcher is found along the Atlantic Coast from southern New England south to South America. It is also found in the Gulf Coast and on the Pacific Coast north to Southern California.
Source: Cornell Lab of Ornithology Intended Audience: General Reading Level: Middle School

American Oystercatcher - Haematopus palliatus
The American oystercatcher is the largest shorebird in the Americas.
Source: Arkive Intended Audience: General Reading Level: Middle School

Black Oystercatcher - Haematopus bachmani
The black oystercatcher is found on the Pacific Coast of Canada and the United States.
Source: Arkive Intended Audience: General Reading Level: Middle School

Chatham Oystercatcher - Haematopus chathamensis
The Chatham oystercatcher is found in the Chatham Islands in New Zealand
Source: Arkive Intended Audience: General Reading Level: Middle School

Eurasian Oystercatcher - Haematopus ostralegus
The Eurasian oystercatcher is found throughout Europe, Asia, and Africa.
Source: Arkive Intended Audience: General Reading Level: Middle School

Magellanic Oystercatcher - Haematopus leucopodus
The Magellanic oystercatcher is found in Argentina, Chile, the Falkland Islands, South Georgia, and the South Sandwich Islands
Source: Arkive Intended Audience: General Reading Level: Middle School