Monthly Theme
Teamwork
Teamwork, or cooperation, is when you work with a group to get something done. Often you use teamwork without even realizing it, like building a sand castle with your family or helping your parent at the grocery store. Teamwork is also important when participating in things like bands, group sports, or dramatic plays. Click on some fun teamwork activities to do with your family or friends, and remember the more, the merrier. >> More

Past Themes
Featured Program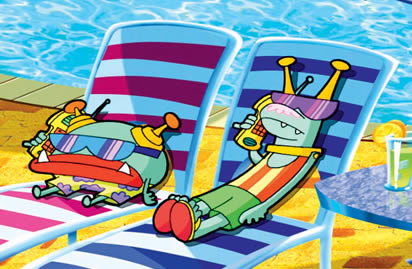 Airs M-F from 2:30-3:00 p.m.

The Emmy Award-winning series CYBERCHASE teaches kids aged 8-12 math concepts in a fun way they can understand. Packed with mystery, humor, and action, the TV show features a team of curious kids who outwit, outsmart, and outlast the bad guys in their adventurous quest to save Cyberspace.

Each episode takes the heroes on a thrilling adventure driven by a different concept - from tackling time in ancient Egyptian tombs to cracking codes in creepy caves. Kids readily learn that math is everywhere and fun to use! And even more exciting for teachers, each episode is tied to the National Council of Teachers of Mathematics (NCTM) Standards - so it can be used to supplement a core curriculum!