Vespertilionidae - Evening Bats, Vesper Bats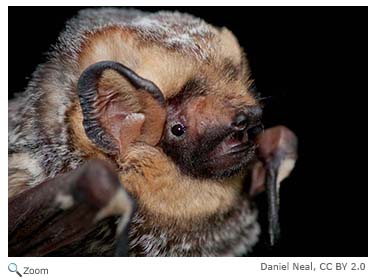 With over 400 species, this is the largest family of bats. Most of the bats found in the United States are in this family. The bats inthis family are found around the world, except in the polar regions, and live in a wide variety of habitats including both tropical and temperate forests and deserts.
The species in this family have small eyes, no noseleaf, and tails. Most of the species in this order eat insects and roost in caves, buildings, trees, or crevices.
World Status Key


Least Concern

Near Threatened

Vulnerable

Endangered

Critically Endangered

Extinct in Wild

Extinct

Not Enough Data
Status and range is taken from ICUN Redlist.
U.S. Status Key
Threatened in US Endangered in US Introduced
Status taken from US Fish and Wildlife. Click on U.S. status icon to go to the U.S. Fish and Wildlife species profile.
New Hampshire Status Key
Threatened in NH Endangered in NH Breeds in NH (birds)
Status taken from NH Fish and Game
Location Key


Africa

Asia

Australia/Oceania

Europe

North America

South America

NH

Click for More Info

Click for Image

New Hampshire Species

North/Central American Species

Big Brown Bat - Eptesicus fuscus
Eastern Red Bat - Lasiurus borealis
Hoary Bat - Lasiurus cinereus
Silver-haired Bat - Lasionycteris noctivagans
Eastern Small-footed Bat - Myotis leibii
Little Brown Bat - Myotis lucifugus
Northern Long-eared Bat - Myotis septentrionalis
Eastern Pipistrelle - Pipistrellus subflavus


Guatemalan Myotis - Myotis cobanensis
Dominican Myotis - Myotis dominicensis
Elegant Myotis - Myotis elegans
Long-eared Myotis - Myotis evotis
Findley's Myotis - Myotis findleyi
Cinnamon Myotis - Myotis fortidens
Gray Myotis - Myotis grisescens
Hairy-legged Myotis - Myotis keaysi
Keen's Myotis - Myotis keenii
Schwartz's Myotis - Myotis martiniquensis
Dark-nosed Small-footed Myotis - Myotis melanorhinus
Curacao Myotis - Myotis nesopolus
Black Myotis - Myotis nigricans
Myotis nyctor
Arizona Myotis - Myotis occultus
Montane Myotis - Myotis oxyotus
Peninsular Myotis - Myotis peninsularis
Flat-headed Myotis - Myotis planiceps
Riparian Myotis - Myotis riparius
Indiana Bat - Myotis sodalis
Fringed Myotis - Myotis thysanodes
Cave Myotis - Myotis velifer
Fish-eating Bat - Myotis vivesi
Long-legged Myotis - Myotis volans
Yuma Myotis - Myotis yumanensis
Cuban Evening Bat - Nycticeius cubanus
Evening Bat - Nycticeius humeralis
Western Pipistrelle - Pipistrellus hesperus
Yucatan Yellow Bat - Rhogeessa aeneus
Allen's Yellow Bat - Rhogeessa alleni
Bickham's Little Yellow Bat - Rhogeessa bickhami
Genoways's Yellow Bat - Rhogeessa genowaysi
Slender Yellow Bat - Rhogeessa gracilis
Thomas' Yellow Bat - Rhogeessa io
Rhogeessa menchuae
Least Yellow Bat - Rhogeessa mira
Little Yellow Bat - Rhogeessa parvula
Black-winged Little Yellow Bat - Rhogeessa tumida

North/Central American Species

Pallid Bat - Antrozous pallidus
Van Gelder's Bat - Bauerus dubiaquercus
Mexican Big-eared Bat - Corynorhinus mexicanus
Rafinesque's Big-eared Bat - Corynorhinus rafinesquii
Townsend's Big-eared Bat - Corynorhinus townsendii
Brazilian Brown Bat - Eptesicus brasiliensis
Chiriquinan Serotine - Eptesicus chiriquinus
Argentine Brown Bat - Eptesicus furinalis
Guadeloupe Big Brown Bat - Eptesicus guadeloupensis
Spotted Bat - Euderma maculatum
Allen's Big-eared Bat - Idionycteris phyllotis
Southern Red Bat - Lasiurus blossevillii
Tacarcunan Bat - Lasiurus castaneus
Jamaican Red Bat - Lasiurus degelidus
Southern Yellow Bat - Lasiurus ega
Big Red Bat - Lasiurus egregius -
Cuban Yellow Bat - Lasiurus insularis
Northern Yellow Bat - Lasiurus intermedius
Minor Red Bat - Lasiurus minor
Pfeiffer's Red Bat - Lasiurus pfeifferi
Seminole Bat - Lasiurus seminolus
Western Yellow Bat - Lasiurus xanthinus
Silver-tipped Myotis - Myotis albescens
Southwestern Myotis - Myotis auriculus
Southeastern Myotis - Myotis austroriparius
California Myotis - Myotis californicus
Western Small-footed Myotis - Myotis ciliolabrum
Species Around the World

Collared Sprite Arielulus aureocollaris
Bronze Sprite - Arielulus circumdatus
Coppery Sprite - Arielulus cuprosus
Social Sprite - Arielulus societatis
Necklace Sprite - Arielulus torquatus
Western Barbastelle - Barbastella barbastellus
Eastern Barbastelle - Barbastella leucomelas
Large-eared Pied Bat - Chalinolobus dwyeri
Gould's Wattled Bat - Chalinolobus gouldii
Chocolate Wattled Bat - Chalinolobus morio
New Caledonia Wattled Bat - Chalinolobus neocaledonicus
Hoary Wattled Bat - Chalinolobus nigrogriseus
Little Pied Bat - Chalinolobus picatus
New Zealand Long-tailed Bat - Chalinolobus tuberculatus
Bobrinski's Serotine - Eptesicus bobrinskoi
Botta's Serotine - Eptesicus bottae
Surat Serotine - Eptesicus dimissus
Horn-skinned Bat - Eptesicus floweri
Gobi Big Brown Bat - Eptesicus gobiensis
Long-tailed Greater Serotine Bat - Eptesicus hottentotus
Meridional serotine - Eptesicus isabellinus
Japanese Short-tailed Bat - Eptesicus japonensis
Kobayashi's Serotine - Eptesicus kobayashii
Sind Serotine Bat - Eptesicus nasutus
Northern Bat - Eptesicus nilssonii
Thick-eared Bat - Eptesicus pachyotis
Lagos Serotine - Eptesicus platyops
Serotine Bat - Eptesicus serotinus
Sombre Bat - Eptesicus tatei
Disk-footed Bat - Eudiscopus denticulus
Chocolate Pipistrelle - Falsistrellus affinis
Western False Pipistrelle - Falsistrellus mackenziei
Pungent Pipistrelle - Falsistrellus mordax
Peters's Pipistrelle - Falsistrellus petersi
Eastern False Pipistrelle - Falsistrellus tasmaniensis
Allen's Striped Bat - Glauconycteris alboguttata
Silvered Bat - Glauconycteris argentata
Beatrix's Bat - Glauconycteris beatrix
Curry's Bat - Glauconycteris curryae
Bibundi Bat - Glauconycteris egeria
Glen's Wattled Bat - Glauconycteris gleni
Allen's Spotted Bat - Glauconycteris humeralis
Kenyan Wattled Bat - Glauconycteris kenyacola
Machado's Butterfly Bat - Glauconycteris machadoi
Abo Bat - Glauconycteris poensis
Pied Bat - Niumbaha superba
Variegated Butterfly Bat - Glauconycteris variegata
Javan Thick-thumbed Bat - Glischropus javanus
Common Thick-thumbed Bat - Glischropus tylopus
Lesser Hairy-winged Bat - Harpiocephalus harpia
Peter's Tube-nosed Bat - Harpiola grisea
Taiwan Tube-nosed Bat - Harpiola isodon
Blanford's Bat - Hesperoptenus blanfordi
False Serotine Bat - Hesperoptenus doriae
Gaskell's False Serotine - Hesperoptenus gaskelli
Tickell's Bat - Hesperoptenus tickelli
Large False Serotine - Hesperoptenus tomesi
Anthony's Pipistrelle - Hypsugo anthonyi
Dark Madagascar pipistrelle - Hypsugo bemainty
Joffre's Pipistrelle - Hypsugo joffrei
Red-brown Pipistrelle - Hypsugo kitcheneri
Burmese Pipistrelle - Hypsugo lophurus
Big-eared Pipistrelle - Hypsugo macrotis
Savi's Pipistrelle - Hypsugo savii
Vordermann's Pipistrelle - Hypsugo vordermanni
Great Evening Bat - Ia io
Tanzanian Woolly Bat - Kerivoula africana
Louisiade Woolly Bat - Kerivoula agnella
Silvered Woolly Bat - Kerivoula argentata
Copper Woolly Bat - Kerivoula cuprosa
Ethiopian Woolly Bat - Kerivoula eriophora
Flores Woolly Bat - Kerivoula flora
Hardwicke's Woolly Bat - Kerivoula hardwickii
Small Woolly Bat - Kerivoula intermedia
Kachin Woolly Bat - Kerivoula kachinensis
Krau Woolly Bat - Kerivoula krauensis
Lesser Woolly Bat - Kerivoula lanosa
Lenis Woolly Bat - Kerivoula lenis
Least Woolly Bat - Kerivoula minuta
Fly River Woolly Bat - Kerivoula muscina
Manus Island Woolly Bat - Kerivoula myrella
Papillose Woolly Bat - Kerivoula papillosa
Clear-winged Woolly Bat - Kerivoula pellucida
Spurrell's Woolly Bat - Kerivoula phalaena
Painted Woolly Bat - Kerivoula picta
Smith's Woolly Bat - Kerivoula smithii
Titania's Woolly Bat - Kerivoula titania
Whitehead's Woolly Bat - Kerivoula whiteheadi
Angolan Long-eared Bat - Laephotis angolensis
Botswanan Long-eared Bat - Laephotis botswanae
Namibian Long-eared Bat - Laephotis namibensis
De Winton's Long-eared Bat - Laephotis wintoni
Moloney's Flat-headed Bat - Mimetillus moloneyi
Bronze Tube-nosed Bat - Murina aenea
Tibetan Tube-nosed Bat - Murina aurata
Bala Tube-nosed Bat - Murina balaensis
Bicolored Tube-nosed Bat - Murina bicolor
Round-eared Tube-nosed Bat - Murina cyclotis
Flute-nosed Bat - Murina florium
Dusky Tube-nosed Bat - Murina fusca
Taiwanese Little Tube-nosed Bat - Murina gracilis
Harrison's Murine Bat - Murina harrisoni
Hilgendorf's Tube-nosed Bat - Murina hilgendorfi
White-bellied Tube-nosed Bat - Murina huttoni
Jaintia Tube-nosed Bat - Murina jaintiana
Rufous Tube-nosed Bat - Murina leucogaster
Rainforest Tube-nosed Bat - Murina pluvialis
Taiwanese Tube-nosed Bat - Murina puta
Faint-colored Tube-nosed Bat - Murina recondita
Gilded Tube-nosed Bat - Murina rozendaali
Ryukyu Tube-nosed Bat - Murina ryukyuana
Brown Tube-nosed Bat - Murina suilla
Gloomy Tube-nosed Bat - Murina tenebrosa
Scully's Tube-nosed Bat - Murina tubinaris
Ussuri Tube-nosed Bat - Murina ussuriensis
Large-footed Myotis - Myotis adversus
Alcathoe Whiskered Bat - Myotis alcathoe
Szechwan Myotis - Myotis altarium
Anjouan Myotis - Myotis anjouanensis
Annamit Myotis - Myotis annamiticus
Hairy-faced Bat - Myotis annectans
Peters's Myotis - Myotis ater
Steppe Whiskered Bar - Myotis aurascens
Bechstein's Myotis - Myotis bechsteinii
Lesser Mouse-eared Myotis - Myotis blythii
Bocage's Mouse-eared Bat - Myotis bocagii
Far Eastern Myotis - Myotis bombinus
Bornean Whiskered Myotis - Myotis borneoensis
Brandt's Myotis - Myotis brandtii
Bokhara Whiskered Bat - Myotis bucharensis
Long-fingered Bat - Myotis capaccinii
Large Myotis - Myotis chinensis
Csorba's Mouse-eared Myotis - Myotis csorbai
Pond Myotis - Myotis dasycneme
Daubenton's Myotis - Myotis daubentonii
David's Myotis - Myotis davidii
Myotis dieteri
Geoffroy's Bat - Myotis emarginatus
Escalera's bat - Myotis escalerai
Malayan Whiskered Myotis - Myotis federatus
Fringed Long-footed Myotis - Myotis fimbriatus
Hodgson's Bat - Myotis formosus
Long-tailed Whiskered Bat - Myotis frater
Gomantong Myotis - Myotis gomantongensis
Malagasy Mouse-eared Bat - Myotis goudoti
Armenian Whiskered Bat - Myotis hajastanicus
Lesser Large-footed Myotis - Myotis hasseltii
Herman's Myotis - Myotis hermani
Horsfield's Myotis - Myotis horsfieldii
Ikonnikov's Bat - Myotis ikonnikovi
Chinese Water Myotis - Myotis laniger
Kashmir Cave Bat - Myotis longipes
Big-footed Myotis - Myotis macrodactylus
Large-footed Myotis - Myotis macropus
Pallid Large-footed Myotis - Myotis macrotarsus
Maluku Myotis - Myotis moluccarum
Burmese Whiskered Myotis - Myotis montivagus
Morris's Bat - Myotis morrisi
Nepalese Whiskered Myotis - Myotis muricola
Greater Mouse-eared Bat - Myotis myotis
Whiskered Myotis - Myotis mystacinus


Natterer's Bat - Myotis nattereri
Nepal Myotis - Myotis nipalensis
Singaporese Whiskered Myotis - Myotis oreias
Peking Myotis - Myotis pequinius
Peyton's Whiskered Myotis - Myotis peytoni
Rickett's Big-footed Myotis - Myotis pilosus
Frosted Myotis - Myotis pruinosus
Maghreb Mouse-eared Bat - Myotis punicus
Ridley's Myotis - Myotis ridleyi
Thick-thumbed Myotis - Myotis rosseti
Orange-fingered Myotis - Myotis rufopictus
Schaub's Myotis - Myotis schaubi
Scott's Mouse-eared Bat - Myotis scotti
Taiwan long-toed myotis - Myotis secundus
Mandelli's Mouse-eared Myotis - Myotis sicarius
Himalayan Whiskered Myotis - Myotis siligorensis
Reddish myotis - Myotis soror
Stalker's Myotis - Myotis stalkeri
Temminck's Mouse-eared Bat - Myotis tricolor
Welwitsch's Mouse-eared Bat - Myotis welwitschii
Yanbaru Whiskered Bat - Myotis yanbarensis
Dark-brown Serotine - Neoromicia brunnea
Cape Bat - Neoromicia capensis
Yellow Pipistrelle Bat - Neoromicia flavescens
Guinean Pipistrelle Bat - Neoromicia guineensis
Samburu Pipistrelle Bat - Neoromicia helios
Isabelline White-winged Serotine - Neoromicia isabella
Isalo Serotine - Neoromicia malagasyensis
Malagasy Serotine - Neoromicia matroka
Melck's Pipistrelle Bat - Neoromicia melckorum
Banana Pipistrelle Bat - Neoromicia nana
Rendall's Serotine - Neoromicia rendalli
Neoromicia robertsi
Rosevear's Serotine - Neoromicia roseveari
Somali Serotine - Neoromicia somalica
Slenderwinged Pipistrelle Bat - Neoromicia tenuipinnis
Zulu Pipistrelle Bat - Neoromicia zuluensis
Japanese Large Noctule - Nyctalus aviator
Azorean Bat - Nyctalus azoreum
Japanese Noctule - Nyctalus furvus
Giant Noctule - Nyctalus lasiopterus
Lesser Noctule - Nyctalus leisleri
Mountain Noctule - Nyctalus montanus
Noctule - Nyctalus noctula
Chinese Noctule - Nyctalus plancyi
Schlieffen's Bat - Nycticeinops schlieffeni
Northern Long-eared Bat - Nyctophilus arnhemensis
Eastern Long-eared Bat - Nyctophilus bifax
Lesser Long-eared Bat - Nyctophilus geoffroyi
Gould's Long-eared Bat - Nyctophilus gouldi
Sundan Long-eared Bat - Nyctophilus heran
Lord Howe Long-eared Bat - Nyctophilus howensis
Small-toothed Long-eared Bat - Nyctophilus microdon
Papuan Long-eared Bat - Nyctophilus microtis
New Caledonia Long-eared Bat - Nyctophilus nebulosus
Tasmanian Long-eared Bat - Nyctophilus sherrini
Shirley's Long-eared Bat - Nyctophilus shirleyae
Pygmy Long-eared Bat - Nyctophilus walkeri
Desert Long-eared Bat - Otonycteris hemprichii
Turkestani Loong-eared Bat - Otonycteris leucophaea
Thomas's Big-eared Bat - Pharotis imogene
Short-winged Pipistrelle - Philetor brachypterus
Groove-toothed Trumpet-eared Bat - Phoniscus atrox
Peters's Trumpet-eared Bat - Phoniscus jagorii
Golden-tipped Bat - Phoniscus papuensis
Japanese Pipistrelle - Pipistrellus abramus
Forest Pipistrelle - Pipistrellus adamsi
Mount Gargues Pipistrelle - Pipistrellus aero
Alashanian Pipistrelle - Pipistrellus alaschanicus
Anchieta's Pipistrelle - Pipistrellus anchietae
New Guinea Pipistrelle - Pipistrellus angulatus
Arabian Pipistrelle - Pipistrellus arabicus
Desert Pipistrelle - Pipistrellus ariel
Cadorna's Pipistrelle - Pipistrellus cadornae
Kelaart's Pipistrelle - Pipistrellus ceylonicus
Mountain Pipistrelle - Pipistrellus collinus
Coromandel Pipistrelle - Pipistrellus coromandra
Broad-headed Pipistrelle - Pipistrellus crassulus
Eisentraut's Pipistrelle - Pipistrellus eisentrauti
Endo's Pipistrelle - Pipistrellus endoi
Dobson's Pipistrelle - Pipistrellus grandidieri
Hanaki's Dwarf Bat - Pipistrellus hanaki
African Pipistrelle - Pipistrellus hesperidus
Brown Pipistrelle - Pipistrellus imbricatus
Aellen's Pipistrelle - Pipistrellus inexspectatus
Javan Pipistrelle - Pipistrellus javanicus
Kuhl's Pipistrelle - Pipistrellus kuhlii
Madeira Pipistrelle - Pipistrellus maderensis
Minahassa Pipistrelle - Pipistrellus minahassae
Christmas Island Pipistrelle - Pipistrellus murrayi
Mouselike Pipistrelle - Pipistrellus musciculus
Tiny Pipistrelle - Pipistrellus nanulus
Nathusius' Pipistrelle - Pipistrellus nathusii
Papuan Pipistrelle - Pipistrellus papuanus
Mount Popa Pipistrelle - Pipistrellus paterculus
Dar-es-salaam Pipistrelle - Pipistrellus permixtus
Common Pipistrelle - Pipistrellus pipistrellus
Chinese Pipistrelle - Pipistrellus pulveratus
Soprano Pipistrelle - Pipistrellus pygmaeus
Racey's Pipistrelle Bat - Pipistrellus raceyi
Rüppel's Pipistrelle - Pipistrellus rueppellii
Rusty Pipistrelle Bat - Pipistrellus rusticus
Narrow-winged Pipistrelle - Pipistrellus stenopterus
Least Pipistrelle - Pipistrellus tenuis
Watts's Pipistrelle - Pipistrellus wattsi
Northern Pipistrelle - Pipistrellus westralis
Brown Big-eared Bat - Plecotus auritus
Gray Big-eared Bat - Plecotus austriacus
Ethiopian Big-eared Bat - Plecotus balensis
Plecotus christii
Mediterranean Long-eared Bat - Plecotus kolombatovici
Mountain Long-eared Bat - Plecotus macrobullaris
Plecotus ognevi
Plecotus sacrimontis
Sardinian Long-eared Bat - Plecotus sardus
Taiwan Long-eared Bat - Plecotus taivanus
Canary Big-eared Bat - Plecotus teneriffae
Greater Broad-nosed Bat - Scoteanax rueppellii
Light-winged Lesser House Bat - Scotoecus albofuscus
Dark-winged Lesser House Bat - Scotoecus hirundo
Desert Yellow Lesser House Bat - Scotoecus pallidus
Harlequin Bat - Scotomanes ornatus
Andrew Rebori's House Bat - Scotophilus andrewreborii
Lesser Yellow Bat - Scotophilus borbonicus
Sulawesi Yellow House Bat - Scotophilus celebensis
Sody's Yellow House Bat - Scotophilus collinus
African Yellow House Bat - Scotophilus dinganii
Ejeta's House Bat - Scotophilus ejetai
Greater Asiatic Yellow House Bat - Scotophilus heathii
Lesser Asiatic Yellow House Bat - Scotophilus kuhlii
White-bellied Yellow Bat - Scotophilus leucogaster
Livingstone's House Bat - Scotophilus livingstonii
Marovaza House Bat - Scotophilus marovaza
Giant House Bat - Scotophilus nigrita
Robbins's House Bat - Scotophilus nucella
Nut-colored Yellow Bat - Scotophilus nux
Robust Yellow Bat - Scotophilus robustus
Western Yellow Bat - Scotophilus tandrefana
Trujillo's House Bat - Scotophilus trujilloi
Lesser Yellow House Bat - Scotophilus viridis
Inland Broad-nosed Bat - Scotorepens balstoni
Little Broad-nosed Bat - Scotorepens greyii
Eastern Broad-nosed Bat - Scotorepens orion
Northern Broad-nosed Bat - Scotorepens sanborni
Dormer's Pipistrelle - Scotozous dormeri
Taiwan broad-muzzled myotis - Submyotodon latirostris
Lesser Bamboo Bat - Tylonycteris pachypus
Greater Flat-headed Bat - Tylonycteris robustula
Inland Forest Bat - Vespadelus baverstocki
Northern Cave Bat - Vespadelus caurinus
Large Forest Bat - Vespadelus darlingtoni
Yellow-lipped Cave Bat - Vespadelus douglasorum
Finlayson's Cave Bat - Vespadelus finlaysoni
Eastern Forest Bat - Vespadelus pumilus
Southern Forest Bat - Vespadelus regulus
Eastern Cave Bat - Vespadelus troughtoni
Little Forest Bat - Vespadelus vulturnus
Particolored Bat - Vespertilio murinus
Asian Particolored Bat - Vespertilio sinensis

Additional Information
Key:

Profile

Photos

Video

Audio
Big Brown Bat - Eptesicus fuscus








The big brown bat is found from southern Canada south to northern South America. It is also found in the Caribbean.
Source: Arkive Intended Audience: General Reading Level: Middle School Teacher Section: Yes

Big Brown Bat - Eptesicus fuscus








The big brown bat can be found in cities, towns, and rural areas.
Source: Animal Diversity Web Intended Audience: General Reading Level: Middle School Teacher Section: No
Eastern Red Bat - Lasiurus borealis






The eastern red bat is found across the eastern United States. It is also found in Canada and Mexico.
The big brown bat is found from southern Canada south to northern South America. It is also found in the Caribbean.
Source: Arkive Intended Audience: General Reading Level: Middle School Teacher Section: Yes
Eastern Red Bat - Lasiurus borealis






The eastern red bat is found across the eastern United States. It is also found in Canada and Mexico.
Eastern red bats migrate to warmer regions during winter.
Source: Animal Diversity Web Intended Audience: General Reading Level: Middle School Teacher Section: No

Hoary Bat - Lasiurus cinereus







The hoary bat is found across much of Canada and the United States south into Mexico, Central America and South America.
Source: Arkive Intended Audience: General Reading Level: Middle School Teacher Section: Yes
Hoary Bat - Lasiurus cinereus







Hoary bats are the most widespread of all bats in the United States.
Source: Animal Diversity Web Intended Audience: General Reading Level: Middle School Teacher Section: No

Silver-haired Bat - Lasionycteris noctivagans






The silver-haired bat is found across most United States south, including Alaska. It is also found in Canada and Mexico.
Source: Arkive Intended Audience: General Reading Level: Middle School Teacher Section: Yes
Silver-haired Bat - Lasionycteris noctivagans






Silver-haired bats are most commonly found in Borealis or coniferous and deciduous forest near bodies of water
Source: Animal Diversity Web Intended Audience: General Reading Level: Middle School Teacher Section: No
Silver-haired Bat - Lasionycteris noctivagans






Silver-haired bats feed on small flying insects, especially moths.
Source: Smithsonian National Museum of Natural History Intended Audience: General Reading Level: Middle School Teacher Section: Yes

Pallid Bat - Antrozous pallidus





The pallid bat is found in the western United States. It is also found in British Columbia, Canada, in Mexico, and in Cuba.
Source: Animal Diversity Web Intended Audience: General Reading Level: Middle School Teacher Section: No

Eastern Small-footed Bat - Myotis leibii







The eastern small-footed bat is found in Alabama, Arizona, Connecticut, Delaware, Georgia, Kentucky, Maine, Maryland, Massachusetts, Missouri, New Hampshire, New Jersey, New York, North Carolina, Ohio, Oklahoma, Pennsylvania, South Carolina, Tennessee, Vermont, Virginia, West Virginia. It is also found in southern Ontario and Quebec, Canada.
Source: Animal Diversity Web Intended Audience: General Reading Level: Middle School Teacher Section: No
Little Brown Bat - Myotis lucifugus






The little brown bat is found in most of the United States and Canada, except for the south central and southeastern United States and northern Alaska and Canada.
Source: Animal Diversity Web Intended Audience: General Reading Level: Middle School Teacher Section: No
Northern Long-eared Bat - Myotis septentrionalis







The northern long-eared bat is found in Alabama, Arkansas, Connecticut, Delaware, District of Colombia, Florida, Georgia, Idaho, Illinois, Kansas, Kentucky, Maine, Maryland, Massachusetts, Michigan, Minnesota, Mississippi, Missouri, Montana, Nebraska, Nevada, New Hampshire, New Jersey, New York, North Carolina, North Dakota, Ohio, Oklahoma, Pennsylvania, Rhode Island, South Carolina, South Dakota, Tennessee, Vermont, Virginia, West Virginia, and Wisconsin. It is also found in Canada.
Source: Animal Diversity Web Intended Audience: General Reading Level: Middle School Teacher Section: No
Northern Long-eared Bat - Myotis septentrionalis







The northern long-eared bat population is threatened by white-nose syndrome.
Source: Arkive Intended Audience: General Reading Level: Middle School Teacher Section: Yes
Indiana Bat - Myotis sodalis






The Indiana bat is found in Alabama, Arkansas, Connecticut, Georgia, Illinois, Indiana, Iowa, Kentucky, Maryland, Michigan, Mississippi, Missouri, New Jersey, New York, North Carolina, Ohio, Oklahoma, Pennsylvania, Tennessee, Vermont, Virginia, and West Virginia.
Source: Animal Diversity Web Intended Audience: General Reading Level: Middle School Teacher Section: No
Eastern Pipistrelle - Pipistrellus subflavus






The eastern pipistrelle is found across the eastern U.S. It is also found in Canada, Mexico, and Central America.
Source: Animal Diversity Web Intended Audience: General Reading Level: Middle School Teacher Section: No
Van Gelder's Bat - Bauerus dubiaquercus




Van Gelder's bat is found in Mexico, Belize, Guatemala, Honduras, and Nicaragua.
Source: Arkive Intended Audience: General Reading Level: Middle School Teacher Section: Yes
Mexican Big-eared Bat - Corynorhinus mexicanus





The Mexican big-eared bat is found in Mexico.
Source: Smithsonian National Museum of Natural History Intended Audience: General Reading Level: Middle School Teacher Section: Yes
Rafinesque's Big-eared Bat - Corynorhinus rafinesquii





Rafinesque's big-eared bat is found in Indiana, Illinois, Ohio, Kentucky, West Virginia, North Carolina, Tennessee, Arkansas, Missouri, Alabama, Mississippi, Georgia, South Carolina, Texas, Louisiana, and Florida.
Source: Animal Diversity Web Intended Audience: General Reading Level: Middle School Teacher Section: No
Townsend's Big-eared Bat - Corynorhinus townsendii





Townsend's big-eared bat is found from southern British Columbia, Canada through the western United States to Mexico and in isolated populations east to Virginia.
Source: Animal Diversity Web Intended Audience: General Reading Level: Middle School Teacher Section: No
Townsend's Big-eared Bat - Corynorhinus townsendii






Townsend's big-eared bat has large wing-like ears.
Source: Smithsonian National Museum of Natural History Intended Audience: General Reading Level: Middle School Teacher Section: Yes
Brazilian Brown Bat - Eptesicus brasiliensis





The Brazilian brown bat is found in Argentina, Brazil, Colombia, Costa Rica, Ecuador, Guatemala, Mexico, Panama, Paraguay, Peru, and Trinidad and Tobago.
Source: Smithsonian National Museum of Natural History Intended Audience: General Reading Level: Middle School Teacher Section: Yes
Spotted Bat - Euderma maculatum





The spotted bat is found from southwestern Canada and Montana to Mexico.
Source: Smithsonian National Museum of Natural History Intended Audience: General Reading Level: Middle School Teacher Section: Yes
Allen's Big-eared Bat - Idionycteris phyllotis





Allen's big-eared bat is found in Arizona, New Mexico, western Texas and Mexico.
Source: Animal Diversity Web Intended Audience: General Reading Level: Middle School Teacher Section: No
Allen's Big-eared Bat - Idionycteris phyllotis





Allen's big-eared bat is also known at the lappet-browed bat.
Source: Smithsonian National Museum of Natural History Intended Audience: General Reading Level: Middle School Teacher Section: Yes
Southern Red Bat - Lasiurus blossevillii





The southern red bat also known as the western red bat. It is found from the western U.S. south to Argentina.
Source: Animal Diversity Web Intended Audience: General Reading Level: Middle School Teacher Section: No
Southern Red Bat - Lasiurus blossevillii






The southern red bat is a solitary bat. It roosts in broad leaved trees.
Source: Smithsonian National Museum of Natural History Intended Audience: General Reading Level: Middle School Teacher Section: Yes
Southern Yellow Bat - Lasiurus ega






The southern yellow bat is found in southern Texas. It is also found in Mexico, Bolivia, Argentina, Paraguay, Uruguay, Brazil, Colombia, Venezuela, Guyana and Suriname.
Source: Animal Diversity Web Intended Audience: General Reading Level: Middle School Teacher Section: No
Northern Yellow Bat - Lasiurus intermedius




The northern yellow bat is found in southeastern U.S. and along the Gulf Coast.
Source: Animal Diversity Web Intended Audience: General Reading Level: Middle School Teacher Section: No
Northern Yellow Bat - Lasiurus intermedius





Northern yellow bats are non-migratory.
Source: National Park Service - Everglades National Park Intended Audience: General Reading Level: Middle School Teacher Section: No
Seminole Bat - Lasiurus seminolus




The Seminole bat is found in the southeastern U.S.
Source: Animal Diversity Web Intended Audience: General Reading Level: Middle School Teacher Section: No
Seminole Bat - Lasiurus seminolus





The Seminole bat is also known as the mahogany bat.
Source: Smithsonian National Museum of Natural History Intended Audience: General Reading Level: Middle School Teacher Section: Yes
Western Yellow Bat - Lasiurus xanthinus




The western yellow bat is found in Arizona, California, New Mexico, and Mexico.
Source: Smithsonian National Museum of Natural History Intended Audience: General Reading Level: Middle School Teacher Section: Yes
Western Barbastelle - Barbastella barbastellus






The western barbastelle is found across much of Europe. It is also found in northern Africa.
Source: Arkive Intended Audience: General Reading Level: Middle School Teacher Section: Yes
Western Barbastelle - Barbastella barbastellus






The western barbastelle is usually found in forested upland areas.
Source: Animal Diversity Web Intended Audience: General Reading Level: Middle School Teacher Section: No
Serotine Bat - Eptesicus serotinus







The serotine bat is found from France and Norway east through northern and central Europe and Asia, east to the Pacific seaboard and northern Japan.
Source: Arkive Intended Audience: General Reading Level: Middle School Teacher Section: Yes
Southwestern Myotis - Myotis auriculus




The southwestern myotis is found in Arizona, New Mexico, Mexico, and Guatemala.
Source: Animal Diversity Web Intended Audience: General Reading Level: Middle School Teacher Section: No
Southwestern Myotis - Myotis auriculus






The southwestern myotis catches insects on the wing.
Source: Smithsonian National Museum of Natural History Intended Audience: General Reading Level: Middle School Teacher Section: Yes
Southeastern Myotis - Myotis austroriparius




The southeastern myotis is found in the southeastern U.S. and along the Mississippi River drainage north to Illinois and Indiana.
Source: Animal Diversity Web Intended Audience: General Reading Level: Middle School Teacher Section: No
California Myotis - Myotis californicus





The California myotis is found in Alaska, Arizona, California, Colorado, Idaho, Montana, Nevada, New Mexico, Oregon, Texas, Utah, and Washington. It is also found in Canada, Mexico and Guatemala.
Source: Animal Diversity Web Intended Audience: General Reading Level: Middle School Teacher Section: No
California Myotis - Myotis californicus






The California myotis is also known as the California bat.
Source: Smithsonian National Museum of Natural History Intended Audience: General Reading Level: Middle School Teacher Section: Yes
Western Small-footed Myotis - Myotis ciliolabrum






The western small-footed myotis is found in Arizona, California, Colorado, Idaho, Kansas, Montana, Nebraska, Nevada, New Mexico, North Dakota, Oklahoma, Oregon, South Dakota, Texas, Utah, Washington, Wyoming. It is also found in Canada and Mexico.
Source: Smithsonian National Museum of Natural History Intended Audience: General Reading Level: Middle School Teacher Section: Yes
Long-eared Myotis - Myotis evotis





The long-eared myotis is found in Arizona, California, Colorado, Idaho, Montana, Nebraska, New Mexico, North Dakota, Oregon, South Dakota, Utah, Washington, Wyoming. It is also found in Canada and Mexico.
Source: Animal Diversity Web Intended Audience: General Reading Level: Middle School Teacher Section: No
Long-eared Myotis - Myotis evotis






Long-eared myotis prefer roosting in rock outcroppings and dead trees.
Source: Smithsonian National Museum of Natural History Intended Audience: General Reading Level: Middle School Teacher Section: Yes
Findley's Myotis - Myotis findleyi




Findley's myotis is only found in the Tres Marías Islands off the western coast of Mexico.
Source: Smithsonian National Museum of Natural History Intended Audience: General Reading Level: Middle School Teacher Section: Yes
Gray Myotis - Myotis grisescens






The gray myotis is also known as the gray bat. It is found from Illinois to West Virginia and south to Arkansas, Northern Mississippi, Alabama, Northern Florida and Western North Carolina.
Source: Animal Diversity Web Intended Audience: General Reading Level: Middle School Teacher Section: No
Gray Myotis - Myotis grisescens






The gray myotis roosts in caves in the summer and winter.
Source: Arkive Intended Audience: General Reading Level: Middle School Teacher Section: Yes
Gray Myotis - Myotis grisescens






The gray myotis is endangered because they live in large numbers in only a handful of caves. If the caves they live in are disturbed, flooded or commercialized, the bat population can decline.
Source: U.S. Fish and Wildlife Endangered Species Intended Audience: General Reading Level: Middle School Teacher Section: No
Keen's Myotis - Myotis keenii




Keen's myotis is found in British Columbia, Alaska and Washington.
Source: Animal Diversity Web Intended Audience: General Reading Level: Middle School Teacher Section: No

Keen's Myotis - Myotis keenii





Keen's myotis hunts insects at night .
Source: Smithsonian National Museum of Natural History Intended Audience: General Reading Level: Middle School Teacher Section: Yes

Schwartz's Myotis - Myotis martiniquensis





Schwartz's myotis is found on the islands of Martinique, Dominica, Guadeloupe and Barbados.
Source: Arkive Intended Audience: General Reading Level: Middle School Teacher Section: Yes
Black Myotis - Myotis nigricans






The black myotis is found in Argentina, Colombia, Costa Rica, Ecuador, El Salvador, Grenada, Guatemala, Honduras, Mexico, Montserrat, Nicaragua, Panama, Paraguay, Peru, and Trinidad and Tobago.
Source: Arkive Intended Audience: General Reading Level: Middle School Teacher Section: Yes

Arizona Myotis - Myotis occultus




The Arizona myotis is found in California, Arizona, New Mexico, Colorado, Texas and Mexico.
Source: Animal Diversity Web Intended Audience: General Reading Level: Middle School Teacher Section: No
Arizona Myotis - Myotis occultus




The Arizona myotis can range in color from blackish-brown to yellowish-gold.
Source: Smithsonian National Museum of Natural History Intended Audience: General Reading Level: Middle School Teacher Section: Yes
Flat-headed Myotis - Myotis planiceps




The flat-headed myotis is found in a very small region in northeastern Mexico. It was once thought to be extinct.
Source: Arkive Intended Audience: General Reading Level: Middle School Teacher Section: Yes
Flat-headed Myotis - Myotis planiceps




The flat-headed myotis is found in mountain forests.
Source: Smithsonian National Museum of Natural History Intended Audience: General Reading Level: Middle School Teacher Section: Yes
Fringed Myotis - Myotis thysanodes





The fringed myotis found in British Columbia in Canada and in Arizona, California, Colorado, Idaho, Montana, Nevada, Oregon, South Dakota, Texas, Utah, Washington, and Wyoming. It is also found in Mexico.
Source: Animal Diversity Web Intended Audience: General Reading Level: Middle School Teacher Section: No
Fringed Myotis - Myotis thysanodes






70% of the fringed myotis' diet is made up of beetles.
Source: Smithsonian National Museum of Natural History Intended Audience: General Reading Level: Middle School Teacher Section: Yes
Cave Myotis - Myotis velifer




The cave myotis is found in Arizona, California, Kansas, Nevada, New Mexico, Oklahoma, and Texas. It is also found in Mexico, Belize, El Salvador, Guatemala, and Honduras.
Source: Animal Diversity Web Intended Audience: General Reading Level: Middle School Teacher Section: No
Cave Myotis - Myotis velifer





The cave myotis eats moths and beetles.
Source: Smithsonian National Museum of Natural History Intended Audience: General Reading Level: Middle School Teacher Section: Yes
Fish-eating Bat - Myotis vivesi





The fish-eating bat is found in Mexico.
Source: Animal Diversity Web Intended Audience: General Reading Level: Middle School Teacher Section: No
Fish-eating Bat - Myotis vivesi





The fish-eating bat eats fish.
Source: Arkive Intended Audience: General Reading Level: Middle School Teacher Section: Yes
Long-legged Myotis - Myotis volans





"The long-legged myotis is found in Alaska, Arizona, California, Colorado, Idaho, Montana, Nebraska, Nevada, New Mexico, North Dakota, Oregon, South Dakota, Texas, Utah, Washington, and Wyoming. It is also found in Alberta and British Columbia in Canada and in Mexico.
Source: Animal Diversity Web Intended Audience: General Reading Level: Middle School Teacher Section: No
Long-legged Myotis - Myotis volans






"The long-legged myotis is usually found in mountainous regions.
Source: Smithsonian National Museum of Natural History Intended Audience: General Reading Level: Middle School Teacher Section: Yes
Yuma Myotis - Myotis yumanensis




The Yuma myotis is found in Arizona, California, Colorado, Idaho, Montana, Nevada, New Mexico, Oklahoma, Oregon, Texas, Utah, Washington, and Wyoming. It is also found in British Columbia, Canada and in Mexico.
Source: Animal Diversity Web Intended Audience: General Reading Level: Middle School Teacher Section: No
Yuma Myotis - Myotis yumanensis






The Yuma myotis usually forages for food over water.
Source: Smithsonian National Museum of Natural History Intended Audience: General Reading Level: Middle School Teacher Section: Yes
Evening Bat - Nycticeius humeralis





The evening bat is found from Nebraska east to Delaware and south to Mexico and Florida.
Source: Animal Diversity Web Intended Audience: General Reading Level: Middle School Teacher Section: No
Evening Bat - Nycticeius humeralis





Farmers like evening bats because they eat cucumber beetles.
Source: Smithsonian National Museum of Natural History Intended Audience: General Reading Level: Middle School Teacher Section: Yes
Western Pipistrelle - Pipistrellus hesperus






The western pipistrelle is found in Arizona, California, Colorado, Idaho, Nevada, New Mexico, Oklahoma, Oregon, Texas, Utah, Washington as well as in Mexico.
Source: Smithsonian National Museum of Natural History Intended Audience: General Reading Level: Middle School Teacher Section: Yes
Yucatan Yellow Bat - Rhogeessa aeneus




The Yucatan yellow bat is found in Mexico.
Source: Smithsonian National Museum of Natural History Intended Audience: General Reading Level: Middle School Teacher Section: Yes
Allen's Yellow Bat - Rhogeessa alleni




Allen's yellow bat is found in Mexico.
Source: Smithsonian National Museum of Natural History Intended Audience: General Reading Level: Middle School Teacher Section: Yes
Slender Yellow Bat - Rhogeessa gracilis




The slender yellow bat is found in Mexico.
Source: Smithsonian National Museum of Natural History Intended Audience: General Reading Level: Middle School Teacher Section: Yes
Large-eared Pied Bat - Chalinolobus dwyeri




The large-eared pied bat is found in Australia.
Source: Arkive Intended Audience: General Reading Level: Middle School Teacher Section: Yes
Chocolate Wattled Bat - Chalinolobus morio





The chocolate wattled bat is found in Australia.
Source: Atlas of Living Australia Intended Audience: General Reading Level: Middle School Teacher Section: No
Hoary Wattled Bat - Chalinolobus nigrogriseus





The hoary wattled bat is found in Australia and Papa New Guinea.
Source: Atlas of Living Australia Intended Audience: General Reading Level: Middle School Teacher Section: No
Little Pied Bat - Chalinolobus picatus





The little pied bat is found in Australia.
Source: Arkive Intended Audience: General Reading Level: Middle School Teacher Section: Yes
Little Pied Bat - Chalinolobus picatus






The little pied bat roosts in caves, rock outcrops, mine shafts, tunnels, tree hollows and buildings.
Source: New South Wales Office of Environment and Heritage Intended Audience: General Reading Level: Middle School Teacher Section: No
New Zealand Long-tailed Bat - Chalinolobus tuberculatus





The New Zealand long-tailed bat is found in New Zealand.
Source: Arkive Intended Audience: General Reading Level: Middle School Teacher Section: Yes
New Zealand Long-tailed Bat - Chalinolobus tuberculatus





The New Zealand long-tailed bat feeds on small moths, midges, mosquitoes and beetles.
Source: New Zealand Department of Conservation Intended Audience: General Reading Level: Middle School Teacher Section: No
Botta's Serotine - Eptesicus bottae







Botta's serotine is found in Afghanistan, Armenia, Azerbaijan, Egypt, Georgia, Greece, India, Iran, Iraq, Israel, Jordan, Kazakhstan, Kyrgyzstan, Lebanon, Oman, Pakistan, Palestinian, Saudi Arabia, Syrian Arab Republic, Tajikistan, Turkey, Turkmenistan, United Arab Emirates, Uzbekistan, and Yemen.
Source: Arkive Intended Audience: General Reading Level: Middle School Teacher Section: Yes
Beatrix's Bat - Glauconycteris beatrix





Beatrix's bat is found in west and central Africa.
Source: Arkive Intended Audience: General Reading Level: Middle School Teacher Section: Yes
False Serotine Bat - Hesperoptenus doriae





The false serotine bat is found in Malaysia.
Source: Arkive Intended Audience: General Reading Level: Middle School Teacher Section: Yes
Large False Serotine - Hesperoptenus tomesi





The large false serotine bat is found in Malaysia and Thailand.
Source: Arkive Intended Audience: General Reading Level: Middle School Teacher Section: Yes
Savi's Pipistrelle - Hypsugo savii







Savi's pipistrelle is found from southern Europe and north Africa through the Middle East and the Caucasus to Kazakhstan, Turkmenistan, Uzbekistan, Kyrgyzstan, Tajikistan, Afghanistan and northern India.
Source: Arkive Intended Audience: General Reading Level: Middle School Teacher Section: Yes
Silvered Woolly Bat - Kerivoula argentata





The silvered woolly bat is also known as the Damara woolly bat. It is found in Burundi, The Democratic Republic of the Congo, Kenya, Malawi, Mozambique, Namibia, South Africa, Tanzania, Zambia; and Zimbabwe.
Source: Arkive Intended Audience: General Reading Level: Middle School Teacher Section: Yes

Copper Woolly Bat - Kerivoula cuprosa




The copper woolly bat is found in Cameroon, The Democratic Republic of the ; Congo, Côte d'Ivoire, Guinea, Kenya, and Liberia .
Source: Arkive Intended Audience: General Reading Level: Middle School Teacher Section: Yes

Small Woolly Bat - Kerivoula intermedia





The small woolly bat is found in Brunei Darussalam, Indonesia, and Malaysia.
Source: Arkive Intended Audience: General Reading Level: Middle School Teacher Section: Yes

Lesser Woolly Bat - Kerivoula lanosa




The lesser woolly bat is found across much of sub-Saharan Africa.
Source: Animal Diversity Web Intended Audience: General Reading Level: Middle School Teacher Section: No

Papillose Woolly Bat - Kerivoula papillosa





The Papillose woolly bat is found in Brunei Darussalam, Cambodia, Indonesia, Laos, Malaysia, Thailand, and Vietnam .
Source: Arkive Intended Audience: General Reading Level: Middle School Teacher Section: Yes

Clear-winged Woolly Bat - Kerivoula pellucida





The clear-winged woolly bat is found in Brunei Darussalam, Indonesia, Malaysia, the Philippines, and Thailand.
Source: Arkive Intended Audience: General Reading Level: Middle School Teacher Section: Yes

Painted Woolly Bat - Kerivoula picta





The painted woolly bat is found in Bangladesh, Cambodia, China, India, Indonesia, Laos, Malaysia, Myanmar, Nepal, Sri Lanka, Thailand, and Vietnam.
Source: Animal Diversity Web Intended Audience: General Reading Level: Middle School Teacher Section: No
Bronze Tube-nosed Bat - Murina aenea




The bronze tube-nosed bat is found in Indonesia, Malaysia, and Thailand .
Source: Arkive Intended Audience: General Reading Level: Middle School Teacher Section: Yes

Round-eared Tube-nosed Bat - Murina cyclotis





The round-eared tube-nosed bat is found in Brunei Darussalam, Cambodia, China, India, Laos, Malaysia, Myanmar, Nepal, the Philippines, Sri Lanka, Thailand, and Vietnam.
Source: Animal Diversity Web Intended Audience: General Reading Level: Middle School Teacher Section: No

Gilded Tube-nosed Bat - Murina rozendaali





The gilded tube-nosed bat is found in Malaysia.
Source: Arkive Intended Audience: General Reading Level: Middle School Teacher Section: Yes
Brown Tube-nosed Bat - Murina suilla





The brown tube-nosed bat is found in Indonesia, Malaysia, and Thailand .
Source: Arkive Intended Audience: General Reading Level: Middle School Teacher Section: Yes
Brown Tube-nosed Bat - Murina suilla





Brown tube-nosed bats are usually found in hilly areas.
Source: Animal Diversity Web Intended Audience: General Reading Level: Middle School Teacher Section: No
Bechstein's Myotis - Myotis bechsteinii






Bechstein's myotis is found in central and southern Europe and southwest Asia.
Source: Arkive Intended Audience: General Reading Level: Middle School Teacher Section: Yes
Brandt's Myotis - Myotis brandtii






Brandt's Myotis is found in Albania, Austria, Belarus, Belgium, Bulgaria, China, Croatia, the Czech Republic, Denmark, Estonia, Finland, France, Germany, Greece, Hungary, Italy, Japan, Kazakhstan, South Korea, Latvia, Liechtenstein, Lithuania, Luxembourg, Moldova, Mongolia, Montenegro, Netherlands, Norway, Poland, Romania, Russia, Serbia, Slovakia, Slovenia, Spain, Sweden, Switzerland, Turkey, Ukraine, and the United Kingdom.
Source: Arkive Intended Audience: General Reading Level: Middle School Teacher Section: Yes
Long-fingered Bat - Myotis capaccinii







The long-fingered bat is found in Albania, Algeria, Andorra, Bosnia and Herzegovina, Bulgaria, Croatia, Cyprus, France, Greece, Vatican City, Iran, Iraq, Israel, Italy, Jordan, Lebanon, Macedonia, Montenegro, Morocco, Romania, Serbia, Slovenia, Spain , Syria, and Turkey.
Source: Arkive Intended Audience: General Reading Level: Middle School Teacher Section: Yes
Pond Myotis - Myotis dasycneme





The pond myotis is found in Belarus, Belgium, Bulgaria, China, the Czech Republic, Denmark, Estonia, Finland, France, Germany, Hungary, Kazakhstan, Latvia, Lithuania, Luxembourg, Moldova, Montenegro, Netherlands, Poland, Romania, Russia, Serbia, Slovakia, Sweden, and Ukraine.
Source: Arkive Intended Audience: General Reading Level: Middle School Teacher Section: Yes
Daubenton's Myotis - Myotis daubentonii







Daubenton's myotis is found from Norway west to Japan and south to Spain and China. It is not found in much of Central Asia.
Source: Arkive Intended Audience: General Reading Level: Middle School Teacher Section: Yes
Daubenton's Myotis - Myotis daubentonii






Daubenton's bats are usually found in habitats with large still water lakes, ponds, and streams for foraging and deciduous and mixed forests for roosting.
Source: Animal Diversity Web Intended Audience: General Reading Level: Middle School Teacher Section: No
Geoffroy's Bat - Myotis emarginatus







Geoffroy's bat is found in Afghanistan, Albania, Algeria, Andorra, Armenia, Austria, Azerbaijan, Belgium, Bosnia and Herzegovina, Bulgaria, Croatia, Cyprus, the Czech Republic, France, Georgia, Germany, Greece, Hungary, Iran, Israel, Italy, Jordan, Kazakhstan, Kyrgyzstan, Lebanon, Luxembourg, Macedonia, Monaco, Montenegro, Morocco, Netherlands, Oman, Poland, Portugal, Romania, Russia, San Marino, Saudi Arabia, Serbia, Slovakia, Slovenia, Spain, Switzerland, Syria, Tajikistan, Tunisia, Turkey, Turkmenistan, Ukraine, and Uzbekistan.
Source: Arkive Intended Audience: General Reading Level: Middle School Teacher Section: Yes
Large-footed Myotis - Myotis macropus





The large-footed myotis is also known as the southern myotis. It is found in Australia and Papua New Guinea.
Source: Atlas of Living Australia Intended Audience: General Reading Level: Middle School Teacher Section: No
Greater Mouse-eared Bat - Myotis myotis






The greater mouse-eared bat is found in Albania, Andorra, Austria, Belarus, Belgium, Bosnia and Herzegovina, Bulgaria, Croatia, Cyprus, the Czech Republic, France, Germany, Greece, Vatican City, Hungary, Israel, Italy, Lebanon, Liechtenstein, Lithuania, Luxembourg, Macedonia, Malta, Montenegro, Netherlands, Poland, Portugal, Romania, San Marino, Serbia, Slovakia, Slovenia, Spain, Sweden, Switzerland, Syria, Turkey, and the Ukraine.
Source: Arkive Intended Audience: General Reading Level: Middle School Teacher Section: Yes
Greater Mouse-eared Bat - Myotis myotis





The greater mouse-eared bat roosts in caves and buildings such as churches and castles.
Source: Animal Diversity Web Intended Audience: General Reading Level: Middle School Teacher Section: No

Whiskered Myotis - Myotis mystacinus








The whiskered myotis is found in Andorra, Armenia, Austria, Azerbaijan, Belgium, Bosnia and Herzegovina, Bulgaria, China, Croatia, the Czech Republic, Denmark, Estonia, Finland, France, Georgia, Germany, Greece, Hungary, Ireland, Italy, Latvia, Liechtenstein, Lithuania, Luxembourg, Macedonia, Montenegro, Morocco, Netherlands, Norway, Poland, Portugal, Romania, Russia, Serbia, Slovakia, Slovenia, Spain, Sweden, Switzerland, Turkey, Ukraine, and the United Kingdom.
Source: Arkive Intended Audience: General Reading Level: Middle School Teacher Section: Yes
Whiskered Myotis - Myotis mystacinus






The whiskered myotis is found in open habitats, including parks, towns, and gardens.
Source: Animal Diversity Web Intended Audience: General Reading Level: Middle School Teacher Section: No
Natterer's Bat - Myotis nattereri








Natterer's bat is found across much of Europe. It is also found in northern Africa, parts of the Middle East and Central Asia.
Source: Arkive Intended Audience: General Reading Level: Middle School Teacher Section: Yes
Mandelli's Mouse-eared Myotis - Myotis sicarius




Mandelli's Mouse-eared Myotis is found in India and Nepal.
Source: Arkive Intended Audience: General Reading Level: Middle School Teacher Section: Yes
Lesser Mouse-eared Myotis - Myotis blythii







The lesser mouse-eared myotis is found from southern Europe west to China.
Source: Arkive Intended Audience: General Reading Level: Middle School Teacher Section: Yes
Desert Long-eared Bat - Otonycteris hemprichii






The desert long-eared bat is also know as Hemprich's long-eared bat. It is found in Afghanistan, Algeria, Egypt, India, Iran, Israel, Jordan, Kazakhstan, Libya, Morocco, Niger, Oman, Pakistan, Qatar, Saudi Arabia, Sudan, Syria, Tajikistan, Tunisia, Turkey, Turkmenistan, the United Arab Emirates, and Uzbekistan.
Source: Arkive Intended Audience: General Reading Level: Middle School Teacher Section: Yes
Groove-toothed Trumpet-eared Bat - Phoniscus atrox





The groove-toothed trumpet-eared bat is also know as the gilded groove-toothed bat. It is found in Indonesia and Thailand.
Source: Arkive Intended Audience: General Reading Level: Middle School Teacher Section: Yes
Rüppel's Pipistrelle - Pipistrellus rueppellii





Rüppel's pipistrelle is found in Algeria, Angola, Botswana, Burundi, Cameroon, Central African Republic, Congo, The Democratic Republic of the Congo, Egypt, Ethiopia, Iraq, Israel, Kenya, Malawi, Mauritania, Morocco, Mozambique, Namibia, Nigeria, Rwanda, Senegal, Somalia, South Africa, South Sudan, Sudan, Tanzania, Tunisia, Uganda, Yemen, Zambia, and Zimbabwe
Source: Arkive Intended Audience: General Reading Level: Middle School Teacher Section: Yes
Madeira Pipistrelle - Pipistrellus maderensis





The Madeira pipistrelle is found in Madeira and the Canary Islands.
Source: Arkive Intended Audience: General Reading Level: Middle School Teacher Section: Yes
Nathusius' Pipistrelle - Pipistrellus nathusii







Nathusius' pipistrelle is found in Albania, Andorra, Armenia, Austria, Azerbaijan, Belarus, Belgium, Bosnia and Herzegovina, Bulgaria, Croatia, the Czech Republic, Denmark, Estonia, Finland, France, Georgia, Germany, Greece, Vatican City State, Hungary, Ireland, Italy, Latvia, Liechtenstein, Lithuania, Luxembourg, Macedonia, Monaco, Montenegro, Netherlands, Norway, Poland, Romania, Russia, San Marino, Serbia, Slovakia, Slovenia, Spain, Sweden, Switzerland, Turkey, Ukraine, and the United Kingdom. Source: Arkive Intended Audience: General Reading Level: Middle School Teacher Section: Yes
Kuhl's Pipistrelle - Pipistrellus kuhlii







Kuhl's pipistrelle is found across much of southern Europe, northern Africa and parts of western Asia.
Source: Arkive Intended Audience: General Reading Level: Middle School Teacher Section: Yes
Common Pipistrelle - Pipistrellus pipistrellus






The common pipistrelle is found from the United Kingdom east to China and south to northern Africa.
Source: Animal Diversity Intended Audience: General Reading Level: Middle School Teacher Section: No
Brown Big-eared Bat - Plecotus auritus







"The brown big-eared bat is found across most of Europe as well as in parts of western Asia.
Source: Arkive Intended Audience: General Reading Level: Middle School Teacher Section: Yes
Gray Big-eared Bat - Plecotus austriacus







The gray big-eared bat is found in Albania, Andorra, Austria, Belgium, Bosnia and Herzegovina, Bulgaria, Croatia, the Czech Republic, France, Germany, Gibraltar, Greece, Hungary, Italy, Liechtenstein, Luxembourg, Macedonia, Malta, Mauritania, Moldova, Monaco, Montenegro, the Netherlands, Poland, Portugal, Romania, San Marino, Serbia, Slovakia, Slovenia, Spain, Sweden, Switzerland, Turkey, the Ukraine, and the United Kingdom.
Source: Arkive Intended Audience: General Reading Level: Middle School Teacher Section: Yes
Sardinian Long-eared Bat - Plecotus sardus





The Sardinian long-eared bat is found on the Italian island of Sardinia.
Source: Arkive Intended Audience: General Reading Level: Middle School Teacher Section: Yes

Canary Big-eared Bat - Plecotus teneriffae




The Canary big-eared bat is found in the Canary Islands. It is also known as the Tenerife long-eared bat.
Source: Arkive Intended Audience: General Reading Level: Middle School Teacher Section: Yes
Finlayson's Cave Bat - Vespadelus finlaysoni




Finlayson's cave bat is found in Australia .
Source: Arkive Intended Audience: General Reading Level: Middle School Teacher Section: Yes