Sulidae - Gannets and Boobies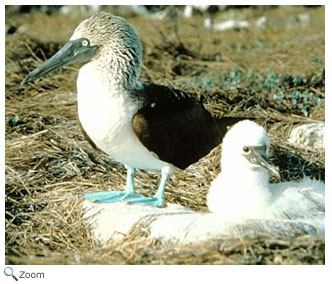 There are 10 species of medium to large, stocky seabirds in this family. They are found on islands and coasts around the world, except for in the Antarctic. They have thick, pointed, cone-shaped bills; webbed feet; and pointed wings.

Most species are white with brown or black markings on their wings. They breed and nest in colonies. Nests are made on cliffs, rocky islands, or in trees. Females boobies lay 2-3 eggs, gannets usually only lay one eggs. Both the male and the female incubate the eggs for 40-55 days using their webbed feet. Both the male and female feed and care for the chicks.

The birds in this family dive for fish from the air or from the surface of the water.


Sulidae Photo Gallery
World Status Key


Least Concern

Near Threatened

Vulnerable

Endangered

Critically Endangered

Extinct in Wild

Extinct
Status and range is taken from ICUN Redlist. If no status is listed, there is not enough data to establish status.
US Status Key


Threatened in US

Threatened in NH

Endangered in US

Endangered in NH

Breeds N.H.

Introduced
Status taken from US Fish and Wildlife and NH Fish and Game
New Hampshire Species

North/Central American Species

Northern Gannet - Morus bassanus

Blue-footed Booby - Sula nebouxii
Brown Booby - Sula leucogaster
Masked Booby - Sula dactylatra
Nazca Booby - Sula granti
Red-footed Booby - Sula sula
Other Species Around the World

Africa Asia Australia/Oceania Europe North America South America NH



Northern Gannet - Morus bassanus
Cape Gannet - Morus capensis
Australasian Gannet - Morus serrator
Abbott's Booby - Papasula abbotti
Masked Booby - Sula dactylatra


Nazca Booby - Sula granti
Blue-footed Booby - Sula nebouxii
Red-footed Booby - Sula sula
Peruvian Booby - Sula variegata


Additional Information

Key: Profile Photos Video Audio

Abbott's Booby - Papasula abbotti
Abbott's booby breeds only on Christmas Island in the Indian Ocean.
Source: Arkive Intended Audience: General Reading Level: Middle School Teacher Section: Yes

Abbott's Booby - Papasula abbotti
Abbott's booby nests in tall rainforest trees.
Source: BirdLife International Intended Audience: General Reading Level: Middle School Teacher Section: No

Australasian Gannet - Morus serrator
The Australian gannet is found in Australia and New Zealand.
Source: BirdLife International Intended Audience: General Reading Level: Middle School Teacher Section: No

Blue-footed Booby - Sula nebouxii
The blue-footed booby is found along the Pacific coast from California to Chile.
Source: Arkive Intended Audience: General Reading Level: Middle School Teacher Section: Yes

Blue-footed Booby - Sula nebouxii
The blue-footed booby has bright blue webbed feet.
Source: Animal Diversity Web Intended Audience: General Reading Level: Middle School Teacher Section: Yes

Blue-footed Booby - Sula nebouxii
The blue-footed booby lays its eggs on the ground.
Source: Cornell Lab of Ornithology Intended Audience: General Reading Level: Middle School Teacher Section: No

Blue-footed Booby - Sula nebouxii
The blue-footed booby uses its blue feet to keep its young warm.
Source: National Geographic Intended Audience: General Reading Level: Middle School Teacher Section: No

Brown Booby - Sula leucogaster
The brown booby is found in tropical oceans around the world.
Source: Arkive Intended Audience: General Reading Level: Middle School Teacher Section: Yes

Brown Booby - Sula leucogaster
The brown booby is monogamous.
Source: Animal Diversity Web Intended Audience: General Reading Level: Middle School Teacher Section: Yes

Cape Gannet - Morus capensis
The Cape gannet breeds only on six islands off the coast of South Africa and Namibia.
Source: Arkive Intended Audience: General Reading Level: Middle School Teacher Section: Yes

Cape Gannet - Morus capensis
The Cape gannet breeds in large colonies.
Source: Animal Diversity Web Intended Audience: General Reading Level: Middle School Teacher Section: Yes

Masked Booby - Sula dactylatra
The masked booby is found in tropical waters around the world.
Source: Arkive Intended Audience: General Reading Level: Middle School Teacher Section: Yes

Masked Booby - Sula dactylatra
The masked booby lays two eggs, but only one hatchling survives. The older chick ejects the younger chick from the nest.
Source: Cornell Lab of Ornithology Intended Audience: General Reading Level: Middle School Teacher Section: No

Nazca Booby - Sula granti
The Nazca booby is found in the eastern Pacific Ocean from Baja California, Mexico to the Galapagos Islands.
Source: Arkive Intended Audience: General Reading Level: Middle School Teacher Section: Yes

Northern Gannet - Morus bassanus
The northern gannet is found in Asia, Africa, Europe, and North America.
Source: Arkive Intended Audience: General Reading Level: Middle School Teacher Section: Yes

Northern Gannet - Morus bassanus
The northern gannet spends most of its life at sea.
Source: Cornell Lab of Ornithology Intended Audience: General Reading Level: Middle School Teacher Section: No

Nazca Booby - Sula granti
The Nazca booby is found in Colombia, Ecuador, El Salvador, Mexico, and Peru.
Source: Arkive Intended Audience: General Reading Level: Middle School Teacher Section: Yes

Peruvian Booby - Sula variegata
The Peruvian booby is found in Chile, Colombia, Ecuador, and Peru.
Source: Cornell Lab of Ornithology Intended Audience: General Reading Level: Middle School Teacher Section: No

Red-footed Booby - Sula sula
The red-footed booby is the smallest species of booby.
Source: Arkive Intended Audience: General Reading Level: Middle School Teacher Section: Yes

Red-footed Booby - Sula sula
The red-footed booby is found in tropical and subtropical regions of the Atlantic, Pacific, and Indian Oceans.
Source: National Geographic Intended Audience: General Reading Level: Middle School Teacher Section: No

Red-footed Booby - Sula sula
The red-footed booby nests on coral atolls or volcanic islands.
Source: Cornell Lab of Ornithology Intended Audience: General Reading Level: Middle School Teacher Section: No