Pieridae - Sulphurs, Whites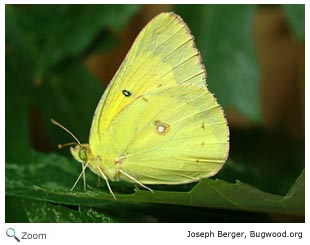 There are around 1,100 species of butterfly in this family. They are found in all parts of the world.
Most species are small to medium in size with white or yellow wings. Many species have black spots or edges on their wings.
Many caterpillars in this family eat the leaves and flowers of plants in the brassicaceae (mustard) and fabaceae (legume) families.
World Status Key


Least Concern

Near Threatened

Vulnerable

Endangered

Critically Endangered

Extinct in Wild

Extinct
Status and range is taken from ICUN Redlist. If no status is listed, there is not enough data to establish status.
US Status Key


Threatened in US

Threatened in NH

Endangered in US

Endangered in NH

Introduced
Status taken from US Fish and Wildlife and NH Fish and Game
New Hampshire Species

Species Found in the U.S.

Cabbage White - Pieris rapae
Checkered White - Pontia protodice
Clouded Sulphur - Colias philodice
Little Yellow - Pyrisitia lisa
Mustard White - Pieris oleracea
Orange Sulphur - Colias eurytheme
Pink-edged Sulphur - Colias interior
Southern Dogface - Zerene cesonia
Booth's Sulphur - Colias tyche
Costa-spotted Mimic-White - Enantia albania
Large Marble - Euchloe ausonides
Northern Marble - Euchloe creusa
Sonoran Marble - Euchloe guaymasensis
California Marble - Euchloe hyantis
Desert Marble - Euchloe lotta
Green Marble - Euchloe naina
Olympia Marble - Euchloe olympia
Ghost Yellow - Eurema albula
Boisduval's Yellow - Eurema boisduvaliana
Barred Yellow - Eurema daira
Mexican Yellow - Eurema mexicana
Salome Yellow - Eurema salome
Howarth's White - Ganyra howarthi
Giant White - Ganyra josephina
Cross-barred White - Itaballia demophile
Lyside Sulphur - Kricogonia lyside
Mountain White - Leptophobia aripa
Common MelWhite - Melete lycimnia
Dainty Sulphur - Nathalis iole
Chiricahua White - Neophasia terlooii
Large Orange Sulphur - Phoebis agarithe
Tailed Sulphur - Phoebis neocypris
Orange-barred Sulphur - Phoebis philea
Cloudless Sulphur - Phoebis sennae
Viardi White - Pieriballia viardi
Arctic White - Pieris angelika
Large White - Pieris brassicae
Margined White - Pieris marginalis
West Virginia White - Pieris virginiensis
Becker's White - Pontia beckerii
Western White - Pontia occidentalis
Spring White - Pontia sisymbrii
Dina Yellow - Pyrisitia dina
Shy Yellow - Pyrisitia messalina
Mimosa Yellow - Pyrisitia nise
Tailed Orange - Pyrisitia proterpia
California Dogface - Zerene eurydice

Species Found in the U.S.

Pine White - Neophasia menapia
Sleepy Orange - Abaeis nicippe
White Angled-Sulphur - Anteos clorinde
Yellow Angled-Sulphur - Anteos maerula
Desert Orangetip - Anthocharis cethura
Southern Rocky Mountain Orangetip - Anthocharis julia
Gray Marble - Anthocharis lanceolata
Falcate Orangetip - Anthocharis midea
Pacific Orangetip - Anthocharis sara
Stella Orangetip - Anthocharis stella
Southwestern Orangetip - Anthocharis thoosa
Orbed Sulphur - Aphrissa orbis
Statira Sulphur - Aphrissa statira
Florida White - Appias drusilla
Great Southern White - Ascia monuste
Mexican DartWhite - Catasticta nimbice
Queen Alexandra's Sulphur - Colias alexandra
Sierra Sulphur - Colias behrii
Canadian Sulphur - Colias canadensis
Christina Sulphur - Colias christina
Giant Sulphur - Colias gigantea
Harford's Sulphur - Colias harfordii
Hecla Sulphur - Colias hecla
Mead's Sulphur - Colias meadii
Labrador Sulphur - Colias nastes
Western Sulphur - Colias occidentalis
Palaeno Sulphur - Colias palaeno
Pelidne Sulphur - Colias pelidne
Scudder's Sulphur - Colias scudderi


Additional Information

Key: Profile Photos Video Audio NH Species

Chiricahua White - Neophasia terlooii
The Chiricahua white is found from Arizona south into Mexico.
Source: Animal Diversity Web Intended Audience: General Reading Level: Middle School

Clouded Sulphur - Colias philodice
The clouded sulphur is found from the Arctic south to Guatemala.
Source: Animal Diversity Web Intended Audience: General Reading Level: Middle School

Desert Marble - Euchloe lotta
The desert marble is found from the interior of south British Columbia east of Cascades and Sierra Nevada south to southern California and east to Colorado and New Mexico.
Source: Butterflies and Moths of North America Intended Audience: General Reading Level: Middle School

Desert Orangetip - Anthocharis cethura
The desert orangetip is found from northwestern Nevada south through southeastern California and western Arizona to northern Mexico.
Source: Butterflies and Moths of North America Intended Audience: General Reading Level: Middle School

Falcate Orangetip - Anthocharis midea
The falcate orangetip is found from southern New England southwest to south Texas and north to eastern Oklahoma and Kansas.
Source: Butterflies and Moths of North America Intended Audience: General Reading Level: Middle School

Florida White - Appias drusilla
The Florida white is found from Florida south to Brazil.
Source: Butterflies and Moths of North America Intended Audience: General Reading Level: Middle School

Gray Marble - Anthocharis lanceolata
The gray marble is found from southwest Oregon south to northern Baja California and the western edge of Nevada.
Source: Butterflies and Moths of North America Intended Audience: General Reading Level: Middle School

Large Marble - Euchloe ausonides
The large marble is found from Alaska south to central California and northern New Mexico and east to southwest Manitoba.
Source: Butterflies and Moths of North America Intended Audience: General Reading Level: Middle School

Mexican Dart White - Catasticta nimbice
The Mexican dart white is found from Costa Rica north to Mexico.
Source: Butterflies and Moths of North America Intended Audience: General Reading Level: Middle School

Olympia Marble - Euchloe olympia
The Olympia marble is found from southern Canada, central Montana and Colorado, south to central Texas and east through Great Lake states. Isolated populations are found in the Appalachians from Pennsylvania to Tennessee.
Source: Butterflies and Moths of North America Intended Audience: General Reading Level: Middle School

Orange Sulphur - Colias eurytheme
The orange sulphur is found throughout North America to southern Mexico
Source: Animal Diversity Web Intended Audience: General Reading Level: Middle School

Pacific Orangetip - Anthocharis sara
The Pacific orangetip is found from Alaska coast south to Baja California, Mexico.
Source: Butterflies and Moths of North America Intended Audience: General Reading Level: Middle School

Pine White - Neophasia menapia
The Pacific orangetip is found from British Columbia east to Alberta, south through Rocky Mountain states and California to Mexico.
Source: Butterflies and Moths of North America Intended Audience: General Reading Level: Middle School

Southern Rocky Mountain Orangetip - Anthocharis julia
The Southern Rocky Mountain orangetip is found from northern Nevada, Utah, and western Colorado south to western Texas, New Mexico, Arizona, and southeastern California.
Source: Butterflies and Moths of North America Intended Audience: General Reading Level: Middle School

Southwestern Orangetip - Anthocharis thoosa
The Southwestern orangetip is found from southeastern Wyoming south through the Colorado Rockies into New Mexico.
Source: Butterflies and Moths of North America Intended Audience: General Reading Level: Middle School

Stella Orangetip - Anthocharis stella
The Stella orangetip is found from the Alaskan coast south to Baja California and east to North Dakota, New Mexico, extreme western Texas.
Source: Butterflies and Moths of North America Intended Audience: General Reading Level: Middle School