Phalangeridae - brushtail possums, cuscuses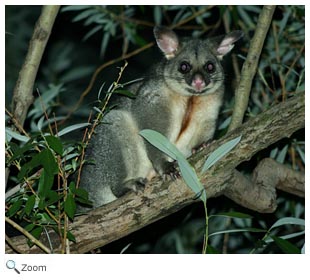 There are 26 species of medium-sized marsupials in this family. They are found in Australia and New Guinea.
They have stocky bodies, small heads and front-facing eyes. Most species have long, furry prehensile tails. In most species, the first and second digits of the forefeet are opposable. They have thick fur that can range from gray to brown to black. Some species have spots or stripes.
They are good climbers, but they also spend time on the ground. They are omnivores and usually feed at night.
Species in this family include the mountain cuscus, the gray cuscus, the silky cuscus, the mountain cuscus, the northern brushtail possum, the silver-gray brushtail possum, and the scaly-tailed possum.
World Status Key


Least Concern

Near Threatened

Vulnerable

Endangered

Critically Endangered

Extinct in Wild

Extinct
Status and range is taken from ICUN Redlist. If no status is listed, there is not enough data to establish status.
US Status Key


Threatened in US

Threatened in NH

Endangered in US

Endangered in NH

Breeds N.H.

Introduced
Status taken from US Fish and Wildlife and NH Fish and Game
| | | |
| --- | --- | --- |
| New Hampshire Species | | North/Central American Species |
| None | | None |
Other Species Around the World

Africa Asia Australia/Oceania Europe North America South America NH



Talaud Bear Cuscus - Ailurops melanotis
Bear Cuscus - Ailurops ursinus
Gebe Cuscus - Phalanger alexandrae
Mountain Cuscus - Phalanger carmelitae
Ground Cuscus - Phalanger gymnotis
Eastern Common Cuscus - Phalanger intercastellanus
Woodlark Cuscus - Phalanger lullulae
Blue-eyed Cuscus - Phalanger matabiru
Telefomin Cuscus - Phalanger matanim
Southern Common Cuscus - Phalanger mimicus
Northern Common Cuscus - Phalanger orientalis
Ornate Cuscus - Phalanger ornatus
Obi Cuscus - Phalanger rothschildi

Silky Cuscus - Phalanger sericeus
Stein's Cuscus - Phalanger vestitus
Admiralty Cuscus - Spilocuscus kraemeri
Common Spotted Cuscus - Spilocuscus maculatus
Waigeo Cuscus - Spilocuscus papuensis
Black-spotted Cuscus - Spilocuscus rufoniger
Blue-eyed Spotted Cuscus - Spilocuscus wilsoni
Small Sulawesi Cuscus - Strigocuscus celebensis
Peleng Cuscus - Strigocuscus pelengensis
Short-eared Brushtail Possum - Trichosurus caninus
Mountain Brushtail Possum - Trichosurus cunninghami
Common Brushtail Possum - Trichosurus vulpecula
Scaly-tailed Possum - Wyulda squamicaudata [dd]

Additional Information

Key: Profile Photos Video Audio

Bear Cuscus - Ailurops ursinus
The bear cuscus is found in Indonesia.
Source: Arkive Intended Audience: General Reading Level: Middle School Teacher Section: Yes

Bear Cuscus - Ailurops ursinus
The bear cuscus lives in the upper canopy of lowland tropical rainforests.
Source: Animal Diversity Web Intended Audience: General Reading Level: Middle School Teacher Section: Yes

Black-spotted Cuscus - Spilocuscus rufoniger
The black-spotted cuscus is found in Indonesia and Papua New Guinea.
Source: Arkive Intended Audience: General Reading Level: Middle School Teacher Section: Yes

Black-spotted Cuscus - Spilocuscus rufoniger
The male black-spotted cuscus is orange with a black back and rump. The female is orange with a black-spotted back and rump.
Source: Animal Diversity Web Intended Audience: General Reading Level: Middle School Teacher Section: Yes

Common Brushtail Possum - Trichosurus vulpecula
The common brushtail possum is widely distributed throughout Australia and has been introduced to New Zealand.
Source: Arkive Intended Audience: General Reading Level: Middle School Teacher Section: Yes

Common Brushtail Possum - Trichosurus vulpecula
The common brushtail possum rests in hollowed out logs or trees.
Source: Animal Diversity Web Intended Audience: General Reading Level: Middle School Teacher Section: Yes

Common Brushtail Possum - Trichosurus vulpecula
The common brushtail possum is is a solitary species.
Source: Australia Zoo Intended Audience: General Reading Level: Middle School Teacher Section: Yes

Common Spotted Cuscus - Spilocuscus maculatus
The common spotted cuscus is found in Australia, Indonesia, and Papua New Guinea.
Source: Arkive Intended Audience: General Reading Level: Middle School Teacher Section: Yes

Common Spotted Cuscus - Spilocuscus maculatus
The common spotted cuscus is also known as the short-tailed spotted cuscus.
Source: Animal Diversity Web Intended Audience: General Reading Level: Middle School Teacher Section: Yes

Ground Cuscus - Phalanger gymnotis
The ground cuscus is found in Indonesia and Papua New Guinea.
Source: Animal Diversity Web Intended Audience: General Reading Level: Middle School Teacher Section: Yes

Ground Cuscus - Phalanger gymnotis
The ground cuscus is a solitary animal.
Source: Twycross Zoo Intended Audience: General Reading Level: Middle School Teacher Section: Yes

Mountain Brushtail Possum - Trichosurus cunninghami
The mountain brushtail possum eats leaves, fruits, berries, flowers, bark, fungi, and lichens.
Source: Australia Zoo Intended Audience: General Reading Level: Middle School Teacher Section: Yes

Scaly-tailed Possum - Wyulda squamicaudata
The scaly-tailed possum is found in Western Australia.
Source: Arkive Intended Audience: General Reading Level: Middle School Teacher Section: Yes

Small Sulawesi Cuscus - Strigocuscus celebensis
The small Sulawesi cuscus is found on Sulawesi, Sangihe, and Siau Islands in Indonesia.
Source: Arkive Intended Audience: General Reading Level: Middle School Teacher Section: Yes

Small Sulawesi Cuscus - Strigocuscus celebensis
The small Sulawesi cuscus is also known as the little Celebes cuscus.
Source: Arkive Intended Audience: General Reading Level: Middle School Teacher Section: Yes