Phalacrocoracidae - Cormorants, Shags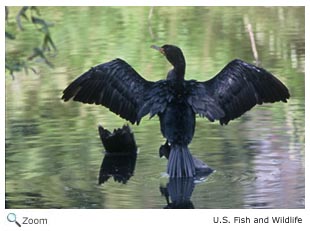 There are 34 species of medium to large birds in this family. They are found in temperate and tropical environments around the world.

Cormorants and shags live on lakes, rivers, marshes, swamps, and ocean shorelines. Most species are black with a bare face; a long neck; and a long, thin, hooked bill. Males and females look alike, but males are usually larger.

Unlike most water birds, the feathers of the birds in this family don't have the waterproofing oil found in most water birds. Cormorants and shags dry their feathers by perching and holding out their wings!

Cormorants and shags dive from the surface of the water for fish. In some countries in Asia, fisherman have trained cormorants to catch fish for them! Cormorants and shags nest in colonies, and both the male and the female care for and feed the chicks.

Phalacrocoracidae Photo Gallery
World Status Key


Least Concern

Near Threatened

Vulnerable

Endangered

Critically Endangered

Extinct in Wild

Extinct
Status and range is taken from ICUN Redlist. If no status is listed, there is not enough data to establish status.
US Status Key


Threatened in US

Threatened in NH

Endangered in US

Endangered in NH

Breeds N.H.

Introduced
Status taken from US Fish and Wildlife and NH Fish and Game
New Hampshire Species

North/Central American Species

Double-crested Cormorant- Phalacrocorax auritus
Great Cormorant - Phalacrocorax carbo

Neotropic Cormorant - Phalacrocorax brasilianus
Pelagic Cormorant - Phalacrocorax pelagicus
Brandt's Cormorant - Phalacrocorax penicillatus
Red-faced Cormorant - Phalacrocorax urile
Other Species Around the World

Africa Antarctica Asia Australia/Oceania Europe North America South America NH


Reed Cormorant - Phalacrocorax africanus
European Shag - Phalacrocorax aristotelis
Imperial Shag - Phalacrocorax atriceps
Double-crested Cormorant - Phalacrocorax auritus
Guanay Cormorant - Phalacrocorax bougainvillii
Campbell Island Shag - Phalacrocorax campbelli
Cape Cormorant - Phalacrocorax capensis
Japanese Cormorant - Phalacrocorax capillatus
Great Cormorant-Phalacrocorax carbo
New Zealand King Shag - Phalacrocorax carunculatus
Stewart Island Shag - Phalacrocorax chalconotus
Auckland Islands Shag - Phalacrocorax colensoi
Crowned Cormorant - Phalacrocorax coronatus
Pitt Island Shag - Phalacrocorax featherstoni
Black-faced Cormorant - Phalacrocorax fuscescens
Indian Cormorant - Phalacrocorax fuscicollis


Red-legged Cormorant - Phalacrocorax gaimardi
Flightless Cormorant - Phalacrocorax harrisi
Rock Shag - Phalacrocorax magellanicus
Little Pied Cormorant - Phalacrocorax melanoleucos
Bank Cormorant - Phalacrocorax neglectus
Little Cormorant - Phalacrocorax niger
Socotra Cormorant - Phalacrocorax nigrogularis
Chatham Islands Shag - Phalacrocorax onslowi
Pelagic Cormorant - Phalacrocorax pelagicus
Brandt's Cormorant - Phalacrocorax penicillatus
Pallas's Cormorant - Phalacrocorax perspicillatus
Spotted Shag - Phalacrocorax punctatus
Pygmy Cormorant - Phalacrocorax pygmeus
Bounty Islands Shag - Phalacrocorax ranfurlyi
Little Black Cormorant - Phalacrocorax sulcirostris
Red-faced Cormorant - Phalacrocorax urile
Large Pied Cormorant - Phalacrocorax varius


Additional Information

Key: Profile Photos Video Audio

Auckland Islands Shag - Phalacrocorax colensoi
The Auckland Islands shag is found in the Auckland Islands in New Zealand.
Source: Internet Bird Collection Intended Audience: General Reading Level: Middle School Teacher Section: No

Auckland Islands Shag - Phalacrocorax colensoi
During mating season the male Auckland Islands shag tries to attract a female by making barking and ticking sounds.
Source: Arkive Intended Audience: General Reading Level: Middle School Teacher Section: Yes

Auckland Islands Shag - Phalacrocorax colensoi
The Auckland Islands shag nests on the ground on ledges and on the tops of steep cliffs.
Source: BirdLife International Intended Audience: General Reading Level: Middle School Teacher Section: No

Bank Cormorant - Phalacrocorax neglectus
The bank cormorant is found along the coast of Africa from Namibia to South Africa
Source: Internet Bird Collection Intended Audience: General Reading Level: Middle School Teacher Section: No

Bank Cormorant - Phalacrocorax neglectus
Fisherman gave this cormorant its name. They thought that if they saw it at sea, it meant there were good fishing banks nearby.
Source: Arkive Intended Audience: General Reading Level: Middle School Teacher Section: Yes

Bank Cormorant - Phalacrocorax neglectus
The bank cormorant is endangered because of human disturbance, displacement by seals, and severe food shortages.
Source: BirdLife International Intended Audience: General Reading Level: Middle School Teacher Section: No

Black-faced Cormorant - Phalacrocorax fuscescens
The black-faced cormorant is found in Australia.
Source: Internet Bird Collection Intended Audience: General Reading Level: Middle School Teacher Section: No

Bounty Islands Shag - Phalacrocorax ranfurlyi
The Bounty Islands shag is found in the Bounty Islands in New Zealand.
Source: Internet Bird Collection Intended Audience: General Reading Level: Middle School Teacher Section: No

Bounty Islands Shag - Phalacrocorax ranfurlyi
The Bounty Islands shag is a large, black-and-white cormorant with pink feet and a red face.
Source: BirdLife International Intended Audience: General Reading Level: Middle School Teacher Section: No

Bounty Islands Shag - Phalacrocorax ranfurlyi
The Bounty Islands shag breeds on narrow cliff-side ledges.
Source: Arkive Intended Audience: General Reading Level: Middle School Teacher Section: Yes

Brandt's Cormorant - Phalacrocorax penicillatus
Brandt's cormorant is found along the Pacific Coast of Canada, Mexico, and the United States.
Source: Internet Bird Collection Intended Audience: General Reading Level: Middle School Teacher Section: No

Brandt's Cormorant - Phalacrocorax penicillatus
Brandt's cormorant is found in inshore coastal waters, especially areas with kelp beds. They are also found in large bays and occasionally estuaries or coastal lagoons
Source: Cornell Lab of Ornithology Intended Audience: General Reading Level: Middle School Teacher Section: No

Campbell Island Shag - Phalacrocorax campbelli
The Campbell Island shag cormorant is found on Campbell Island, New Zealand.
Source: BirdLife International Intended Audience: General Reading Level: Middle School Teacher Section: No

Cape Cormorant - Phalacrocorax capensis
The Cape cormorant is found along the coast of southern Africa.
Source: Internet Bird Collection Intended Audience: General Reading Level: Middle School Teacher Section: No

Cape Cormorant - Phalacrocorax capensis
The Cape cormorant is black and has a bright orange-yellow patch of bare skin at the base of its bill.
Source: Arkive Intended Audience: General Reading Level: Middle School Teacher Section: Yes

Chatham Islands Shag - Phalacrocorax onslowi
The Chatham Islands shag is only found in the Chatham Islands, New Zealand.
Source: Internet Bird Collection Intended Audience: General Reading Level: Middle School Teacher Section: No

Chatham Islands Shag - Phalacrocorax onslowi
The Chatham Islands shag is black with a white throat, breast, and belly. It has a crest of black feathers on its head and pink feet.
Source: Arkive Intended Audience: General Reading Level: Middle School Teacher Section: Yes

Chatham Islands Shag - Phalacrocorax onslowi
The Chatham Islands shag nests in colonies.
Source: BirdLife International Intended Audience: General Reading Level: Middle School Teacher Section: No

Crowned Cormorant - Phalacrocorax coronatus
The crowned cormorant is found on the west coast of southern Africa from Namibia to South Africa
Source: Internet Bird Collection Intended Audience: General Reading Level: Middle School Teacher Section: No

Double-crested Cormorant - Phalacrocorax auritus
The double-crested cormorant is found in Anguilla, Antigua and Barbuda, Bahamas, Barbados, Belize, Canada, the Cayman Islands, Cuba, Dominica, the Dominican Republic, Guadeloupe, Haiti, Martinique, Mexico, Montserrat, Puerto Rico, Saint Kitts and Nevis, Saint Lucia, Saint Pierre and Miquelon, Saint Vincent and the Grenadines, the Turks and Caicos Islands, and the United States.
Source: Internet Bird Collection Intended Audience: General Reading Level: Middle School Teacher Section: No

Double-crested Cormorant - Phalacrocorax auritus
The double-crested cormorant is found in inland and coastal areas.
Source: Arkive Intended Audience: General Reading Level: Middle School Teacher Section: Yes

Double-crested Cormorant - Phalacrocorax auritus
The double-crested cormorant is found throughout much of the United States and its range is increasing.
Source: Cornell Lab of Ornithology Intended Audience: General Reading Level: Middle School Teacher Section: No

Double-crested Cormorant - Phalacrocorax auritus
The double-crested cormorant breeds in colonies of up to three thousand pairs.
Source: Animal Diversity Web Intended Audience: General Reading Level: Middle School Teacher Section: Yes

European Shag - Phalacrocorax aristotelis
The European shag is found in Albania, Algeria, Belgium, Bulgaria, Croatia, Cyprus, Egypt, Faroe Islands, France, Germany, Gibraltar, Greece, Iceland, Ireland, Israel, Italy, Libya, Macedonia, Morocco, Netherlands, Norway, Portugal, Russia, Slovenia, Spain, Tunisia, Turkey, Ukraine, and the United Kingdom.
Source: Internet Bird Collection Intended Audience: General Reading Level: Middle School Teacher Section: No

European Shag - Phalacrocorax aristotelis
During breeding season, the European shag has a black crest on its head.
Source: Arkive Intended Audience: General Reading Level: Middle School Teacher Section: Yes

European Shag - Phalacrocorax aristotelis
The European shag is never found very far from land or very far inland.
Source: Animal Diversity Web Intended Audience: General Reading Level: Middle School Teacher Section: Yes

Flightless Cormorant - Phalacrocorax harrisi
The flightless cormorant is found in the Galápagos Islands.
Source: Internet Bird Collection Intended Audience: General Reading Level: Middle School Teacher Section: No

Flightless Cormorant - Phalacrocorax harrisi
The flightless cormorant has tiny wings and is the only flightless cormorant.
Source: Arkive Intended Audience: General Reading Level: Middle School Teacher Section: Yes

Flightless Cormorant - Phalacrocorax harrisi
The flightless cormorant nests in small groups of just a few pairs.
Source: BirdLife International Intended Audience: General Reading Level: Middle School Teacher Section: No

Great Cormorant - Phalacrocorax carbo
The great cormorant is the most widely distributed cormorant and is found around the world. In North America, it is found along the Atlantic Coast from Labrador, Canada to northern Florida.
Source: Internet Bird Collection Intended Audience: General Reading Level: Middle School Teacher Section: No

Great Cormorant - Phalacrocorax carbo
The great cormorant is found in shallow inshore marine waters.
Source: Arkive Intended Audience: General Reading Level: Middle School Teacher Section: Yes

Great Cormorant - Phalacrocorax carbo
The great cormorant breeds along rocky maritime coasts and nests on cliff ledges or rocky islands.
Source: Cornell Ornithology Lab Intended Audience: General Reading Level: Middle School Teacher Section: No

Great Cormorant - Phalacrocorax carbo
Great cormorant pairs may return to the same nest site year after year.
Source: Animal Diversity Web Intended Audience: General Reading Level: Middle School Teacher Section: Yes

Guanay Cormorant - Phalacrocorax bougainvillii
The Guanay cormorant is found along the Pacific coast of Peru and northern Chile.
Source: Internet Bird Collection Intended Audience: General Reading Level: Middle School Teacher Section: No

Imperial Shag - Phalacrocorax atriceps
The Imperial shag is found in Antarctica, Argentina, Australia, Chile, Falkland Islands, French Southern Territories, Heard Island and McDonald Islands, South Africa, South Georgia and the South Sandwich Islands.
Source: Internet Bird Collection Intended Audience: General Reading Level: Middle School Teacher Section: No

Imperial Shag - Phalacrocorax atriceps
The Imperial shag is black and white and had a ring of blue skin around its eyes.
Source: Arkive Intended Audience: General Reading Level: Middle School Teacher Section: Yes

Indian Cormorant - Phalacrocorax fuscicollis
The Indian cormorant is found in Bangladesh, Bhutan, Cambodia, India, Myanmar, Pakistan, Sri Lanka, Thailand, and Vietnam.
Source: Internet Bird Collection Intended Audience: General Reading Level: Middle School Teacher Section: No

Japanese Cormorant - Phalacrocorax capillatus
The Japanese cormorant is found in China, Japan, North Korea, South Korea, Russia, and Taiwan.
Source: Internet Bird Collection Intended Audience: General Reading Level: Middle School Teacher Section: No

Large Pied Cormorant - Phalacrocorax varius
The large pied cormorant is found in Australia and New Zealand.
Source: Internet Bird Collection Intended Audience: General Reading Level: Middle School Teacher Section: No

Little Black Cormorant - Phalacrocorax sulcirostris
The little black cormorant is found in Australia, Indonesia, New Caledonia, New Zealand, Papua New Guinea, and Timor-Leste.
Source: Internet Bird Collection Intended Audience: General Reading Level: Middle School Teacher Section: No

Little Cormorant - Phalacrocorax niger
The little cormorant is found in Bangladesh, Bhutan, Cambodia, China, India, Indonesia, Laos, Malaysia, Myanmar, Nepal, Pakistan, Sri Lanka, Thailand, and Vietnam .
Source: Internet Bird Collection Intended Audience: General Reading Level: Middle School Teacher Section: No

Little Cormorant - Phalacrocorax niger
The little cormorant breeds in freshwater wetlands and on coasts.
Source: Arkive Intended Audience: General Reading Level: Middle School Teacher Section: Yes

Little Pied Cormorant - Phalacrocorax melanoleucos
The little pied cormorant is found in Australia, Indonesia, Japan, New Caledonia, New Zealand, Palau, Papua New Guinea, the Solomon Islands, Timor-Leste, and Vanuatu.
Source: Internet Bird Collection Intended Audience: General Reading Level: Middle School Teacher Section: No

Neotropic Cormorant - Phalacrocorax brasilianus
The neotropic cormorant is found in Arizona, Texas, Mexico, Central America, South America, and the Caribbean.
Source: Internet Bird Collection Intended Audience: General Reading Level: Middle School Teacher Section: No

Neotropic Cormorant - Phalacrocorax brasilianus
The neotropic cormorant is the only cormorant known to plunge-dive into water to catch fish.
Source: Cornell Lab of Ornithology Intended Audience: General Reading Level: Middle School Teacher Section: No

Neotropic Cormorant - Phalacrocorax brasilianus
The neotropic cormorant is very clumsy on land, but it is an excellent swimmer.
Source: Animal Diversity Web Intended Audience: General Reading Level: Middle School Teacher Section: Yes

New Zealand King Shag - Phalacrocorax carunculatus
The New Zealand king shag is also known as the rough-faced shag. It is found in New Zealand.
Source: Internet Bird Collection Intended Audience: General Reading Level: Middle School Teacher Section: No

New Zealand King Shag - Phalacrocorax carunculatus
The New Zealand king shag is black with a white throat, breast and belly.
Source: Arkive Intended Audience: General Reading Level: Middle School Teacher Section: No

New Zealand King Shag - Phalacrocorax carunculatus
The New Zealand king shag is found on only four tiny islands in New Zealand.
Source: BirdLife International Intended Audience: General Reading Level: Middle School Teacher Section: No

Pelagic Cormorant - Phalacrocorax pelagicus
The pelagic cormorant is found in Canada, China, Japan, North Korea, South Korea, Mexico, Russia, Taiwan, and the United States.
Source: Internet Bird Collection Intended Audience: General Reading Level: Middle School Teacher Section: No

Pelagic Cormorant - Phalacrocorax pelagicus
In North America, the pelagic cormorant is found along the Pacific Coast from Alaska to Baja California, Mexico.
Source: Cornell Ornithology Lab Intended Audience: General Reading Level: Middle School Teacher Section: No

Pitt Island Shag - Phalacrocorax featherstoni
The Pitt Island shag is found in the Chatham Islands, New Zealand .
Source: Arkive Intended Audience: General Reading Level: Middle School Teacher Section: Yes

Pitt Island Shag - Phalacrocorax featherstoni
During the breeding season, the Pitt Island shag has a green face.
Source: BirdLife International Intended Audience: General Reading Level: Middle School Teacher Section: No

Pygmy Cormorant - Phalacrocorax pygmeus
The pygmy cormorant breeds in southeast Europe east from Italy, Russia, Iran, Kazakhstan, Tajikistan, Turkmenistan, and Uzbekistan. It winters in Albania, Greece, the Balkan states, Turkey, Cyprus, Iraq, Iran, Azerbaijan, Bulgaria, Romania, Israel and Syria.
Source: Internet Bird Collection Intended Audience: General Reading Level: Middle School Teacher Section: No

Red-faced Cormorant - Phalacrocorax urile
The red-faced cormorant is found in the northern Pacific Ocean and the Bering Sea in Canada, Japan, Russia, and in the United States in Alaska.
Source: Internet Bird Collection Intended Audience: General Reading Level: Middle School Teacher Section: No

Red-legged Cormorant - Phalacrocorax gaimardi
The red-legged cormorant is found in Peru, Chile, and Argentina.
Source: Internet Bird Collection Intended Audience: General Reading Level: Middle School Teacher Section: No

Red-legged Cormorant - Phalacrocorax gaimardi
The red-legged cormorant is gray with a white mark on its neck, a yellow bill, and orange-red legs and feet.
Source: Arkive Intended Audience: General Reading Level: Middle School Teacher Section: Yes

Reed Cormorant - Phalacrocorax africanus
The reed cormorant is also known as the long-tailed cormorant. It is found in Africa south of the Sahara.
Source: Internet Bird Collection Intended Audience: General Reading Level: Middle School Teacher Section: No

Rock Shag - Phalacrocorax magellanicus
The rock shag is found in Argentina, Chile, the Falkland Islands, and Uruguay.
Source: Internet Bird Collection Intended Audience: General Reading Level: Middle School Teacher Section: No

Rock Shag - Phalacrocorax magellanicus
The rock shag is black with a white throat and belly and red eyes and a reddish-orange face.
Source: Arkive Intended Audience: General Reading Level: Middle School Teacher Section: No

Socotra Cormorant - Phalacrocorax nigrogularis
The Socotra cormorant breeds on islands off the Persian Gulf coasts of Bahrain, United Arab Emirates, Saudi Arabia, and Qatar and on islands off the Arabian Sea coast of Oman and in the Gulf of Aden off Yemen.
Source: Internet Bird Collection Intended Audience: General Reading Level: Middle School Teacher Section: No

Socotra Cormorant - Phalacrocorax nigrogularis
The Socotra cormorant is black with black legs and a black bill.
Source: Arkive Intended Audience: General Reading Level: Middle School Teacher Section: Yes

Socotra Cormorant - Phalacrocorax nigrogularis
The Socotra cormorant population is threatened by coastal development on its breeding islands.
Source: BirdLife International Intended Audience: General Reading Level: Middle School Teacher Section: No

Spotted Shag - Phalacrocorax punctatus
The spotted shag is found in New Zealand.
Source: Internet Bird Collection Intended Audience: General Reading Level: Middle School Teacher Section: No

Stewart Island Shag - Phalacrocorax chalconotus
The Stewart Island shag is found in New Zealand.
Source: Internet Bird Collection Intended Audience: General Reading Level: Middle School Teacher Section: No

Stewart Island Shag - Phalacrocorax chalconotus
The Stewart Island shag comes in two different color morphs (variations). In the pied morph it is black on its uppersides and white on its undersides. In the bronze morph it is brownish-black with a bluish-green metallic gloss.
Source: Arkive Intended Audience: General Reading Level: Middle School Teacher Section: Yes

Stewart Island Shag - Phalacrocorax chalconotus
The Stewart Island shag builds a platform nest of twigs, seaweed, and guano on rocky headlands and islands.
Source: BirdLife International Intended Audience: General Reading Level: Middle School Teacher Section: No