Petauridae - gliders, striped possums, trioks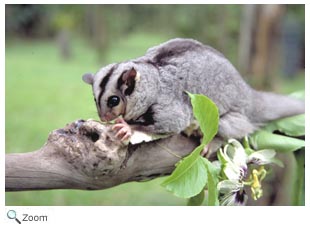 There are 11 species of small marsupials in this family. They are found in the forests of Australia and New Guinea. They have long, furry prehensile tails. Some species in this family have a thin membrane of skin that runs from their front feet to their rear feet that helps them glide from tree to tree.
They eat insects and the sap and gum from eucalypts and acacias. Species in this family include: the striped possum, the northern glider, the sugar glider, the great-tailed triok, the long-fingered triok, the yellow-bellied glider, and the squirrel glider.
World Status Key


Least Concern

Near Threatened

Vulnerable

Endangered

Critically Endangered

Extinct in Wild

Extinct
Status and range is taken from ICUN Redlist. If no status is listed, there is not enough data to establish status.
US Status Key


Threatened in US

Threatened in NH

Endangered in US

Endangered in NH

Breeds N.H.

Introduced
Status taken from US Fish and Wildlife and NH Fish and Game
| | | |
| --- | --- | --- |
| New Hampshire Species | | North/Central American Species |
| None | | None |
Other Species Around the World

Africa Antarctica Asia Australia/Oceania Europe North America South America NH



Long-fingered Triok - Dactylonax palpator
Great-tailed Triok - Dactylopsila megalura
Tate's Triok - Dactylopsila tatei
Striped Possum - Dactylopsila trivirgata
Leadbeater's Possum - Gymnobelideus leadbeateri
Northern Glider - Petaurus abidi
Yellow-bellied Glider - Petaurus australis
Biak Glider - Petaurus biacensis
Sugar Glider - Petaurus breviceps
Mahogany Glider - Petaurus gracilis
Squirrel Glider - Petaurus norfolcensis
Additional Information
Key:

Profile

Photos

Video

Audio
Leadbeater's Possum - Gymnobelideus leadbeateri






Leadbeater's possum is found in Victoria, Australia.
Source: Arkive Intended Audience: General Reading Level: Middle School Teacher Section: Yes
Leadbeater's Possum - Gymnobelideus leadbeateri





Leadbeater's possum is gray-brown with a dark stripe running down its back. Unlike some of the other species in this family, it does not have a gliding membrane.
Source: Animal Diversity Web Intended Audience: General Reading Level: Middle School Teacher Section: Yes
Leadbeater's Possum - Gymnobelideus leadbeateri





Leadbeater's possum was thought to be extinct until it was rediscovered in 1961.
Source: EDGE Intended Audience: General Reading Level: Middle School Teacher Section: No
Mahogany Glider - Petaurus gracilis






The mahogany glider is found in Queensland, Australia.
Source: Arkive Intended Audience: General Reading Level: Middle School Teacher Section: Yes
Mahogany Glider - Petaurus gracilis




The mahogany glider is a solitary species.
Source: Animal Diversity Web Intended Audience: General Reading Level: Middle School Teacher Section: Yes
Mahogany Glider - Petaurus gracilis





The mahogany glider is reddish-brown and has a dark brown stripe on its head.
Source: Queensland Government Intended Audience: General Reading Level: Middle School Teacher Section: No
Mahogany Glider - Petaurus gracilis






The mahogany glider has a deep 'Nwarr' call.
Source: Wildlife Queensland Intended Audience: General Reading Level: Middle School Teacher Section: No
Squirrel Glider - Petaurus norfolcensis




The squirrel glider is found in eastern Australia.
Source: Arkive Intended Audience: General Reading Level: Middle School Teacher Section: Yes
Squirrel Glider - Petaurus norfolcensis




Squirrel gliders live in family groups made up of one adult male and one or more adult females as well as the young squirrel gliders from the breeding season.
Source: Animal Diversity Web Intended Audience: General Reading Level: Middle School Teacher Section: Yes
Squirrel Glider - Petaurus norfolcensis






Squirrel gliders have long, thick, bushy tails.
Source: Wildlife Queensland Intended Audience: General Reading Level: Middle School Teacher Section: No
Striped Possum - Dactylopsila trivirgata






The striped possum is found in Australia, Indonesia, and Papua New Guinea.
Source: Animal Diversity Web Intended Audience: General Reading Level: Middle School Teacher Section: Yes
Sugar Glider - Petaurus breviceps







The sugar glider is found in Australia, Indonesia; and Papua New Guinea.
Source: Arkive Intended Audience: General Reading Level: Middle School Teacher Section: Yes
Sugar Glider - Petaurus breviceps






Sugar gliders can hibernate if it gets too cold or if food supplies are low.
Source: Animal Diversity Web Intended Audience: General Reading Level: Middle School Teacher Section: Yes
Sugar Glider - Petaurus breviceps







Sugar gliders have a sharp "yip-yip" call.
Source: Wildlife Queensland Intended Audience: General Reading Level: Middle School Teacher Section: No
Tate's Triok - Dactylopsila tatei




Tate's triok is found in Papua New Guinea.
Source: Arkive Intended Audience: General Reading Level: Middle School Teacher Section: Yes
Yellow-bellied Glider - Petaurus australis





The yellow-bellied glider is found in eastern Australia.
Source: Arkive Intended Audience: General Reading Level: Middle School Teacher Section: Yes
Yellow-bellied Glider - Petaurus australis





The yellow-bellied glider can glide distances of as much as 370 feet.
Source: Animal Diversity Web Intended Audience: General Reading Level: Middle School Teacher Section: Yes
Yellow-bellied Glider - Petaurus australis






The yellow-bellied glider is also known as the fluffy glider.
Source: Wildlife Queensland Intended Audience: General Reading Level: Middle School Teacher Section: No