Nycteridae - slit-faced bats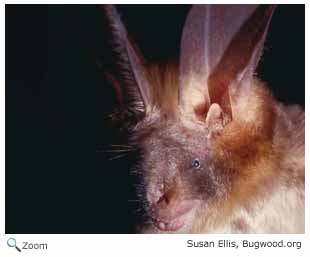 There are 16 species of small to medium-sized bats in this family. They are found in Africa, Malaysia , Indonesia.
Slit-faced bats get their name from the long, vertical slit that runs across the top of their flattened noseleaf.
Slit-faced bats have large ears, broad wings, and a long tail. They roost in alone or in small groups in trees, buildings, caves, and animal burrows.
They range in color from brown, brownish-orange or gray. Most species eat insects.
World Status Key


Least Concern

Near Threatened

Vulnerable

Endangered

Critically Endangered

Extinct in Wild

Extinct
Status and range is taken from ICUN Redlist. If no status is listed, there is not enough data to establish status.
US Status Key


Threatened in US

Threatened in NH

Endangered in US

Endangered in NH

Introduced
Status taken from US Fish and Wildlife and NH Fish and Game
| | | |
| --- | --- | --- |
| New Hampshire Species | | North/Central American Species |
| None | | None |
Other Species Around the World

Africa Asia Australia/Oceania Europe North America South America NH Species

Bate's Slit-faced Bat - Nycteris arge
Andersen's Slit-faced Bat - Nycteris aurita
Gambian Slit-faced Bat - Nycteris gambiensis
Large Slit-faced Bat - Nycteris grandis
Hairy Slit-faced Bat - Nycteris hispida
Intermediate Slit-faced Bat - Nycteris intermedia
Javan Slit-faced Bat - Nycteris javanica
Large-eared Slit-faced Bat - Nycteris macrotis
Madagascar Slit-faced Bat - Nycteris madagascariensis
Dja Slit-faced Bat - Nycteris major
Dwarf Slit-faced Bat - Nycteris nana
Parisi's Slit-faced Bat - Nycteris parisii
Egyptian Slit-faced Bat - Nycteris thebaica
Malayan Slit-faced Bat - Nycteris tragata
Vinson's Slit-faced Bat - Nycteris vinsoni
Wood's Slit-faced Bat - Nycteris woodi
Additional Information
Key:

Profile

Photos

Video

Audio
Egyptian Slit-faced Bat - Nycteris thebaica






The Egyptian slit-faced bat is found in Sub-Saharan Africa. It is also found in Morocco, Libya, Egypt, Israel, Palestine and Jordan.
Source: Arkive Intended Audience: General Reading Level: Middle School
Egyptian Slit-faced Bat - Nycteris thebaica






The Egyptian slit-faced bat is sometimes called the whispering bat because it has a weak echolocation call.
Source: Animal Diversity Web Intended Audience: General Reading Level: Middle School
Javan Slit-faced Bat - Nycteris javanica




The Javan slit-faced bat is found in Indonesia.
Source: Arkive Intended Audience: General Reading Level: Middle School
Large Slit-faced Bat - Nycteris grandis





The large slit faced bat is found in central and southern Africa.
Source: Animal Diversity Web Intended Audience: General Reading Level: Middle School
Malayan Slit-faced Bat - Nycteris tragata




The Malayan slit faced bat is also known as the hollow-faced bat. It is found in Brunei Darussalam, Indonesia, Malaysia, Myanmar, Singapore, and Thailand.
Source: Arkive Intended Audience: General Reading Level: Middle School