Noctilionidae - bulldog bats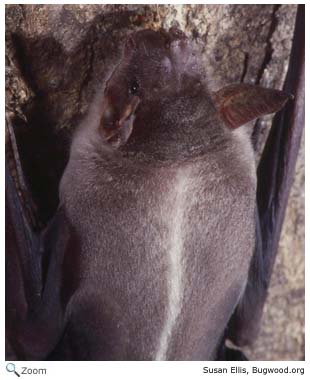 There are two species of medium-sized bats in this family, the greater bulldog bat and the lesser bulldog bat. They are found from Mexico south to South America.
Bulldog bats have full lips and cheek pouches that they use to store food! They have reddish-orange, yellowish-brown, or gray fur. They have long, pointed ears; long, narrow wings; legs that are longer than most the legs of most bat species; and large feet with claws.
Bulldog bats are good walkers and live in colonies in trees, rock crevices, attics, or caves. They are usually found near a source of water.
Both species eat flying insects. The greater bulldog bat uses its large feet and claws to catch fish, frogs, and crustaceans! It uses echolocation to locate the ripples caused by fish swimming near the surface of the water. It then uses it long, sharp claws to catch the fish. It takes its prey to a perch where it eats it.
World Status Key


Least Concern

Near Threatened

Vulnerable

Endangered

Critically Endangered

Extinct in Wild

Extinct
Status and range is taken from ICUN Redlist. If no status is listed, there is not enough data to establish status.
US Status Key


Threatened in US

Threatened in NH

Endangered in US

Endangered in NH

Introduced
Status taken from US Fish and Wildlife and NH Fish and Game
New Hampshire Species

North/Central American Species

None



Lesser Bulldog Bat - Noctilio albiventris
Greater Bulldog Bat - Noctilio leporinus
Other Species Around the World

Africa Asia Australia/Oceania Europe North America South America NH



Lesser Bulldog Bat - Noctilio albiventris

Greater Bulldog Bat - Noctilio leporinus
Additional Information
Key:

Profile

Photos

Video

Audio
Greater Bulldog Bat - Noctilio leporinus







The greater bulldog bat is found from Mexico through Central America and northern and central South America. It is also found in the Caribbean.
Source: Arkive Intended Audience: General Reading Level: Middle School
Greater Bulldog Bat - Noctilio leporinus






Greater bulldog bats roost in caves, rocky crevices, or hollow trees.
Source: Animal Diversity Web Intended Audience: General Reading Level: Middle School
Greater Bulldog Bat - Noctilio leporinus







Greater bulldog bats fly low over the water at night and use echolocation to locate fish.
Source: Animal Planet Intended Audience: General Reading Level: Middle School
Greater Bulldog Bat - Noctilio leporinus







Greater bulldog bats use their large talons to catch fish.
Source: BBC Intended Audience: General Reading Level: Middle School
Lesser Bulldog Bat - Noctilio albiventris





The lesser bulldog bat is found from southern Mexico through Central America and northern and central South America.
Source: Arkive Intended Audience: General Reading Level: Middle School
Lesser Bulldog Bat - Noctilio albiventris






The lesser bulldog bat is always found near streams, bodies of water, or other moist places.
Source: Animal Diversity Web Intended Audience: General Reading Level: Middle School