Natalidae - funnel eared bats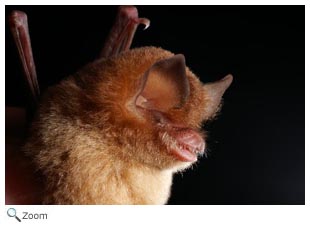 There are 11 species of small, slender bats in this family. They are found in the Caribbean and from Mexico south to northern South America.
They have reddish-brown, yellowish-brown, or gray fur. They have long tails, large ears, and no noseleaf. They live in caves and eat flying insects.
Species include: Gervais's funnel-eared bat, the Cuban funnel-eared bat, the Bahaman funnel-eared bat, the Trinidadian funnel-eared bat, and the Mexican funnel-eared bat.
World Status Key


Least Concern

Near Threatened

Vulnerable

Endangered

Critically Endangered

Extinct in Wild

Extinct
Status and range is taken from ICUN Redlist. If no status is listed, there is not enough data to establish status.
US Status Key


Threatened in US

Threatened in NH

Endangered in US

Endangered in NH

Introduced
Status taken from US Fish and Wildlife and NH Fish and Game
New Hampshire Species

North/Central American Species

None



Cuban Lesser Funnel-eared Bat - Chilonatalus micropus
Bahamian Lesser Funnel-eared Bat - Chilonatalus tumidifrons
Jamaican Greater Funnel-eared Bat - Natalus jamaicensis
Natalus lanatus
Hispaniolan Greater Funnel-eared Bat - Natalus major
Mexican Greater Funnel-eared Bat - Natalus mexicanus
Cuban Greater Funnel-eared Bat - Natalus primus
Mexican Funnel-eared Bat - Natalus stramineus
Trinidadian Funnel-eared Bat - Natalus tumidirostris
Gervais's Funnel-eared Bat - Nyctiellus lepidus
Other Species Around the World

Africa Asia Australia/Oceania Europe North America South America NH

Cuban Lesser Funnel-eared Bat - Chilonatalus micropus
Bahamian Lesser Funnel-eared Bat-Chilonatalus tumidifrons
Natalus espiritosantensis
Jamaican Greater Funnel-eared Bat - Natalus jamaicensis
Natalus lanatus
Hispaniolan Greater Funnel-eared Bat - Natalus major
Mexican Greater Funnel-eared Bat - Natalus mexicanus
Cuban Greater Funnel-eared Bat - Natalus primus
Mexican Funnel-eared Bat - Natalus stramineus
Trinidadian Funnel-eared Bat - Natalus tumidirostris
Gervais's Funnel-eared Bat - Nyctiellus lepidus

Additional Information
Key:

Profile

Photos

Video

Audio
Bahamian Lesser Funnel-eared Bat - Chilonatalus tumidifrons





The Bahamian funnel-eared bat is found in the Bahamas.
Source: Animal Diversity Web Intended Audience: General Reading Level: Middle School
Cuban Lesser Funnel-eared Bat - Chilonatalus micropus






The Cuban funnel-eared bat is found in Cuba.
Source: Animal Diversity Web Intended Audience: General Reading Level: Middle School
Gervais's Funnel-eared Bat - Nyctiellus lepidus





Gervais's funnel-eared bat is found in in Cuba and the Bahamas.
Source: Animal Diversity Web Intended Audience: General Reading Level: Middle School
Mexican Funnel-eared Bat - Natalus stramineus





The Mexican funnel-eared bat is found in Anguilla, Antigua and Barbuda, Dominica, Guadeloupe, Martinique, Montserrat, and Saint Kitts and Nevis.
Source: Arkive Intended Audience: General Reading Level: Middle School
Mexican Funnel-eared Bat - Natalus stramineus





The Mexican funnel-eared bat roosts in deep, moist caves.
Source: Animal Diversity Web Intended Audience: General Reading Level: Middle School