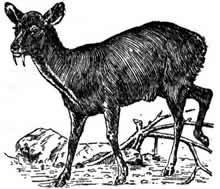 Moschidae - musk deer
There are seven species of small deer in this family. They are found in the forests and brushlands of central and northeastern Asia. Musk deer are the size of a medium-sized dog. Unlike other species of deer, the males of this family do not have antlers, but they do have extremely long canine teeth.
Musk deer have no visible tail; long hind legs; and large, rounded ears. Musk deer have a gland that produces a musk that is used in perfumes. Musk deer are solitary animals and are most active at night.
Species in this family include: the the alpine musk deer, the black musk deer, and the Siberian musk deer.
World Status Key


Least Concern

Near Threatened

Vulnerable

Endangered

Critically Endangered

Extinct in Wild

Extinct
Status and range is taken from ICUN Redlist. If no status is listed, there is not enough data to establish status.
US Status Key


Threatened in US

Threatened in NH

Endangered in US

Endangered in NH

Introduced
Status taken from US Fish and Wildlife and NH Fish and Game
| | | |
| --- | --- | --- |
| New Hampshire Species | | North/Central American Species |
| None | | None |
Other Species Around the World

Africa Asia Australia/Oceania Europe North America South America NH Species

Anhui Musk Deer - Moschus anhuiensis
Forest Musk Deer - Moschus berezovskii
Alpine Musk Deer - Moschus chrysogaster
Kashmir Muskdeer - Moschus cupreus

Black Musk Deer - Moschus fuscus
Himalayan Muskdeer - Moschus leucogaster
Siberian Musk Deer - Moschus moschiferus
Additional Information
Key:

Profile

Photos

Video

Audio
Alpine Musk Deer - Moschus chrysogaster




The Alpine musk deer is found in Bhutan, China, India, and Nepal.
Source: Arkive Intended Audience: General Reading Level: Middle School
Alpine Musk Deer - Moschus chrysogaster




The Alpine musk deer lives in forests with moderate to steep slopes.
Source: Animal Diversity Web Intended Audience: General Reading Level: Middle School
Black Musk Deer - Moschus fuscus




The black musk deer is also known as the dusky musk deer. It is found in Bhutan, China, India, Myanmar, and Nepal.
Source: Animal Diversity Web Intended Audience: General Reading Level: Middle School
Himalayan Muskdeer - Moschus leucogaster





The Himalayan musk deer is found in the Himalayan mountain range in Bhutan, India, Nepal, and China.
Source: Arkive Intended Audience: General Reading Level: Middle School
Himalayan Muskdeer - Moschus leucogaster




The Himalayan musk deer has long "hare-like" ears.
Source: Animal Diversity Web Intended Audience: General Reading Level: Middle School
Kashmir Muskdeer - Moschus cupreus




The Kashmir musk deer is found in Afghanistan, India, and Pakistan.
Source: Arkive Intended Audience: General Reading Level: Middle School
Siberian Musk Deer - Moschus moschiferus






The Siberian musk deer is found in China, Kazakhstan, South Korea, North Korea, Mongolia, and the Russian Federation.
Source: Arkive Intended Audience: General Reading Level: Middle School
Siberian Musk Deer - Moschus moschiferus






The Siberian musk deer is active at twilight or at night.
Source: Arkive Intended Audience: General Reading Level: Middle School