Molossidae - free-tailed bats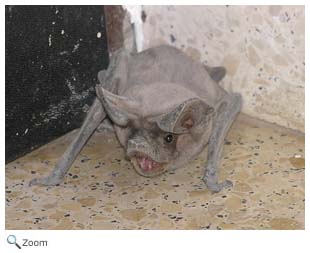 There are around 100 species in this family of small to large bats. They are found in from the mid United States south to Central and South America. They are also found in Europe and Africa.
They have long, external tails; large, sometimes uniquely-shaped, ears that are joined by a membrane at the base; small eyes; long, narrow wings; and well-developed legs that they use for walking. They have short black or brown fur and thick lips and snouts.
They are found in caves, old buildings, and hollow trees. Most species roost in colonies. They eat flying insects.
World Status Key


Least Concern

Near Threatened

Vulnerable

Endangered

Critically Endangered

Extinct in Wild

Extinct
Status and range is taken from ICUN Redlist. If no status is listed, there is not enough data to establish status.
US Status Key


Threatened in US

Threatened in NH

Endangered in US

Endangered in NH

Introduced
Status taken from US Fish and Wildlife and NH Fish and Game
New Hampshire Species

North/Central American Species

None



Aztec Mastiff Bat - Molossus aztecus
Coiban Mastiff Bat - Molossus coibensis
Thomas's Mastiff Bat - Molossus currentium
Pallas's Mastiff Bat - Molossus molossus
Miller's Mastiff Bat - Molossus pretiosus
Black Mastiff Bat - Molossus rufus
Sinaloan Mastiff Bat - Molossus sinaloae
Little Goblin Bat - Mormopterus minutus
Peale's Free-tailed Bat - Nyctinomops aurispinosus
Pocketed Free-tailed Bat - Nyctinomops femorosaccus
Broad-eared Free-tailed Bat - Nyctinomops laticaudatus
Big Free-tailed Bat - Nyctinomops macrotis
Big Crested Mastiff Bat - Promops centralis
Brown Mastiff Bat - Promops nasutus
Brazilian Free-tailed Bat - Tadarida brasiliensis

North/Central American Species

Greenhall's Dog-faced Bat - Cynomops greenhalli
Mexican Dog-faced Bat - Cynomops mexicanus
Brown Dog-faced Bat - Cynomops paranus
Southern Dog-faced Bat - Cynomops planirostris
Black Bonneted Bat - Eumops auripendulus
Dwarf Bonneted Bat - Eumops bonariensis
Florida Bonneted Bat - Eumops floridanus
Wagner's Bonneted Bat - Eumops glaucinus
Sanborn's Bonneted Bat - Eumops hansae
Western Bonneted Bat - Eumops perotis
Underwood's Bonneted Bat - Eumops underwoodi
Other Species Around the World

Africa Asia Australia/Oceania Europe North America South America NH Species

Lesser Naked Bat - Cheiromeles parvidens
Greater Naked Bat - Cheiromeles torquatus
Cinnamon Dog-faced Bat - Cynomops abrasus
Greenhall's Dog-faced Bat - Cynomops greenhalli
Mexican Dog-faced Bat - Cynomops mexicanus
Brown Dog-faced Bat - Cynomops paranus
Southern Dog-faced Bat - Cynomops planirostris
Black Bonneted Bat - Eumops auripendulus
Dwarf Bonneted Bat - Eumops bonariensis
Dabbene's Mastiff Bat - Eumops dabbenei
Florida Bonneted Bat - Eumops floridanus
Wagner's Bonneted Bat - Eumops glaucinus
Sanborn's Bonneted Bat - Eumops hansae
Guianan Bonneted Bat - Eumops maurus
Patagonian Dwarf Bonneted Bat - Eumops patagonicus
Western Bonneted Bat - Eumops perotis
Eumops trumbulli
Underwood's Bonneted Bat - Eumops underwoodi
Equatorial Dog-faced Bat - Molossops aequatorianus
Mato Grosso Dog-faced Bat - Molossops mattogrossensis
Rufous Dog-faced Bat - Molossops neglectus
Dwarf Dog-faced Bat - Molossops temminckii
Aztec Mastiff Bat - Molossus aztecus
Molossus barnesi
Coiban Mastiff Bat - Molossus coibensis
Thomas's Mastiff Bat - Molossus currentium
Pallas's Mastiff Bat - Molossus molossus
Miller's Mastiff Bat - Molossus pretiosus
Black Mastiff Bat - Molossus rufus
Sinaloan Mastiff Bat - Molossus sinaloae
Natal Free-tailed Bat - Mormopterus acetabulosus
Beccari's Free-tailed Bat - Mormopterus beccarii
Sumatran Mastiff Bat - Mormopterus doriae
Peters' Wrinkle-lipped Bat - Mormopterus jugularis
Kalinowski's Mastiff Bat - Mormopterus kalinowskii
Little Northern Free-tailed Bat - Mormopterus loriae
Little Goblin Bat - Mormopterus minutus
East-coast Free-tailed Bat - Mormopterus norfolkensis
Incan Little Mastiff Bat - Mormopterus phrudus
Southern Free-tailed Bat - Mormopterus planiceps
Daubenton's Free-tailed Bat - Myopterus daubentonii
Bini Free-tailed Bat - Myopterus whitleyi
Peale's Free-tailed Bat - Nyctinomops aurispinosus
Pocketed Free-tailed Bat - Nyctinomops femorosaccus
Broad-eared Free-tailed Bat-Nyctinomops laticaudatus
Big Free-tailed Bat - Nyctinomops macrotis
Java Giant Mastiff Bat - Otomops formosus
Johnstone's Giant Mastiff Bat - Otomops johnstonei
Madagascar Free-tailed Bat - Otomops madagascariensis
Large-eared Free-tailed Bat - Otomops martiensseni

Papuan Free-tailed Bat - Otomops papuensis
Mantled Free-tailed Bat - Otomops secundus
Wroughton's Free-tailed Bat - Otomops wroughtoni
Peters's Flat-headed Bat - Platymops setiger
Big Crested Mastiff Bat - Promops centralis
Brown Mastiff Bat - Promops nasutus
Roberts's Flat-headed Bat - Sauromys petrophilus
Egyptian Free-tailed Bat - Tadarida aegyptiaca
Duke Of Abruzzi's Free-tailed Bat-Tadarida aloysiisabaudiae
Ansorge's Free-tailed Bat - Tadarida ansorgei
White-striped Free-tailed Bat - Tadarida australis
Gland-tailed Free-tailed Bat - Tadarida bemmeleni
Spotted Free-tailed Bat - Tadarida bivittata
Sierra Leone Free-tailed Bat - Tadarida brachyptera
Brazilian Free-tailed Bat - Tadarida brasiliensis
Fijian Free-tailed Bat - Tadarida bregullae
Chapin's Free-tailed Bat - Tadarida chapini
Angolan Free-tailed Bat - Tadarida condylura
Medje Free-tailed Bat - Tadarida congica
Mongalla Free-tailed Bat - Tadarida demonstrator
Malagasy Free-tailed Bat - Tadarida fulminans
Gallagher's Free-tailed Bat - Tadarida gallagheri
East Asian Free-tailed Bat - Tadarida insignis
Northern Free-tailed Bat - Tadarida jobensis
Black And Red Free-tailed Bat - Tadarida jobimena
Northern Free-tailed Bat - Tadarida johorensis
New Guinea Free-tailed Bat - Tadarida kuboriensis
La Touche's Free-tailed Bat - Tadarida latouchei
Malagasy White-bellied Free-tailed Bat-Tadarida leucostigma
Kenyan Big-eared Free-tailed Bat - Tadarida lobata
Lappet-eared Free-tailed Bat - Tadarida major
Midas Free-tailed Bat - Tadarida midas
Malayan Free-tailed Bat - Tadarida mops
Dwarf Free-tailed Bat - Tadarida nanula
Niangara Free-tailed Bat - Tadarida niangarae
Nigerian Free-tailed Bat - Tadarida nigeriae
White-bellied Free-tailed Bat - Tadarida niveiventer
Peterson's Free-tailed Bat - Tadarida petersoni
Wrinkle-lipped Free-tailed Bat - Tadarida plicata
Little Free-tailed Bat - Tadarida pumila
Russet Free-tailed Bat - Tadarida russata
Sulawesian Free-tailed Bat - Tadarida sarasinorum
Solomons Free-tailed Bat - Tadarida solomonis
Spurrell's Free-tailed Bat - Tadarida spurrelli
European Free-tailed Bat - Tadarida teniotis
Railer Bat - Tadarida thersites
São Tomé Free-tailed Bat. - Tadarida tomensis
Trevor's Free-tailed Bat - Tadarida trevori
African Giant Free-tailed Bat - Tadarida ventralis
Blunt-eared Bat - Tomopeas ravus
Additional Information
Key:

Profile

Photos

Video

Audio
Brazilian Free-tailed Bat - Tadarida brasiliensis







The Brazilian free-tailed bat is found from southern Brazil, Bolivia, Argentina, and Chile north to Oregon, southern Nebraska and Ohio.
Source: Arkive Intended Audience: General Reading Level: Middle School
Brazilian Free-tailed Bat - Tadarida brasiliensis






The Brazilian free-tailed bats have powerful legs and are good climbers.
Source: Animal Diversity Web Intended Audience: General Reading Level: Middle School
Daubenton's Free-tailed Bat - Myopterus daubentonii



Dauberton's free-tailed bat is found in the Central African Republic, Congo, Côte d'Ivoire, and Senegal.
Source: Arkive Intended Audience: General Reading Level: Middle School
Dwarf Bonneted Bat - Eumops bonariensis






The dwarf bonneted bat is found in Argentina, Belize, Bolivia, Brazil, Colombia, Costa Rica, Ecuador, El Salvador, French Guiana, Guatemala, Guyana, Honduras, Mexico, Nicaragua, Panama, Paraguay, Peru, Suriname, Uruguay, and Venezuela.
Source: Animal Diversity Web Intended Audience: General Reading Level: Middle School
Dwarf Dog-faced Bat - Molossops temminckii





The dwarf dog-faced bat is found in Argentina, Bolivia, Brazil, Colombia, Ecuador, Guyana, Paraguay, Peru, Uruguay, and Venezuela.
Source: Animal Diversity Web Intended Audience: General Reading Level: Middle School
East-coast Free-tailed Bat - Mormopterus norfolkensis




The east-coast free-tailed bat is found in Australia.
Source: Arkive Intended Audience: General Reading Level: Middle School
Egyptian Free-tailed Bat - Tadarida aegyptiaca






The Egyptian free-tailed bats prefer roosting in rock crevices and cliff faces.
Source: Arkive Intended Audience: General Reading Level: Middle School
Egyptian Free-tailed Bat - Tadarida aegyptiaca






The Egyptian free-tailed bat is found in Afghanistan, Algeria, Angola, Bangladesh, Botswana, Congo, Egypt, Ethiopia, India, Iran, Kenya, Lesotho, Mauritania, Morocco, Namibia, Nigeria, Oman, Pakistan, Saudi Arabia, South Africa, Sri Lanka, Sudan, Tanzania, Uganda, Yemen, Zambia, and Zimbabwe.
Source: Animal Diversity Web Intended Audience: General Reading Level: Middle School
European Free-tailed Bat - Tadarida teniotis







The European free-tailed bat is found in the Mediterranean basin.
Source: Arkive Intended Audience: General Reading Level: Middle School
Greater Naked Bat - Cheiromeles torquatus





The greater naked bat is found in Brunei Darussalam, Indonesia, Malaysia, Philippines, and Thailand.
Source: Animal Diversity Web Intended Audience: General Reading Level: Middle School
Little Goblin Bat - Mormopterus minutus




The little goblin bat is found in Cuba.
Source: Arkive Intended Audience: General Reading Level: Middle School
Western Bonneted Bat - Eumops perotis






The western bonneted bat is found in Argentina, Bolivia, Brazil, Colombia, Ecuador, Mexico, Paraguay, and Peru. It is found in Arizona, California, Nevada, and Texas in the U.S. .
Source: Animal Diversity Web Intended Audience: General Reading Level: Middle School
White-striped Free-tailed Bat - Tadarida australis





The white-striped free-tailed bat is found in Australia.
Source: Animal Diversity Web Intended Audience: General Reading Level: Middle School
Wroughton's Free-tailed Bat - Otomops wroughtoni




Wroughton's free-tailed bat is found in Cambodia and India.
Source: Arkive Intended Audience: General Reading Level: Middle School