Macroscelidea - elephant shrews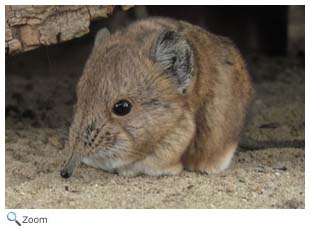 There are about 17 species in a single family in this order. Elephant shrews are found in northern Africa and Sub-Saharan Africa. They range from mouse to squirrel size.
Elephant shrews have long, pointed, trunk-like snouts; rounded ears; big, round eyes; and long tails. They have long, slender legs. Their rear legs are longer than their front legs, which helps them hop.
Elephant shrews eat insects; some species also eat seeds and fruits.
World Status Key


Least Concern

Near Threatened

Vulnerable

Endangered

Critically Endangered

Extinct in Wild

Extinct
Status and range is taken from ICUN Redlist. If no status is listed, there is not enough data to establish status.
US Status Key


Threatened in US

Threatened in NH

Endangered in US

Endangered in NH

Introduced
Status taken from US Fish and Wildlife and NH Fish and Game
| | | |
| --- | --- | --- |
| New Hampshire Species | | North/Central American Species |
| None | | None |
Other Species Around the World

Africa Asia Australia/Oceania Europe North/Central America South America NH Species

Short-snouted Elephant Shrew-Elephantulus brachyrhynchus
Cape Rock Elephant Shrew - Elephantulus edwardii
Dusky-footed Elephant Shrew - Elephantulus fuscipes
Dusky Elephant Shrew - Elephantulus fuscus
Bushveld Elephant Shrew - Elephantulus intufi
Eastern Rock Elephant Shrew - Elephantulus myurus
Karoo Rock Elephant Shrew - Elephantulus pilicaudus
Somali Elephant Shrew - Elephantulus revoili
North African Elephant Shrew - Elephantulus rozeti
Rufous Elephant-shrew - Elephantulus rufescens
Western Rock Elephant Shrew - Elephantulus rupestris
Short-eared Elephant Shrew - Macroscelides proboscideus
Four-toed Elephant Shrew - Petrodromus tetradactylus
Golden-rumped Elephant Shrew-Rhynchocyon chrysopygus
Checkered Elephant Shrew - Rhynchocyon cirnei
Black And Rufous Elephant Shrew - Rhynchocyon petersi
Grey-faced Elephant Shrew - Rhynchocyon udzungwensis
Additional Information
Key:

Profile

Photos

Video

Audio
Black and Rufous Elephant Shrew - Rhynchocyon petersi





The black and rufous elephant shrew is found in Kenya and Tanzania.
Source: Arkive Intended Audience: General Reading Level: Middle School
Checkered Elephant Shrew- Rhynchocyon cirnei





The checkered elephant shrew is found in Congo, Malawi, Mozambique, Tanzania, Uganda, and Zambia.
Source: Animal Diversity Web Intended Audience: General Reading Level: Middle School
Eastern Rock Elephant Shrew - Elephantulus myurus





The eastern rock elephant shrew is found in Botswana, Mozambique, South Africa, and Zimbabwe.
Source: Animal Diversity Web Intended Audience: General Reading Level: Middle School
Four-toed Elephant Shrew - Petrodromus tetradactylus





The four-toed elephant shrew is found in Angola, Congo, Kenya, Malawi, Mozambique, Rwanda, South Africa, Tanzania, Zambia, and Zimbabwe.
Source: Animal Diversity Web Intended Audience: General Reading Level: Middle School
Golden-rumped Elephant Shrew - Rhynchocyon chrysopygus






The golden-rumped elephant shrew is found in Kenya.
Source: Arkive Intended Audience: General Reading Level: Middle School
Golden-rumped Elephant Shrew - Rhynchocyon chrysopygus





Red-capped robin-chats follow after golden-rumped elephant shrew and eat their left-overs.
Source: Animal Diversity Web Intended Audience: General Reading Level: Middle School
Gray-faced Elephant Shrew - Rhynchocyon udzungwensis






The gray-face elephant shrew is found in Tanzania.
Source: Arkive Intended Audience: General Reading Level: Middle School
North African Elephant Shrew - Elephantulus rozeti





The North African elephant shrew is found in Algeria, Libya, Morocco, Tunisia, and Western Sahara.
Source: Animal Diversity Web Intended Audience: General Reading Level: Middle School
Rufous Elephant-shrew - Elephantulus rufescens





The rufous elephant shrew is found in Ethiopia, Kenya, Somalia, Sudan, Tanzania, Uganda.
Source: Arkive Intended Audience: General Reading Level: Middle School
Rufous Elephant-shrew - Elephantulus rufescens





The rufous elephant shrew is also known as the East African long-eared elephant-shrew.
Source: Animal Diversity Web Intended Audience: General Reading Level: Middle School
Short-eared Elephant Shrew - Macroscelides proboscideus





The short-eared elephant shrew is found in Botswana, Namibia, and South Africa.
Source: Animal Diversity Web Intended Audience: General Reading Level: Middle School
Short-snouted Elephant Shrew - Elephantulus brachyrhynchus





The short-snouted elephant shrew is found in Angola, Botswana, Congo, Kenya, Malawi, Mozambique, Namibia, South Africa, Sudan, Tanzania, Uganda, Zambia, and Zimbabwe.
Source: Animal Diversity Web Intended Audience: General Reading Level: Middle School