Lepilemuridae - sportive lemurs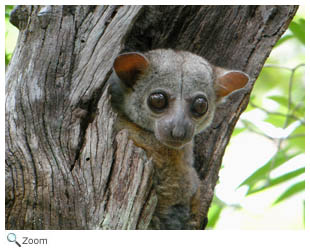 There are 24 species of medium-sized lemurs in this family. They are all found in Madagascar and are nocturnal.
They have gray or reddish brown fur on they ave long tails; short, pointed faces; and large, round ears. They have long, powerful rear legs that they use to leap around in the the trees.
Sportive lemurs are solitary and spend most of their time in trees. The male's territory is larger than the female's territory and may over lap with the territory of a few female's. Male sportive lemurs protect their territory from other males and female sportive lemurs protect their territory from other females. Sportive lemurs protect their territories with vocalizations and chasing off or even fighting with an intruder.
Sportive lemurs are herbivores and eat leaves, fruit, flowers, and bark.
World Status Key


Least Concern

Near Threatened

Vulnerable

Endangered

Critically Endangered

Extinct in Wild

Extinct
Status and range is taken from ICUN Redlist. If no status is listed, there is not enough data to establish status.
US Status Key


Threatened in US

Threatened in NH

Endangered in US

Endangered in NH

Introduced
Status taken from US Fish and Wildlife and NH Fish and Game
| | | |
| --- | --- | --- |
| New Hampshire Species | | North/Central American Species |
| None | | None |
Other Species Around the World

Africa Asia Australia/Oceania Europe North/Central America South America NH Species

Antafia Sportive Lemur - Lepilemur aeeclis
Ahmanson's Sportive Lemur - Lepilemur ahmansonorum
Ankarana Sportive Lemur - Lepilemur ankaranensis
Betsileo Sportive Lemur - Lepilemur betsileo
Gray's Sportive Lemur - Lepilemur dorsalis
Milne-edwards's Sportive Lemur - Lepilemur edwardsi
Fleurete's Sportive Lemur - Lepilemur fleuretae
Grewcock's Sportive Lemur - Lepilemur grewcockorum
Hubbard's Sportive Lemur - Lepilemur hubbardorum
James' Sportive Lemur - Lepilemur jamesorum
White-footed Sportive Lemur - Lepilemur leucopus
Small-toothed Sportive Lemur - Lepilemur microdon
Daraina Sportive Lemur - Lepilemur milanoii
Mittermeier's Sportive Lemur - Lepilemur mittermeieri
Weasel Sportive Lemur - Lepilemur mustelinus
Otto's Sportive Lemur - Lepilemur otto
Petter's Sportive Lemur - Lepilemur petteri
Randrianasolo's Sportive Lemur - Lepilemur randrianasoloi
Red-tailed Sportive Lemur - Lepilemur ruficaudatus
Sahamalaza Peninsula Sportive Lemur-Lepilemur sahamalazensis
Seal's Sportive Lemur - Lepilemur seali
Northern Sportive Lemur - Lepilemur septentrionalis
Nosy Be Sportive Lemur - Lepilemur tymerlachsonorum
Wright's Sportive Lemur - Lepilemur wrightae

Additional Information

Key: Profile Photos Video Audio

Ankarana Sportive Lemur - Lepilemur ankaranensis
The Ankarana sportive lemur is found in northern Madagascar.
Source: Arkive Intended Audience: General Reading Level: Middle School

Antafia Sportive Lemur - Lepilemur aeeclis
The Antifia sportive lemur is found in western Madagascar.
Source: Arkive Intended Audience: General Reading Level: Middle School

Gray's Sportive Lemur - Lepilemur dorsalis
Gray's sportive lemur is found in northwestern Madagascar.
Source: Arkive Intended Audience: General Reading Level: Middle School

Grewcock's Sportive Lemur - Lepilemur grewcockorum
The Grewcock's sportive lemur is found in northwestern Madagascar.
Source: Arkive Intended Audience: General Reading Level: Middle School

Hubbard's Sportive Lemur - Lepilemur hubbardorum
The Hubbard's sportive lemur is found in southwestern Madagascar.
Source: Arkive Intended Audience: General Reading Level: Middle School

Milne Edwards's Sportive Lemur - Lepilemur edwardsi
The Milne Edwards's sportive lemur is found in western Madagascar.
Source: Arkive Intended Audience: General Reading Level: Middle School

Northern Sportive Lemur - Lepilemur septentrionalis
The Northern sportive lemur is found in northern Madagascar.
Source: Arkive Intended Audience: General Reading Level: Middle School

Northern Sportive Lemur - Lepilemur septentrionalis
Northern sportive lemurs live in dry, deciduous forests and more humid evergreen forests
Source: Animal Diversity Web Intended Audience: General Reading Level: Middle School

Petter's Sportive Lemur - Lepilemur petteri
The Petter's sportive lemur is found in southwestern Madagascar.
Source: Arkive Intended Audience: General Reading Level: Middle School

Red-tailed Sportive Lemur - Lepilemur ruficaudatus
The red-tailed sportive lemur is found in western Madagascar.
Source: Arkive Intended Audience: General Reading Level: Middle School

Sahamalaza Peninsula Sportive Lemur - Lepilemur sahamalazensis
The Sahamalaza sportive lemur is found in coastal northwestern Madagascar.
Source: Arkive Intended Audience: General Reading Level: Middle School

Small-toothed Sportive Lemur - Lepilemur microdon
The small-toothed sportive lemur is found in eastern Madagascar.
Source: Arkive Intended Audience: General Reading Level: Middle School

Weasel Sportive Lemur - Lepilemur mustelinus
The weasel sportive lemur is found in eastern Madagascar.
Source: Arkive Intended Audience: General Reading Level: Middle School

Weasel Sportive Lemur - Lepilemur mustelinus
The weasel sportive lemur lives in deciduous forests
Source: Animal Diversity Web Intended Audience: General Reading Level: Middle School

White-footed Sportive Lemur - Lepilemur leucopus
The white-footed sportive lemur is found in southern Madagascar.
Source: Arkive Intended Audience: General Reading Level: Middle School

White-footed Sportive Lemur - Lepilemur leucopus
When she goes out to forage for food at night, the female white-footed sportive lemur carries her baby in her mouth and then sets it on a nearby tree branch.
Source: Animal Diversity Web Intended Audience: General Reading Level: Middle School