Lemuridae - true lemurs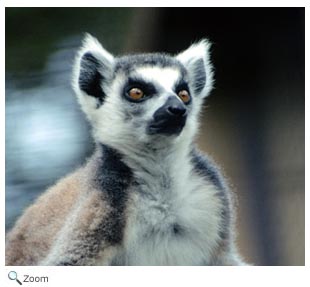 There are 21 species of medium-sized lemurs in this family. They are found in Madagascar and the Comoro Islands off the coast of eastern Africa.
True lemurs have long tails and long arms and legs. They have long, pointed noses; soft, wooly fur; and tufts of fur on the tips of their ears. They vary in color from reddish brown to black, to gray and white. Most species of lemur have an extra long "toilet claw" on the second toe of their feet that they use for grooming.
Lemurs live in trees, but some species spend a lot of time time on the ground. Most species of lemur are active in the day. Some species eat mostly fruit, others eat foliage, some eat insects, and there are even some species that eat bamboo.
Many of the species in this family are very social and live in groups of up to 20 individuals. Other species are more solitary.
World Status Key


Least Concern

Near Threatened

Vulnerable

Endangered

Critically Endangered

Extinct in Wild

Extinct
Status and range is taken from ICUN Redlist. If no status is listed, there is not enough data to establish status.
US Status Key


Threatened in US

Threatened in NH

Endangered in US

Endangered in NH

Introduced
Status taken from US Fish and Wildlife and NH Fish and Game
| | | |
| --- | --- | --- |
| New Hampshire Species | | North/Central American Species |
| None | | None |
Other Species Around the World

Africa Asia Australia/Oceania Europe North/Central America South America NH Species

White-fronted Brown Lemur - Eulemur albifrons
White-collared Lemur - Eulemur cinereiceps
Collared Brown Lemur - Eulemur collaris
Crowned Lemur - Eulemur coronatus
Blue-eyed Black Lemur - Eulemur flavifrons
Common Brown Lemur - Eulemur fulvus
Black Lemur - Eulemur macaco
Mongoose Lemur - Eulemur mongoz
Red-bellied Lemur - Eulemur rubriventer
Red-fronted Brown Lemur - Eulemur rufifrons

Red Brown Lemur - Eulemur rufus
Sanford's Brown Lemur - Eulemur sanfordi
Lake Alaotra Gentle Lemur - Hapalemur alaotrensis
Golden Bamboo Lemur - Hapalemur aureus
Eastern Lesser Bamboo Lemur - Hapalemur griseus
Rusty-gray Lesser Bamboo Lemur - Hapalemur meridionalis
Sambirano Lesser Bamboo Lemur - Hapalemur occidentalis
Ring-tailed Lemur - Lemur catta
Greater Bamboo Lemur - Prolemur simus
Red Ruffed Lemur - Varecia rubra
Black-and-white Ruffed Lemur - Varecia variegata
Additional Information
Key:

Profile

Photos

Video

Audio
Black Lemur - Eulemur macaco






Most of the black lemur's diet is made up of fruit.
Source: Arkive Intended Audience: General Reading Level: Middle School
Black-and-white Ruffed Lemur - Varecia variegata






The black-and-white ruffed lemur has black and white fur and big, round yellow-orange eyes.
Source: Arkive Intended Audience: General Reading Level: Middle School
Blue-eyed Black Lemur - Eulemur flavifrons





The blue-eyed black lemur is one of only a few species of primates with blue eyes.
Source: Philadelphia Zoo Intended Audience: General Reading Level: Middle School
Collared Brown Lemur - Eulemur collaris






The collared brown lemur is found in southeastern Madagascar.
Source: Arkive Intended Audience: General Reading Level: Middle School
Common Brown Lemur - Eulemur fulvus





The common brown lemur is most active during the day.
Source: Arkive Intended Audience: General Reading Level: Middle School
Crowned Lemur - Eulemur coronatus






The crowned lemur is found in forests of the northern tip of Madagascar.
Source: Arkive Intended Audience: General Reading Level: Middle School
Eastern Lesser Bamboo Lemur - Hapalemur griseus





The eastern lesser bamboo lemur is found in the forests of eastern Madagascar.
Source: Arkive Intended Audience: General Reading Level: Middle School
Golden Bamboo Lemur - Hapalemur aureus






The golden bamboo lemur has golden fur around its face.
Source: Arkive Intended Audience: General Reading Level: Middle School
Golden Bamboo Lemur - Hapalemur aureus





The golden bamboo lemur has developed a resistance to the high levels of cyanide that is found in the young bamboo leaves that it eats.
Source: EDGE Intended Audience: General Reading Level: Middle School
Greater Bamboo Lemur - Prolemur simus






The greater bamboo lemur is the largest of the bamboo lemurs.
Source: Arkive Intended Audience: General Reading Level: Middle School
Lake Alaotra Gentle Lemur - Hapalemur alaotrensis






The Lake Alaotra gentle lemur feeds on papyrus reeds.
Source: Arkive Intended Audience: General Reading Level: Middle School
Mongoose Lemur - Eulemur mongoz





Male and female mongoose lemurs do not look alike.
Source: Arkive Intended Audience: General Reading Level: Middle School
Mongoose Lemur - Eulemur mongoz





The mongoose lemur lives on the Comoros Islands between Madagascar and Africa.
Source: Brookfield Zoo Intended Audience: General Reading Level: Middle School
Red Brown Lemur - Eulemur rufus





The red lemur is also known as the rufous brown lemur or northern red-fronted lemur.
Source: Arkive Intended Audience: General Reading Level: Middle School
Red Ruffed Lemur - Varecia rubra




The red ruffed lemur is the largest member of this family.
Source: Arkive Intended Audience: General Reading Level: Middle School
Red Ruffed Lemur - Varecia rubra





Red ruffed lemurs have around 12 different vocalizations that they use to warn each other of danger.
Source: Woodland Park Zoo Intended Audience: General Reading Level: Middle School
Red Ruffed Lemur - Varecia rubra





Red ruffed lemurs spend most of their in trees.
Source: Maryland Zoo Intended Audience: General Reading Level: Middle School
Red-bellied Lemur - Eulemur rubriventer





The red-bellied lemur has two patches of white skin below its eyes.
Source: Arkive Intended Audience: General Reading Level: Middle School
Red-fronted Brown Lemur - Eulemur rufifrons




The red-fronted brown lemur was once considered a subspecies of the common brown lemur.
Source: Arkive Intended Audience: General Reading Level: Middle School
Ring-tailed Lemur - Lemur catta






The ring-tailed lemur has a long, black and white ringed tail.
Source: Arkive Intended Audience: General Reading Level: Middle School
Ring-tailed Lemur - Lemur catta






Ring-tailed lemurs purr and meow like house cats.
Source: Honolulu Zoo Intended Audience: General Reading Level: Elementary School
Ring-tailed Lemur - Lemur catta







Ring-tailed lemurs spend hours every day sitting on the ground and soaking up the sun.
Source: National Geographic Kids Intended Audience: General Reading Level: Elementary School
Sambirano Lesser Bamboo Lemur - Hapalemur occidentalis




The Sambirano lesser bamboo lemur is found in northern and western Madagascar.
Source: Arkive Intended Audience: General Reading Level: Middle School
Sanford's Brown Lemur - Eulemur sanfordi






Sanford's brown lemur is found at the northern tip of Madagascar.
Source: Arkive Intended Audience: General Reading Level: Middle School
White-collared Lemur - Eulemur cinereiceps





The white-collared lemur is also known as the gray-headed lemur.
Source: Arkive Intended Audience: General Reading Level: Middle School
White-fronted Brown Lemur - Eulemur albifrons





The white-fronted brown lemur is found in the rainforest of northeastern Madagascar.
Source: Arkive Intended Audience: General Reading Level: Middle School