Indridae - indris, sifakas, avahis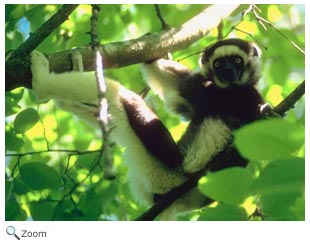 There are 18 species in this family and they are all found in Madagascar. They live in tropical forests are herbivores. They live in small groups in trees. Their legs are longer than their arms. They have five digits on their hands and feet and have an opposable big toe. They have furless black faces, and most species have long tails.
The species in this family spend most of their time in trees, but they do come down onto they ground. When they are on the ground they stand on their hind legs with their arms in the air and bound across the ground.
Indrids are social animals, and they live in family groups made up of 2-14 individuals. They are herbivores and eat fruit, flowers, and leaves.
World Status Key


Least Concern

Near Threatened

Vulnerable

Endangered

Critically Endangered

Extinct Wild

Extinct
Status taken from ICUN Redlist. If no status is listed, there is not enough data to establish status, or there is no status data for the species.
US Status Key

Threatened in US

Threatened in NH

Endangered in US

Endangered in NH

Introduced
Status taken from US Fish and Wildlife and NH Fish and Game
| | | |
| --- | --- | --- |
| New Hampshire Species | | North/Central American Species |
| None | | None |
Species Around the World

Location Key
Africa Asia Australia/Oceania Europe North/Central America South America NH Species

Betsileo Woolly Lemur - Avahi betsileo
Bemaraha Woolly Lemur - Avahi cleesei
Gmelin's Woolly Lemur - Avahi laniger
Southern Woolly Lemur - Avahi meridionalis
Western Woolly Lemur - Avahi occidentalis
Peyrieras' Woolly Lemur - Avahi peyrierasi
Ramantsoavana's Southern Woolly Lemur - Avahi ramanantsoavanai
Sambirano Woolly Lemur - Avahi unicolor
Indri - Indri indri
Silky Sifaka - Propithecus candidus



Coquerel's Sifaka - Propithecus coquereli
Crowned Sifaka - Propithecus coronatus
Van Der Decken's Sifaka - Propithecus deckenii
Diademed Sifaka - Propithecus diadema
Milne-edward's Sifaka - Propithecus edwardsi
Perrier's Sifaka - Propithecus perrieri
Golden-crowned Sifaka - Propithecus tattersalli
Verreaux's Sifaka - Propithecus verreauxi

Additional Information
Resource Key


Profile

Photos

Video

Audio
Bemaraha Woolly Lemur - Avahi cleesei





The Bemaraha wooly lemur's Latin name, Avahi cleesei, is derived from the name of British comedian and actor John Cleese.
Source: Arkive Intended Audience: General Reading Level: Middle School Teacher Section: Yes
Coquerel's Sifaka - Propithecus coquereli





Zoboo from the PBS children's series Zooboomafoo is a Coquerel's sifaka.
Source: Los Angeles Zoo Intended Audience: General Reading Level: Middle School Teacher Section: Yes
Coquerel's Sifaka - Propithecus coquereli






Coquerel's sifaka is sometimes listed as a subspecies of Verreaux's sifaka.
Source: St. Louis Zoo Intended Audience: General Reading Level: Middle School Teacher Section: Yes
Coquerel's Sifaka - Propithecus coquereli






Coquerel's sifakas live in dry lowland forests.
Source: Philadelphia Zoo Intended Audience: General Reading Level: Middle School Teacher Section: Yes
Diademed Sifaka - Propithecus diadema





The diademed sifaka is found in mid-altitude rainforests.
Source: Arkive Intended Audience: General Reading Level: Middle School Teacher Section: Yes
Diademed Sifaka - Propithecus diadema





The diademed sifaka has a black face surrounded by white fur.
Source: Animal Diversity Web Intended Audience: General Reading Level: Middle School Teacher Section: Yes
Gmelin's Woolly Lemur - Avahi laniger





Gmelin's wooly lemur spends long periods of time sleeping.
Source: Animal Diversity Web Intended Audience: General Reading Level: Middle School Teacher Section: Yes
Golden-crowned Sifaka - Propithecus tattersalli






The Golden-crowned sifaka is the smallest of the sifakas.
Source: Arkive Intended Audience: General Reading Level: Middle School Teacher Section: Yes
Golden-crowned Sifaka - Propithecus tattersalli




Golden-crowned sifakas are social animals and live in groups of 2-13 individuals.
Source: Animal Diversity Web Intended Audience: General Reading Level: Middle School Teacher Section: Yes
Indri - Indri indri





Indris are found in the northeastern part of Madagascar.
Source: Animal Diversity Web Intended Audience: General Reading Level: Middle School Teacher Section: Yes
Western Woolly Lemur - Avahi occidentalis





The Western Wooly Lemur. is also known as the Lorenz Von Liburnau's Wooly Lemur.
Source: Arkive Intended Audience: General Reading Level: Middle School Teacher Section: Yes
Milne-edward's Sifaka - Propithecus edwardsi





Milne-Edward's sifaka young are carried on their mother's stomach until they are 3 to 4 weeks old.
Source: Animal Diversity Web Intended Audience: General Reading Level: Middle School Teacher Section: Yes
Perrier's Sifaka - Propithecus perrieri




Perrier's sifakas are found in the northeastern and northern parts of Madagascar.
Source: Animal Diversity Web Intended Audience: General Reading Level: Middle School Teacher Section: Yes
Verreaux's Sifaka - Propithecus verreauxi






Verreaux's sifaka is known for leaping across the ground with its arms held high.
Source: Arkive Intended Audience: General Reading Level: Middle School Teacher Section: Yes
Verreaux's Sifaka - Propithecus verreauxi




Verreaux's sifakas are found in the western and southwestern regions of Madagascar.
Source: Animal Diversity Web Intended Audience: General Reading Level: Middle School Teacher Section: Yes