Hyracoidea - hyraxes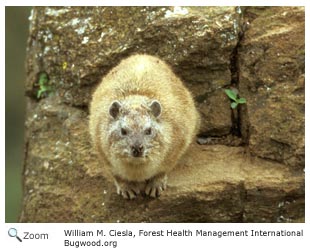 There are five species in one family (procaviidae) in this order. Hyraxes are the size of a rabbit and are found in Sub-Saharan Africa and the Middle East.
Hyraxes look like guinea pigs They have stubby legs; a short tail; small, round ears; short heads; and two front teeth that protrude out over their lower lip. Hyraxes may look like rodents, but they are more closely related to elephants and manatees!
Hyraxes have plantigrade feet, that means that their entire foot, from their toes to their heels, touches the ground. Their feet have pads on them that are kept moist through a gland that secretes a fluid that helps them keep their grip on surfaces. They have five toes on their front paws and three-toes on their hind feet. The first and third toe on their hind feet have nails on them look like human finger nails. The middle toe has a long claw. Hyraxes are herbivores and live in colonies.
World Status Key


Least Concern

Near Threatened

Vulnerable

Endangered

Critically Endangered

Extinct in Wild

Extinct
Status taken from ICUN Redlist. If no status is listed, there is not enough data to establish status, or there is no status data for the species.
US Status Key

Threatened in US

Threatened in NH

Endangered in US

Endangered in NH

Introduced
Status taken from US Fish and Wildlife and NH Fish and Game
| | | |
| --- | --- | --- |
| New Hampshire Species | | North/Central American Species |
| None | | None |
Species Around the World

Location Key
Africa Asia Australia/Oceania Europe North/Central America South America NH Species

Southern Tree Hyrax - Dendrohyrax arboreus
Western Tree Hyrax - Dendrohyrax dorsalis
Eastern Tree Hyrax - Dendrohyrax validus


Bush Hyrax - Heterohyrax brucei
Rock Hyrax - Procavia capensis

Additional Information
Resource Key


Profile

Photos

Video

Audio
Hyrax



The hyrax is also called the rock rabbit or dassie.
Source: African Wildlife foundation Intended Audience: General Reading Level: Middle School
Hyrax



Hyraxes eat leaves, bark, grasses, and some insects.
Source: Animal Diversity Web Intended Audience: General Reading Level: Middle School

Bush Hyrax - Heterohyrax brucei




The bush hyrax is found in Angola, Botswana, Burundi, Congo, Eritrea, Ethiopia, Kenya, Malawi, Mozambique, Namibia, Rwanda, Somalia, South Africa, Sudan, Tanzania,Uganda, Zambia, and Zimbabwe.
Source: Arkive Intended Audience: General Reading Level: Middle School

Rock Hyrax - Procavia capensis







The rock hyrax is found in Algeria, Angola, Benin, Botswana, Cameroon, Chad, Congo, Egypt, Eritrea, Ethiopia, Ghana, Guinea, Guinea-Bissau, Israel, Jordan, Kenya, Lebanon, Lesotho, Libya, Mauritania, Mozambique, Namibia, Niger, Nigeria, Oman, Saudi Arabia, Senegal, Somalia, South Africa, Sudan, Swaziland, Tanzania, Togo, Uganda, Yemen, Zambia,and Zimbabwe.
Source: Arkive Intended Audience: General Reading Level: Middle School Teacher Section: Yrs
Southern Tree Hyrax - Dendrohyrax arboreus




The southern tree hyrax is found in Angola, Congo, Kenya, Malawi, Mozambique, Rwanda, South Africa,, Tanzania, Uganda, Zambia, and Zimbabwe.
Source: Arkive Intended Audience: General Reading Level: Middle School