Hylobatidae - gibbons, siamangs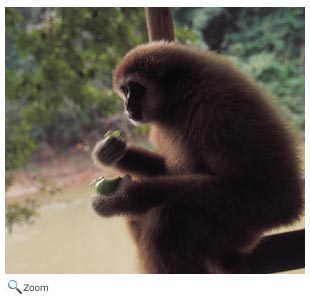 There are 11 species in this family. They are found in tropical forests in southeastern Asia. They have very long arms, long fingers, and no tails. They are brown, gray, or black. Some species have white fur on their faces, hands, and feet. Some species have a throat sac that expands when they call out. Males and females are the same size.
Gibbons and siamangs are active during the day and move among the trees by swinging from branch to branch. When they have to walk, the walk on their legs and raise their arms over their heads! Sometimes they use their arms like crutches and swing their legs to move.
They are omnivores and live in family groups. They are very vocal and territorial. Their loud booming call can often be heard miles away.
World Status Key


Least Concern

Near Threatened

Vulnerable

Endangered

Critically Endangered

Extinct in Wild

Extinct
Status taken from ICUN Redlist. If no status is listed, there is not enough data to establish status, or there is no status data for the species.
US Status Key

Threatened in US

Threatened in NH

Endangered in US

Endangered in NH

Introduced
Status taken from US Fish and Wildlife and NH Fish and Game
| | | |
| --- | --- | --- |
| New Hampshire Species | | North/Central American Species |
| None | | None |
Species Around the World

Location Key
Africa Asia Australia/Oceania Europe North/Central America South America NH Species

Western Hoolock Gibbon - Hoolock hoolock
Eastern Hoolock Gibbon - Hoolock leuconedys
Agile Gibbon - Hylobates agilis
Bornean White-bearded Gibbon - Hylobates albibarbis
Kloss's Gibbon - Hylobates klossii
Lar Gibbon - Hylobates lar
Silvery Javan Gibbon - Hylobates moloch
Müller's Bornean Gibbon - Hylobates muelleri


Pileated Gibbon - Hylobates pileatus
Black Crested Gibbon - Nomascus concolor
Red-cheeked Gibbon - Nomascus gabriellae
Hainan Gibbon - Nomascus hainanus
Northern White-cheeked Gibbon - Nomascus leucogenys
Cao-vit Crested Gibbon - Nomascus nasutus
Southern White-cheeked Gibbon - Nomascus siki
Siamang - Symphalangus syndactylus

Additional Information
Resource Key


Profile

Photos

Video

Audio
Agile Gibbon - Hylobates agilis




The bonobo is the Democratic Republic of the Congo.
Source: Arkive Intended Audience: General Reading Level: Middle School
Black Crested Gibbon - Nomascus concolor





The bonobo is the Democratic Republic of the Congo.
Source: Arkive Intended Audience: General Reading Level: Middle School
Bornean White-bearded Gibbon - Hylobates albibarbis




The bonobo is the Democratic Republic of the Congo.
Source: Arkive Intended Audience: General Reading Level: Middle School
Cao-vit Crested Gibbon - Nomascus nasutus




The bonobo is the Democratic Republic of the Congo.
Source: Arkive Intended Audience: General Reading Level: Middle School
Eastern Hoolock Gibbon - Hoolock leuconedys




The bonobo is the Democratic Republic of the Congo.
Source: Arkive Intended Audience: General Reading Level: Middle School
Hainan Gibbon - Nomascus hainanus




The Bornean orangutan is found in Indonesia and Malaysia.
Source: Arkive Intended Audience: General Reading Level: Middle School
Kloss's Gibbon - Hylobates klossii






The Bornean orangutan is found in Indonesia and Malaysia.
Source: Arkive Intended Audience: General Reading Level: Middle School
Lar Gibbon - Hylobates lar






The Bornean orangutan is found in Indonesia and Malaysia.
Source: Arkive Intended Audience: General Reading Level: Middle School
Müller's Bornean Gibbon - Hylobates muelleri r





The Bornean orangutan is found in Indonesia and Malaysia.
Source: Arkive Intended Audience: General Reading Level: Middle School
Pileated Gibbon - Hylobates pileatus





The Bornean orangutan is found in Indonesia and Malaysia.
Source: Arkive Intended Audience: General Reading Level: Middle School
Red-cheeked Gibbon - Nomascus gabriellae




The Bornean orangutan is found in Indonesia and Malaysia.
Source: Arkive Intended Audience: General Reading Level: Middle School
Silvery Javan Gibbon - Hylobates moloch






The Bornean orangutan is found in Indonesia and Malaysia.
Source: Arkive Intended Audience: General Reading Level: Middle School
Siamang - Symphalangus syndactylus





The Bornean orangutan is found in Indonesia and Malaysia.
Source: Arkive Intended Audience: General Reading Level: Middle School
Southern White-cheeked Gibbon - Nomascus siki





The Bornean orangutan is found in Indonesia and Malaysia.
Source: Arkive Intended Audience: General Reading Level: Middle School
Western Hoolock Gibbon - Hoolock hoolock






The Bornean orangutan is found in Indonesia and Malaysia.
Source: Arkive Intended Audience: General Reading Level: Middle School