Emballonuridae - sac-winged bats, sheath-tailed bats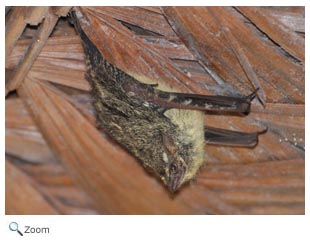 There are around 52 species in this family of small to medium-sized bats. They are found in tropical and subtropical areas in North America, South America, Central America, Asia, Africa, and Australia and surrounding islands.
Sac-winged bats get their name from a scent gland sac on the front edge of the wings of many species. The scent gland is used by the bats to mark their territory. Sheath-tailed bats get their name from a membrane that encloses all but a small bit of their short tails.
The bats in this family have large ears and small eyes and are usually gray or brown. They roost on vertical surfaces like tree trunks, the sides of buildings, cave walls, or cliffsides.
World Status Key


Least Concern

Near Threatened

Vulnerable

Endangered

Critically Endangered

Extinct in Wild

Extinct
Status and range is taken from ICUN Redlist. If no status is listed, there is not enough data to establish status.
US Status Key


Threatened in US

Threatened in NH

Endangered in US

Endangered in NH

Introduced
Status taken from US Fish and Wildlife and NH Fish and Game
New Hampshire Species

North/Central American Species

None

Thomas's Sac-winged Bat - Balantiopteryx io
Gray Sac-winged Bat - Balantiopteryx plicata
Thomas's Shaggy Bat - Centronycteris centralis
Chestnut Sac-winged Bat - Cormura brevirostris
Short-eared Bat - Cyttarops alecto
Northern Ghost Bat - Diclidurus albus
Greater Dog-like Bat - Peropteryx kappleri
Lesser Dog-like Bat - Peropteryx macrotis
Trinidad Dog-like Bat - Peropteryx trinitatis
Proboscis Bat - Rhynchonycteris naso
Greater Sac-winged Bat - Saccopteryx bilineata
Lesser Sac-winged Bat - Saccopteryx leptura
Other Species Around the World

Africa Asia Australia/Oceania Europe North/Central America South America NH Species

Ecuadorian Sac-winged Bat - Balantiopteryx infusca
Thomas's Sac-winged Bat - Balantiopteryx io
Gray Sac-winged Bat - Balantiopteryx plicata
Thomas's Shaggy Bat - Centronycteris centralis
Shaggy Bat - Centronycteris maximiliani
African Sheath-tailed Bat - Coleura afra
Seychelles Sheath-tailed Bat - Coleura seychellensis
Chestnut Sac-winged Bat - Cormura brevirostris
Short-eared Bat - Cyttarops alecto
Northern Ghost Bat - Diclidurus albus
Greater Ghost Bat - Diclidurus ingens
Isabelle's Ghost Bat - Diclidurus isabellus
Lesser Ghost Bat - Diclidurus scutatus
Small Asian Sheath-tailed Bat - Emballonura alecto
Peter's Sheath-tailed Bat - Emballonura atrata
Beccari's Sheath-tailed Bat - Emballonura beccarii
Large-eared Sheath-tailed Bat - Emballonura dianae
New Guinea Sheath-tailed Bat - Emballonura furax
Lesser Sheath-tailed Bat - Emballonura monticola
Raffray's Sheath-tailed Bat - Emballonura raffrayana
Pacific Sheath-tailed Bat - Emballonura semicaudata
Seri's Sheath-tailed Bat - Emballonura serii
Western Sheath-tailed Bat - Emballonura tiavato
Lesser Sheath-tailed Bat - Mosia nigrescens
Greater Dog-like Bat - Peropteryx kappleri


White-winged Dog-like Bat - Peropteryx leucoptera
Lesser Dog-like Bat - Peropteryx macrotis
Trinidad Dog-like Bat - Peropteryx trinitatis
Proboscis Bat - Rhynchonycteris naso
Yellow-bellied Sheath-tailed Bat - Saccolaimus flaviventris
Papuan Sheath-tailed Bat - Saccolaimus mixtus
Pel's Pouched Bat - Saccolaimus peli
Bare-rumped Sheathtail-bat - Saccolaimus saccolaimus
Antioquian Sac-winged Bat - Saccopteryx antioquensis
Greater Sac-winged Bat - Saccopteryx bilineata
Frosted Sac-winged Bat - Saccopteryx canescens
Amazonian Sac-winged Bat - Saccopteryx gymnura
Lesser Sac-winged Bat - Saccopteryx leptura
Indonesian Tomb Bat - Taphozous achates
Coastal Sheath-tailed Bat - Taphozous australis
Common Sheath-tailed Bat - Taphozous georgianus
Hamilton's Tomb Bat - Taphozous hamiltoni
Hildegarde's Tomb Bat - Taphozous hildegardeae
Hill's Sheath-tailed Bat - Taphozous hilli
Arnhem Sheath-tailed Bat - Taphozous kapalgensis
Longed-winged Tomb Bat - Taphozous longimanus
Mauritian Tomb Bat - Taphozous mauritianus
Black-bearded Tomb Bat - Taphozous melanopogon
Naked-rumped Tomb Bat - Taphozous nudiventris
Egyptian Tomb Bat - Taphozous perforatus
Theobold's Bat - Taphozous theobaldi
Troughton's Sheath-tailed Bat - Taphozous troughtoni
Additional Information
Key:

Profile

Photos

Video

Audio
Egyptian Tomb Bat - Taphozous perforatus






The Egyptian tomb bat is found in throughout Africa and the Middle East west to India and Pakistan.
Source: Arkive Intended Audience: General Reading Level: Middle School
Hildegarde's Tomb Bat - Taphozous hildegardeae




Hildegarde's tomb bat is found in Kenya and Tanzania.
Source: Arkive Intended Audience: General Reading Level: Middle School
Indonesian Tomb Bat - Taphozous achates



The Indonesian tomb bat is also known as the brown -bearded sheath-tailed bat. It is found in Indonesia and East Timor.
Source: Arkive Intended Audience: General Reading Level: Middle School
Lesser Sheath-tailed Bat - Emballonura monticola





The lesser sheath-tailed bat is found in Indonesia, Malaysia, Myanmar, and Thailand..
Source: Arkive Intended Audience: General Reading Level: Middle School
Naked-rumped Tomb Bat - Taphozous nudiventris






The naked-rumped tomb bat is found in northern Africa and the Middle East.
Source: Arkive Intended Audience: General Reading Level: Middle School
Proboscis Bat - Rhynchonycteris naso





The proboscis bat is found in Belize, Bolivia, Brazil, Colombia, Costa Rica, Ecuador, El Salvador, French Guiana, Guatemala, Guyana, Honduras, Mexico, Nicaragua, Panama, Peru, Suriname, Trinidad and Tobago, and Venezuela.
Source: Arkive Intended Audience: General Reading Level: Middle School
Seychelles Sheath-tailed Bat - Coleura seychellensis





Seychelles sheath-tailed bat is found on the isalnds of on the islands of Silhouette, Mahé, and Praslin in the Seychelles.
Source: Arkive Intended Audience: General Reading Level: Middle School