Didelphidae - opossums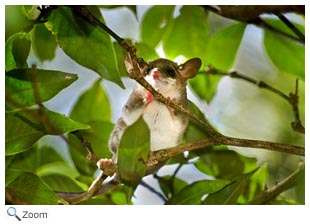 There are about 95 species of opossums in this family. Opossums are marsupials. Marsupials have pouches. When female marsupials give birth, their young are blind, hairless, and helpless. They attach themselves to a teat in their mothers pouch and suckle until they are large enough to emerge from her pouch.
Marsupials are found in Australia and North and South America. North American marsupials are members of the Didelphimorphia order. Opossums are the only type of marsupial found in North, Central, and South America. Species include the western woolly opossum, the Patagonian opossum, the brown four-eyed opossum, and the bushy-tailed opossum.
World Status Key


Least Concern

Near Threatened

Vulnerable

Endangered

Critically Endangered

Extinct in Wild

Extinct
Status and range is taken from ICUN Redlist. If no status is listed, there is not enough data to establish status.
US Status Key


Threatened in US

Threatened in NH

Endangered in US

Endangered in NH

Introduced
Status taken from US Fish and Wildlife and NH Fish and Game
New Hampshire Species

North/Central American Species

Virginia Opossum - Didelphis virginiana

Linnaeus's Mouse Opossum- Marmosa murina
Robinson's Mouse Opossum- Marmosa robinsoni
Gray-bellied Slender Mouse Opossum- Marmosops fuscatus
Slaty Slender Mouse Opossum- Marmosops invictus
Brown Four-eyed Opossum- Metachirus nudicaudatus
Alston's Woolly Mouse Opossum- Micoureus alstoni
Sepia Short-tailed Opossum- Monodelphis adusta
Gray Four-eyed Opossum- Philander opossum
Grayish Mouse Opossum- Tlacuatzin canescens

North/Central American Species

Central American Woolly Opossum- Caluromys derbianus
Bare-tailed Woolly Opossum- Caluromys philander
Water Opossum- Chironectes minimus
Soutthern Opossum- Didelphis marsupialis
Mexican Mouse Opossum- Marmosa mexicana
Other Species Around the World

Africa Asia Australia/Oceania Europe North/Central America South America NH Species

Central American Woolly Opossum-Caluromys derbianus
Brown-eared Wooly Opossum- Caluromys lanatus
Bare-tailed Woolly Opossum- Caluromys philander
Black-shouldered Opossum- Caluromysiops irrupta
Chacodelphys formosa
Water Opossum- Chironectes minimus
Agricola's Gracile Opossum- Cryptonanus agricolai
Cryptonanus chacoensis
Cryptonanus guahybae
Red-bellied Gracile Mouse Opossum- Cryptonanus ignitus
Cryptonanus unduaviensis
White-eared Opossum- Didelphis albiventris
Big-eared Opossum- Didelphis aurita
Guianan White-eared Opossum- Didelphis imperfecta
Southern Opossum- Didelphis marsupialis
Didelphis pernigra
Virginia Opossum- Didelphis virginiana
Bushy-tailed Opossum- Glironia venusta
Aceramarca Gracile Mouse Opossum-Gracilinanus aceramarcae
Agile Gracile Mouse Opossum- Gracilinanus agilis
Wood Sprite Gracile Mouse Opossum- Gracilinanus dryas
Emilia's Gracile Mouse Opossum- Gracilinanus emiliae
Northern Gracile Mouse Opossum- Gracilinanus marica
Brazilian Gracile Mouse Opossum- Gracilinanus microtarsus
Kalinowski's Mouse Opossumn- Hyladelphys kalinowskii
Patagonian Opossum- Lestodelphys halli
Lutrine Opossum- Lutreolina crassicaudata
Anderson's Mouse Opossum- Marmosa andersoni
Little Rufous Mouse Opossum- Marmosa lepida
Mexican Mouse Opossum- Marmosa mexicana
Linnaeus's Mouse Opossum- Marmosa murina
Quechuan Mouse Opossum- Marmosa quichua
Robinson's Mouse Opossum- Marmosa robinsoni
Red Mouse Opossum- Marmosa rubra
Tyler's Mouse Opossum- Marmosa tyleriana
Dryland Mouse Opossum- Marmosa xerophila
Marmosops bishopi
Slim-faced Slender Mouse Opossum- Marmosops cracens
Marmosops creightoni
Gray-bellied Slender Mouse Opossum-Marmosops fuscatus
Handley's Slender Mouse Opossum- Marmosops handleyi
Andean Slender Mouse Opossum- Marmosops impavidus
Gray Slender Mouse Opossum- Marmosops incanus
Slaty Slender Mouse Opossum- Marmosops invictus
Marmosops juninensis
Marmosops neblina
White-bellied Slender Mouse Opossum-Marmosops noctivagus
Marmosops ocellatus
Delicate Slender Mouse Opossum- Marmosops parvidens
Brazilian Slender Opossum- Marmosops paulensis
Pinheiro's Slender Opossum- Marmosops pinheiroi
Brown Four-eyed Opossum- Metachirus nudicaudatus
Alston's Woolly Mouse Opossum- Micoureus alstoni
White-bellied Wooly Mouse Opossum-Micoureus constantiae
Long-furred Woolly Mouse Opossum- Micoureus demerarae
Tate's Woolly Mouse Opossum- Micoureus paraguayanus
Micoureus phaeus
Short-furred Woolly Mouse Opossum- Micoureus regina
Sepia Short-tailed Opossum- Monodelphis adusta
Three-striped Short-tailed Opossum- Monodelphis americana
Red-legged Short-tailed Opossum-onodelphis brevicaudata
Southern Short-tailed Opossum- Monodelphis dimidiata
Gray Short-tailed Opossum- Monodelphis domestica
Emilia's Short-tailed Opossum- Monodelphis emiliae
Amazonian Red-sided Opossum- Monodelphis glirina
Ihering's Three-striped Opossum- Monodelphis iheringi
Pygmy Short-tailed Opossum- Monodelphis kunsi
Marajó Short-tailed Opossum- Monodelphis maraxina
Osgood's Short-tailed Opossum- Monodelphis osgoodi
Hooded Red-sided Opossum- Monodelphis palliolata
Reig's Opossum- Monodelphis reigi
Ronald's Opossum- Monodelphis ronaldi
Chestnut-striped Short-tailed Opossum- Monodelphis rubida
Long-nosed Short-tailed Opossum- Monodelphis scalops
Shrewish Short-tailed Opossum- Monodelphis sorex
Southern Three-striped Opossum- Monodelphis theresa
Faint-striped Opossum- Monodelphis umbristriata
Single-striped Opossum- Monodelphis unistriata
Anderson's Four-eyed Opossum- Philander andersoni
Philander deltae
Southeastern Four-eyed Opossum- Philander frenatus
Mcilhenny's Four-eyed Opossum- Philander mcilhennyi
Philander mondolfii
Gray Four-eyed Opossum- Philander opossum
Cinderella Fat-tailed Mouse Opossum-Thylamys cinderella
Elegant Fat-tailed Mouse Opossum- Thylamys elegans
Karimi's Fat-tailed Mouse Opossum- Thylamys karimii
Paraguayan Fat-tailed Mouse Opossum-Thylamys macrurus
Pallid Fat-tailed Opossum- Thylamys pallidior
Common Fat-tailed Mouse Opossum- Thylamys pusillus
Thylamys sponsorius
Thylamys tatei
Dwarf Fat-tailed Mouse Opossum- Thylamys velutinus
Buff-bellied Fat-tailed Mouse Opossum- Thylamys venustus
Grayish Mouse Opossum- Tlacuatzin canescens

Additional Information
Key:

Profile

Photos

Video

Audio
Order Didelphimorphia



Learn more about the characteristics of these North, Central, and South American marsupials.
Source: Animal Diversity Web Intended Audience: General Reading Level: Middle/High School
Aceramarca Gracile Mouse Opossum-Gracilinanus aceramarcae




The Aceramarca gracile mouse opossum is found in Bolivia and Peru.
Source: Arkive Intended Audience: General Reading Level: Middle School
Aceramarca Gracile Mouse Opossum -Gracilinanus aceramarcae





The Aceramarca gracile mouse opossum is a small opossum with no pouch. Learn more.
Source: EDGE Intended Audience: General Reading Level: Middle/High School
Agile Gracile Mouse Opossum - Gracilinanus agilis





These small opossums sometimes find their way into banana shipments!
Source: Animal Diversity Web Intended Audience: General Reading Level: Middle/High School
Alston's Woolly Mouse Opossum - Micoureus alstoni





Alston's wooly mouse opossum is found in Belize, Colombia, Costa Rica, Guatemala, Honduras, Nicaragua, and Panama.
Source: Animal Diversity Web Intended Audience: General Reading Level: Middle/High School
Anderson's Mouse Opossum - Marmosa andersoni




Anderson's mouse opossum is a mouse-like marsupial with fine, velvety fur and black eye-rings
Source: EDGE Intended Audience: General Reading Level: Middle/High School

Anderson's Mouse Opossum - Marmosa andersoni




Everything we know about Anderson's mouse opossum comes from seven individuals found by scientists!
Source: Arkive Intended Audience: General Reading Level: Middle/High School

Bare-tailed Woolly Opossum- Caluromys philander






The bare-tailed wooly opossum is found in Bolivia, Brazil, French Guiana, Guyana, Suriname, Trinidad and Tobago, and Venezuela.
Source: Animal Diversity Web Intended Audience: General Reading Level: Middle School
Big-eared Opossum - Didelphis aurita





The big-eared opossum is found along the Atlantic coast of Brazil to northeastern Argentina and southeastern Paraguay. Learn more.
Source: Animal Diversity Web Intended Audience: General Reading Level: Middle/High School

Black-shouldered Opossum- Caluromysiops irrupta




The black-shouldered opossum lives in trees in humid forest in the Andes in Brazil, Colombia, and Peru.
Source: Animal Diversity Web Intended Audience: General Reading Level: Middle School
Brown Four-eyed Opossum - Metachirus nudicaudatus





The brown four-eyed opossum gets its name from a white spot over its eyes. Learn more!
Source: Animal Diversity Web Intended Audience: General Reading Level: Middle/High School
Bushy-tailed Opossum - Glironia venusta





The bushy-tailed opossum lives in the Amazonian regions of Bolivia, Brazil, Ecuador and Peru.
Source: Edge Intended Audience: General Reading Level: Middle

Bushy-tailed Opossum- Glironia venusta





The bushy-tailed opossum has a black mask and a white stripe that runs from the top of its head to the tip of its nose.
Source: Arkive Intended Audience: General Reading Level: Middle School

Bushy-tailed Opossum- Glironia venusta





The bushy-tailed opossum is the only opossum with a tail that is fully furred on the top and sides.
Source: Animal Diversity Web Intended Audience: General Reading Level: Middle School

Central American Woolly Opossum-Caluromys derbianus






The Central American wooly opossum is found in Belize, Colombia, Costa Rica, Ecuador, Guatemala, Honduras, Mexico, Nicaragua, and Panama.
Source: Arkive Intended Audience: General Reading Level: Middle School

Central American Woolly Opossum -Caluromys derbianus





The Central American Woolly opossum lives in highland and lowland rainforests.
Source: Animal Diversity Web Intended Audience: General Reading Level: Middle/High School

Elegant Fat-tailed Mouse Opossum- Thylamys elegans




The elegant fat-tailed mouse opossum- is found in Chile.
Source: Arkive Intended Audience: General Reading Level: Middle School
Gray Four-eyed Opossum - Philander opossum






This opossum has brown fur and white patches over its eyes. Learn more!
Source: Animal Diversity Web Intended Audience: General Reading Level: Middle/High School
Grayish Mouse Opossum - Tlacuatzin canescens





This small opossum is found in Mexico. It has brown fur, rounded ears, and black rings around its eyes. Learn more!
Source: Animal Diversity Web Intended Audience: General Reading Level: Middle/High School
Gray Short-tailed Opossum - Monodelphis domestica





These tiny mouse-like marsupials are found in the forests of of Brazil, Bolivia, Argentina, and Paraguay. Learn more!
Source: Animal Diversity Web Intended Audience: General Reading Level: Middle/High School

Gray Short-tailed Opossum - Monodelphis domestica





The female gray short-tailed opossum can have 4-5 litters a year and litters can have up 13 babies.
Source: Brandywine Zoo Intended Audience: General Reading Level: Elementary/Middle School
Gray Slender Mouse Opossum - Marmosops incanus





The gray slender mouse opossum has a black mask and a long, slender white-tipped tail. Learn more!
Source: Animal Diversity Web Intended Audience: General Reading Level: Middle/High School
Lutrine Opossum - Lutreolina crassicaudata





The Lutrine opossum has a long weasel-like body, short, rounded ears and a thick tail . Learn more!
Source: Animal Diversity Web Intended Audience: General Reading Level: Middle/High School
Mexican Mouse Opossum - Marmosa mexicana





The female Mexican mouse opossum does not have a pouch; she carries her young on her back. Learn more!
Source: Animal Diversity Web Intended Audience: General Reading Level: Middle/High School

Patagonian Opossum- Lestodelphys halli





The Patagonian opossum is found in Argentina.
Source: Arkive Intended Audience: General Reading Level: Middle School
Patagonian Opossum - Lestodelphys halli





The Patagonian opossum lives further south than any other opossum species. Learn more!
Source: Animal Diversity Web Intended Audience: General Reading Level: Middle/High School
Pygmy Short-tailed Opossum - Monodelphis kunsi





Everything we know about this species is based on 15 specimens examined by scientists. Learn more!
Source: Animal Diversity Web Intended Audience: General Reading Level: Middle/High School
Red-legged Short-tailed Opossum - onodelphis brevicaudata





The red-legged short-tailed opossum lives in South America. It has reddish fur on its sides and legs and black feet. Learn more!
Source: Animal Diversity Web Intended Audience: General Reading Level: Middle/High School

Shrewish Short-tailed Opossum- Monodelphis sorex





The shrewish short-tailed opossum is found in Argentina, Brazil, and Paraguay.
Source: Arkive Intended Audience: General Reading Level: Middle School
Southern Opossum - Didelphis marsupialis





The southern opossum is found from eastern Mexico to northeastern Argentina Learn more.
Source: Animal Diversity Web Intended Audience: General Reading Level: Middle/High School

Virginia Opossum - Didelphis virginiana





The Virginia opossum is a good swimmer and it can climb trees. Learn more.
Source: Utah's Hogle Zoo Intended Audience: General Reading Level: Elementary/Middle School

Virginia Opossum - Didelphis virginiana






When the Virginia opossum is threatened, it flops on it's side, sticks out its tongue and plays dead! Learn more and print out a fact sheet!
Source: National Geographic Intended Audience: General Reading Level: Elementary/Middle School

Virginia Opossum - Didelphis virginiana





The Virginia opossum is the only marsupial found in North America.
Source: Environmental Education for Kids Intended Audience: Students Reading Level: Elementary/Middle School

Virginia Opossum - Didelphis virginiana





The Virginia opossum has a prehensile tail, but adults cannot hang by it from trees!
Source: Beardsley Zoo Intended Audience: Students Reading Level: Elementary School

Virginia Opossum - Didelphis virginiana





The Virginia opossum is the size of a small dog and has a long, scaly, prehensile tail.
Source: The Mammals of Texas Intended Audience: General Reading Level: Middle School

Virginia Opossum - Didelphis virginiana





The Virginia opossum marks its territory with scent marks. It licks itself and then rubs the side of its head against tree trunks or other objects.
Source: Brandywine Zoo Intended Audience: General Reading Level: Middle School

Virginia Opossum - Didelphis virginiana





The life span of the Virginia opossum in the wild is only about 18 months. Learn more.
Source: Animal Diversity Web Intended Audience: General Reading Level: Middle/High School

Virginia Opossum - Didelphis virginiana




Young Virginian opossums spend the first two months of their life in their mother's pouch.
Source: Animal Bytes Intended Audience: Students Reading Level: Elementary School

Virginia Opossum - Didelphis virginiana




Learn more about the Virginia opossum and print out a labeled diagram.
Source: Enchanted Learning Intended Audience: Students Reading Level: Elementary School

Water Opossum- Chironectes minimus






The water opossum is found in Argentina, Belize, Bolivia, Brazil, Colombia, Costa Rica, Ecuador, El Salvador, French Guiana, Guatemala, Guyana, Honduras, Mexico, Nicaragua, Panama, Paraguay, Peru, Suriname, and Venezuela.
Source: Arkive Intended Audience: General Reading Level: Middle School
Water Opossum- Chironectes minimus






The water opossum is also known as the yapok. It has marbled gray and black fur and lives near streams and lakes.
Source: Animal Diversity Web Intended Audience: General Reading Level: Middle School
Water Opossum - Chironectes minimus






The water opossum is adapted for life near the water. It has waterproof fur, webbed hind feet and a backward-pointing pouch. Learn more.
Source: BBC Intended Audience: General Reading Level: Middle School
White-eared Opossum - Didelphis albiventris





The white-eared opossum is found throughout South America. It has very large ears, a long tail, and black fur.
Source: Animal Diversity Web Intended Audience: General Reading Level: Middle/High School