Dasyatidae - whiptail stingrays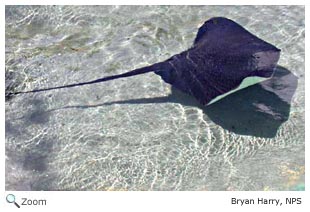 There are around 69 species in this family. Most species are found in shallow tropical and subtropical oceans around the world, although some species in Africa and South America are found in rivers and lakes.
They have rounded or oval shaped pectoral fins and long, whip-like tails with one or more poisonous barbed spines on the near the base of their tails. They have small mouths, no anal fin, and no caudal fin.
Most of the species in this family spend their time partially buried under the sand or mud on the ocean floor. They use their pectoral fins to stir up worms, crustaceans, and mollusks. They are viviparous. That means they give birth to live young.
World Status Key


Least Concern

Near Threatened

Vulnerable

Endangered

Critically Endangered


Extinct in the Wild

Extinct
Status and range is taken from ICUN Redlist. If no status is listed, there is not enough data to establish status.

US Status Key


Threatened in US

Threatened in NH

Endangered in US

Endangered in NH


Breeds in NH

Introduced
Status taken from US Fish and Wildlife and NH Fish and Game
New Hampshire Species

North/Central American Species

None
Southern Stingray - Dasyatis americana
Roughtail Stingray - Dasyatis centroura
Diamond Stingray - Dasyatis dipterura
Sharpsnout Stingray - Dasyatis geijskesi
Longnose Stingray - Dasyatis guttata
Brown Stingray - Dasyatis lata
Longtail Stingray - Dasyatis longa
Atlantic Stingray - Dasyatis sabina
Bluntnose Stingray - Dasyatis say
Chupare Stingray - Himantura schmardae
Pelagic Stingray - Pteroplatytrygon violacea
Ribbon-tailed Stingray - Taeniura lymma
Species Around the World

Africa Asia Australia/Oceania Europe North America South America NH Species
Arctic Ocean Atlantic Ocean Indian Ocean Mediterranean/Black Sea Pacific Ocean

Sharpnose Stingray - Dasyatis acutirostra
Red Stingray - Dasyatis akajei
Southern Stingray - Dasyatis americana
Brown Stingray - Dasyatis annotata
Bennet's Stingray - Dasyatis bennetti
Shorttail Stingray - Dasyatis brevicaudata
Roughtail Stingray - Dasyatis centroura
Blue Stingray - Dasyatis chrysonota
Colares Stingray - Dasyatis colarensis
Diamond Stingray - Dasyatis dipterura
Estuary Stingaree - Dasyatis fluviorum
Smooth Freshwater Stingray - Dasyatis garouaensis
Sharpsnout Stingray - Dasyatis geijskesi
Giant Stumptail Stingray - Dasyatis gigantea
Longnose Stingray - Dasyatis guttata
Groovebelly Stingray - Dasyatis hypostigma
Izu Stingray - Dasyatis izuensis
Bluespotted Stingray - Dasyatis kuhlii
Yantai Stingray - Dasyatis laevigata
Mekong Freshwater Stingray - Dasyatis laosensis
Brown Stingray - Dasyatis lata
Brown-reticulate Stingray - Dasyatis leylandi
Longtail Stingray - Dasyatis longa
Dasyatis margarita
Dasyatis margaritella
Brazilian Large-eyed Stingray - Dasyatis marianae
Dasyatis marmorata
Pitted Stingray - Dasyatis matsubarai
Smalleye Stingray - Dasyatis microps
Multispine Giant Stingray - Dasyatis multispinosa
Blackfish Stingray - Dasyatis navarrae
Dasyatis pastinaca
Smalltooth Stingray - Dasyatis rudis
Atlantic Stingray - Dasyatis sabina
Bluntnose Stingray - Dasyatis say
Chinese Stingray - Dasyatis sinensis
Thorntail Stingray - Dasyatis thetidis
Ushi Stingray - Dasyatis ushiei
Pale-edged Stingray - Dasyatis zugei
Pale-spot Whipray - Himantura alcockii
Giant Freshwater Stingray - Himantura chaophraya
Pink Whipray - Himantura fai
Ganges Stingray - Himantura fluviatilis
Whitespotted Whipray - Himantura gerrardi
Whitetail Whipray - Himantura granulata
Hortle's Whipray - Himantura hortlei
Scaly Whipray - Himantura imbricata
Jenkin's Whipray - Himantura jenkinsii
Himantura kittipongi
Tubemouth Whipray - Himantura lobistoma
Blackedge Whipray - Himantura marginata
Longnose Marbled Whipray - Himantura oxyrhyncha
Round Whipray - Himantura pastinacoides
Chupare Stingray - Himantura schmardae
White-edge Freshwater Whipray - Himantura signifer
Tosh's Whipray - Himantura toshi
Bleeker's Whipray - Himantura uarnacoides
Reticulate Whipray - Himantura uarnak
Bleeker's Variegated Whipray - Himantura undulata
Dwarf Whipray - Himantura walga
Makararaja chindwinensis
Cowtail Stingray - Pastinachus sephen
Roughnose Stingray - Pastinachus solocirostris
Pelagic Stingray - Pteroplatytrygon violacea
Round Fantail Stingray - Taeniura grabata
Ribbon-tailed Stingray - Taeniura lymma
Black-blotched Stingray - Taeniura meyeni
Porcupine Ray - Urogymnus asperrimus
Pincushion Ray - Urogymnus ukpam