Anhingidae - Anhingas and Darters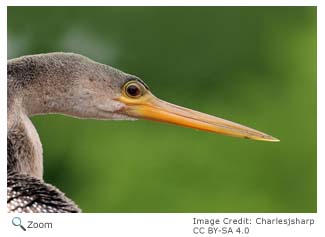 There are four species of large birds in this family. They are found on lakes, rivers, marshes, swamps, estuaries, lagoons, and bays in tropical and subtropical environments.

Anhingas and darters have long, slender necks; short legs; long, pointed bills; and long tails. Males have a crest of feathers on their neck. Males and females are the same size. Anhingas and darters are brown or black in color.

Anhingas and darters eat mostly fish, but may also eat amphibians, reptiles, insects, and crustaceans.

Males and females form monogamous pairs during the breeding season, and both the male and female incubate the eggs using their webbed feet. Both parents care for and feed the chicks.


Anhingidae Photo Gallery
World Status Key


Least Concern

Near Threatened

Vulnerable

Endangered

Critically Endangered

Extinct in the Wild

Extinct
Status and range is taken from ICUN Redlist. If no status is listed, there is not enough data to establish status.
U.S. Status Key
Threatened in US Endangered in US
Status taken from US Fish and Wildlife Click on U.S. status icon to go to the U.S. Fish and Wildlife species profile.

New Hampshire Status Key
Threatened in NH Endangered in NH Introduced
Status taken from NH Fish and Game
Location Key


Africa

Asia

Australia/Oceania

Europe

North America

South America

NH

Click for More Info

Click for Image
| | | |
| --- | --- | --- |
| New Hampshire Species | | North/Central American Species |
| None | | Anhinga - Anhinga anhinga |
Other Species Around the World

Australian Darter - Anhinga novaehollandiae
Oriental Darter - Anhinga melanogaster
Additional Information
Resource Key


Profile

Photos

Video

Audio
Anhinga - Anhinga anhinga







The anhinga is also known as the water-turkey.
Source: Cornell Lab of Ornithology Intended Audience: General Reading Level: Middle School
Anhinga - Anhinga anhinga






Anhingas start flight by either running on the surface of the water or diving from a tree.
Source: Animal Diversity Web Intended Audience: General Reading Level: Middle School
Australian Darter - Anhinga novaehollandiae





The Australian darter is found in Australia, New Zealand, Papua New Guinea, and Indonesia.
Source: Australian Bird Image Database Intended Audience: General Reading Level: N/A
Oriental Darter - Anhinga melanogaster





The Oriental darter is found in shallow inland wetlands including lakes, rivers, swamps and reservoirs.
Source: Arkive Intended Audience: General Reading Level: Middle School