Platystictidae - Shadowdamsels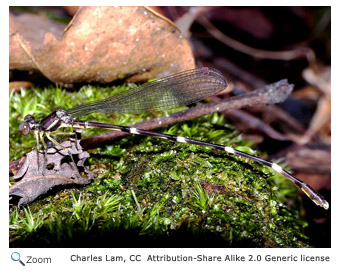 Shadowdamsels are a tropical species. They usually found in forested areas near streams and rivers. They have lacy wings that are long and narrow and have a long very slender abdomen. Most species are found in Central America, South America, and Asia.
World Status Key


Least Concern

Near Threatened

Vulnerable

Endangered

Critically Endangered

Extinct in Wild

Extinct

Not Enough Data
Status and range is taken from ICUN Redlist.
U.S. Status Key
Threatened in US Endangered in US Introduced
Status taken from US Fish and Wildlife. Click on U.S. status icon to go to the U.S. Fish and Wildlife species profile.
New Hampshire Status Key
Threatened in NH Endangered in NH Breeds in NH
Status taken from NH Fish and Game
Location Key


Africa

Asia

Australia/Oceania

Europe

North America

South America

NH

Click for More Info

Click for Image
New Hampshire Species

North American Species

None



Cacao Shadowdamsel - Palaemnema baltodanoi
Palaemnema bilobulata
Chiriquita Shadowdamsel - Palaemnema chiriquita
Palaemnema cyclohamulata
Elongate Shadowdamsel - Palaemnema gigantula
Palaemnema joanetta
Black-backed Shadowdamsel - Palaemnema melanota
Palaemnema melanura
Palaemnema nathalia
Palaemnema paulina
Cordoba Shadowdamsel - Palaemnema paulicoba
Palaemnema paulitaba
Reventazón Shadowdamsel - Palaemnema reventazoni
Palaemnema spinulata
Selected Species Around the World


Africa Asia Australia/Oceania Europe North America South America NH



Drepanosticta adami
Drepanosticta anascephala
Drepanosticta attala
Drepanosticta austeni
Drepanosticta berlandi
Drepanosticta brownelli
Drepanosticta carmichaeli
Drepanosticta centrosaurus
Drepanosticta ceratophora
Drepanosticta conica
Drepanosticta exoleta
Drepanosticta fontinalis
Drepanosticta hamadryas
Merry Shadowdamsel - Drepanosticta hilaris
Drepanosticta jurzitzai
Drepanosticta khaochongensis
Drepanosticta krios
Drepanosticta kruegeri
Drepanosticta lepyricollis
Drepanosticta luzonica
Drepanosticta montana
Drepanosticta palauensis
Drepanosticta pan
Drepanosticta polychromatica
Drepanosticta sharpi
Drepanosticta spatulifera
Drepanosticta submontana
Drepanosticta sundana
Drepanosticta tenella
Drepanosticta vietnamica
Drepanosticta viridis
Wall's Shadowdamsel - Drepanosticta walli
Palaemnema brucei
Palaemnema carmelita

Palaemnema orientalis
Palaemnema lorena
Palaemnema picicaudata
Platysticta deccanensis
Protosticta antelopoides
Short-winged Shadowdamsel - Protosticta beaumonti
Protosticta caroli
Protosticta curiosa
Protosticta davenporti
Protosticta feronia
Protosticta fraseri
Protosticta geijskesi
Protosticta gracilis
Protosticta grandis
Protosticta gravelyi
Protosticta hearseyi
Protosticta himalaica
Protosticta khaosoidaoensis
Protosticta linnaei
Protosticta medusa
Protosticta plicata
Protosticta robusta
Protosticta rozendalorum
Protosticta rufostigma
Protosticta sanguinostigma
Protosticta satoi
White-banded Shadowdamsel -Protosticta taipokauensis
Protosticta trilobata
Protosticta uncata
Protosticta versicolor
Protosticta zhengi
Sinosticta debra
Sinosticta ogatai
Sulcosticta striata



Additional Information
Key:

Profile

Photos

Video

Audio

NH Species
Protosticta khaosoidaoensis




Protosticta khaosoidaoensis is found in Thailand.
Source: Arkive Intended Audience: General Reading Level: Middle School Teacher Section: Yes
Chiriquita Shadowdamsel - Palaemnema chiriquita





The Chiriquita Shadowdamsel is found in Costa Rica.
Source: Arkive Intended Audience: General Reading Level: Middle School Teacher Section: Yes