| | | |
| --- | --- | --- |
| Salamandridae - Newts, True Salamanders | | |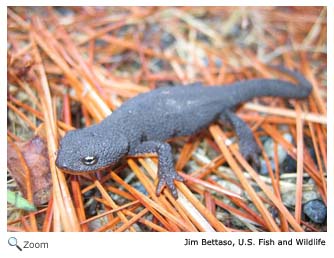 There are around 70 species of small, colorful salamanders and newts in this family. Their bright coloring is a visual warning to other animals, because all the species in this family produce a toxin through their skin. All of the species in this family are found in the Northern Hemisphere. Most species of true salamanders are found in Europe in moist forests and meadows. Some species are found in the Middle East and northwest Africa. True salamanders are nocturnal and spend the day in burrows under logs or stones.
Newts are found in Europe, Asia, the Middle East, Africa, and North America. Unlike most salamanders, newts have non-slimy, rough skin and their costal grooves (vertical grooves) are hard to see! Newts are usually between 3-4 inches in length. Newts in the Notophthalmus genus live in North America have three cycles. They start their lives as aquatic larvae, then they become a red eft and live on land, and finally they become an adult newt and live on the land and in the water!

Salamandridae Photo Gallery

World Status Key


Least Concern

Near Threatened

Vulnerable

Endangered

Critically Endangered

Extinct in the Wild

Extinct
Status and range is taken from ICUN Redlist. If no status is listed, there is not enough data to establish status.
US Status Key


Threatened in US

Threatened in NH

Endangered in US

Endangered in NH

Introduced
Status taken from US Fish and Wildlife and NH Fish and Game
Location


Africa

Asia

Australia/Oceania

Europe

North America

South America

NH

Click for More Info

Click for Image
New Hampshire Species

North American Species

Eastern Newt - Notophthalmus viridescens

Black-spotted Newt -Notophthalmus meridionalis
California Newt -Taricha torosa
Red-bellied Newt -Taricha rivularis
Rough-skinned Newt -Taricha granulosa
Sierra Newt -Taricha sierra
Striped Newt -Notophthalmus perstriatus
Species Around the World

Cynops chenggongensis
Laotriton laoensis
Lyciasalamandra antalyana
Luschan's salamander - Lyciasalamandra atifi
Lyciasalamandra billae
Lyciasalamandra fazilae
Lyciasalamandra flavimembris
Lyciasalamandra luschani
Tylototriton vietnamensis
Algerian Ribbed Newt - Pleurodeles nebulosus
Alpine Newt - Mesotriton alpestris
Anatolian Newt - Neurergus strauchii
Anderson's Crocodile Newt - Echinotriton andersoni
Arouss Al Ayn - Salamandra infraimmaculata
Black Knobby Newt - Tylototriton asperrimus
Black-spotted Stout Newt - Pachytriton brevipes
Carpathian Newt - Lissotriton montandoni
Caucasian Salamander - Mertensiella caucasica
Chinese Warty Newt - Paramesotriton chinensis
Chinhai Spiny Newt - Echinotriton chinhaiensis
Chuxiong Fire-bellied Newt - Cynops cyanurus
Common Fire Salamander - Salamandra salamandra
Corsican Brook Salamander - Euproctus montanus
Corsican Fire Salamander - Salamandra corsica
Danube Crested Newt - Triturus dobrogicus
Dayang Newt - Cynops orphicus
Edough Ribbed Newt - Pleurodeles poireti
Emperor Newt - Tylototriton shanjing
Golden Salamander - Salamandra atra
Golden-striped Salamander - Chioglossa lusitanica
Guangxi Warty Newt - Paramesotriton guanxiensis
Hainan Knobby Newt - Tylototriton hainanensis
Himalayan Salamander - Tylototriton verrucosus
Hong Kong Warty Newt - Paramesotriton hongkongensis
Iberian Newt - Lissotriton boscai


Lyciasalamandra luschani
Italian Crested Newt - Triturus carnifex
Italian Newt - Lissotriton italicus
Japanese Fire-bellied Newt - Cynops pyrrhogaster
Kurdistan Newt - Neurergus microspilotus
Lake Urmia Newt - Neurergus crocatus
Lanza's Alpine Salamander - Salamandra lanzai
Luristan Newt -Neurergus kaiseri
Lycian Salamander - Lyciasalamandra helverseni
Marbled Newt - Triturus marmoratus
North African Fire Salamander - Salamandra algira
Northern Banded Newt - Ommatotriton ophryticus
Northern Crested Newt - Triturus cristasus
Northern Spectacled Salamander - Salamandrina perspicillata
Oriental Fire-bellied Newt - Cynops orientalis
Palmate Newt - Lissotriton helveticus
Pyrenean Brook Salamander - Calotriton asper
Red-tailed Knobby Newt - Tylototriton kweichowensis
Sardinian Brook Salamander - Euproctus platycephalus
Sharp-ribbed Salamander - Pleurodeles waltl
Smooth Newt - Lissotriton vulgaris
Southern Banded Newt - Ommatotriton vittatus
Southern Crested Newt - Triturus karelinii
Southern Marbled Newt - Triturus pygmaeus
Spectacled Salamander - Salamandrina terdigitata
Spotless Stout Newt - Pachytriton labiatus
Spot-tailed Warty Newt - Paramesotriton caudopunctatus
Sword-tailed Newt - Cynops ensicauda
Taliang Knobby Newt - Tylototriton taliangensis
Tam Dao Salamander - Paramesotriton deloustali
Wanggao Warty Newt - Paramesotriton fuzhongensis
Wenxian Knobby Newt - Tylototriton wenxianensis
Yunnan Lake Newt - Cynops wolterstorffi

Additional Information

Key: Profile Photos Video Audio

Algerian Ribbed Newt - Pleurodeles nebulosus
The Algerian ribbed newt is found in Algeria and Tunisia.
Source: Arkive Intended Audience: General Reading Level: Middle School Teacher Section: Yes

Anatolian Newt - Neurergus strauchii
The Anatolian newt is found in Turkey and is also known as Strauch's spotted newt.
Source: Arkive Intended Audience: General Reading Level: Middle School Teacher Section: Yes

Anderson's Crocodile Newt - Echinotriton andersoni
Anderson's crocodile newt is found in Japan and Taiwan.
Source: Arkive Intended Audience: General Reading Level: Middle School Teacher Section: Yes

Anderson's Crocodile Newt - Echinotriton andersoni
Anderson's crocodile newt is found in Japan and Taiwan.
Source: AmphibiaWeb Intended Audience: General Reading Level: High School Teacher Section: No

Arouss Al Ayn - Salamandra infraimmaculata
Arouss Al Ayn is found in Iran, Iraq, Israel, Lebanon, Syria, and Turkey.
Source: Arkive Intended Audience: General Reading Level: Middle School Teacher Section: Yes

Arouss Al Ayn - Salamandra infraimmaculata
Arouss Al Ayn is a large black salamander with bright yellow spots.
Source: Amphibiweb Intended Audience: General Reading Level: High School Teacher Section: No

Black-spotted Newt - Notophthalmus meridionalis
The black-spotted newt is found in Mexico and southern Texas.
Source: Arkive Intended Audience: General Reading Level: Middle School Teacher Section: Yes

Black-spotted Newt - Notophthalmus meridionalis
There are two sub-species of the black-spotted newt, the Mexican black-spotted newt and the Texas black-spotted newt.
Source: Amphibiweb Intended Audience: General Reading Level: High School Teacher Section: No

California Newt -Taricha torosa
The California newt is found in the coastal range of California.
Source: Arkive Intended Audience: General Reading Level: Middle School Teacher Section: Yes

California Newt -Taricha torosa
The California newt has brown warty skin.
Source: USGS Northern Prairie Wildlife Research Center Intended Audience: General Reading Level: Middle School Teacher Section: No

Caucasian Salamander - Mertensiella caucasica
The Caucasian salamander is found in Georgia and Turkey.
Source: Arkive Intended Audience: General Reading Level: Middle School Teacher Section: Yes

Caucasian Salamander - Mertensiella caucasica
The Caucasian salamander lives near small, shallow streams.
Source: Amphibiweb Intended Audience: General Reading Level: High School Teacher Section: No

Chinhai Spiny Salamander - Echinotriton chinhaiensis
The Chinhai spiny salamander is found in China.
Source: Arkive Intended Audience: General Reading Level: Middle School Teacher Section: Yes

Chinhai Spiny Salamander - Echinotriton chinhaiensis
The Chinhai spiny salamander lives on land and has a flattened body and head.
Source: Amphibiweb Intended Audience: General Reading Level: High School Teacher Section: No

Chinhai Spiny Salamander - Echinotriton chinhaiensis
When the Chinhai spiny salamander is grabbed by a predator, its long ribs poke out through its skin and inject a toxin into the mouth of the predator. Yikes!
Source: EDGE Intended Audience: General Reading Level: Middle School Teacher Section: No

Common Fire Salamander - salamandra salamandra
The common fire salamander is black with bright yellow spots.
Source: Arkive Intended Audience: General Reading Level: Middle School Teacher Section: Yes

Common Fire Salamander - salamandra salamandra
The common fire salamander is found throughout central and southern Europe. It is also found in North Africa.
Source: Animal Diversity Web Intended Audience: General Reading Level: Middle School Teacher Section: Yes

Common Fire Salamander - salamandra salamandra
The common fire salamander is found in forests.
Source: Amphibiweb Intended Audience: General Reading Level: High School Teacher Section: No

Danube Crested Newt - Triturus dobrogicus
The Danube crested newt is found in the valleys of the Danube and Tisza River systems.
Source: Arkive Intended Audience: General Reading Level: Middle School Teacher Section: Yes

Dayang Newt - Cynops orphicus
The Dayang newt is found in China.
Source: Arkive Intended Audience: General Reading Level: Middle School Teacher Section: Yes

Eastern Newt - Notophthalmus viridescens
The eastern newt is found in most of eastern North America from Canada south to Florida and Texas.
Source: Animal Diversity Web Intended Audience: General Reading Level: Middle School Teacher Section: Yes

Eastern Newt - Notophthalmus viridescens
The eastern newt is also known as the red eft when it is in its juvenile stage.
Source: Amphibiweb Intended Audience: General Reading Level: High School Teacher Section: No

Eastern Newt - Notophthalmus viridescens
When it is an adult, the eastern newt spend its time in the water.
Source: NH Fish and Game Intended Audience: General Reading Level: Middle School Teacher Section: No

Emperor Newt - Tylototriton shanjing
The emperor newt is found in China.
Source: Arkive Intended Audience: General Reading Level: Middle School Teacher Section: Yes

Emperor Newt - Tylototriton shanjing
The emperor newt is also known as the Yunnan newt.
Source: Amphibiweb Intended Audience: General Reading Level: High School Teacher Section: No

Golden-striped Salamander - Chioglossa lusitanica
The golden-striped salamander is found in Portugal and Spain in the northwestern part of the Iberian Peninsula.
Source: Arkive Intended Audience: General Reading Level: Middle School Teacher Section: Yes

Golden-striped Salamander - Chioglossa lusitanica
The golden-striped salamander lives along steams with moss-covered rocks and overhanging plants.
Source: Amphibiweb Intended Audience: General Reading Level: High School Teacher Section: No

Guangxi Warty Newt - Paramesotriton guanxiensis
The Guangxi warty newt is found in China.
Source: Arkive Intended Audience: General Reading Level: Middle School Teacher Section: Yes

Kurdistan Newt - Neurergus microspilotus
The Kurdistan newt is found the mountains of Iran, Iraq, and Turkey.
Source: Arkive Intended Audience: General Reading Level: Middle School Teacher Section: Yes

Kurdistan Newt - Neurergus microspilotus
The Kurdistan newt is found in shallow brooks and streams.
Source: Amphibiweb Intended Audience: General Reading Level: High School Teacher Section: No

Lake Urmia Newt - Neurergus crocatus
The Lake Urmia newt is found in Iran, Iraq, and Turkey.
Source: Arkive Intended Audience: General Reading Level: Middle School Teacher Section: Yes

Lanza's Alpine Salamander - Salamandra lanzai
Lanza's alpine salamander is found in France and Italy.
Source: Arkive Intended Audience: General Reading Level: Middle School Teacher Section: Yes

Lanza's Alpine Salamander - Salamandra lanzai
Lanza's alpine salamander can live up to 20 years of age.
Source: Amphibiweb Intended Audience: General Reading Level: High School Teacher Section: No

Luristan Newt - Neurergus kaiseri
The Luristan newt is found in the Zagros Mountains in Iran.
Source: Arkive Intended Audience: General Reading Level: Middle School Teacher Section: Yes

Luristan Newt - Neurergus kaiseri
The Luristan newt is black with creamy-white spots and a long white stripe centered with a yellow or orange stripe that runs down it back.
Source: Amphibiweb Intended Audience: General Reading Level: High School Teacher Section: No

Luristan Newt - Neurergus kaiseri
The Luristan newt's bright coloring probably warns predators that it is toxic!
Source: EDGE Intended Audience: General Reading Level: Middle School Teacher Section: No

Luschan's salamander - Lyciasalamandra atifi
Luschan's salamander is found in Turkey.
Source: Arkive Intended Audience: General Reading Level: Middle School Teacher Section: Yes

Lycian Salamander - Lyciasalamandra helverseni
The Lycian salamander is found in Greece.
Source: Arkive Intended Audience: General Reading Level: Middle School Teacher Section: Yes

North African Fire Salamander - Salamandra algira
The North African fire salamander is found in Algeria, Morocco, and Spain.
Source: Arkive Intended Audience: General Reading Level: Middle School Teacher Section: Yes

North African Fire Salamander - Salamandra algira
The North African fire salamander is black with bright yellow spots.
Source: Amphibiweb Intended Audience: General Reading Level: High School Teacher Section: No

Northern Crested Newt - Triturus cristasus
The northern crested newt is also known as the great crested newt. It is found across Europe and in parts of Africa.
Source: Arkive Intended Audience: General Reading Level: Middle School Teacher Section: Yes

Northern Crested Newt - Triturus cristasus
The male northern crested newt has a crest that runs down his back.
Source: Amphibiweb Intended Audience: General Reading Level: High School Teacher Section: No

Northern Spectacled Salamanders - Salamandrina perspicillata
The northern spectacled salamander is found in Italy.
Source: Arkive Intended Audience: General Reading Level: Middle School Teacher Section: Yes

Northern Spectacled Salamanders - Salamandrina perspicillata
The northern spectacled salamander lives in forests in hilly and mountainous areas.
Source: Amphibiweb Intended Audience: General Reading Level: High School Teacher Section: No

Oriental Fire-bellied Newt - Cynops orientalis
The oriental fire-bellied newt is found near the Yangtze River in China.
Source: Arkive Intended Audience: General Reading Level: Middle School Teacher Section: Yes

Oriental Fire-bellied Newt - Cynops orientalis
The oriental fire-bellied newt is often kept as a pet.
Source: Amphibiweb Intended Audience: General Reading Level: High School Teacher Section: No

Palmate Newt - Lissotriton helveticus
The palmate newt is found in western Europe.
Source: Arkive Intended Audience: General Reading Level: Middle School Teacher Section: Yes

Palmate Newt - Lissotriton helveticus
The palmate newt is about three inches in length.
Source: Amphibiweb Intended Audience: General Reading Level: High School Teacher Section: No

Pyrenean Brook Salamander - Calotriton asper
The Pyrenean Brook salamander is found in the Pyrenees Mountain region in France and Spain.
Source: Arkive Intended Audience: General Reading Level: Middle School Teacher Section: Yes

Red-bellied Newt -Taricha rivularis
The red-bellied newt is found in coastal forests and woodlands in northern California.
Source: Amphibiweb Intended Audience: General Reading Level: High School Teacher Section: No

Red-tailed Knobby Newt - Tylototriton kweichowensis
The red-tailed knobby newt is found in the Guizhou and Yunnan provinces of China.
Source: Arkive Intended Audience: General Reading Level: Middle School Teacher Section: Yes

Red-tailed Knobby Newt - Tylototriton kweichowensis
The red-tailed knobby newt gets its name from its reddish-orange tail.
Source: Amphibiweb Intended Audience: General Reading Level: High School Teacher Section: No

Rough-skinned Newt -Taricha granulosa
The rough-skinned newt is found along the Pacific coast of North America from Alaska to California.
Source: Animal Diversity Web Intended Audience: General Reading Level: Middle School Teacher Section: Yes

Rough-skinned Newt -Taricha granulosa
The rough-skinned newt is very poisonous.
Source: USGS Northern Prairie Wildlife Research Center Intended Audience: General Reading Level: Middle School Teacher Section: No

Sardinian Brook Salamander - Euproctus platycephalus
The Sardinian brook salamander is also known as the Sardinian mountain newt. It is found in Sardinia, Italy.
Source: Arkive Intended Audience: General Reading Level: Middle School Teacher Section: Yes

Sierra Newt -Taricha sierrae
The Sierra newt is found in California.
Source: Amphibiweb Intended Audience: General Reading Level: High School Teacher Section: No

Sharp-ribbed Salamander - Pleurodeles waltl
The sharp-ribbed salamander is found in Spain, Portugal, and Morocco.
Source: Arkive Intended Audience: General Reading Level: Middle School Teacher Section: Yes

Sharp-ribbed Salamander - Pleurodeles waltl
The sharp-ribbed salamander pokes its ribs through a series of yellow to orange wart-like spots on the side of its body to to deliver a toxin to predators.
Source: Amphibiweb Intended Audience: General Reading Level: High School Teacher Section: No

Smooth Newt - Lissotriton vulgaris
The smooth newt is also know as the common newt. It is found in most of Europe.
Source: Arkive Intended Audience: General Reading Level: Middle School Teacher Section: Yes

Southern Marbled Newt - Triturus pygmaeus
The southern marbled newt is found in the Iberian Peninsular in Portugal and Spain.
Source: Arkive Intended Audience: General Reading Level: Middle School Teacher Section: Yes

Striped Newt - Notophthalmus perstriatus
The striped newt is found in southeastern Georgia to northeastern Florida.
Source: Amphibiweb Intended Audience: General Reading Level: High School Teacher Section: No

Sword-tailed Newt - Cynops ensicauda
The sword-tailed newt is found in Japan.
Source: Arkive Intended Audience: General Reading Level: Middle School Teacher Section: Yes

Sword-tailed Newt - Cynops ensicauda
The sword-tailed newt is found in under leaf litter in both mountain and lowland forests. It also hunts for food in the water.
Source: Arkive Intended Audience: General Reading Level: Middle School Teacher Section: Yes

Tam Dao Salamander - Paramesotriton deloustali
The Tam Dao Salamander is found in Vietnam. It is also known as the Vietnamese salamander.
Source: Arkive Intended Audience: General Reading Level: Middle School Teacher Section: Yes

Wanggao Warty Newt - Paramesotriton fuzhongensis
The Wanggao warty newt is found in China.
Source: Arkive Intended Audience: General Reading Level: Middle School Teacher Section: Yes

Wenxian Knobby Newt - Tylototriton wenxianensis
The Wenxian knobby newt is found in China.
Source: Arkive Intended Audience: General Reading Level: Middle School Teacher Section: Yes

Yunnan Lake Newt - Cynops wolterstorffi
The Yunnan Lake newt was found in Kunming Lake in the Yunnan Plateau in China.
Source: Arkive Intended Audience: General Reading Level: Middle School Teacher Section: Yes

Yunnan Lake Newt - Cynops wolterstorffi
The last Yunnan Lake newt was seen in 1979.
Source: Amphibiweb Intended Audience: General Reading Level: High School Teacher Section: No


Yunnan Lake Newt - Cynops wolterstorffi
The Yunnan Lake newt population was impacted by pollution and habitat loss.
Source: EDGE Intended Audience: General Reading Level: Middle School Teacher Section: No