Sagittariidae - Secretary Bird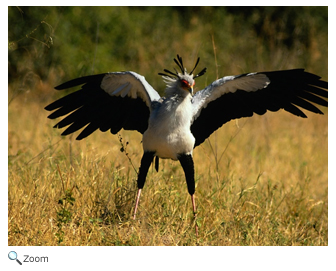 There is one species in this family. The secretary bird is found on the open steppes and savannahs of east Africa south of the Sahara Desert. It is a strange-looking bird! It stands about four feet tall and has very long legs that have feathers down to the knees. This makes the secretary bird look like it is wearing breeches! It is gray from its head to its chest. It has a black crest of feathers that runs down its back. It has black wing and tail feathers.

It has a curved gray bill edged in yellow and reddish-orange skin around its large eyes. It eats small mammals, large insects, young birds, lizards and snakes. It stomps its prey to death with its long legs. The secretary bird usually lives in pairs. It nests and roosts in trees and is a graceful flier and very good runner!
World Status Key


Least Concern

Near Threatened

Vulnerable

Endangered

Critically Endangered

Extinct in the Wild

Extinct
Status and range is taken from ICUN Redlist. If no status is listed, there is not enough data to establish status.
US Status Key


Threatened in US

Threatened in NH

Endangered in US

Endangered in NH

Breeds in NH

Introduced
Status taken from US Fish and Wildlife and NH Fish and Game
| | | |
| --- | --- | --- |
| New Hampshire Species | | North/Central American Species |
| None | | None |
Other Species Around the World

Africa Asia Australia/Oceania Europe North/Central America South America NH Species

Secretary Bird - Sagittarius serpentarius


Additional Information
Key:

Profile

Photos

Video

Audio
Secretary Bird - Sagittarius serpentarius





The secretary bird is also known as the long-legged marching eagle.
Source: San Diego Zoo Intended Audience: Students Reading Level: Middle School Teacher Section: Yes
Secretary Bird - Sagittarius serpentarius






The secretary bird is threatened by habitat loss.
Source: Arkive Intended Audience: General Reading Level: Middle School Teacher Section: Yes