| | | |
| --- | --- | --- |
| Rhyacotritonidae - Torrent Salamanders | | |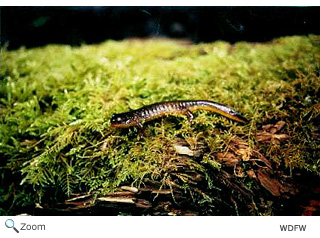 There are four species of small salamanders in this family. They are all found in the western United States in California, Oregon, and Washington, usually in the Cascade Mountains. They are 3-5 inches in length and have small heads, and short tails. They are usually brown with yellow undersides. The have 14-15 costal grooves.
Torrent salamanders live in cold, fast-moving brooks and streams in moist, coniferous, old growth forests. Both the adults and the larvae live in the water, but the adults may spend time on the forest floor. They are very sensitive to heat, and can die if the temperature is too high! Eggs are fertilized internally and the female lays single eggs in the water underneath stones. The larvae take up to four years to become adults.


World Status Key


Least Concern

Near Threatened

Vulnerable

Endangered

Critically Endangered

Extinct in the Wild

Extinct
Status and range is taken from ICUN Redlist. If no status is listed, there is not enough data to establish status.
US Status Key


Threatened in US

Threatened in NH

Endangered in US

Endangered in NH

Introduced
Status taken from US Fish and Wildlife and NH Fish and Game
Location


Africa

Asia

Australia/Oceania

Europe

North America

South America

NH

Click for More Info

Click for Image
New Hampshire Species

North American Species

None
Cascade Torrent Salamander - Hyacotriton cascadae 
Colombia Torrent Salamander -Rhyacotriton kezeri  
Olympic Torrent Salamander - Rhyacotriton olympicus 
Southern Torrent Salamander - Rhyacotriton variegatus 

Additional Information
Key:

Profile

Photos

Video

Audio
Cascade Torrent Salamander - Hyacotriton cascadae 





The Cascade torrent salamander is found on the western slopes of the Cascade Mountains in Washington and Oregon.
Source: AmphibiaWeb Intended Audience: General Reading Level: High School Teacher Section: No
Cascade Torrent Salamander - Hyacotriton cascadae 





The Cascade torrent salamander lives at the edges of clear, cold mountain streams.
Source: Burke Museum Intended Audience: General Reading Level: Middle School Teacher Section: Yes
Cascade Torrent Salamander - Hyacotriton cascadae 





The Cascade torrent salamander is a little under 4 inches in length.
Source: California Herps Intended Audience: General Reading Level: Middle School Teacher Section: No
Colombia Torrent Salamander -Rhyacotriton kezeri





The Colombia torrent salamander is found in the coastal mountains of southern Washington and northern Oregon.
Source: AmphibiaWeb Intended Audience: General Reading Level: High School Teacher Section: No
Colombia Torrent Salamander -Rhyacotriton kezeri





The Cascade torrent salamander has a dark orange-brown back and a yellow belly.
Source: Burke Museum Intended Audience: General Reading Level: Middle School Teacher Section: Yes
Colombia Torrent Salamander -Rhyacotriton kezeri





The Colombia torrent salamander is a little under 4 inches in length.
Source: California Herps Intended Audience: General Reading Level: Middle School Teacher Section: No

Olympic Torrent Salamander - Rhyacotriton olympicus 





The Olympic torrent salamander is found in the Olympic Peninsula in Washington.
Source: AmphibiaWeb Intended Audience: General Reading Level: High School Teacher Section: No
Olympic Torrent Salamander - Rhyacotriton olympicus 




The Olympic torrent salamander is found in coniferous forests in cold mountain streams.
Source: Arkive Intended Audience: General Reading Level: Middle School Teacher Section: Yes
Olympic Torrent Salamander - Rhyacotriton olympicus 





The Olympic torrent salamander has a short, rounded snout and large, bulging eyes.
Source: Burke Museum Intended Audience: General Reading Level: Middle School Teacher Section: Yes
Olympic Torrent Salamander - Rhyacotriton olympicus 





The Olympic torrent salamander is dark brown with a lighter yellowish-brown belly.
Source: California Herps Intended Audience: General Reading Level: Middle School Teacher Section: No
Olympic Torrent Salamander - Rhyacotriton olympicus 





The Olympic torrent salamander rarely found more than a few feet from the water.
Source: Animal Diversity Web Intended Audience: General Reading Level: Middle School Teacher Section: Yes

Southern Torrent Salamander - Rhyacotriton variegatus 





The southern torrent salamander is found from coastal Oregon south to northern California.
Source: AmphibiaWeb Intended Audience: General Reading Level: High School Teacher Section: No
Southern Torrent Salamander - Rhyacotriton variegatus 





The southern torrent salamander is found in shallow, cold, clear, well-shaded streams, waterfalls and seepages.
Source: California Herps Intended Audience: General Reading Level: Middle School Teacher Section: No