Rhinodermatidae - Darwin's Frogs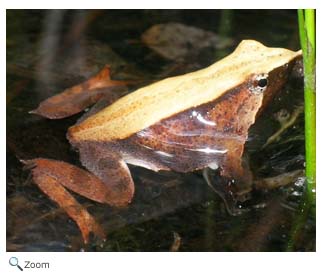 There are only three species in this family. They are small green frogs found the the forests of Argentina and Chile. The have triangular heads with a fleshy tip on the end of their snout that looks like a horn!
Darwin's frogs have an unusual behavior not seen in any other species of frog. After the female lays her eggs, the male guards them for two weeks. He then puts them in his mouth and carries them around in his vocal pouch! When the froglets are old enough to care for themselves, they hop out of the male's mouth!
Darwin's frogs were first recorded by Charles Darwin. Charles Darwin is famous for developing the theory of evolution.
World Status Key


Least Concern

Near Threatened

Vulnerable

Endangered

Critically Endangered

Extinct in Wild

Extinct
Status and range is taken from ICUN Redlist. If no status is listed, there is not enough data to establish status.
US Status Key


Threatened in US

Threatened in NH

Endangered in US

Endangered in NH

Introduced
Status taken from US Fish and Wildlife and NH Fish and Game
New Hampshire Species

North/Central American Species

None
None

Other Species Around the World

Africa Asia Australia Europe North America South America NH Click for More Info Click for Image


Barrio's Frog - Insuetophrynus acarpicus†
Darwin's Frog - Rhinoderma darwinii

Chile Darwin's Frog - Rhinoderma rufum †

Additional Information

Key: Profile Photos Video Audio

Barrio's Frog - Insuetophrynus acarpicus†
Barrio's frog is found in Chile.
Source: EDGE Intended Audience: General Reading Level: Middle School Teacher Section: No

Darwin's Frog - Rhinoderma darwinii
Darwin's frog is found in Argentina and Chile.
Source: AmphibiaWeb Intended Audience: General Reading Level: High School Teacher Section: No

Darwin's Frog - Rhinoderma darwinii
Darwin's frog has a triangular head with a sharply pointed snout.
Source: Animal Diversity Web Intended Audience: General Reading Level: Midlde School Teacher Section: Yes

Darwin's Frog - Rhinoderma darwinii
Male Darwin's frogs brood their young tadpoles in their enlarged vocal sacs.
Source: BBC Intended Audience: General Reading Level: Midlde School Teacher Section: No

Darwin's Frog - Rhinoderma darwinii
When the tadpoles become frogs, they emerge from their father's mouth.
Source: National Geographic Intended Audience: General Reading Level: NA Teacher Section: No

Chile Darwin's Frog - Rhinoderma rufum †
Darwin's frog is found in Chile.
Source: AmphibiaWeb Intended Audience: General Reading Level: High School Teacher Section: No

Chile Darwin's Frog - Rhinoderma rufum
The Chile Darwin's frog has not been seen since 1980.
Source: EDGE Intended Audience: General Reading Level: Middle School Teacher Section: No

Chile Darwin's Frog - Rhinoderma rufum
Habitat destruction and disease may be responsible for the decline and possible extinction of the Chile Darwin's frog.
Source: Arkive Intended Audience: General Reading Level: Middle School Teacher Section: Yes