Platacanthomyidae - Malabar spiny dormouse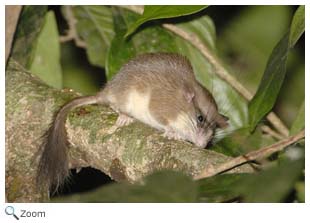 There are two species in this family. They are found in China, Vietnam, and India.

They have mouse-like bodies; long, furry tails with stiff hairs at the end; and round ears. They are found in tropical and subtropical forests.
The Malabar spiny dormouse is found in old growth rainforests in southwestern India. It is nine inches in length. Four of those inches is its tail! It has soft brownish-gray fur and long pointed ears, It is nocturnal and spends most of its time in the trees. It lives in small family groups in tree cavities. It eats fruits and nuts.
The Chinese pygmy dormouse is found in China and Vietnam. It is also known as the sort-furred tree mouse. Its body is 2.5-3.5 inches in length and its tail is 4-5 inches long. It is dark gray on its uppersides and light gray on its undersides. Its long tail gray tail has a brushy white tip.
World Status Key


Least Concern

Near Threatened

Vulnerable

Endangered

Critically Endangered

Extinct in Wild

Extinct
Status and range is taken from ICUN Redlist. If no status is listed, there is not enough data to establish status.
US Status Key


Threatened in US

Threatened in NH

Endangered in US

Endangered in NH

Introduced
Status taken from US Fish and Wildlife and NH Fish and Game
| | | |
| --- | --- | --- |
| New Hampshire Species | | North/Central American Species |
| None | | None |
Other Species Around the World

Africa Asia Australia/Oceania Europe North America South America NH Species

Malabar Spiny Tree Mouse - Platacanthomys lasiurus


Chinese Pygmy Dormouse - Typhlomys cinereus
Additional Information
Key:

Profile

Photos

Video

Audio
Malabar Spiny Tree Mouse - Platacanthomys lasiurus





The Malabar spiny tree mouse is found in rocky forested areas in the mountains of the Western Ghats in India.
Source: Animal Diversity Web Intended Audience: General Reading Level: Middle School Teacher Section: Yes
Chinese Pygmy Dormouse - Typhlomys cinereus




The Chinese pygmy dormouse is also known as the Chapa pygmy dormouse.
Source: EDGE Intended Audience: General Reading Level: Middle School Teacher Section: No