Pipidae - tongueless frogs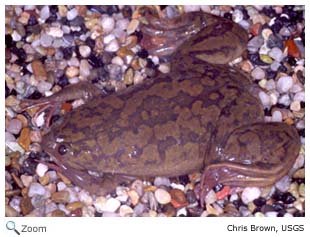 There are 32 species of aquatic frogs in this family. They are found in South America and Sub-Saharan Africa.
They have webbed feet, no tongue, and claws on one or more of their toes! The frogs in this family rarely come out of the water! They even have a special adaptation in their ears that allow them to hear under water.
Just like fish, the frogs in this family have a lateral line on the sides of their body that helps them sense motion in the water!
The African clawed frog has been introduced in North America. Populations of African clawed frogs have been reported in Arizona, California, Colorado, Florida, Louisiana, Nevada, New Mexico, North Carolina, Virginia, Wisconsin, and Wyoming. They were used in human pregnancy tests in the 1940s and 1950s. When a female African clawed frogs is injected with the urine of a pregnant woman, she begins laying eggs. When better techniques were discovered for determining if a woman was pregnant, the African clawed frogs were released into the wild. They were also introduced when people who kept them as pets released them, or when they escaped.
World Status Key


Least Concern

Near Threatened

Vulnerable

Endangered

Critically Endangered

Extinct in Wild

Extinct
Status and range is taken from ICUN Redlist. If no status is listed, there is not enough data to establish status.
US Status Key


Threatened in US

Threatened in NH

Endangered in US

Endangered in NH

Introduced
Status taken from US Fish and Wildlife and NH Fish and Game
New Hampshire Species

North/Central American Species

None
African Clawed Frog - Xenopus laevis
Myers' Surinam Toad - Pipa myersi
Surinam Toad - Pipa pipa

Other Species Around the World

Africa Asia Australia/Oceania Europe North America South America NH Species

Congo Dwarf Clawed Frog - Hymenochirus boettgeri
Eastern Dwarf Clawed Frog - Hymenochirus boulengeri
Western Dwarf Clawed Frog - Hymenochirus curtipes
Gaboon Dwarf Clawed Frog - Hymenochirus feae
Arrabal's Surinam Toad - Pipa arrabali
Albina Surinam Toad - Pipa aspera
Carvalho's Surinam Toad - Pipa carvalhoi
Myers' Surinam Toad - Pipa myersi
Rana De Celdillas Zuliana - Pipa parva
Surinam Toad - Pipa pipa
Utinga Surinam Toad - Pipa snethlageae
Melin's Dwarf Gray Frog - Pseudhymenochirus merlini
Cameroon Clawed Frog - Silurana epitropicalis
Tropical Clawed Frog - Silurana tropicalis
Volcano Clawed Frog - Xenopus amieti
Andre's Clawed Frog - Xenopus andrei

Marsabit Clawed Frog - Xenopus borealis
Mawa Clawed Frog - Xenopus boumbaensis
Peracca's Clawed Frog - Xenopus clivii
Fraser's Clawed Frog - Xenopus fraseri
Gill's Platanna - Xenopus gilli
Itombwe Massif Clawed Frog - Xenopus itombwensis
African Clawed Frog - Xenopus laevis
Largen's Clawed Frog - Xenopus largeni
Lake Oku Clawed Frog - Xenopus longipes
Muller's Platanna - Xenopus muelleri
Peters' Platanna - Xenopus petersii
Bouchia Clawed Frog - Xenopus pygmaeus
Uganda Clawed Frog - Xenopus ruwenzoriensis
Kivu Clawed Frog - Xenopus vestitus
Mwanza Frog - Xenopus victorianus
De Witte's Clawed Frog - Xenopus wittei

Additional Information

Key: Profile Photos Video Audio

African Clawed Frog - Xenopus laevis
African clawed frogs live in warm, stagnant grassland ponds as well as in streams in arid and semi-arid regions.
Source: Animal Diversity Web Intended Audience:General Reading Level: Middle School

African Clawed Frog - Xenopus laevis
African clawed frogs have the ability to change their appearance to match their background.
Source: National Zoo Intended Audience: General Reading Level: Middle School

African Clawed Frog - Xenopus laevis
The African clawed frog is the vertebrate most widely used for developmental, cell, and molecular biology research.
Source: Colombia University Intended Audience: General Reading Level: High School

Arrabal's Surinam Toad - Pipa arrabali
Arrabal's Surinam toad is found in eastern Venezuela, Guyana, Surinam, and northern and central Brazil.
Source: Amphibiweb Intended Audience: General Reading Level: Middle School

Bouchia Clawed Frog - Xenopus pygmaeus
The Bouchia clawed frog is found in the Central African Republic, Congo, and Uganda.
Source: Amphibiweb Intended Audience: General Reading Level: Middle School

Carvalho's Surinam Toad - Pipa carvalhoi
Carvalho's Surinam Toad is found in Brazil.
Source: Amphibiweb Intended Audience: General Reading Level: Middle/High School

Congo Dwarf Clawed Frog - Hymenochirus boettgeri
The Congo dwarf clawed frog is found in Cameroon, Central African Republic, The Democratic Republic of the Congo, Equatorial Guinea, Gabon,and Nigeria.
Source: Amphibiweb Intended Audience: General Reading Level: Middle/High School

De Witte's Clawed Frog - Xenopus wittei
De Witte's clawed frog is found in The Democratic Republic of the Congo, Rwanda, and Uganda.
Source: Amphibiweb Intended Audience: General Reading Level: Middle/High School

Fraser's Clawed Frog - Xenopus fraseri
Fraser's clawed frog is found in Angola, Cameroon, Central African Republic, Congo, The Democratic Republic of the Congo, Equatorial Guinea, and Gabon.
Source: Amphibiweb Intended Audience: General Reading Level: Middle/High School

Gill's Platanna - Xenopus gilli
Gill's platanna is also known as the Cape platanna.
Source: Arkive Intended Audience: General Reading Level: Middle School

Gill's Platanna - Xenopus gilli
Gill's platanna is found in in the highly acidic black lakes found in the Cape Floral Kingdom of South Africa.
Source: Amphibiweb Intended Audience: General Reading Level: Middle/High School

Itombwe Massif Clawed Frog - Xenopus itombwensis
The Itombwe Massif clawed frog is found in The Democratic Republic of the Congo.
Source: Arkive Intended Audience: General Reading Level: Middle School

Kivu Clawed Frog - Xenopus vestitus
The Kivu clawed frog is found in the mountains in The Democratic Republic of the Congo, Rwanda, and Uganda.
Source: Amphibiweb Intended Audience: General Reading Level: Middle/High School

Lake Oku Clawed Frog - Xenopus longipes
The Lake Oku clawed frog is only found in Lake Oku on Mount Oku in western Cameroon.
Source: Amphibiweb Intended Audience: General Reading Level: Middle/High School

Lake Oku Clawed Frog - Xenopus longipes
The Lake Oku clawed frog is also known as the Savannah clawed frog.
Source: Arkive Intended Audience: General Reading Level: Middle School

Lake Oku Clawed Frog - Xenopus longipes
The Lake Oku clawed frog has 12 sets of chromosomes. Most other species have two sets of chromosomes.
Source: EDGE Intended Audience: General Reading Level: Middle School

Largen's Clawed Frog - Xenopus largeni
Largen's clawed frog is only found in two sites in the mountains east of the Rift Valley in Ethiopia.
Source: Amphibiweb Intended Audience: General Reading Level: Middle/High School

Marsabit Clawed Frog - Xenopus borealis
The Marsabit clawed frog is found in Kenya and Tanzania.
Source: Amphibiweb Intended Audience: General Reading Level: Middle/High School

Mawa Clawed Frog - Xenopus boumbaensis
The Mawa clawed frog is found in Cameroon.
Source: Amphibiweb Intended Audience: General Reading Level: Middle/High School

Muller's Platanna - Xenopus muelleri
The Muller's platanna is found in Angola, Benin, Botswana, Burkina Faso, Cameroon, Central African Republic, Chad, Congo, The Democratic Republic of the Congo, Côte d'Ivoire, Ghana, Kenya, Malawi, Mozambique, Namibia, Nigeria, South Africa, Sudan, Swaziland, Tanzania, Togo, Uganda, Zambia, and Zimbabwe.
Source: Amphibiweb Intended Audience: General Reading Level: Middle/High School

Mwanza Frog - Xenopus victorianus
The Mwanza frog is found in Burundi, The Democratic Republic of the Congo, Kenya, Rwanda, Sudan, Tanzania, and Uganda.
Source: Amphibiweb Intended Audience: General Reading Level: Middle/High School

Myers' Surinam Toad - Pipa myersi
Myers' Surinam toad is found in Panama.
Source: Amphibiweb Intended Audience: General Reading Level: Middle/High School

Myers' Surinam Toad - Pipa myersi
Myers' Surinam toad splays its limbs out to its sides when it is in a resting position.
Source: EDGE Intended Audience: General Reading Level: Middle/High School

Peracca's Clawed Frog - Xenopus clivii
Peracca's clawed frog is found in Eritrea, Ethiopia, Kenya, and Sudan.
Source: Amphibiweb Intended Audience: General Reading Level: Middle/High School

Peters' Platanna - Xenopus petersii
Peters' platanna is found in Angola, Botswana, Congo, The Democratic Republic of the Congo, Gabon, Namibia, Zambia, and Zimbabwe.
Source: Amphibiweb Intended Audience: General Reading Level: Middle/High School

Rana De Celdillas Zuliana - Pipa parva
Rana De Celdillas Zuliana is found in Colombia, and Venezuela.
Source: Amphibiweb Intended Audience: General Reading Level: Middle/High School

Surinam Toad - Pipa pipa
The Surinam toad is found in Bolivia, Brazil, Colombia, Ecuador, French Guiana, Guyana, Peru, Suriname, Trinidad and Tobago, and Venezuela.
Source: Arkive Intended Audience: General Reading Level: Middle School

Surinam Toad - Pipa pipa
The Surinam toad lives in murky ponds and swamps.
Source: Animal Diversity Web Intended Audience: General Reading Level: Middle School

Surinam Toad - Pipa pipa
The Surinam toad female carries her eggs on her back.
Source: Honolulu Zoo Intended Audience: General Reading Level: Middle School

Surinam Toad - Pipa pipa
The Surinam toad has a large triangular head and a flat brown body.
Source: Amphibiweb Intended Audience: General Reading Level: Middle/High School

Uganda Clawed Frog - Xenopus ruwenzoriensis
The Uganda clawed frog is found in Uganda.
Source: Amphibiweb Intended Audience: General Reading Level: Middle/High School

Utinga Surinam Toad - Pipa snethlageae
The Utinga Surinam toad is found in Brazil, Colombia, and Peru.
Source: Amphibiweb Intended Audience: General Reading Level: Middle/High School

Volcano Clawed Frog - Xenopus amieti
The volcano clawed frog is found in Cameroon.
Source: Amphibiweb Intended Audience: General Reading Level: Middle/High School

Western Dwarf Clawed Frog - Hymenochirus curtipes
The western dwarf clawed frog is found in Congo, and The Democratic Republic of the Congo.
Source: Amphibiweb Intended Audience: General Reading Level: Middle/High School