Phoenicopteridae - Flamingos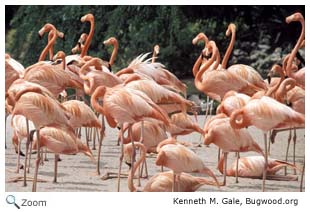 There are six species of flamingo in this family. Four species are found in the New World and two species, the greater and the lesser flamingo, are found in the Old World.

Flamingos are large wading birds. They have long legs, long necks, and large down-curved bills. Flamingos frequently stand on one leg. They tuck their other leg beneath their body. Scientist aren't quite sure why they do this. Some think that is is a way for the flamingo to conserve energy.

Adult flamingos range in color from light pink to pinkish red. Their color comes from alpha and beta carotenoid pigments in the food that they eat. (Carotenoid are the pigments found in carrots!) Flamingos in zoos are not a brightly colored as flamingos in the wild because it is difficult for zoos to get their diet just exactly the same as it is in the wild. Flamingos filter feed on red algae, blue-green algae, small insects, crustaceans, mollusks, and small fishes. Flamingos feed by standing in shallow water and bending their head so that their bill is upside down in the water. They then sweep their head from side-to-side to collect food from the water or the mud.

Flamingos are very social and live in large colonies that can contain hundreds, even thousands of birds.

Phoenicopteridae Photo Gallery
World Status Key


Least Concern

Near Threatened

Vulnerable

Endangered

Critically Endangered

Extinct in Wild

Extinct
Status and range is taken from ICUN Redlist. If no status is listed, there is not enough data to establish status.
US Status Key


Threatened in US

Threatened in NH

Endangered in US

Endangered in NH

Introduced
Status taken from US Fish and Wildlife and NH Fish and Game
| | | |
| --- | --- | --- |
| New Hampshire Species | | North/Central American Species |
| None | | American Flamingo - Phoenicopterus ruber |
Species Around the World

Location Key
Africa Antarctica Asia Australia/Oceania Europe North America South America NH

Lesser Flamingo - Phoeniconaias minor
Andean Flamingo - Phoenicoparrus andinus
Puna Flamingo - Phoenicoparrus jamesi

Chilean Flamingo - Phoenicopterus chilensis
Greater Flamingo - Phoenicopterus roseus
Additional Information
Resource Key


Profile

Photos

Video

Audio

Interactive
Flamingos -



Flamingos have little or no sense of smell. Learn more in this online book!
Source: SeaWorld Animal Bytes Intended Audience: Students Reading Level: Elementary/Middle School
Flamingos -



In order to fly, flamingos need to run a few paces to gather speed.
Source: San Diego Zoo Intended Audience: Students Reading Level: Elementary/Middle School
Flamingo Specialist Group -




Get the latest flamingo news and information from this group of flamingo specialists dedicated to the study, monitoring, management and conservation of the world's six flamingo species.
Source: Flamingo Specialist Group Intended Audience: General Reading Level: Middle School
American Flamingo - Phoenicopterus ruber







The American flamingo is also known as the Caribbean flamingo. It is found on the north coast of South America, the Yucatan Peninsula in Mexico, and a number of Caribbean islands. It is occasionally found in southern Florida, but it does not breed there.
Source: Arkive Intended Audience: General Reading Level: Middle School
American Flamingo - Phoenicopterus ruber







Some scientists consider the great flamingo and the American flamingo to be subspecies of the same species. The greater flamingo is similar in size to the American flamingo, but is not as brilliantly pink.
Source: National Zoo Intended Audience: General Reading Level: Middle School
American Flamingo - Phoenicopterus ruber






In the wild, the American flamingo only breeds when there is plenty of rainfall and food.
Source: Honolulu Zoo Intended Audience: General Reading Level: Middle School
American Flamingo - Phoenicopterus ruber






Flamingos excrete salt through glands in their noses.
Source: Bronx Zoo Intended Audience: General Reading Level: Middle School
American Flamingo - Phoenicopterus ruber







Once a pair of flamingos breeds, both male and female help build mound of mud about a foot high as a nest.
Source: St. Louis Zoo Intended Audience: General Reading Level: Middle School
American Flamingo - Phoenicopterus ruber






The American flamingo usually lives 20 to 30 years in the wild and can live as long as 50 years.
Source: Lincoln's Children's Zoo Intended Audience: General Reading Level: Middle School
American Flamingo - Phoenicopterus ruber






Both male and female flamingos nurse their young with a type of milk called crop milk.
Source: Audubon Nature Institute Intended Audience: General Reading Level: Elementary School
American Flamingo - Phoenicopterus ruber






The American flamingo is also known as the Caribbean flamingo. It is gray for the first year of its life.
Source: Philadelphia Zoo Intended Audience: General Reading Level: Elementary School
American Flamingo - Phoenicopterus ruber






The American flamingo has orange eyes, a very long neck, and long, pink legs with big, pink, webbed feet.
Source: Enchanted Learning Intended Audience: Students Reading Level: Elementary School
Andean Flamingo - Phoenicoparrus andinus






The Andean flamingo is found in mountainous areas of Peru, Chile, Bolivia, and Argentina.
Source: Arkive Intended Audience: General Reading Level: Middle School
Andean Flamingo - Phoenicoparrus andinus





The Andean flamingo is found on high mountain alkaline and salt lakes.
Source:BirdLife International Intended Audience: General Reading Level: High School
Andean Flamingo - Phoenicoparrus andinus





The Andean flamingo population has been threatened by drought.
Source: Animal Diversity Web Intended Audience: General Reading Level: Middle School
Chilean Flamingo - Phoenicopterus chilensis





The Chilean flamingo is found in Argentina, Bolivia, Brazil, Chile, Paraguay, Peru, and Uruguay.
Source: Arkive Intended Audience: General Reading Level: Middle School
Chilean Flamingo - Phoenicopterus chilensis






The Chilean flamingo has pink "knees" and grayish legs.
Source: Internet Bird Collection Intended Audience: General Reading Level: Middle
Chilean Flamingo - Phoenicopterus chilensis




Check out this mating dance of the Chilean flamingos
Source: PBS Nature Intended Audience: General Reading Level: N/A
Chilean Flamingo - Phoenicopterus chilensis





Chilean flamingos commonly live with Andean and James' or Puna flamingos.
Source: Woodland Park Zoo Intended Audience: General Reading Level: Middle
Chilean Flamingo - Phoenicopterus chilensis





You won't find Chilean flamingos in lakes with lots of fish; they don't like the competition for food!
Source: Phoenix Zoo Intended Audience: General Reading Level: Middle
Chilean Flamingo - Phoenicopterus chilensis






The Chilean flamingo has pinkish white plumage with black feathers underneath its wings, and long pale green legs.
Source: Los Angeles Zoo Intended Audience: General Reading Level: Middle
Chilean Flamingo - Phoenicopterus chilensis






Chilean flamingo dips its head underwater and scoops food with its bill upside-down.
Source: Monterey Bay Aquarium Intended Audience: General Reading Level: Middle
Greater Flamingo - Phoenicopterus roseus








The greater flamingo is found across Africa, southern Europe, the Middle East, and into southern and southwestern Asia.
Source: Arkive Intended Audience: GeneralReading Level: Middle School
Greater Flamingo- Phoenicopterus roseus







Greater flamingos live in large colonies, oftentimes numbering into the thousands of individuals.
Source: Animal Diversity Web Intended Audience: General Reading Level: Middle School
Greater Flamingo- Phoenicopterus roseus







Male and female flamingos court each other with a variety of display behaviors that involve head movements, wing displays, and vocalizations.
Source: Internet Bird Collection Intended Audience: General Reading Level: Middle School
Greater Flamingo - Phoenicopterus roseus








The greater flamingo is 36-50 inches tall with a wingspan of 60 inches.
Source: National Geographic Intended Audience: General Reading Level: Middle School
Greater Flamingo - Phoenicopterus roseus







Male and female greater flamingo pairs mate for life.
Source: Bristol Zoo Intended Audience: Students Reading Level: Middle School
Greater Flamingo - Phoenicopterus roseus







The knobby "backwards knee" that you see on the flamingo's leg is actually the ankle.
Source: Los Angeles Zoo Intended Audience: Students Reading Level: Middle School
Lesser Flamingo - Phoeniconaias minor







The lesser flamingo is found in Angola, Botswana, Burundi, Cameroon,The Democratic Republic of the Congo, Djibouti, Eritrea, Ethiopia, Gabon, Gambia, Guinea, Guinea-Bissau, India, Kenya, Lesotho, Madagascar, Malawi, Mauritania, Mozambique, Namibia, Pakistan, Senegal, Sierra Leone, South Africa, Sudan, Tanzania, Uganda, Yemen, Zambia, and Zimbabwe.
Source: Arkive Intended Audience: General Reading Level: Middle School
Lesser Flamingo - Phoeniconaias minor





The lesser flamingo is found on tropical alkaline and saline lakes.
Source: Sea World Animal Bytes Intended Audience: General Reading Level: Middle School
Lesser Flamingo - Phoeniconaias minor







The lesser flamingo is the smallest flamingo species.
Source: Internet Bird Collection Intended Audience: General Reading Level: Middle School
Puna Flamingo - Phoenicoparrus jamesi






The Puna flamingo is also known as the James flamingo. It is found in the Andes, from the southern tip of Peru through western Bolivia and northwestern Argentina to northern Chile.
Source: Arkive Intended Audience: General Reading Level: Middle School
Puna Flamingo - Phoenicoparrus jamesi





The Puna flamingo has a bright yellow bill with black tip, deep crimson patches around its eyes, and red legs.
Source: Animal Diversity Web Intended Audience: General Reading Level: Middle School