Pelobatidae - European spadefoot toads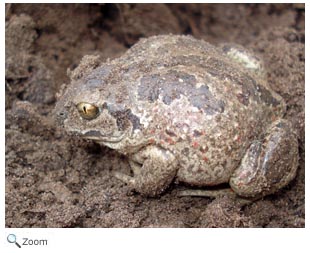 There are four species in this family. Spadefoot toads get their name from the hard, sharp, bony "spade" on their hind feet. they use this spade to dig backwards into sandy soil to create burrows.
European spadefoot toads have round, stocky bodies; short, rounded snouts; large, bulging eyes; and smooth skin. They are usually a dull gray or brown in color.
European spadefoot toads are found in Europe, western Asia, and northwestern Africa. There is a family of spadefoot toads found in North America that was once part of this family. They are now placed in their own family, Scaphiopodidae.
World Status Key


Least Concern

Near Threatened

Vulnerable

Endangered

Critically Endangered

Extinct in Wild

Extinct
Status and range is taken from ICUN Redlist. If no status is listed, there is not enough data to establish status.
US Status Key


Threatened in US

Threatened in NH

Endangered in US

Endangered in NH

Breeds N.H.

Introduced
Status taken from US Fish and Wildlife and NH Fish and Game
| | | |
| --- | --- | --- |
| New Hampshire Species | | North/Central American Species |
| None | | None |
Other Species Around the World

Africa Antarctica Asia Australia/Oceania Europe North America South America NH



Western Spadefoot - Pelobates cultripes
Common Spadefoot - Pelobates fuscus
Eastern Spadefoot - Pelobates syriacus
Varaldi's Spadefoot Toad - Pelobates varaldii
Additional Information
Key:

Profile

Photos

Video

Audio
Common Spadefoot - Pelobates fuscus







The common spadefoot is found in Austria, Belarus, Belgium, Bosnia and Herzegovina, Bulgaria, Croatia, Czech Republic, Denmark, Estonia, France, Germany, Hungary, Italy, Kazakhstan, Latvia, Lithuania, Moldova, Netherlands, Poland, Romania, Russia, Serbia, Slovakia, Slovenia, Sweden, and Ukraine.
Source: Amphibia Web Intended Audience: General Reading Level: High School Teacher Section: No
Eastern Spadefoot - Pelobates syriacus







The eastern spadefoot is found Armenia; Azerbaijan; Bulgaria; Georgia; Greece; Iran, Israel; Lebanon; Macedonia, Romania; Russia; Serbia; Syria; and Turkey.
Source: Amphibia Web Intended Audience: General Reading Level: High School Teacher Section: No
Varaldi's Spadefoot Toad - Pelobates varaldii




Varaldi's spadefoot is found in Morocco.
Source: Arkive Intended Audience: General Reading Level: Middle School Teacher Section: Yes
Varaldi's Spadefoot Toad - Pelobates varaldii





Varaldi's spadefoot is also known as the Moroccan spadefoot. It is only active in the fall and winter. It stays in it burrow in the spring and summer.
Source: EDGE Intended Audience: General Reading Level: Middle School Teacher Section: No

Western Spadefoot - Pelobates cultripes




The western spadefoot is found in France, Portugal, and Spain.
Source: Arkive Intended Audience: General Reading Level: Middle School Teacher Section: Yes
Western Spadefoot - Pelobates cultripes






The western spadefoot male is smaller than the female.
Source: Amphibia Web Intended Audience: General Reading Level: High School Teacher Section: No