Pardalotidae - Pardalotes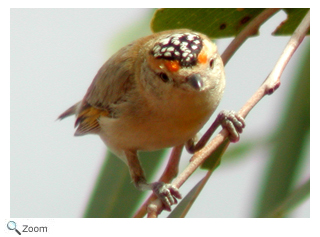 There are four bird species in this family. They are found in Australia and are sometimes known as Australian warblers.

Pardalotes are small, brightly-colored birds with short legs; short, black bills; and stubby tails. They eat insects and spiders.

Except when they are breeding, pardalotes are usually found high up in eucalyptus trees hunting for food. They nest in tree hollows or in holes they make in earthen banks.

Pardalotidae Photo Gallery
World Status Key


Least Concern

Near Threatened

Vulnerable

Endangered

Critically Endangered

Extinct in Wild

Extinct
Status and range is taken from ICUN Redlist. If no status is listed, there is not enough data to establish status.
US Status Key


Threatened in US

Threatened in NH

Endangered in US

Endangered in NH

Introduced
Status taken from US Fish and Wildlife and NH Fish and Game
| | | |
| --- | --- | --- |
| New Hampshire Species | | North/Central American Species |
| None | | None |
Other Species Around the World

Africa Asia Australia/Oceania Europe North America South America NH



Spotted Pardalote - Pardalotus punctatus
Forty-spotted Pardalote - Pardalotus quadragintus
Red-browed Pardalote - Pardalotus rubricatus
Striated Pardalote - Pardalotus striatus
Additional Information
Key:

Profile

Photos

Video

Audio
Forty-spotted Pardalote - Pardalotus quadragintus





The forty-spotted pardalote is found in Tasmania.
Source: Arkive Intended Audience: General Reading Level: Middle School
Forty-spotted Pardalote - Pardalotus quadragintus




The forty-spotted pardalote has as many as 60 white spots on its wings.
Source: Internet Bird Collection Intended Audience: General Reading Level: Middle School
Forty-spotted Pardalote - Pardalotus quadragintus







The forty-spotted pardalote is one of the smallest birds in Australia.
Source: Tasmania Online Intended Audience: General Reading Level: Middle School
Forty-spotted Pardalote - Pardalotus quadragintus





The forty-spotted pardalote population is endnagered due to habitat loss.
Source: BirdLife International Intended Audience: General Reading Level: High School
Red-browed Pardalote - Pardalotus rubricatus




The red-browed pardalote is found in Australia.
Source: Internet Bird Collection Intended Audience: General Reading Level: Middle School
Spotted Pardalote - Pardalotus punctatus





The spotted pardalote is found in Australia.
Source: Internet Bird Collection Intended Audience: General Reading Level: Middle School
Striated Pardalote - Pardalotus striatus






The striated pardalote is found in Australia.
Source: Internet Bird Collection Intended Audience: General Reading Level: Middle School