Ochotonidae - pikas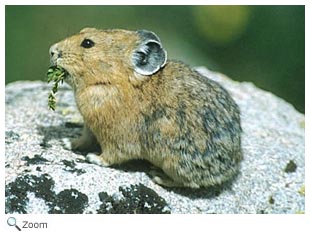 There are about 30 species in this family. They are found in cold, mountainous areas of western North America and Asia.
Pikas look like hamsters or guinea pigs. They have round bodies; short, rounded ears; no tails; and short legs. They have soft, gray or brown fur.
Pikas are herbivores and eat grasses and sedges. They are active during the day and do not hibernate. Some species store food in large piles or "haystacks" to eat later!
World Status Key


Least Concern

Near Threatened

Vulnerable

Endangered

Critically Endangered

Extinct in Wild

Extinct
Status and range is taken from ICUN Redlist. If no status is listed, there is not enough data to establish status.
US Status Key


Threatened in US

Threatened in NH

Endangered in US

Endangered in NH

Introduced
Status taken from US Fish and Wildlife and NH Fish and Game
New Hampshire Species

North/Central American Species

None



Collared Pika - Ochotona collaris
American Pika - Ochotona princeps
Other Species Around the World

Africa Asia Australia/Oceania Europe North America South America NH Species

Alpine Pika - Ochotona alpina
Silver Pika - Ochotona argentata
Gansu Pika - Ochotona cansus
Collared Pika - Ochotona collaris
Plateau Pika - Ochotona curzoniae
Daurian Pika - Ochotona dauurica
Chinese Red Pika - Ochotona erythrotis
Forrest's Pika - Ochotona forresti
Gaoligong Pika - Ochotona gaoligongensis
Glover's Pika - Ochotona gloveri
Himalayan Pika - Ochotona himalayana
Hoffmann's Pika - Ochotona hoffmanni
Tsing-ling Pika - Ochotona huangensis
Northern Pika - Ochotona hyperborea
Ili Pika - Ochotona iliensis
Kozlov's Pika - Ochotona koslowi
Ladak Pika - Ochotona ladacensis
Large-eared Pika - Ochotona macrotis
Muli Pika - Ochotona muliensis
Black Pika - Ochotona nigritia
Nubra Pika - Ochotona nubrica
Pallas's Pika - Ochotona pallasi
American Pika - Ochotona princeps
Steppe Pika - Ochotona pusilla
Royle's Pika - Ochotona roylei
Afghan Pika - Ochotona rufescens
Turkestan Red Pika - Ochotona rutila
Moupin Pika - Ochotona thibetana
Thomas's Pika - Ochotona thomasi
Turuchan Pika - Ochotona turuchanensis
Additional Information
Key:

Profile

Photos

Video

Audio
Afghan Pika - Ochotona rufescens





The Afghan pika is found in Afghanistan, Iran, Pakistan, and Turkmenistan.
Source: Animal Diversity Web Intended Audience: General Reading Level: Middle School
American Pika - Ochotona princeps






The American pika is found in Alberta and British Columbia in Canada and California, Colorado, Idaho, Montana, Nevada, New Mexico, Oregon, Utah, Washington, and Wyoming in the United States.
Source: Arkive Intended Audience: General Reading Level: Middle School
American Pika - Ochotona princeps





American pikas communicate with vocalizations and scent markings.
Source: Animal Diversity Web Intended Audience: General Reading Level: Middle School
American Pika - Ochotona princeps





American pikas spend a good part of there day sitting around and looking at their surroundings.
Source: Smithsonian National Museum of Natural History Intended Audience: General Reading Level: Middle School
Collared Pika - Ochotona collaris





the collared pika is found in British Columbia , Northwest Territories, and Yukon in Canada and in Alaska in the United States.
Source: Smithsonian National Museum of Natural History Intended Audience: General Reading Level: Middle School
Gansu Pika - Ochotona cansus





The Gansu pika is found in China.
Source: Animal Diversity Web Intended Audience: General Reading Level: Middle School
Large-eared Pika - Ochotona macrotis





The large-eared pika is found in Afghanistan, Bhutan, China, India, Kazakhstan, Kyrgyzstan, Nepal, Pakistan, and Tajikistan.
Source: Animal Diversity Web Intended Audience: General Reading Level: Middle School
Northern Pika - Ochotona hyperborea





The northern pika is found in China, Japan , North Korea, Mongolia, and Russia.
Source: Animal Diversity Web Intended Audience: General Reading Level: Middle School
Plateau Pika - Ochotona curzoniae





The plateau pika is found in China, India, and Nepal.
Source: Arkive Intended Audience: General Reading Level: Middle School
Plateau Pika - Ochotona curzoniae





The plateau pika is also known as the black-lipped pika.
Source: Animal Diversity Web Intended Audience: General Reading Level: Middle School
Pallas's Pika - Ochotona pallasi





Pallas's pika is found in China, Kazakhstan, Mongolia, and Russia.
Source: Animal Diversity Web Intended Audience: General Reading Level: Middle School
Royle's Pika - Ochotona roylei




Royle's pika is found in China, India, Nepal, and Pakistan
Source: Arkive Intended Audience: General Reading Level: Middle School
Steppe Pika - Ochotona pusilla





The steppe pika is found in Kazakhstan and Russia.
Source: Animal Diversity Web Intended Audience: General Reading Level: Middle School
Turkestan Red Pika - Ochotona rutila





The Turkestan red pika is found in China, Kazakhstan, Kyrgyzstan, Tajikistan, and Uzbekistan.
Source: Animal Diversity Web Intended Audience: General Reading Level: Middle School