Nesomyidae - African and Malagasy rats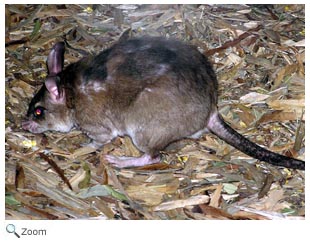 There are around 60 species in this family. They are found in Africa. They are found in a variety of habitats including forests, swamps, grasslands, fields, and wetlands.
Some species live in trees, while others are live on the ground. Most species can climb trees.
They eat a wide variety of foods including seeds, leaves, berries, nuts, insects, birds, eggs, carrion, and small reptiles.
World Status Key


Least Concern

Near Threatened

Vulnerable

Endangered

Critically Endangered

Extinct in Wild

Extinct
Status and range is taken from ICUN Redlist. If no status is listed, there is not enough data to establish status.
US Status Key


Threatened in US

Threatened in NH

Endangered in US

Endangered in NH

Introduced
Status taken from US Fish and Wildlife and NH Fish and Game
| | | |
| --- | --- | --- |
| New Hampshire Species | | North/Central American Species |
| None | | None |
Other Species Around the World

Africa Asia Australia/Oceania Europe North America South America NH

Long-tailed Pouched Rat - Beamys hindei
White-tailed Tree Rat - Brachytarsomys albicauda
Hairy-tailed Tree Rat - Brachytarsomys villosa
Betsileo Short-tailed Rat - Brachyuromys betsileoensis
Gregarious Short-tailed Rat - Brachyuromys ramirohitra
Forest Giant Pouched Rat - Cricetomys emini
Northern Giant Pouched Rat - Cricetomys gambianus
Delany's Swamp Mouse - Delanymys brooksi
Montane African Climbing Mouse - Dendromus insignis
Mount Kahuzi Climbing Mouse - Dendromus kahuziensis
Kivu African Climbing Mouse - Dendromus kivu
Lovat's African Climbing Mouse - Dendromus lovati
Gray African Climbing Mouse - Dendromus melanotis
Brant's Climbing Mouse - Dendromus mesomelas
Banana Climbing Mouse - Dendromus messorius
Chestnut Climbing Mouse - Dendromus mystacalis
Nyika Climbing Mouse - Dendromus nyikae
Cameroon Climbing Mouse - Dendromus oreas
Vernay's Climbing Mouse - Dendromus vernayi
Velvet Climbing Mouse - Dendroprionomys rousseloti
Tsingy Tuft-tailed Rat - Eliurus antsingy
Daniel's Tuft-tailed Rat - Eliurus danieli
Ellerman's Tuft-tailed Rat - Eliurus ellermani
Grandidier's Tuft-tailed Rat - Eliurus grandidieri
Major's Tufted-tailed Rat - Eliurus majori
Lesser Tufted-tailed Rat - Eliurus minor
Western Tuft-tailed Rat - Eliurus myoxinus
White-tipped Tuft-tailed Rat - Eliurus penicillatus
Petter's Tuft-tailed Rat - Eliurus petteri


Tanala Tuft-tailed Rat - Eliurus tanala
Webb's Tuft-tailed Rat - Eliurus webbi
Gymnuromys roberti
Malagasy Giant Jumping Rat - Hypogeomys antimena
Western Big-footed Mouse - Macrotarsomys bastardi
Long-tailed Big-footed Mouse - Macrotarsomys ingens
Petter's Big-footed Mouse - Macrotarsomys petteri
Gerbil Mouse - Malacothrix typica
Nikolaus's Mouse - Megadendromus nikolausi
Malagasy Mountain Mouse - Monticolomys koopmani
White-tailed Mouse - Mystromys albicaudatus
Lowland Red Forest Rat - Nesomys audeberti
Lowland Red Forest Rat - Nesomys lambertoni
Eastern Red Forest Rat - Nesomys rufus
Barbour's Rock Mouse - Petromyscus barbouri
Pygmy Rock Mouse - Petromyscus collinus
Brukkaros Pygmy Rock Mouse - Petromyscus monticularis
Shortridge's Rock Mouse - Petromyscus shortridgei
Dollman's Tree Mouse - Prionomys batesi
Southern African Pouched Mouse - Saccostomus campestris
East African Pouched Mouse - Saccostomus mearnsi
Bocage's Fat Mouse - Steatomys bocagei
Northwestern Fat Mouse - Steatomys caurinus
Dainty Fat Mouse - Steatomys cuppedius
Jackson's Fat Mouse - Steatomys jacksoni
Kreb's Fat Mouse - Steatomys krebsii
Pousargues's Fat Mouse - Steatomys opimus
Tiny Fat Mouse - Steatomys parvus
Fat Mouse - Steatomys pratensis
Eastern Voalavo - Voalavo antsahabensis
Northern Voalavo - Voalavo gymnocaudus
Additional Information
Key:

Profile

Photos

Video

Audio
Gray African Climbing Mouse - Dendromus melanotis





The gray African climbing mouse is found in Angola,Benin,Botswana,The Democratic Republic of the Congo, Ethiopia,Guinea,Liberia,Malawi,Mozambique,Namibia,Nigeria,Rwanda,South Africa,Swaziland,Tanzania, Uganda,Zambia,and Zimbabwe.
Source: Animal Diversity Web Intended Audience: General Reading Level: Middle School Teacher Section: Yes
Malagasy Giant Jumping Rat - Hypogeomys antimena





The Malagasy giant jumping rat is only found in Madagascar.
Source: Arkive Intended Audience: General Reading Level: Middle School Teacher Section: Yes
Malagasy Giant Jumping Rat - Hypogeomys antimena





The Malagasy giant jumping rat has large rabbit-like ears.
Source: Animal Diversity Web Intended Audience: General Reading Level: Middle School Teacher Section: Yes
Northern Giant Pouched Rat - Cricetomys gambianus





The northern giant pouched rat is also known as the Gambian rat. It is found in Angola,Benin,Botswana,Burkina Faso,Burundi,Central African Republic,Chad,Congo,The Democratic Republic of the Congo,Côte d'Ivoire,Gabon,Gambia,Ghana,Guinea,Guinea-Bissau,Kenya,Malawi,Mali,Mauritania,Mozambique,Niger,Nigeria,Rwanda,Senegal,South Africa,Sudan,Tanzania, Togo,Uganda,Zambia,and Zimbabwe.
Source: Animal Diversity Web Intended Audience: General Reading Level: Middle School Teacher Section: Yes
Pygmy Rock Mouse - Petromyscus collinus





The pygmy rock mouse is found in Angola,Namibia,South Africa
Source: Animal Diversity Web Intended Audience: General Reading Level: Middle School Teacher Section: Yes
White-tailed Mouse - Mystromys albicaudatus





The white-tailed mouse is found in Lesotho and South Africa.
Source: Animal Diversity Web Intended Audience: General Reading Level: Middle School Teacher Section: Yes