Myocastoridae - nutrias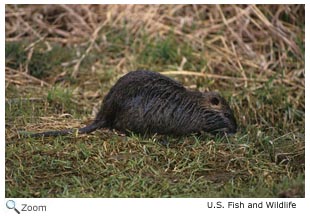 There is one living species in this family. Nutrias are large aquatic rodents. They are native to Central and South America, but they have been introduced to parts of the United States, especially the southeastern United States. The nutria has also been introduced in Asia and Europe.
Nutrias are about three feet in length and weigh around 30-35 pounds. They have thick, reddish-brown fur; short legs; webbed rear feet; small ears; and small eyes. They have big heads with a squared muzzle; long, round, lightly haired pointed tails; and whiskers.
Nutrias are found found near lakes, ponds, swamps, rivers, and marshes. A nutria can stay submerged underwater for several minutes and sometimes it floats in the water with just its nose and eyes above the water! The nutria eats land plants and aquatic plants. The nutria is also known as the coypu.
World Status Key


Least Concern

Near Threatened

Vulnerable

Endangered

Critically Endangered

Extinct in Wild

Extinct
Status and range is taken from ICUN Redlist. If no status is listed, there is not enough data to establish status.
US Status Key


Threatened in US

Threatened in NH

Endangered in US

Endangered in NH

Introduced
Status taken from US Fish and Wildlife and NH Fish and Game
| | | |
| --- | --- | --- |
| New Hampshire Species | | North/Central American Species |
| None | | Nutria - Myocastor coypus |
Other Species Around the World

Africa Asia Australia/Oceania Europe North America South America NH

Nutria - Myocastor coypus

Additional Information
Key:

Profile

Photos

Video

Audio
Nutria - Myocastor coypus [im]






The nutria is also known as the coypu.
Source: Arkive Intended Audience: General Reading Level: Middle School Teacher Section: Yes
Nutria - Aonyx capensis - Myocastor coypus [in][im]






Populations of nutrias are found in North America, Europe and Asia because nutrias escaped are were released from fur farms.
Source: Animal Diversity Web Intended Audience: General Reading Level: Middle School Teacher Section: Yes
Nutria - Aonyx capensis - Myocastor coypus [in][im]






Nutrias sometimes live in large colonies.
Source: National Geographic Intended Audience: General Reading Level: Middle School Teacher Section: No