Myobatrachidae - Australian froglets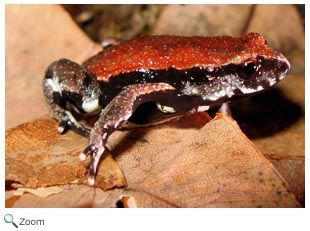 There are about 82 species in this family of frogs. They are all found in Australia, New Guinea, and Tasmania.
The species in this family live on land and are usually between 1-2 inches in length, but some species are much larger. The giant barred river-frog is close to four inches in length.
The frogs in this family are found in a variety of habitats from deserts to mountains! The desert species spend most of their time in burrows underground. There are no tree frogs in this family.
In two species in this family, the southern gastric brooding frog and the Eungella gastric-brooding frog, the female swallowed her eggs and the tadpoles developed in her stomach. Both species are now thought to be extinct. The last captive gastric brooding frog died in the 1980s.
World Status Key


Least Concern

Near Threatened

Vulnerable

Endangered

Critically Endangered

Extinct in Wild

Extinct
Status and range is taken from ICUN Redlist. If no status is listed, there is not enough data to establish status.
US Status Key


Threatened in US

Threatened in NH

Endangered in US

Endangered in NH

Introduced
Status taken from US Fish and Wildlife and NH Fish and Game
| | | |
| --- | --- | --- |
| New Hampshire Species | | North/Central American Species |
| None | | None |
Other Species Around the World

Africa Asia Australia/Oceania Europe North America South America NH

Sandhill Frog - Arenophryne rotunda
Hip-pocket Frog - Assa darlingtoni
Bilingual Frog - Crinia bilingua
Desert Froglet - Crinia deserticola
Quacking Frog - Crinia georgiana
Glauert's Froglet - Crinia glauerti
Sign-bearing Froglet - Crinia insignifera
Moss Froglet - Crinia nimbus
Eastern Sign-bearing Froglet - Crinia parinsignifera
False Western Froglet - Crinia pseudinsignifera
Remote Froglet - Crinia remota
Streambank Froglet - Crinia riparia
Clicking Froglet - Crinia signifera
Sloane's Froglet - Crinia sloanei
Small Western Froglet - Crinia subinsignifera
Tasmanian Froglet - Crinia tasmaniensis
Wallum Froglet - Crinia tinnula
White-bellied Frog - Geocrinia alba
Southern Smooth Froglet - Geocrinia laevis
Lea's Frog - Geocrinia leai
Nornalup Frog - Geocrinia lutea
Roseate Frog - Geocrinia rosea
Victorian Smooth Froglet - Geocrinia victoriana
Orange-bellied Frog - Geocrinia vitellina
Nicholl's Toadlet - Metacrinia nichollsi
Silver-eyed Barred Frog - Mixophyes balbus
Mixophyes carbinensis
Mixophyes coggeri
Great Barred River-frog - Mixophyes fasciolatus
Fleay's Barred-frog - Mixophyes fleayi
Mixophyes hihihorlo
Giant Barred River-frog - Mixophyes iteratus
Northern Barred Frog - Mixophyes schevilli
Turtle Frog - Myobatrachus gouldii
Haswell's Froglet - Paracrinia haswelli
Red-crowned Toadlet - Pseudophryne australis
Bibron's Toadlet - Pseudophryne bibronii
Red-backed Toadlet - Pseudophryne coriacea
Corroboree Frog - Pseudophryne corroboree
Magnificent Broodfrog - Pseudophryne covacevichae
Southern Toadlet - Pseudophryne dendyi



Douglas' Toad - Pseudophryne douglasi
Günther's Toadlet - Pseudophryne guentheri
Great Brown Brood-frog - Pseudophryne major
Orange-crowned Toadlet - Pseudophryne occidentalis
Northern Corroboree Frog - Pseudophryne pengilleyi
Pseudophryne raveni
Southern Toadlet - Pseudophryne semimarmorata
Southern Gastric Brooding Frog - Rheobatrachus silus
Eungella Gastric-brooding Frog - Rheobatrachus vitellinus
Sunset Frog - Spicospina flammocaerulea
Sharp Snouted Day Frog - Taudactylus acutirostris
Mount Glorious Torrent Frog - Taudactylus diurnus
Eungella Torrent Frog - Taudactylus eungellensis
Eungella Tinker Frog - Taudactylus liemi
Kroombit Tinker Frog - Taudactylus pleione
Northern Tinker Frog - Taudactylus rheophilus
Montane Toadlet - Uperoleia altissima
Jabiru Toadlet - Uperoleia arenicola
Derby Toadlet - Uperoleia aspera
Northern Toadlet - Uperoleia borealis
Small-headed Toadlet - Uperoleia capitulata
Fat Toadlet - Uperoleia crassa
Uperoleia daviesae
Dusky Toadlet - Uperoleia fusca
Glandular Toadlet - Uperoleia glandulosa
Flood Plain Toadlet - Uperoleia inundata
Smooth Toadlet - Uperoleia laevigata
Stonemason's Toadlet - Uperoleia lithomoda
Littlejohn's Toadlet - Uperoleia littlejohni
Marbled Toadlet - Uperoleia marmorata
Martin's Toadlet - Uperoleia martini
Tanami Toadlet - Uperoleia micromeles
Mimic Toadlet - Uperoleia mimula
Small Toadlet - Uperoleia minima
Mjoberg's Toadlet - Uperoleia mjobergii
Alexandria Toadlet - Uperoleia orientalis
Wrinkled Toadlet - Uperoleia rugosa
Russell's Toadlet - Uperoleia russelli
Mole Toadlet - Uperoleia talpa
Blacksoil Toadlet - Uperoleia trachyderma
Tyler's Toadlet - Uperoleia tyleri
Additional Information
Key:

Profile

Photos

Video

Audio
Corroboree Frog - Pseudophryne corroboree






The Corroboree frog is black with bright yellow stripes. It is found in southeastern New South Wales, Australia.
Source: Arkive Intended Audience: General Reading Level: Middle School Teacher Section: Yes
Eungella Tinker Frog - Taudactylus liemi




The Eungella tinker frog is also known as Liem's tinker frog. It is found in Queensland, Australia.
Source: Arkive Intended Audience: General Reading Level: Middle School Teacher Section: Yes
Eungella Torrent Frog - Taudactylus eungellensis





The Eungella torrent frog is found in Queensland, Australia.
Source: Arkive Intended Audience: General Reading Level: Middle School Teacher Section: Yes
Kroombit Tinker Frog - Taudactylus pleione




The Kroombit tinker frog is found in nine small patches of rainforest in northeast Queensland, Australia.
Source: Arkive Intended Audience: General Reading Level: Middle School Teacher Section: Yes
Magnificent Broodfrog - Pseudophryne covacevichae




The magnificent broodfrog is found in north Queensland, Australia.
Source: Arkive Intended Audience: General Reading Level: Middle School Teacher Section: Yes
Mount Glorious Torrent Frog - Taudactylus diurnus




The Mount Glorious torrent frog was once found in eastern Australia.
Source: Arkive Intended Audience: General Reading Level: Middle School Teacher Section: Yes
Northern Tinker Frog - Taudactylus rheophilus




The northern tinker frog is found in northern Queensland, Australia.
Source: Arkive Intended Audience: General Reading Level: Middle School Teacher Section: Yes
Orange-bellied Frog - Geocrinia vitellina




The orange-bellied frog is found in the extreme south-west of Western Australia.
Source: Arkive Intended Audience: General Reading Level: Middle School Teacher Section: Yes
Red-crowned Toadlet - Pseudophryne australis




The red-crowned toadlet is found in New South Wales, Australia.
Source: Arkive Intended Audience: General Reading Level: Middle School Teacher Section: Yes
Sharp Snouted Day Frog - Taudactylus acutirostris




The sharp-snouted day frog is found in north Queensland, Australia.
Source: Arkive Intended Audience: General Reading Level: Middle School Teacher Section: Yes
Silver-eyed Barred Frog - Mixophyes balbus





The silver-eyed barred frog is also known as the stuttering frog because of it stuttering call. It is found in along the coast of New South Wales, Australia.
Source: Arkive Intended Audience: General Reading Level: Middle School Teacher Section: Yes
Southern Gastric Brooding Frog - Rheobatrachus silus






The southern gastric brooding frog was found in south-east Queensland, Austalia.
Source: Arkive Intended Audience: General Reading Level: Middle School Teacher Section: Yes
Sunset Frog - Spicospina flammocaerulea





The sunset frog is found in south-east Queensland, Austalia.
Source: Arkive Intended Audience: General Reading Level: Middle School Teacher Section: Yes