Meropidae - bee-eaters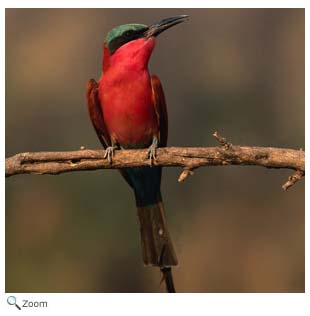 There are about 26 species of brightly-colored birds in this family. They are found in open or lightly-wooded areas, usually near swamps, rivers, lakes, or flooded fields in tropical and semi-tropical regions of Europe, Africa, Asia, Australia, and the South Pacific.
Most of the species in this family are green with red, yellow, blue, or black markings. They are between 6 to 14 inches in length and have long tails and long, sharply pointed black bills. Many species have a black stripe that runs from the eye to the base of the bill.

Bee-eaters are insectivores and eat flying insects. They sit on branches or other perches and wait for insects to fly by and then give chase! They get the name bee-eater because they often eat bees and wasps.
Bee-eaters live in flocks and are very sociable. Most species build their nests in riverbanks. Bee-eaters are cooperative breeders. Non-breeding birds help build the nests and help incubate the eggs and feed and raise the young.
World Status Key


Least Concern

Near Threatened

Vulnerable

Endangered

Critically Endangered

Extinct in Wild

Extinct
Status and range is taken from ICUN Redlist. If no status is listed, there is not enough data to establish status.
US Status Key


Threatened in US

Threatened in NH

Endangered in US

Endangered in NH

Introduced
Status taken from US Fish and Wildlife and NH Fish and Game
| | | |
| --- | --- | --- |
| New Hampshire Species | | North/Central American Species |
| None | | None |
Other Species Around the World

Africa Asia Australia/Oceania Europe North/Central America South America NH Species

Purple-bearded Bee-eater - Meropogon forsteni
White-throated Bee-eater - Merops albicollis
European Bee-eater - Merops apiaster
Boehm's Bee-eater - Merops boehmi
Black-headed Bee-eater - Merops breweri
White-fronted Bee-eater - Merops bullockoides
Red-throated Bee-eater - Merops bulocki
Black Bee-eater - Merops gularis
Swallow-tailed Bee-eater - Merops hirundineus
Chestnut-headed Bee-eater - Merops leschenaulti
Rosy Bee-eater - Merops malimbicus
Blue-headed Bee-eater - Merops muelleri
Southern Carmine Bee-eater - Merops nubicoides
Northern Carmine Bee-eater - Merops nubicus
Cinnamon-chested Bee-eater - Merops oreobates
Little Green Bee-eater - Merops orientalis
Rainbow Bee-eater - Merops ornatus
Blue-cheeked Bee-eater - Merops persicus
Blue-tailed Bee-eater - Merops philippinus
Little Bee-eater - Merops pusillus
Somali Bee-eater - Merops revoilii
Madagascar Bee-eater - Merops superciliosus
Blue-breasted Bee-eater - Merops variegatus
Blue-throated Bee-eater - Merops viridis
Red-bearded Bee-eater - Nyctyornis amictus
Blue-bearded Bee-eater - Nyctyornis athertoni

Additional Information

Key: Profile Photos Video Audio

Blue-cheeked Bee-eater - Merops persicus
The blue-cheeked bee-eater is found in northern Africa, the Middle East and southern Europe.
Source: Arkive Intended Audience: General Reading Level: Middle School Teacher Section: Yes

Blue-tailed Bee-eater - Merops philippinus
The blue-tailed bee-eater is found in Bangladesh, Cambodia, China, Hong Kong, India, Indonesia, Laos, Malaysia, Myanmar, Nepal, Pakistan, Papua New Guinea, Philippines, Singapore, Sri Lanka, Thailand, East Timor, and Vietnam.
Source: Arkive Intended Audience: General Reading Level: Middle School Teacher Section: Yes

Chestnut-headed Bee-eater - Merops leschenaulti
The chestnut-headed bee-eater is found in Bangladesh, Bhutan, Cambodia, China, India, Indonesia, Laos, Malaysia, Myanmar, Nepal, Sri Lanka, Thailand, and Vietnam.
Source: Arkive Intended Audience: General Reading Level: Middle School Teacher Section: Yes

European Bee-eater - Merops apiaster
the European bee-eater is found across much of Europe and Africa from Finland south to south Africa. It is also found in some parts of Asia.
Source: Arkive Intended Audience: General Reading Level: Middle School Teacher Section: Yes

European Bee-eater - Merops apiaster
European bee-eaters are monogamous and pairs will stay together from year-to-year.
Source: Animal Diversity Web Intended Audience: General Reading Level: Middle School Teacher Section: Yes

Little Bee-eater - Merops pusillus
The little bee-eater is found in Angola, Benin, Botswana, Burkina Faso, Burundi, Cameroon, Central African Republic, Chad, Congo, Côte d'Ivoire, Eritrea, Ethiopia, Gabon, Gambia, Ghana, Guinea, Guinea-Bissau, Kenya, Liberia, Malawi, Mali, Mauritania, Mozambique, Namibia, Niger, Nigeria, Rwanda, Senegal, Sierra Leone, Somalia, South Africa, Sudan, Swaziland, Tanzania, Togo, Uganda, Zambia, and Zimbabwe.
Source: Arkive Intended Audience: General Reading Level: Middle School Teacher Section: Yes

Little Green Bee-eater - Merops orientalis
The little green bee-eater is found in Bangladesh, Benin, Bhutan, Burkina Faso, Cambodia, Cameroon, Central African Republic, Chad, China, Côte d'Ivoire, Egypt, Eritrea, Ethiopia, Gambia, India, Iran, Iraq, Israel, Jordan, Laos, Mali, Mauritania, Myanmar, Nepal, Niger, Nigeria, Oman, Pakistan, Saudi Arabia, Senegal, Sri Lanka, Sudan, Thailand, Uganda, United Arab Emirates, Vietnam, and Yemen.
Source: Arkive Intended Audience: General Reading Level: Middle School Teacher Section: Yes

Madagascar Bee-eater - Merops superciliosus
The Madagascar bee-eater is found in Angola, Botswana, Burundi, Comoros, Congo, Ethiopia, Kenya, Madagascar, Malawi, Mayotte, Mozambique, Namibia, Rwanda, Somalia, South Africa, Sudan, Tanzania, Uganda, Zambia, and Zimbabwe.
Source: Arkive Intended Audience: General Reading Level: Middle School Teacher Section: Yes

Rainbow Bee-eater - Merops ornatus
The rainbow bee-eater is found in Australia, Indonesia, Papua New Guinea, Solomon Islands, East Timor.
Source: Animal Diversity Web Intended Audience: General Reading Level: Middle School Teacher Section: Yes

Southern Carmine Bee-eater - Merops nubicoides
The southern carmine bee-eater is found in Angola, Botswana, Burundi, Congo, Kenya, Malawi, Mozambique, Namibia, Rwanda, South Africa, Swaziland, Tanzania, Zambia, and Zimbabwe.
Source: Arkive Intended Audience: General Reading Level: Middle School Teacher Section: Yes

White-fronted Bee-eater - Merops bullockoides
The white-fronted bee-eater is found in Angola, Botswana, Burundi, Congo, , Gabon, Kenya, Malawi, Mozambique, Namibia, Rwanda, South Africa, Swaziland, Tanzania, Zambia, and Zimbabwe.
Source: Arkive Intended Audience: General Reading Level: Middle School Teacher Section: Yes