Megalonychidae - Two-toed Sloths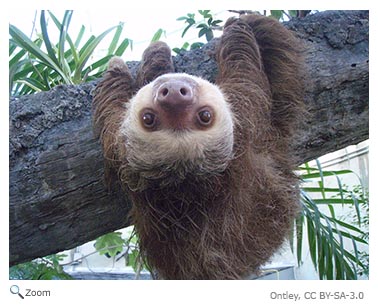 There are two species in this family. They are found in tropical rainforests in Central and South America.
Two-toed sloths are larger than three-toed sloths. They have round heads, small ears, long forelimbs and hind limbs, and a stumpy tail. Two-toed sloths have two long claws on their front paws and three claws on their rear paws. They have long, grayish-brown fur that takes on a greenish color because of the algae that grows on it. Their fur grows from their stomach and curls around to their back.
Two-toed sloths hang upside down in trees and their backwards growing fur helps rain run off of them. They are herbivores and eat leaves, buds, fruit, and twigs. They are nocturnal and spend most of their time sleeping.
World Status Key


Least Concern

Near Threatened

Vulnerable

Endangered

Critically Endangered

Extinct in Wild

Extinct

Not Enough Data
Status and range is taken from ICUN Redlist.
U.S. Status Key
Threatened in US Endangered in US Introduced
Status taken from US Fish and Wildlife. Click on U.S. status icon to go to the U.S. Fish and Wildlife species profile.
New Hampshire Status Key
Threatened in NH Endangered in NH Breeds in NH (birds)
Status taken from NH Fish and Game
Location Key


Africa

Asia

Australia/Oceania

Europe

North America

South America

NH

Click for More Info

Click for Image
| | | |
| --- | --- | --- |
| New Hampshire Species | | North/Central American Species |
| None | | Hoffmann's Two-toed Sloth - Choloepus hoffmanni |
Other Species Around the World

Southern Two-toed Sloth - Choloepus didactylus

>Additional Information

Key: Profile Photos Video Audio

Two-toed Sloths
Sloths are related to anteaters.
Source: San Diego Zoo Intended Audience: General Reading Level: Middle School Teacher Section: Yes

Southern Two-toed Sloth - Choloepus didactylus
The southern two-toed sloth is the size of a small dog.
Source: Arkive Intended Audience: General Reading Level: Middle School Teacher Section: Yes

Southern Two-toed Sloth - Choloepus didactylus
The southern Two-toed Sloth. is found in northern Brazil, Colombia, Ecuador, French Guiana, Guyana, Peru, Suriname, and Venezuela.
Source: Animal Diversity Web Intended Audience: General Reading Level: Middle School Teacher Section: No

Southern Two-toed Sloth - Choloepus didactylus
The Southern two-toed sloth is found in tropical rainforest canopies.
Source: National Zoo Intended Audience: General Reading Level: Middle School Teacher Section: Yes

Hoffmann's Two-toed Sloth - Choloepus hoffmanni
Hoffmann's two-toed sloth lemur is found in Bolivia; Brazil; Colombia; Costa Rica; Ecuador; Honduras; Nicaragua; Panama; Peru; Venezuela.
Source: Animal Diversity Web Intended Audience: General Reading Level: Middle School Teacher Section: Yes

Hoffmann's Two-toed Sloth - Choloepus hoffmanni
Hoffmann's two-toed sloth is a good swimmer and will take advantage of the flooded forest floor during the rainy season to swim to a new area.
Source: Philadelphia Zoo Intended Audience: General Reading Level: Middle School Teacher Section: No