Leiopelmatidae - New Zealand and North American Primitive Frogs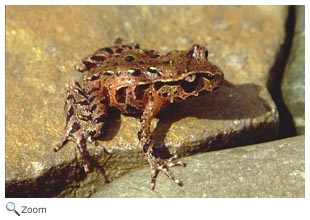 There are only six species of small frogs in this family. The frogs in the genus Ascaphus are referred to as tailed frogs and are found in North America. Until recently they were placed in their own family, Ascaphidae.
The frogs in this family have nine vertebrae in the front sacrum instead of the usual eight found in other frog species. (The sacrum is the triangular bone at the base of the vertebral column.)
The two species of North American tailed frog in this family are the the Rocky Mountain tailed frog and the coastal tailed frog. They are found in the northwestern United States and southwestern Canada.
Tailed frogs are about 2 inches in length and the male has what looks like a tail. The tail is actually part of the male frog's reproductive system and is used to transfer sperm to the female.
Female tailed frogs fertilize their eggs internally. Tailed frogs can be brown, gray, or reddish in color. They live in swift-moving, cold mountain streams. Tailed frog tadpoles have sucker-like mouths that they use to attach themselves to rocks in rushing water! Male tailed frogs are smaller than female tailed frogs.
The four species of frogs in the genus Leiopelma are found in New Zealand and are the only frogs native to New Zealand.
World Status Key


Least Concern

Near Threatened

Vulnerable

Endangered

Critically Endangered

Extinct in Wild

Extinct
Status and range is taken from ICUN Redlist. If no status is listed, there is not enough data to establish status.
US Status Key


Threatened in US

Threatened in NH

Endangered in US

Endangered in NH

Introduced
Status taken from US Fish and Wildlife and NH Fish and Game
New Hampshire Species

North/Central American Species

None

Rocky Mountain Tailed Frog - Ascaphus montanus
Coastal Tailed Frog - Ascaphus truei
Other Species Around the World

Location Key
Africa Asia Australia Europe North America South America NH Click for More Info Click for Image

Rocky Mountain Tailed Frog -Ascaphus montanus
Coastal Tailed Frog - Ascaphus truei
Archey's Frog - Leiopelma archeyi

Stephens Island Frog - Leiopelma hamiltoni
Hochstetter's Frog - Leiopelma hochstetteri
Maud Island Frog - Leiopelma pakeka
Additional Information
Key:

Profile

Photos

Video

Audio
Archey's Frog - Leiopelma archeyi





Archey's frog is found on the North Island of New Zealand.
Source: Arkive Intended Audience: General Reading Level: Middle School Teacher Section: Yes

Coastal Tailed Frog - Ascaphus truei





The coastal tailed frog is found in cold, clear, rocky streams in wet forests.
Source:California Herps Intended Audience: General Reading Level: Middle School Teacher Section: No
Coastal Tailed Frog - Ascaphus truei





Coastal tailed frog tadpoles have large sucker-like mouths that help them cling to rocks in fast moving streams.
Source:Washington Dept. of Natural Resources Intended Audience: General Reading Level: High School Teacher Section: No
Coastal Tailed Frog - Ascaphus truei





Coastal tailed frogs are found along the Pacific coast of North America from southern British Columbia to northern California.
Source:Amphiweb Intended Audience: General Reading Level: High School Teacher Section: No

Hochstetter's Frog - Leiopelma hochstetteri




Hochstetter's Frog is found in New Zealand.
Source: Arkive Intended Audience: General Reading Level: Middle School Teacher Section: Yes
Hochstetter's Frog - Leiopelma hochstetteri




Hochstetter's Frog can remain still for long periods of time.
Source: AmphibiaWeb Intended Audience: General Reading Level: High School Teacher Section: No

Maud Island Frog - Leiopelma pakeka




The Maud Island frog is found on Maud Island in New Zealand.
Source: Arkive Intended Audience: General Reading Level: Middle School Teacher Section: Yes
Rocky Mountain Tailed Frog - Ascaphus montanus





Rocky Mountain tailed frog tadpoles take 1 to 4 years to become frog, depending on water temperature.
Source:Montana Field Guide Intended Audience: General Reading Level: Middle School Teacher Section: No
Rocky Mountain Tailed Frog - Ascaphus montanus




Rocky Mountain tailed frogs are found in the Rocky Mountains and Colombia Mountains of Idaho, western Montana, northeastern Oregon, and southeastern Washington to southeastern British Columbia .
Source:California Herps Intended Audience: General Reading Level: Middle School Teacher Section: No
Rocky Mountain Tailed Frog - Ascaphus montanus




Rocky Mountain tailed frogs lack some of the structures used to make sounds (tongue and vocal sacs) found in other frogs.
Source:Washington Dept. of Natural Resources Intended Audience: General Reading Level: High School Teacher Section: No
Rocky Mountain Tailed Frog - Ascaphus montanus





The Rocky Mountain tailed frog is also known as the inland tailed frog.
Source:Amphiweb Intended Audience: General Reading Level: High School Teacher Section: No

Stephens Island Frog - Leiopelma hamiltoni



The Stephens Island frog is found on a single rock stack on New Zealand's Stephens island. It is also known as Hamilton's frog.
Source: Arkive Intended Audience: General Reading Level: Middle School Teacher Section: Yes