Hystricidae - Old World porcupines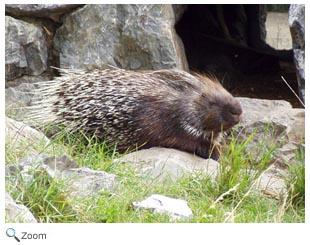 There are 11 species in this family. Old World porcupines are found in Europe, Africa, and Asia. They have stocky bodies, rounded heads, and stiff quills.
Old World porcupine quills don't have the barbs found on the quills of New World porcupines, but they can still get stuck in the flesh of an attacking animal!
Unlike New World porcupines, Old World porcupines don't climb trees. They are omnivores and eat plants and carrion.
World Status Key


Least Concern

Near Threatened

Vulnerable

Endangered

Critically Endangered

Extinct in Wild

Extinct
Status taken from ICUN Redlist. If no status is listed, there is not enough data to establish status, or there is no status data for the species.
US Status Key

Threatened in US

Threatened in NH

Endangered in US

Endangered in NH

Introduced
Status taken from US Fish and Wildlife and NH Fish and Game
| | | |
| --- | --- | --- |
| New Hampshire Species | | North/Central American Species |
| None | | None |
Species Around the World

Location Key
Africa Asia Australia/Oceania Europe North/Central America South America NH Species

African Brush-tailed Porcupine - Atherurus africanus
Asiatic Brush-tailed Porcupine - Atherurus macrourus
Cape Porcupine - Hystrix africaeaustralis
Malayan Porcupine - Hystrix brachyura
Thick-spined Porcupine - Hystrix crassispinis
Crested Porcupine - Hystrix cristata


Indian Crested Porcupine - Hystrix indica
Sunda Porcupine - Hystrix javanica
Philippine Porcupine - Hystrix pumila
Sumatran Porcupine - Hystrix sumatrae
Long-tailed Porcupine - Trichys fasciculata s

Additional Information
Resource Key


Profile

Photos

Video

Audio
Porcupines



Porcupines are found in two main regions of the world, so they are grouped by scientists into either Old World porcupines or New World porcupines. Old World porcupines are found in Europe, Africa, and Asia.
Source: San Diego Zoo Intended Audience: General Reading Level: Middle School Teacher Section: Yes

African Brush-tailed Porcupine - Atherurus africanus




The African brush-tailed porcupine is found in Benin, Cameroon, Congo, Côte d'Ivoire, Equatorial Guinea, Gabon, Gambia, Ghana, Guinea, Kenya, Liberia, Sierra Leone, Sudan, Togo, and Uganda.
Source: Arkive Intended Audience: General Reading Level: Middle School Teacher Section: Yes

Cape Porcupine - Hystrix africaeaustralis




The Cape porcupine is found in Botswana, Burundi, Congo, Kenya, Lesotho, Malawi, Mozambique, Namibia, Rwanda, South Africa, Swaziland, Tanzania, Uganda, Zambia, and Zimbabwe.
Source: Arkive Intended Audience: General Reading Level: Middle School Teacher Section: Yes

Crested Porcupine - Hystrix cristata







The crested porcupine is found in Algeria, Angola, Benin, Burkina Faso, Cameroon, Chad, Côte d'Ivoire, Eritrea, Ethiopia, Gambia, Ghana, Guinea-Bissau, Italy, Kenya, Liberia, Libya, Mali, Mauritania, Morocco, Niger, Nigeria, Rwanda, Senegal, Sierra Leone, Somalia, Sudan, Tanzania, Togo, Tunisia, and Uganda.
Source: Arkive Intended Audience: General Reading Level: Middle School Teacher Section: Yes

Indian Crested Porcupine - Hystrix indica




The Indian crested porcupine is found in Afghanistan, Armenia, Azerbaijan, China, Georgia, India, Iran, Iraq, Israel, Jordan, Kazakhstan, Nepal, Pakistan, Saudi Arabia, Sri Lanka, Turkey, Turkmenistan, and Yemen.
Source: Arkive Intended Audience: General Reading Level: Middle School Teacher Section: Yes

Philippine Porcupine - Hystrix pumila





The Philippine porcupine is found in the Philippines.
Source: Arkive Intended Audience: General Reading Level: Middle School Teacher Section: Yes